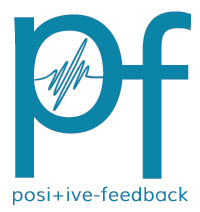 You are reading the older HTML site
Positive Feedback ISSUE
42

march/april 2009
Notes of an Amateur - March 2009, Part 3
by Bob Neill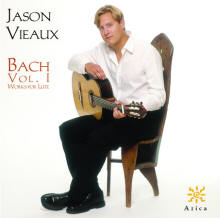 Bach, Volume 1. Works for Lute. Jason Vieaux, guitar. Azica ACD 71250.
Bach lute suites on the guitar have a similar effect on many of us as Bach harpsichord music on the piano. The increased dynamics and fuller, more rounded sound, while initially surprising, end up working very well. Because both the lute and harpsichord are 'ancient' instruments to us, they cannot help but antique music in ways their contemporaries would not have heard. Listening to Bach on instruments we know well gives his music a freshness, immediacy, and naturalness it seems to welcome, antiquarians be damned. I like Bach on his 'original' instruments, partly because I have heard him that way long enough that it also feels natural. But I like him equally well and differently on ours, especially played as well as Vieaux plays him.
Jason Vieaux is the latest to transcribe this music for guitar, and this is the first of what will presumably be two volumes. His delivery is tight, firm, and articulate, so he clearly has the lute in mind. He retains some of the crispness of diction we expect, but adds to it just enough warmth and roundness of tone to enrich this austere music pleasingly. He reminds us of Bach on the piano played without pedals. He also persuades us that the distance from baroque France to baroque Germany was not so great as we sometimes assume. In the slow movements in particular there is a tasteful, almost French, sensuality I have not heard in this music before. Vieaux and his instrument are finding something here and bringing it back to Bach performance from the future.
For fans of the guitar and of Bach, this album is a welcome outing. Vieaux's discography is fairly versatile, including the predictable Spanish material but also an album of Pat Metheny's music, which could be interesting.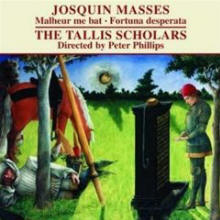 Josquin. Masses. Malheur me bat. Fortuna desperata. The Tallis Scholars. Directed by Peter Phillips. Gimell Records. CDGIM 042
It is an extraordinary tribute to the longevity of the Tallis Scholars, founded in 1973 and recording since 1981, to see the names of Tessa Bonner, Sally Dunkley, and Caroline Trevor listed as the sopranos for this 2009 recording. All three must be approaching at least their twenty-fifth year of active singing in the group. And as we can see, by looking down the roster of other singers and finding none who were Scholars when these women began their tenure for Peter Phillips, the three are not here for sentimental reasons! They were the core of the Tallis Scholars' critical upper range in the 1980's and remain so today.
It is also of interest that three of today's Scholars also sing for their principal competition among a cappella renaissance choral groups in the UK, the Cardinal's Musik—alto/tenor Andrew Carwood, (director of the Musik), alto David Gould, and bass Robert McDonald; and that Caroline Trevor of the Scholars sings with the Cardinals' Musik.
Does that lead us to expect a slight narrowing of the established differences between these groups? At the risk of undervaluing the role of Scholars founder and director Phillips, that is what I was listening for. And compared with the Scholars' 1990's CD of Josquin's L'homme armé, I do hear a trace less refinement and a bit more of the earthy sound we associate with Carwood's group. Fans of the Scholars should note this but not be overly concerned. We are not talking less excellence here, just less of what some might call an idealization of the Flemish renaissance. This is more forceful, less exquisite, but no less perfect Josquin than we are used to from the group. And some may well prefer it: it is definitely Catholic rather C of E! The change is less conspicuous in the "Agnus Dei" settings, where highly disciplined waves of beauty from the mids and upper ranges roll over one another like an incoming tide of faith! This is the kind of singing at which the Tallis Scholars remain unmatched: there are moments when their nine voices are truly one. I've never heard them more transcendent than they are in the first "Agnus Dei" of Malheur me bat.
My knowledge of renaissance polyphony is that of a fan rather than a student, so I'm not comfortable 'placing' Josquin among his contemporaries, for those of you who are unfamiliar with him. He is generally considered the major composer of his time and genre. Tallis and Pallestrina in the next generation surely learned from him, as did Byrd a century later, to name the composers amateurs are mostly likely to know. The Tallis Scholars have sung and recorded all of them, and no one sings them better. Here they capture Josquin's eloquent, spare, and powerful music perfectly.
Note: Warm up your system before you put this CD if you want to hear state of the art choral 'presence.'
System used for this audition: Audio Note CDT3 transport and Dac 4.1 Balanced Signature. Blue Circle BC3000 II/GZpz preamplifier and BC204 hybrid stereo amplifier, Jean Marie Reynaud Orfeo speakers. With Blue Circle BC6000 line conditioner. Audio Note Pallas, Sootto, and Sogon interconnects; Lexus speaker cables.
Bob Neill, in addition to being an occasional equipment and regular music reviewer for Positive- Feedback Online, is also proprietor of Amherst Audio in Amherst, Massachusetts, which sells equipment from Audio Note, Blue Circle, and JM Reynaud, among others.