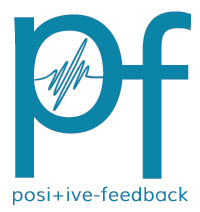 You are reading the older HTML site
Positive Feedback ISSUE
42

march/april 2009
Notes of an Amateur - March 2009, Part 1
by Bob Neill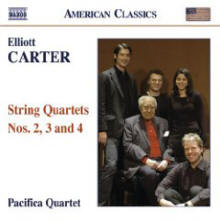 Carter, Quartets Nos. 3, 4, & 5. The Pacifica Quartet. Naxos 8.559362 (2009)
When you hear a piece of conspicuously modern music, either first generation (Stravinsky, Bartok) or second (Gubaidulina, Elliott Carter), do you hear it primarily as rebellion, as a breaking away from or challenge to the nineteenth century music that was (and for many remains) the aesthetic norm for so many years? Does it (still) shock you? Or do you hear it as just music? Exciting, angular, freedom loving, dissonant, chromatic music, but still music? A habitable place rather than an ongoing rebellion?
To judge by what music sells and what gets programmed and performed, if you hear modern music as a sort of eternal avant-garde, you are in the majority. This is also true of other forms of modern art, of course. How many of us live in genuinely modern architecture, have abstract expressionist paintings (or prints of paintings) on our walls, and read Pynchon, Barthelme, Ashbery, and Bolaño?
Modern art is more different from the art that proceeded it than any 'new' art has ever been. It has alienated its audience more, given rise to more reactionary or retro art. But the truth is, it is not different in kind from nineteenth century art, it is just different in degree, albeit a considerable degree. Just as romanticism and Victorianism did, it aims to create a habitable world, a fully viable representation of what human experience can be if fully uninhibited and liberated, reaching and out exploring its limits: a wider and more complex world than we have been accustomed to inhabiting. The nineteenth century aesthetic and its idioms persuaded us over time that it was our norm. But it is simply a series of (fairly cautious) conventions to which we adapted and in which we became comfortable. It is still comforting to 'return' to them, perhaps more comforting than it was to live among them when they were taking form, when they were replacing the even more cautious, elegant, formal, and reason-driven norms of the eighteenth century. Now, from the midst of a far more complex world, we leap into Brahms and Dickens for escape.
But "around 1910," as Virginia Woolf would have it, the world of the arts changed (again) and as the twentieth century developed, we got modernism, an aesthetic that aimed to give expression to more of ourselves than the arts of the earlier time permitted. And many of us have never gotten over it.
Elliott Carter, who is spending his 100th year on the planet, is among the world's pre-eminent modernist composers and arguably America's greatest. (Aaron Copland wrote some modernist music but the lion's share of his oeuvre and all of it that most of us know him by is neo-romantic.) We are hearing a lot of Carter's music this year, in concert and on records, but I am curious who is listening to and enjoying it. I am, but there was a time in my musical youth when I was unable to. I could neither 'find' nor fathom it, stuck as I was in the previous musical world. And from the perspective of that world, Carter's music is even more alien than I once found Bartok's. Carter is second generation modernist – or post-modernist, which is a fall step farther way from the security of the World Before. In a word, I heard Carter's music, the string quartets in particular, as beyond the borders of music.
Generally new things in the world take some getting used to—but if they are genuinely new and not just aberrant, assuming we give them the time and attention they deserve, they will find us and change us. At the very least, they will make us hear them, 'get' them, as we like to say. They will cease to sound avant-garde and become music. I got Bartok in my twenties and Carter …later. When I head the Pacifica's first volume of the string quartets released last year (www.positive-feedback.com/Issue35), I was truly shocked (nearly speechless, based on the shortness of my review!) at how much progress I'd made. I loved it. I passed my Arditti Carter CDs along to a friend and began pestering the Naxos rep about the second volume, which, thanks to the busy concert schedule of the Pacificas, brought on by the success of Volume One, didn't get recorded until late 2008—and released until now.
The first thing I notice about both of the Naxos Carter string quartet CD's is their delicious tonal quality. It does modernist music no harm to play (and record) it beautifully!
Quartet No. 2 (1959) is a continuous cycle or suite of nine short, highly inflected sonic poems separated by extremely subtle transitions. The first violin, viola, and cello get their own cadenza movements in which they are featured but not unaccompanied. The main impression we get from this quartet is the coherence of discontinuity (!) This is a powerful musical metaphor whose appeal grows on us the longer we listen. The acoustic space that the four instruments create among themselves also contributes to the appeal of the work. I can't imagine this music achieving a fraction of its pleasure in a monaural recording.
Quartet No. 3 (1971) is a denser, more complex work. Six movements in which the four musicians play in duos—the second violin and viola and the first violin and cello—but the two duos play simultaneously, each with different and contrasting material. And while Duo II plays in strict time throughout, Duo I plays with considerable freedom. As we begin to learn to hear the piece, the two duos become more audible to us as separate entities—and then, later, the music created by the contrast between them becomes a fascinating whole. The experience is similar to listening to a fugue, but more difficult because the music is more complex. The music passes through several moods – some passionate, some meditative, some anxious—and often Carter will play one off against another, with, in effect, an agitated foreground and calmer, lyric background. These passages are extremely effective emotionally—once again suggesting the coherence of discontinuity. We are told in the notes that it took the Julliard Quartet a year of rehearsals to get this quartet right. While this is not surprising, the Pacificas give the impression they were born playing it. They truly own this music.
The difference between memorable modernist music and lesser fare is whether it can draw you into its world and not just dazzle you with it. Carter's second quartet may not pull you in on first hearing but given time, it has the power to reprogram your brain!
Quartet No. 4 (1986) is structurally more traditional than Nos. 2 and 3—to begin with, it has four movements—but it is more challenging to follow. Each of the four instruments appears to have a different story to tell. Amateur ears will have some difficulty sorting them out, but the composite construction they create is an extraordinary thing to behold.
The music of Elliott Carter's quartets makes better listening than reviewing, so don't let my verbal struggles here dissuade you from trying it out if you are new to the composer. Carter is a musical giant we all need to know. At the very least he can help us understand and better evaluate the rest of contemporary modernism.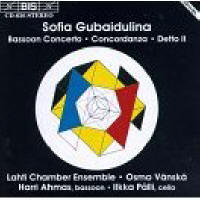 Sofia Gubaidulina, Concerto for Bassoon and Low Strings; Concordanza for Chamber Ensemble, Detto II for Cello and Chamber Ensemble. Lahti Chamber Ensemble, Osmo Vänskä, conductor. BIS 656. (1993)
What is most striking about the featured bassoon concerto (1975) by contemporary Russian modernist Gubaidulina is what a triumph it is for the bassoon. The composer gives the instrument a full musical life, allowing us to hear what a surprisingly wide range of emotional expression it is capable of. It is the first voice we hear and its forlorn, plaintive beauty is barely recognizable as a bassoon. And then, over the course of the work's five movements, it sings, plays, barks…and hints at darker possibilities (which are shockingly realized). And the low strings give it wonderful company, sometimes joining in the play, sometimes simply providing sibling voices. There is no easy way to characterize this concerto other than to say that it is fresh, eccentric, diverting, captivating, amusing, frightening. It is modernist in the best sense of the term, aiming to break through inherited musical expectations to make us see and hear newly.
Concordanza (1971) catches much of the same spirit as the bassoon concerto, wind instruments and percussion playing anxiously together and singing over strings, until a cello and then high strings have their say. About halfway through its eleven minutes, it becomes strangely quiet for several minutes – we hear a very high violin and very low strings defining what feels like a huge vertical space between them. Then we are back to more shenanigans, solo instruments and instrumental sections each having a say. If there is 'concord' in this plenitude of sound, it is the concord of a universe of individual voices in the night, and the many voices of a hot summer night in the heart of wild nature may finally be the clearest image for the work.
Detto II (1972) loves the cello as much as the Bassoon Concerto loves the bassoon, but not as a cello is usually loved. It is the upper range of the instrument—we are not used to hearing weight up there – that gives this work its sound. The cello does not remain up there—actually with sliding glissandos it slips and races all over its range. An exhilarating trip.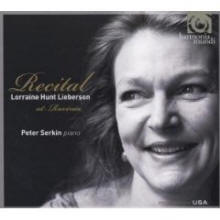 Lorraine Hunt Lieberson: Recital at Ravinia. With Peter Serkin, piano. Harmonia Mundi HMU 907500 (2009).
Some myths are true. A myth of greatness has arisen around the late Lorraine Hunt Lieberson, who died from cancer in her singing prime three years ago at the age of 52. Most music lovers know of her but fewer of them have actually heard her perform, especially without an orchestra behind her. She has an extraordinary mezzo-soprano voice in a world that prizes sopranos. Since her death, as her recordings have been sought out and new ones released 'from the can,' the truth of her greatness is catching up with the myth. What distinguishes her mainly is the shear emotional power she can bring to music that is both lyric and dramatic. She can single-handedly give flesh and blood to baroque opera. Her Theodora from Handel's opera of the same name is one of the glories of modern early music performance. There is a half-hour of her Theodora on Ave Records, Handel Arias, where she is accompanied by the Orchestra of the Enlightenment.
She began her singing career with Nicholas McGegan's Philharmonia Baroque Orchestra in San Francisco, her home town, where many of us heard her first, as Lorraine Hunt, singing Handel's Ariodante and Susanna, barely knowing what we were hearing.
This recording was made in 2004, 'live' at the Ravinia Festival in suburban Chicago, accompanied by superb pianist Peter Serkin. Her voice is still in full form here and even more prominent without an orchestra behind her. She sings mainly songs written for voice and piano by Brahms, Debussey, and Mozart, though there are also four Handel arias included. They miss the orchestra we are accustomed to hearing behind them, but Hunt Lieberson's voice is certainly convincing enough to give the music more than its due.
System used for this audition: Audio Note CDT3 transport and Dac 4.1 Balanced Signature. Blue Circle BC3000 II/GZpz preamplifier and BC204 hybrid stereo amplifier, Jean Marie Reynaud Orfeo and Offrande Supreme speakers. With Blue Circle BC6000 line conditioner. Audio Note Pallas, Sootto, and Sogon interconnects; Lexus speaker cables.
Bob Neill, in addition to being an occasional equipment and regular music reviewer for Positive- Feedback Online, is also proprietor of Amherst Audio in Amherst, Massachusetts, which sells equipment from Audio Note, Blue Circle, and JM Reynaud, among others.