This year's Rocky Mountain Audio Fest featured a number of new U.S. product introductions and one example was the Xavian Mediterranea speakers from Czech Republic speaker manufacturer Xavian Electronics. This company is new to me though they have been around for several years. Judging by the performance of their new floor-stander, I'm sorry to have missed out on hearing Xavian products for so long. Xavian's chief designer is one Roberto Barletta whose ideas in speaker design seem to be pretty conventional in that he seems to be able to achieve a very musical sound through good choice of components and excellent cabinet construction. Xavian has about a dozen speaker products in two series. The XN series has several stand-mounted models and one floor-stander. The XC series also has stand and floor models as well as center and rear channel versions. The Mediterranea is at the top of the XC series line. It's a 3-way, full-range speaker in a sealed enclosure with moderate sensitivity and the capability of handling high power. Half Note Audio (www.halfnoteaudio.com) in DeKalb, IL sells Xavian speakers direct to the public in the US.
The first thing one will notice about the Mediterraneas is their beautiful hand-built cabinetry. My pair was finished on all sides in a gorgeous cherry veneer; four other finishes are also available (maple, walnut, Birdseye maple and black). The veneer on both speakers was closely matched; a sign of quality befitting a speaker in this price range. A stylish black grill gives the speaker an exotic look consistent with its name (unfortunately, for me the grills had too large of an impact on their sound so I removed them during listening). And while the cabinet construction is impeccable in appearance, it is also quite complex. The 3-way sealed enclosure sports 3 separated sealed and heavily damped sections within the 55-inch tall speaker. The four drivers are all sourced from Scan Speak. The two bass drivers, one mounted towards the top of the enclosure in one sealed section and a second towards the bottom in a different sealed section, are identical 7-inch devices and cross over at 200 Hz to a third 7-inch midrange-bass unit that looks identical (the mid may have a different motor system than the bass units but the cone appears to be the same). This midrange and the 1-inch impregnated fabric soft dome tweeter are in the third sealed section. The mid-tweeter crossover is at 2500 Hz and the tweeter is mounted about 36-inches off the floor. The overall dimensions of the speaker (in inches) are about 55 high x 8.25 wide x 11.5 deep. Each speaker weighs a solid 86 pounds. A separate mounting platform is provided that allows outboard spikes to be set once the speaker is positioned in the room. When so spiked the speaker is securely braced and not easily knocked over despite its height. Their use is highly recommended for getting the best out of the speakers in terms of their bass reproduction. The Mediterranea has a single pair of WBT Platinum Signature terminals on the back integrated with a leather trim piece that adds a sophisticated touch (not sure if the leather serves any function—hopefully its use won't scare away any animal lovers). Here are some other specifications from the Xavian web site:
Bass frequency unit: 2x 180 mm Scan-Speak Revelator, paper membrane, SD-1 "motor"

Mid-bass frequency unit: 180 mm Scan-Speak Revelator, paper membrane, SD-1 "motor"

High frequency unit: 29 mm Scan-Speak impregnated fabric soft dome, low - distortion "motor", no ferrofluid

System type: 3-ways with 3 separated sealed enclosures, internal bituminous "sandwich" damping

Cabinet: 22 mm MDF handly crafted

Frequency response: (-3 dB on reference axis): 37 - 32,000Hz

Connection: 1 pair of singly mounted WBT Platinum Signature binding posts

Nominal impedance: 4 ohms

Crossover frequency: 200 - 2500Hz

Sensitivity (2V / 1m): 87dB

Recommended power amplification: 100 - 300 W

Dimensions (HxWxD): 1412 x 210 x 290 mm

Net weight (1 unit): 38 kg
Setup
I still had the Clayton M-300 monoblocks in house when I received the Xavians (see review in PFO Issue 40) so the first couple of weeks of listening were with these exceptional amplifiers. The Claytons were used with MIT Terminator 2 speaker wires and my Audible Illusions IIIA preamp. I started with the speakers in the position where most speakers sound good in my moderate size room: about 6 feet out from the front wall, roughly 7 feet apart, and 3 or 4 feet from the sidewalls (the side placement is not symmetrical due to furnishings). In this position I could appreciate the Xavians' smooth highs, solid midrange, and full-range bass; though the lows were a bit too strong in that they were darkening the overall sound. Using my trusty Radio Shack SPL meter I found strong room nodes in the 60 - 80Hz range (these are present to varying degrees with other speakers I have tried in this room) and that the speakers were rolled off below 50Hz. To address these nodes and the bottom-end roll-off I tried several alternate positions ending up with the speakers about 1.5 feet closer to the front wall than before. This placement resulted in less prominent room nodes that helped smooth the bass and reduced the roll off in the extreme lows to such a degree that I was now experiencing significant output down to about 25Hz. The extended low frequency response (below the rated 37Hz) is probably due to the slow roll off characteristic of a sealed enclosure (compared to the faster roll off of a ported enclosure) with reinforcements from the room. In any event I was tickled to get such full-range low frequency response from these speakers. This allowed me to permanently turn off my subwoofer while the Xavians were in house! Even so, the bass quality was still a little on the "loose" side in this speaker position (bass was tighter and faster in the original position I tried), but I found that I enjoyed the music more with the slightly elevated lows and lesser boom from the room nodes. Later on, when I added the spikes, the lows tightened up somewhat further than sans spikes resulting in even better bass performance.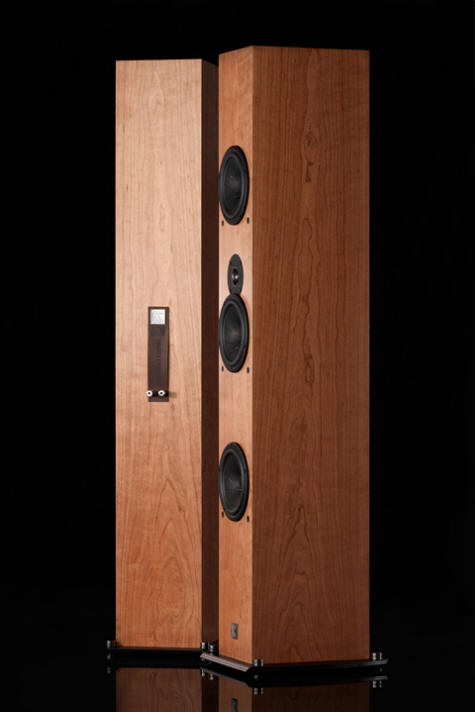 I already mentioned banishing the grills as they robbed the highs of much of their delicacy and muddied up some of the midrange. Pointed straight ahead the speakers seemed to lack some detail and definition. Toeing them in to point directly at the listener provided more detail, but the balance across the presence region seemed a little off to me. Note that the tweeter at 36 inches above the floor is right about at ear level for most listeners (actually slightly above ear level with my listening position) so it's likely the designer intended the speakers to be heard on axis. While adjusting the blend between the drivers through various positioning(s), I also worked on the soundstaging. With the Xavians, I was unable to realize the very deep and detailed soundstage that I had reported hearing in my Clayton when using my own speakers (see side-bar) review. In some instances this has been related to a speaker cable issue, but I was only able to try one other cable with the Xavians (Audioquest) and these did not make a significant change. I did notice when I de-cluttered my listening room, removing several boxes and an extra set of speakers that the imaging and soundstaging improved. I expect this reveals that the Xavian drivers have such wide lateral dispersion that any objects in the listening field of view will contribute to the stereo effect –in one way or another. The best compromise I was able to achieve after a couple of weeks of intermittent trials was with the speakers toed in so that the tweeters crossed a few inches in front of the listener's position. This gave me the smoothest frequency response and the deepest soundstage in my room. Other listeners might set up the speakers differently depending on their taste or preference and room layout. This is one of the endless joys of audiophilia!
Listening Tests
I'll get quickly to the point. The Xavian Mediterraneas like to be played LOUD. When I played them at my "normal" reviewing level, which most sane people would already consider loud, they just did not sing—I had trouble connecting with the music. But when I cranked them up another notch or two, they really started my toes a tapping. Wow, these speakers really have a superior bass response with lots of detail and clean articulation. They could be a bit faster, but then this property is so clearly affected by room set-up—that is I may not have had them optimized for ultimate speed. They provide excellent sound/presentation that places you "in" the acoustic environment of the recording. The very lowest notes (say below 40Hz) tend to be more wooly than not, but this is below their designed response. Even so, I think the bass quality is the best feature of this design; try the Kodo drums for a really great show.
When played with the Clayton amplifiers the highs were very delicately detailed as well as being very extended and airy. The Mediterraneas never sounded harsh, even when listened to directly on axis at loud levels. This could be a result of the speakers having an impression of possessing slightly rolled off highs relative to the midrange (more on this below). I found I enjoyed them most with classical music rather than popular or jazz which I would attribute to their frequency response. Hopefully this statement won't scare any readers away, as classical orchestral music is usually harder to get right than many other forms. Once the Claytons were gone and I hooked up my stock Krell KAV-250 the highs lost some of their magic, but were still quite good. Meaning that to get the best out of these speakers one needs to pay attention to the amplifiers they are matched with. This should not be a profound statement for most readers of this magazine. Even with the Krell amplifier the Mediterraneas were very accurate and clean through the upper frequency range. The Scan Speak tweeters seemed superior to me than the one in my vintage Wilson Cub speakers. And while I've heard better highs than those produced by the Xavians, one has to spend much more than the $10,500 these speakers will set you back.
The midrange is very transparent and lets you listen through the amplifiers and into the source components. I found the balance to be very smooth with a slight tilt towards the warmer side of the spectrum. Again, classical music seemed to fare the best compared to vocals, rock, or jazz. My favorite recording of The Planets with the Los Angeles Philharmonic under Zubin Mehta was very entertaining, although I had to play it louder than normal to hear some of the more subtle. Smaller scale classical also played very well, although solo violin was lacking some clarity in the top registers on some recordings. Among vocal recordings I found male vocalists such as Johnny Cash in his last releases on American Recordings to sound more realistic than some of the female vocals I tried from Eva Cassidy, Emmylou Harris, Christina Aguilera, and others. On Patricia Barber's Modern Cool the voice was as haunting as I normally hear it, but the room ambiance was not as distinct as I've heard on other speakers. Perhaps I can attribute this to the perception that the highs appear to be ever so slightly rolled off?
Even so, the Xavians produced images that were rock solid and stable and I would rank the speaker's performance in this area as being "good to excellent" for the money. Not as much air or detail as I've heard in some more expensive speakers, but I don't think you'll be disappointed. And while I had problems with soundstaging in my room, especially depth and layering as I mentioned in the Setup section above, I sense this shortcoming can be corrected with a better choice of cables and amplifiers, and is not necessarily an issue of the speakers themselves.
Summary
I really enjoyed my time with the Xavians and believe they represent excellent value. Some terrific components are coming out of Europe these days and I think it's a hopeful sign that these talented designers are willing to take their chances in today's challenging market for home audio. It's difficult for a relatively unknown company such as Xavian to gain traction in the U.S. market, but if the rest of their speaker line sounds anything like the relatively expensive Mediterraneas then they are worth seeking out at any and all price points. These speakers are intelligently designed and beautifully built, and are sure to enhance the bling factor of your sound system. They are not for use with wimpy tube amplifiers as their efficiency is on the low-ish side …besides they really need to be played loud-er to come alive. Even so, it might be interesting to hear them played with some higher power tube amps. Be prepared to spend a little extra time in setup and talk to the distributor about compatible speaker cables and interconnects. I look forward to hearing more from Xavian Electronics in the future. Mike Wechsberg
Mediterranea loudspeakers
Retail: $10,500 a pair
Half Note Audio
web address: www.halfnoteaudio.com