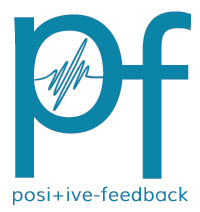 You are reading the older HTML site
Positive Feedback ISSUE
41

january/february
2009
Even More Music
by Mark Wagner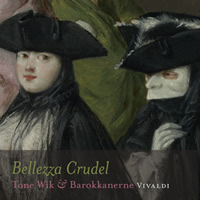 I have come to have a real love of the efforts of Mort Lindberg of 2L Recordings. Like my beloved Caro Mitis SACDs, I can always count on one thing: a consistently superb sound. Like many of 2L's recordings, this newest issue "Bellezza Crudel" by Vivaldi, is a new discovery for me.
These four cantatas, performed by Tone Wik and Barokkanerne are true musical gems of the highest order and are worth a serious listen to people who want to expand their knowledge of the prolific output of Vivaldi. While I know nothing of the performers and the ensemble (once again I am convinced that Norway is full of seriously talented musicians) I am impressed by the quality of Tone Wik's marvelous voice and the high quality playing of the bassoonist Per Hannisdal and recorder player, Alexandra Opshal.
As with all previous releases, the 2L sound is simply world class. The Jar Church (once again, besides great players, Norway is obviously full of killer recording venues) provides a wonderfully warm and intimate environment that lends itself to the superb sound. There is plenty of space around the musicians and there is a sense of palpability on this recording …totally wonderful!
A most highly recommended recording!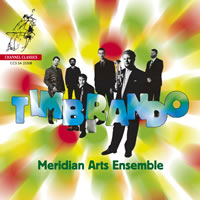 As a long time fan of the Meridian Arts Ensemble I was excited to be asked to review their newest release, called "Timbrando", which is Portuguese for "making a sound". An interesting word for a rather mundane process, as the Meridian Arts Ensemble is certainly anything but mundane.
Their last release, "Brink" was full of their usual highly virtuosic fare and featured music that certainly takes the listener to the, aah, brink. This may come off as snobbish, but much of the music of previous releases is best served up for serious listening for the fairly savvy and musically educated. "Timbrando" on the other hand, is just the opposite and is now my favorite release of all as this music imminently approachable. Take Track 3 (Caballito Nicoyano, traditional Costa Rican) and Track 4 (Michelangelo Antonini Caetano Veloso). Track 3 brings to mind images of dancing on moonlit beaches with a cold Mojito in hand while Track 4, once again evoking images of dancing, but this time with a beautiful Latin lady in a smoky dance hall.
As usual, the Channel Classics sound is absolutely top notch, with Jared Sacks doing his usual fantastic job catching the brilliant sounds of the musicians. Even though this is a studio recording, there is nothing to indicate such a location. The warm and tasty sound has a great spread from left to right as well as front to back, with plenty of space between the players. The sounds of the brass players as well as percussionist are captured with great accuracy and realism! Well done Meridian and I look forward to future releases!
Highly recommended!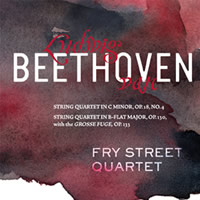 I picked up my first few IsoMike recordings at the 2006 RMAF show. I had previously read and seen stuff on Ray Kimber's alien looking microphone setup. To be honest, I really did not care what was on the disc, rather, I was more interested in the sound. Well, one of those initial discs had a then unknown to me string quartet called The Fry Street Quartet. With my long history as a brass jock, my early formative years (classical that is) had me aggressively shunning any type of string chamber music, Well, age (and perhaps some wisdom) has given me a rapidly expanding desire to make up for lost time and learn as much as I can about this wonderful genre.
This new SACD of the Fry Street Quartet features Beethoven's String Quartet in c minor, Op. 18 No. 4 and the String Quartet in B-flat Major, Op. 13 with the Grosse Fuge, Op. 133. While I will never have the same level of listening experience as someone who has spent a lifetime listening to chamber music, I can still easily recognize superb musicianship and technical prowess when I hear it; and the Fry Street Quartet has all of this in spades.
What I love most about this SACD (besides the superb playing) is an absolutely wonderful sound. During the past few years I have listened to some truly dreadful recordings of string quartet recordings …not the playing mind you, as some groups like the Emerson, Julliard and Fitz-William quartets are undoubtedly world class. What was dreadful on the recordings was the sound. One of the recordings (of one of the ensembles listed above) sounded like they had been recorded in a broom closet and not the stage of the Aspen Festival. Seriously, I sometime wonder if some engineers hang the mikes on the player's noses.
Ray Kimber's IsoMike system captures a fine sense of intimacy yet does not feel at all close. There is air and space between the players while the sound of the strings is warm and totally lifelike …geez, what a novel idea. I have no doubt that the Fry Street Quartet is a force to be reckoned with and that they deserve a top spot amongst the world's best!
My highest recommendation!