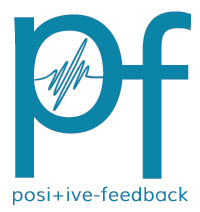 You are reading the older HTML site
Positive Feedback ISSUE
41

january/february
2009
More Music
by Roger Gordon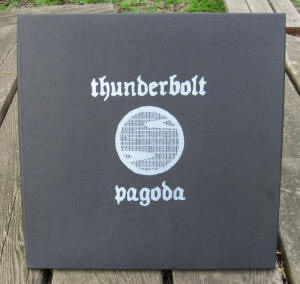 Thunderbolt Pagoda
This is the eponymous debut album of four of Minneapolis' musicians. Their name is taken from the 1968 Ira Cohen cult classic The Invasion of Thunderbolt Pagoda which was a bizarre, psychedelic, and very surreal movie—think Eraserhead or Begotten. Like its namesake, the music of Thunderbold Pagoda is psychedelic rock. It is also ethereal, dream-like, and experimental, all in the same breath.
The four musicians making up the group are Erik Wivinus (guitar and vocals), Dave Onnen (bass and electric bouzouki), Nate Cutland (drums and effects), and Ralph Karsten (keyboard and flute). Wivinus and Onnen played formerly with Salamander and Skye Klad. Cutland has played for over a decade with a local Minneapolis band called Pins. Karsten is known to us in the Hi End world as Ralph Karsten of Atma-Sphere Music Systems, maker of the wonderful sounding Atma-Sphere OTL amps and preamps. Ralph has performed and recorded for a number of years as a one-man band under the name Salubrious Invertebrae, the music of which is all analog synth of a very experimental nature. Salubrious Invertebrae has opened for the goth metal band Therion and for the progressive/psych band Porcupine Tree.
The band members have been heavily influenced by bands such as King Crimson, Tangerine Dream, and Kraut Rock bands such as Loop, Eno, Goblin, etc. Yet their music, while influenced by these bands, sounds distinctly different. Their record label, Mutant Music, describes, in their catalog, Thunderbolt Pagoda's music as:
"This is heavy Kosmische music for the modern age. Epic space voyages give way to punishing riffs and propulsive mantric rhythms, and the band make use of subtlety and bombast in equal measure. Mellotron, electric bouzouki and vintage analogue electronics act in conjunction with high-volume guitar, bass and drums to bring forth a musical palette capable of creating the epic musical landscapes the group envisions."
The opening track starts off softly with the subtle sounds of meditation only to rudely interrupted after a few minutes by crashing guitar chords. The music, while always dream like, can get boisterous and violent, but never leaves the realm of psychedelic rock. While I find the music of Salubrious Invertebrae hard to recommend to most people since it really pushes the musical envelop, Thunderbolt Pagoda is easily listenable to anyone that loves listening to the psychedelic rock music of the late '60s. For some lengthy samples of the music, go to www.myspace.com/thunderboltpagoda .
In addition to being fun music to listen to, this album is also very well recorded. Besides Ralph Karsten's talents as a designer, manufacturer and musician, he is also a part-time recording engineer. His 1988 three LP box set of Canto General (Atma-Sphere 3-001) was very well received by the audiophile community. Since all four of the musicians in the band collect vinyl and prefer analog recording over digital it was natural for Ralph to record this album as an all analog recording released only on 180gr vinyl. Fun music.
For purchasing information contact: www.mutantmusic.com
Mutant Music MMLP0025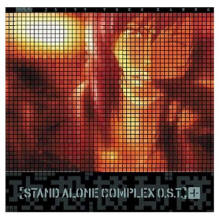 Ghost in the Shell: Stand Alone Complex Vol. 1
The Ghost in the Shell franchise started in 1989 as a graphic novel (manga) written by Masamune Shirow. Since that time two more graphic novels have been appeared as well as three animated movies, two computer games, and two TV anime series, each composed of 26 half-hour episodes. In 2008, Dreamworks (Steven Spielberg) acquired the rights for a live-action Ghost in the Shell movie. Obviously, the franchise is doing well. The music from the soundtrack of the 1995 Ghost in the Shell movie, composed by Kenji Kawai, has gained some popularity due to its prominent use of drums and also the use of a women's chorus singing in a style reminiscent of the Bulgarian Women's Choruses that were popular at the time. However, the soundtrack to the Stand Alone Complex TV series, written by Yoko Kanno, has sold extremely well for an anime soundtrack. The reason, of course, is Yoko Kanno. While pretty much unknown outside of Japan, except in anime circles, in Japan Yoko Kanno is widely known as a composer and/or arranger of music for video games, TV commercials, j-pop soloists, and movies (both live-action and anime). She is a skilled keyboardist and is the frontwoman to The Seatbelts, a blues/jazz band. Probably her most famous music is the jazz based soundtrack for the anime Cowboy Bebop (12 different CDs issued so far including a 4 CD collector's edition with souvenir booklet). If you like modern jazz, then by all means listen to the Cowboy Bebop soundtrack. However, the Ghost in the Shell: Stand Alone Complex Vol. 1 soundtrack will give you a better idea of her talent for composing music in many different genres. Of the 18 tracks on this CD, the music falls into the following genres:
Rapp
Rock
Worldbeat
Worldbeat/jazzy (2)
J-pop female vocalist sung in English
Hard rock
Ballad female vocalist sung in English
Soft rock male vocalist sung in English
Disco
Synth dance music with female vocalist sung in Russian
Classical music with wordless female vocalist
Soft rock female vocalist sung in English
Ballad male vocalist sung in English
Acoustic guitar with male vocalist sung in English
Synth music with female vocalist sung in English
Disco with vocal group sung in English
Synth dance music with female vocalist sung in Russian and English
If you want to listen to some of this music go to www.youtube.com . Doing a cursory search on Youtube found the tracks for five of the 18 tracks on this CD (Rise, Lithium Flower, Beauty is Within Us, Inner Universe, and Rabbit Run Junk). A more detailed search will probably turn up more.
Because of the wide range on music covered on the CD you probably won't like every single track. However, I am sure that most people will find a few tracks that they really enjoy. Expand your horizons. You can buy a used copy off the web for US$7.
Bandai 25199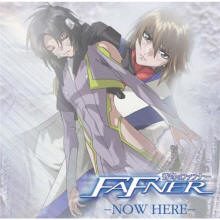 Fafner, Now Here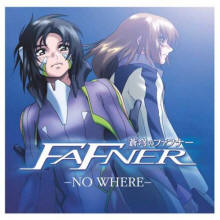 Fafner, No Where
Fafner of the Azure: Dead Aggressor is a 25 episode Japanese TV anime with an excellent soundtrack written in the classical genre. Except for the two J-pop vocal tracks (opening and closing credits) at the end, all tracks are classical in nature. Most of the tracks are for full orchestra though there are tracks for solo instruments (piano, harmonica, and drums). There are also tracks for penny whistle and acoustic guitar, for harp and wordless female chorus, for harp and orchestra, and for brass choir and orchestra. The musical forms include marches, sprightly dances, a lullaby, brooding, melancholy pieces, battle sequences, and sorrowful pieces. Quite a gamut of emotions. The music was written by Tsuneyoshi Saito. It is played by the Warsaw Philharmonic Orchestra conducted by its resident conductor, Lukasz Bororwicz. The Warsaw Philharmonic does a lot of soundtrack work for Japanese films since they are very good at performing European style classical music and they cost a fraction of what recording orchestras cost in Japan.
Besides being well performed, the music is also very well recorded. The sound is very clear, detailed, and on a good audio system, three dimensional. Track 16, which is a drum solo, is quite spectacular and is going to be used by a friend at CES 2009 as one of his test tracks as he makes the rounds of the exhibit rooms..
If you want to hear some of the music off of the CD go to www.youtube.com and do a search for "fafner of the azure". This will yield a number of the tracks off of the CD. There you can also watch some of the episodes from the anime TV series to get an additional feel for the music. If you watch any of the anime episodes Fafner will seem like your typical anime plot of school kids piloting giant robots to defeat alien invaders a la Evangelion or RahXephon. It isn't, any more than Gone With the Wind was a war movie.
If you want to buy the Fafner CD be aware that there are actually two CDs containing music from the soundtrack. The CD reviewed here is Fafner - No Where. The second CD is called Fafner - Now Here and has a very similar cover. I have both CDs. There is no repetition of music between the two CDs. While I do play Fafner - Now Here occasionally, I prefer the Fafner - No Where CD. Both CDs are available used off the web - US$6 for Fafner - No Where and US$3 for Fafner - Now Here. Enjoy.
Geneon 5285-2
Caveat Emptor: If you buy anime soundtracks or videos, be aware that Chinese manufactured grey market CDs and DVDs are entering the major world markets. While sold a ridiculously low prices, the quality of these CDs and DVDs range from average to junk. Make sure the copy that you purchase was manufactured in Japan, the USA or Western Europe. Otherwise you will be very disappointed.