I was on my way home from work when the cell buzzed. The voice on the other end said: "I'm Chris. I'm here to drop off two HUGE boxes—speakers I think. I'm on a main street a few blocks away from your house." So—I'm thinking—just drop them off. I tell Chris: "pull up to the front and I'll be there in a few minutes" He's like: "you don't understand man, I'm driving a semi with a 53-foot bed". I live on a small street in the foothills of the mountains; usually it's the UPS or FEDEX truck delivering review samples, no problem. But a 53-ft semi? I met the guy where his big rig was parked and we reconnoitered the loop the diesel-guzzling 18-wheel Ford would have to negotiate to get close to my driveway. He said "I think I can make it if I can cut over that one curb". Luckily that curb was low and rounded. The guy drove like an angel. Once we got to my place he opened the back. I saw that the boxes, labeled "LS-6 loudspeaker—designed and engineered in the USA, handcrafted with pride and passion in Cali, Columbia", were the very last pieces in the bed of the enormous lorry. Chris got them on the hand lift and whisked them into my listening room with ease and skill. I'm glossing over some of details of maneuvering the behemoths into the house. It wasn't an easy task, but most folks don't live in a canyon called Cheyenne. I gave the driver a Jackson—he deserved it.
Once inside it was fairly easy to unpack the LS-6s, open the box, remove the protective foam rubber, and slide off the full-sized cotton sock that protected the finish. Lay the LS-6 on its side, attach the supplied hex screws to the bases, turn the giants up right, and voila, we had music in about 1/2 hr. Everything looked great except one of the plastic inserts that holds the grill tabs fell out, and I did have a few minor problems with the base screws, one on each side would not thread. I got the Mojo Satin finish, which upon first glance I wasn't crazy about, but after a few minutes I decided I really liked - it matched my room and my cat Purcy nicely.
Mark Shifter has been redefining the hi-end a little at a time with his company, AV-123, which quickly got a rep for the biggest bang-for-buck outfit around. The buzz about this line-source project with designer Danny Ritchie has been around for a couple of years. They exhibited both the LS-6 and its larger cousin the LS-9 back at the RMAF Denver in both 2007 and 2008. Since then an army of hopefuls posting on the AV-123 website forum have been eagerly anticipating the release of both line sources. Now that the LS-6 is finally available for listening we'll take a look at which way the audio scales tip.
This is a large transducer. Imposing. What looks like a lot of speaker for $4499. Don't even bother with a smallish room. At almost seventy inches high the LS-6 sports eight-6.5" bass drivers built by Peerless India with a curvilinear shaped treated paper cone. The dust cap is precisely shaped to enable as perfect a response as possible. The woofer uses a polymer chassis to prevent transmission of resonances to the front baffle, and the voice coil is vented on the outside through the frame and pole piece each with a matching rear-firing flared ports, and 6 planar tweeters based on the Bohlender Graebner Neo8 which adds up to a 2-way, 14-driver line source.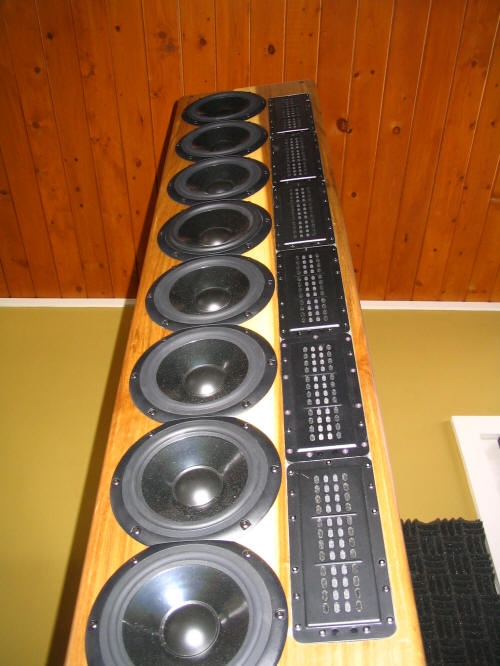 My review sample did not come with a manual. Specifications listed on the website are sketchy and AV123 claims that the LS-6 sensitivity is about 90/91db. Frequency response and slope are not listed. The crossover point is 1 kHz—a wise choice IMHO to keep it out of the vocal range—even the highest soprano tops out at 1kHz. "We use simple crossover networks that are easy to drive, including Sonicap and Erse PulseX capacitors, Mills and Erse resistors and Erse inductors. No hard phase angles and low impedances here. You can power these monsters with 50 watt tube amps if you like - and some do. Of course some also prefer 300-500 watts per channel to really make them talk loud."
A Line Source array performs differently than a standard point source. Look up the detailed explanations about line sources on the AV123 site or some other place on the web, I'm not going to write an essay about the theory here. The 50k ft view is a line source's volume drops off only 3dB per doubling of distance whereas a point source's volume level drops off at a rate of 6dB per doubling of distance away from the speaker. Also, the more obvious effect, because of the array of matching drivers that line up and down the cabinet the effective listening area is much large than a point source.
The LS-6 is sensitive to both upstream components and cables. After trying several cable combos I found they like Acoustic Zen, both silver and copper. Using an all-Zen configuration resulted in a presentation was less grainy, had tighter bass, smoother midrange, and larger and easier to manipulate soundstage.
The bass management system is a real plus. When I first set up the LS-6 the bass was overbearing, as if a powered subwoofer was set too high. After the recommended break-in time of 500 hrs—you read that right, 500 hrs!—I played a few cuts. The bass was definitely overloading the room. Unusual. Normally, bass has to be coaxed out of new speakers. I opened up the little plate on the back of the LS-6 and switched the setting from "large room" to "medium room". Ahh, much better. Still, I wished I could adjust the bass with a potentiometer instead of a few hardpoint settings. OK, keep remembering $4499. Still, what type of bass makes you happy—response that doesn't call any attention itself? Got it. Want to really feel that kick drum? Got that too. Organ? No problem—even the16Hz pedal tone in the Saint Saens (Organ) Symphony #3 showed itself (although not prominently) in my room. Bear in mind you will need some amperes to power those low notes properly. Although the LS-6 has relatively high sensitivity I suggest you use a powerful amp that can produce some current if you want them to play loud and deliver prodigious bass.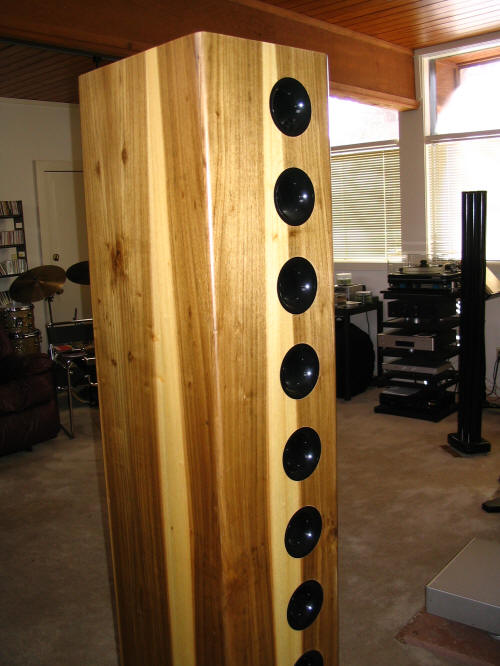 Initial placement of the LS-6 was relatively easy, although the fine adjustments that really brought out the bloom took a while. I quickly found that the typical isosceles triangle set-up did not work. The listening position should be further than the other two legs of the triangle, and at least 8' away with the LS-6. The LS-6 was also very responsive to my Argent Room Lenses – perhaps more so than any other speaker I've had in my room. My immediate impression is that the room lens is built much like the line array itself—almost the same height and the same function from top to bottom. I'll have to ask Danny Ritchie his thoughts on this.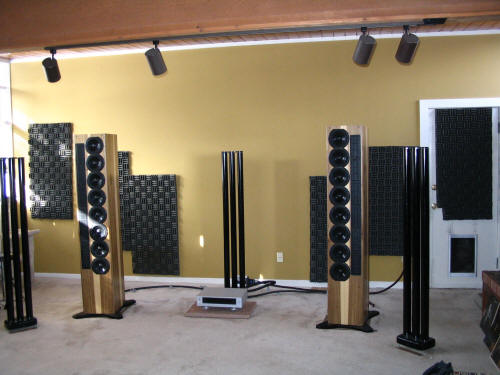 The spikes supplied with the LS-6 were junk. I installed the pointy beasts and tried to match the cabinets as close as possible to the final position. Of course every time you install spikes the unwritten rule that says you must, I repeat, must, move them at least a tiny bit. I did. As soon I did both cabinets were uneven. The metal in the spikes bent so easily it made them virtually impossible to use. When I asked Mark Shifter about this he held that there's really no reason to use spikes with these behemoths, they are large and heavy enough to couple with the floor sans spikes. Now Mark has probably forgotten more about audio then I ever knew, but this time I have to disagree with him. I did experiment with spikes later on, and I felt there was a nice bit of detail added. I really would suggest AV123 include a quality spike—hell, just get an aftermarket model of your own. At this price you should have enough scratch left over. Do wait a couple of months though; it took me several iterations of placement before I found the optimum spot. And we all know what it's like moving and adjusting speakers—especially boxes this large—with spikes attached. OK, keep remembering $4499.
A friend who is fussy about his speakers listened for a couple of cuts. He's used to seeing and hearing lots of different speakers in my room. An electric bass player, and recording engineer, he kept opining about Jaco (I was spinning Weather Report)—the texture of his fretless, passing tones making sense, and the sheer intensity of the presentation, and "all this shit I've never heard before". He stood up, kneeled down, leaned left, then right, and exclaimed, "This speaker has the largest sweet spot I've ever heard. Who makes these? I want 'em, but I know I can't afford 'em." When I mentioned they were $4499 I could see the wheels spinning inside his cranium. He doesn't have a room large enough for the LS-6, but I think the up 'n coming LS-4 could work for him. He was right about the soundstage and sweet spot. Both HUGE, both the largest I've heard in my room. Floor-to ceiling, wall-to-beyond-wall, and seemingly extending past the rear wall. The only speaker that bested the Daedalus Ulysses in my room in this regard. Simply a massive presentation.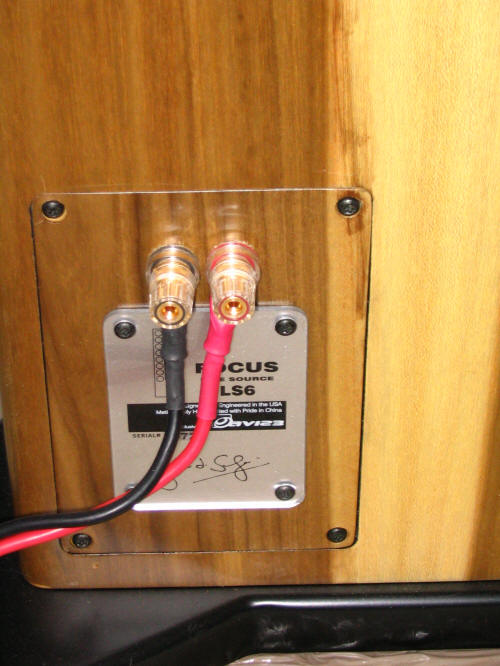 While listening and evaluating the LS-6 at several shows I've heard comments from others about detail more than once. "They don't have all the detail of a Maggie or a Wilson or a Thiel. " No they don't. Personally, I don't dig over-analytical speakers, and I'm finding the LS-6, when set up properly, and not subjected to show conditions, has all the detail most audiophiles will require. As will almost any speakers, proper set up, cables, source components, and room treatment go a long way towards coaxing great sound from these big fellas. The low (1kHk) crossover point goes a long way to help coherency and lack of obscurity. This and the fact that the woofer array uses small, fast bass drivers gave the LS-6 a uniform PRAT front, and goes a long way towards defining the winning qualities of this speaker. I felt overall, the sound they gave up was smooth (as opposed to etched), non-fatiguing, and dynamically almost without restriction. I 'm pretty sure my 150-watt amp gave out before the LS-6 did. Back to the question of detail—I certainly heard new detail in recordings I'm very familiar with. A revelation? No—this happens with almost every speaker I've auditioned in my room. Every high-end speaker is voiced differently, and every room brings out characteristics in a speaker. The LS-6s behave for the most part like many others that lived in my room for a while: not overly detailed nor lacking. The final verdict is for you to decide in your room, but for my part I felt the balance of coherence, PRAT, detail, dynamics, and balance of bass, mids, and highs were outstanding at this price.
When I heard Tina Turner's take on "Edith and the King Pin" from Herbie Hancock's River-The Joni Letters it instantly became my favorite Tina cut ever. Although this tune demands she tone down her usual intensity, she still has that edge that no one else comes close to. The LS-6 puts that edge right where it belongs. Not in your face, not buried, but perfectly in the mix to paint a different but very, very compelling version of Joni Mitchell's classic. Dave Holland's bass propels the music, while Vinnne Colaiuta and Lionel Louke paint perfect textures of accompaniment. The subtlety screams.
Turning to Van Morrison's "Fire in the Belly" from The Healing Game I got a pleasant surprise, having never noticed that both electric and upright basses adorn this cut. You'd think this would stand out, but truly, I never noticed both basses before, and had to check the liner notes. This song uses Van's classis R+B band (the real thing, not the junk that they call R+B these days) including Hammond B3, a horn section, and congas. The LS-6 did a wonderful job of placing Brain Kennedy's shadow vocals about two feet back and to the left of Van. Vocals were nicely textured and independent of other sounds in the mix to reconstruct a natural feel. The soprano sax solo did not break up or put a strain on ears, the dynamic virtues of the L-6 let me listen without the distortion that can happen in the upper register of this instrument. Although I was using 150 watts of PS Audio switching power, I kept imagining what it would be like to listen to the LS-6 with a high powered tube amp. Mark Shifter was trying to arrange for some time with the Dodd monoblocks, but it never happened. Like another Soprano says "Whattaya gonna do?"
The title cut from Holly Cole's homage to Tom Waits Temptation, was a combination of cool and eerie. The recording and engineering is top-shelf and seems to have been recorded just to show off certain of the LS-6's virtues. The weight and detail of the bass was damn–near perfect. I've been spending the last few Saturday nights playing jazz along with a great bassist using a very expensive 18th century instrument, and have become much more aware of the sound and quality of a really great bass. Although I'm not sure of the lineage of the bass on this recording, it's got the stuff. The percussion is also recorded flawlessly, with such presence it sounded and felt almost live. Combined with Holly's voice the feel was sheer creep deluxe—dragon chasing at its finest.
On to some newly acquired vinyl from my boys at Reclining Buddha records. My last visit turned up a pristine copy of Bartok's Concerto for Orchestra with Sir Georg Solti. A favorite composer, a favorite conductor, a must buy. The opening movement was a little creepy in its own ways. In 1943 Bartok was force to leave his native Hungary because of the war, and an illness that eventually proved fatal. Working from the US was psychologically upsetting and hard on the bank book. He could not pursue his favorite hobby, traipsing through the Hungarian countryside with a primitive recording device strapped to a donkey to preserve local folk melodies. Still, he managed to write some damn good music—some of which is captured in this recording. Although this is a London "Jubilee" series—a mid-priced line, the recording performs at a higher level than one would expect. Cymbals and metallic percussion were open and distinct within the soundstage. Woodwinds came across as palpably real. The LS-6's character emphasizes a big sound and a vivid presentation. Although the emotional content came across, the LS-6 faltered a tiny bit when presenting loud passages with full orchestra. Some detail was obscured. Don't get me wrong—I really enjoyed listening to this piece through the LS-6. The faults I heard were subtle, perhaps because some of the brass, woodwinds, and strings traverse the 1kHz crossover point of this speaker.
Last night—after I thought I was finished writing about this speaker - I had a goodbye session. For some reason my pristine pressing of Hendrix's Electric Ladyland was crying out to mate with my Scoutmaster. I obeyed. This I will tell you. I've never enjoyed side four's "Still Raining", "Still Dreaming", "House Burning Down", "All Along the Watchtower", and "Voodoo Child (Slight Return)" so much. I feel sorry for you if you can't appreciate Jimi. As is not my norm, I cranked this vinyl loud. So loud the cats, already locked down for the night, ran for the cover of their secret hidey-holes, and my wife, sequestered in the other end of the house, resorted to ear plugs. What I do for PFO …long story short, I played all four sides. Sometimes an audiophile has to be selfish. The effects were spot on, and if I didn't know better, I would have hunted for surrounds. Jimi's Strat (I think he also used a Gibson Flying V) was loud and searing, but not etched in any way. THE LS-6 had its way with these cuts. The supreme master of the Clyde McCoy (Vox) wah-wah pedal, Jimi's technique transformed the guitar beyond the sound of a mere mortal Fender. Mitch's Ludwigs had that dynamic bite the brand was known for. At the risk of sounding trite, it rocked. It kicked retro ass. Seriously, the best I've ever heard The Experience in my room.
Why would you buy these speakers? If you value a huge—and I do mean huge, 3D presentation, dynamics that can punch you in the gut if required, superb attack, mid and low bass that is deep, present, and fast but will never lack or linger, and most of all value, this is an easy choice. If you want to experience the rhythm section in the room with you, the LS-6s are, again, an easy choice. They would not be my first pick for a classical-only listener. Although I am not an HT type, my guess is that they would be a great R+L mains as building blocks for a home theater system.
Designing and building a line array with all the LS-6 has to give is not an easy task. Offering this product at $4499 is simply over the top. The LS-6's big, bold presentation is a pleasure to listen to when set up properly and well-cared for. They do so much right and so little wrong. As with all the other products I've heard from AV123, sound is great, price affordable. Props to the Shifter/Ritchie team, this is an easy product to recommend, I truly enjoyed my time spent with the LS-6. A speaker with many strengths that's easy on the wallet—most important in these times. John Zurek
Focus Line Source LS6
Retail: $4499 and up depending on finish
av-123
web address: http://av123.com