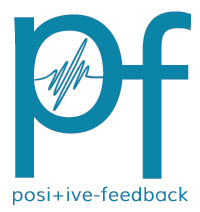 You are reading the older HTML site
Positive Feedback ISSUE
41

january/february
2009
Hayden
by Stephen Francis Vasta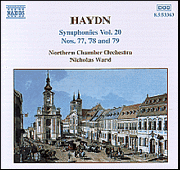 HAYDN: Symphonies: No. 77 in B flat; No. 78 in C minor; No. 79 in F Northern Chamber Orchestra/Nicholas Ward. Naxos 8.553363. TT: 58.26.
This program set me wondering whether we might be more familiar with more of Haydn's output had the composer not been quite so prolific. The sheer volume of Haydn symphonies—104 "canonical" works, plus assorted ephemera—leads conductors, listeners, and record companies to favor those works with some extramusical identification, whether individual (Hen, Clock, Philosopher) or as part of a nicknamed set (London, Paris, Sturm und Drang). But then fetching pieces like those in this program—Volume 20 of Naxos's planned complete cycle of Haydn symphonies, performed by a variety of conductors and orchestras—end up falling into the cracks.
The C minor and F major symphonies cut especially distinctive profiles, each in its way. Despite the official minor key and the opening movement's whiff of taut drama, Symphony 78 regularly veers into E flat major, ending happily after a pleasing journey. And Haydn offers a neat wrinkle in the F major when he unexpectedly concludes its Adagio cantabile slow movement with a boisterous country dance, Un poco allegro.
Nicholas Ward, directing from the violin, leads stylish, well-paced performances. He draws perky articulations from his Manchester-based Northern Chamber Orchestra, and wisely doesn't push tempi or tone beyond what the group's slender proportions can take. The opening Vivace of Symphony 78, for example, doesn't bristle, but it's suitably taut; the outer movements of the major-key symphonies fall short of the unbuttoned exuberance favored by Jochum and other big-orchestra conductors, but they're sprightly and vivacious.
Tastefully ambient sound contributes to the positive effect, blending clear wind detail effectively into a string-dominated sonority.
Go for it.