It was less than a year ago that I still considered myself somewhat skeptical of the impact that power cords and power conditioning can have on a high end audio system. I wasn't closed to the idea mind you; I just didn't think that the magnitude of improvement they would bring made an exploration of the area a very high priority. So while other areas of performance were addressed in my system, power delivery remained in the background.
That all changed in one eye opening moment when Pres Edmunds of Chalice Audio connected a World Power Power Wing to his JPS Labs Aluminata power cord and transformed my system. My recent experience at Roy Gregory's demonstration at the recent Rocky Mountain Audio Fest (See my 2008 RMAF Show Report) drove the point home and I'm now as dedicated a convert as they come. Some might even accuse me of proselytizing and I won't deny it, but trust me; ye shall not be lead astray . . .
With that I begin the first of several reviews of power products and accessories which will include the Quantum Qx4 and Qx2 Electromagnetic Field Stabilizers distributed by Nordost and Kemp Elektroniks' (that is how you spell it) Quantum Approach, Schumann Resonance and Shunt Noise Suppressor plugs. I will also have some comments on Nordost's Thor power conditioner which was sent along with some Quantum cables to be used for the Qx4 and Qx2 reviews.
The subject of this review is the Amazing Audio power delivery system which includes the Electric Bamboo line purifier and Mystic power cables. I first encountered Amazing Audio's Jim Pierce at the lunch café in the Denver Marriot Tech Center during RMAF where, as chance had it, hunger had driven me to pursue a chicken Caesar salad wrap. I happened to sit at one of the few open seats across from Jim and he told me of his and partner Dave Kalin's aforementioned power products.
Both Jim and Dave claim a very high level of performance for their gear comparing it with much costlier equipment. Though I take manufacturer's claims with a grain of salt, the proof of course is in the listening, so I requested a review sample and a set of cables.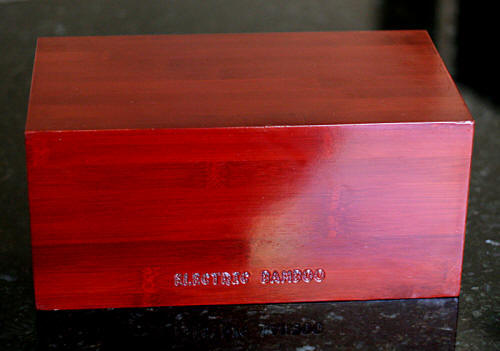 The Electric Bamboo line purifier is a star grounded, purely passive device featuring eight Hubble isolated ground outlets, two dedicated to digital and six dedicated to analog components. The IEC connector is a gold plated Furutech unit available in 15 or 20 amp capacities. All components are cryogenically treated. The unit is said to be non-current limiting and is rated for 1650 watts. The attractive wooden case is made of bamboo and is available finished in natural, rosewood or black.
The review unit has a plastic top plate but all future units will feature an aluminum plate. At close to 20 pounds the unit feels solid and appears to be very well made. It can be placed on the floor with the outlets facing up or on a rack shelf with the outlets facing back. It comes with a 14 day money back guarantee which includes return shipping.
I also received one 10 foot and three 7 foot Mystic power cords to plug the conditioner into the wall and my components into the conditioner. The cables are cryogenically treated and the Marinco connectors on both ends are filled with an epoxy-like substance that is said to dampen mechanical vibration as well as block EMI and RFI. The wire is cryogenically treated silver-copper, covered with a premium ground shield.
After replacing the power cords on my digital front end, preamp and amplifier and plugging everything into the line purifier, I let everything burn in. As the system cooked, I didn't give it much thought, but I found myself getting excited about listening sessions in a way I hadn't since first becoming involved in this hobby over 25 years ago. Suddenly the music drew me in every time, whereas prior to installing the Amazing Audio system, sometimes it did and sometimes it didn't.
After about a week I settled in for some critical auditioning. While there were noticeable differences in specific areas of performance; instrumental textures, resolution, the blackness of backgrounds, etc., by far the most striking improvement was in the ability of the system to communicate the emotion of the music. There was a new level of excitement and pure musical enjoyment, a snap and drive, an aliveness that was both seductive and relaxing, further removing the equipment from the equation and connecting the listener to the music. In fact, the improvement was so pervasive and enjoyable that it took a while to distinguish the specifics of what had changed.
Though there was a tightening and focusing of the bass, it wasn't just a matter of there being greater resolution or hearing more bow, string, wood or any other singular quality of the instrument. Rather the entire way the bass underpinned the music was transformed. For example on "Peel Me a Grape" from Diana Krall's, Love Scenes, (SACD, Impulse B0002841-36) the bass took on an urgent, driving quality that seemed to push the melody along, lending the tune the kind of toe tapping energy you get from the real thing.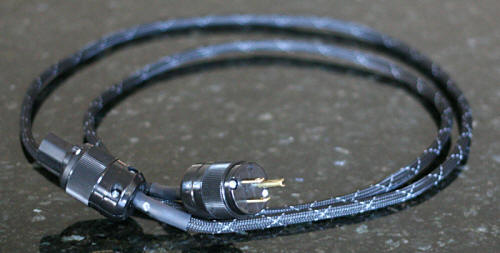 Voices became more real and emotionally expressive. Krall's voice exuded a kind of silky, restrained passion, a seductive quality that draws the listener into the song rather than forcing it on him. The piano was clearly fuller sounding, more palpable, with some of the bounce and snap heard in the bass that gave the song just the right timing.
On Elton John's "Rocket Man", Greatest Hits, (CD, Polydor 314 512 532-2) a slight electronic glaze seemed to disappear leaving Elton John's vocals more fleshed out and emotionally involving. A slight sense of dynamic compression seemed to have lifted letting the music breathe a little more freely with greater contrast and life. The sound of drumstick on cymbal which had had a bit too much ping now had more of the ringing of the metal. The greater sense of space and separation around the instruments made them sound less homogenized and more like real instruments playing in a real space. The background was noticeably blacker.
A subtle, electronic, raspy quality to Harry Connick Jr.'s vocals, "Love is Here to Stay", When Harry Met Sally, (CD, Columbia CK 45319) was replaced with natural warmth and presence. The sound was seductive, drawing the listener in, making it easy to forget the gear and just enjoy the performance. The bass became both weightier and better defined giving the music a driving pulse and rhythm that had me tapping along to the music.
Listening to Vaclav Nelhybel's "Trittico", HDCD Sampler, (CD, Reference Recordings RR-S3CD) I never got the sense that I was hearing more of anything in particular, but that I was hearing deeper into the music, that the meaning and the emotion were more clearly conveyed with a greater sense of dimensionality to each instrument and to the orchestra as a whole.
Just to be sure of the impact the Amazing Audio cables and distribution block were having on my system I removed everything and replaced it with the stock cables I had been using on the front end components and the DH Labs cable I had been using on the Music Reference RM-200 amplifier.
Suddenly the bass sounded loose and diffused; instrumental images flattened and became cardboard-like by comparison. Sibilants were more pronounced and there was an overall loss of life and drive to the music. The emotionally involving seductive quality was gone. As music became louder it seemed to flatten as though it was running out of steam and the rich relaxed sense of flow was missing. None of these qualities are what I would have used to describe my system before I installed the Amazing Audio gear, but I don't think I'm overstating the case by saying that after getting used to the improvements made by the purifier and cables, I found it impossible to listen without it.
I briefly tried the Amazing Audio gear with the Quantum Qx4 and Kemp Elektroniks Quantum Approach plug and found them both to work extremely well together and to provide further improvements to the set up.
The Electric Bamboo line purifier and Mystic cables transformed the sound of my system, improving every aspect of its performance with no downside. And while it is possible to discuss specific aspects of its performance, that's like discussing the length of Carmen Elektra's nose. It may be of academic interest but it doesn't give you the whole picture. With the Amazing Audio gear in play the whole system became downright seductive, conveying the soul and emotion of the music and performers that kept me coming back for more. At an introductory price of $2195 for the line purifier and $295 for the cables and with a 14 day money back guarantee, I highly recommend you audition the gear in your own system. Adam Goldfine
Specifications
Electric Bamboo Line Purifier
8 Outlets - 4 Digital - 4 Analog

Hubble Isolated Ground Receptacles

Star Ground System

Furutech Gold Plated IEC

Audio Grade 15A ceramic fuse.

110V - 120V operation 1650 Watts

Dimensions: 13"w x 6"h x 7.5"d

Weight:18 lbs
Retail: $2995, introductory price $2195
Mystic Power Cable (Marinco connectors, silver, copper, and gold conductors)
Retail: $595, introductory price $295
Company Information
Amazing Audio
TEL: 408. 813. 1718
web address: www.amazingaudiohome.com
email address: info@amazingaudiohome.com
Distributor
Solar Winds Audio
web address: www.solarwindsaudio.com
Manufacturer's Comments
We would like to thank Adam for his unbiased comments and observations during his review of the Electric Bamboo Line Purifier and Mystic Power cables. It pleases us that he noticed many specific areas of improved performance. But it pleases us most that he experienced the whole (Gestalt) of its effect on the enjoyment of listening to music. We can't wait for him to try the Signature Edition and the premium power cables in the near future. The unit that Adam reviewed has two digital and six analog outlets. All future versions will have 4 digital and 4 analog outlets and a black anodized aluminum panel. This will make it more suitable for those who want to use it in a home theater system.
Jim and Dave