Haydn, Piano Trios, Volume 1. The Florestan Trio. Susan Tomes, piano; Anthony Marwood, violin; Richard Lester, cello. Hyperion CDA 67719.
Getting Haydn right is important because Haydn is important. He helped make Mozart and Beethoven possible. He explains Bach. For many of us, he is the 'geographic' center of music to which everything else seems to refer.
Playing Haydn wrong is trying to make him too plush and deliberate or too crisp, lean, and modern. He is good enough to withstand just about everything, but when his energy, clarity, wit, and emotional warmth are all present and in 'classical' balance, he is the captivating central figure I'm talking about. The Florestan Trio, who tend to get everything pretty much right, are naturals at performing this music. Many of us who know their Beethoven and Mozart have been waiting impatiently for their Haydn. And now finally, despite years of enjoying the elegant comfort of the Beaux Arts Trio and the eloquent kicks of Cohen, Höbarth, and Coin on their period instruments, it is a pleasure to hear the Florestans strike their expected and convincing balance. They are a Haydnesque ensemble in the very best sense. They provide a geographic center for ways of performing Haydn.
What is most conspicuous about the Florestans' Haydn is the clarity and separation of the three instruments: we are invited to follow the individual instrumental lines and blend them in our heads. Eighteenth century music was written to be played and heard this way. The approach can be overdone, almost cerebral in its presentation. Period instrument versions sometimes can't help doing this—the Trio 1790 on CPO Records being a perfect example; Cohen, Höbarth, and Coin are a brilliant exception. The Florestans on their modern instruments and as recorded by Simon Eadon, give us clarity without pedagogy. Marwood and Tomes are the predominant voices here, as we expect and, as always, play from the same book. This music could be played more robustly, perhaps by the Kalichstein-Robinson-Laredo Trio, if they played Haydn the way they played Beethoven. (They have made one Haydn recording for Dorian, which I have not heard.) But for the weight gained there would be the Florestans' classicism lost. The Florestans very likely explain Kalichstein-Höbarth-Laredo!
Haydn clearly enjoyed the piano trio form—he wrote 45 of them! How many we will get from the Florestans is unclear; but as this album is called Volume 1, we have good reason to hope.
The Songs of Robert Schumann – 11. Hanno Müller-Brachman, baritone; and others. Graham Johnson, piano. Hyperion CDA 33111.
Hyperion Records is arguably the most heroic record company in the western world. The audience for classical recordings declines, the economies of western nations slide down the steep slope into recession. And Hyperion releases Volume 11 in its Schumann song series! Someone(s) at the heart of this extraordinary company will not let the world get in its way. So now we have a thirty-seven volume set of Schubert songs, the eleven-volume Schumann edition, and a Richard Strauss edition in progress. (And at Hyperion, that's just the tip of an iceberg that includes complete sets of the religious choral music of Purcell and Vivaldi and a landmark set of Haydn symphonies.) And oh yes, see below, we have the eleventh volume in the William Byrd series rescued from ASV. I can't believe there is a better way to serve music and lose money than to issue sets like these. Even if I were to find this final issue in the Schumann series disappointing, I would be hard-pressed to criticize it too severely.
But there is no need. I do not know Hanno Müller-Brachmann—this is his first recording for Hyperion. The gentleman studied with Fischer-Dieskau and he sounds as good as his pedigree. Most of the other singers here—all fine but mezzo-soprano Stella Doulfexis in particular—are responsible for Opus 101, Minnespiel, recorded in 2000 and held for this final release.
Nineteenth century German lied for an amateur student of music is mainly an aesthetic world, a somewhat rarified but also eloquent and intense one. If you don't know much German, as I don't, it is very pure world indeed. Nothing as show-boaty as operatic arias, nothing as borderline dull as long recitatives. Just an intimate engagement with the human voice at its best, often a baritone, which you hear absolutely all of; and a piano, here played by a Graham Johnson, who has made a life's work of accompanying great singers in this music. The Germans truly understand how to write this kind of music—Beethoven, Schubert, Schumann, Wolfe, Mahler. Not for all of you but for some of you, great and wonderful music. And Schumann's is some of the best.
One last word here. Hyperion in both the Schubert and Schumann editions have chosen to call on a considerable variety of soloists. What this means is that no one singer's view of the music takes over the project and that we get to hear a panoply of the world's current singers of lied. What else to say? Hail to Hyperion, musical hero.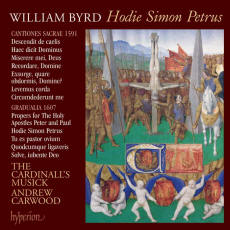 William Byrd, Hodie Simon Petrus. Cantiones Sacre, 1591. Gradualia, 1607. The Cardinal's Musik, Andrew Carwood, Director. Volume 11 in the Cardinal's Musik Byrd Edition. Hyperion CDA 67653.
Speaking of worlds of pure art—and for some of you, spirit—renaissance choral a capela music is several degrees purer than lied. William Byrd wrote what I consider the most appealing music of its kind. The Tallis Scholars on their own label (Gimell) have recorded (and performed all over the world) the most ethereal Byrd. Carwood's group, among whom I spot one of the Tallis's favorite sopranos, sing a slightly plainer, more earthy version of the composer. I may be cutting this too fine, but I don't think so. It's hard to say whether it's the director, the venue, or the recording engineers, all or any of whom can significantly affect the character of a choral group. I have heard this difference in all of Carwood's recordings of other English renaissance music (Ludford, Cornysh, Fairfax), so I'm betting on the director, who is looking for less absolute vocal perfection from his singers and more warmth and natural emotion. The difference, as I say, is not dramatic, unless you're looking for something specific in Byrd.
This is music that must be surrendered and attended to if it is to have its way with you. The subtleties and variation it can achieve within its formidably formal structure and 'outer shell' can be engaging and transporting. Cardinal's Muisk engages, the Tallis Scholars transport. Don't listen to this music while you're doing something else.
Franz Schubert: Arpeggione Sonata, Sonatina, and Lieder Transcribed for Cello and Piano. Anne Gastinel, cello; Claire Désert, piano. naïve V 5021.
What to do with this chestnut if you're a serious, accomplished musician? If you're Anne Gastinel, you just play it for what it is and trust Schubert not to embarrass you. And after all, you do have choices: light amber maple syrup is not dark amber, verging on molasses, which the Arpeggione Sonata sometimes gets performed as! Gastinel plays this actually very attractive music with her firm touch and fluid style and it comes out as a truly appealing work, more beautiful, less cloying and affectedly dramatic than we've heard elsewhere.
The rest of the program amounts to brilliant transcriptions, mainly of lied but also of a sonatina for violin and piano. Not all composers transcribe well, but it turns out Schubert truly does. So what we get is an hour of Anne Gastinel playing nearly forty minutes more Schubert cello music than he wrote—with wonderful accompaniment. This is an express love letter to the composer by a great musician. Lucky him. Lucky us. A jewel of a recording. Don't let this one get by you.
System used for this audition: Audio Note CDT3 transport and Dac 4.1 Balanced Signature. Blue Circle BC3000 II/GZpz preamplifier and BC204 hybrid stereo amplifier, Jean Marie Reynaud Orfeo and Offrande Supreme speakers. With Blue Circle BC6000 line conditioner. Audio Note Pallas, Sootto, and Sogon interconnects; Lexus and SPx speaker cables.
Bob Neill, in addition to being an occasional equipment and regular music reviewer for Positive- Feedback Online, is also proprietor of Amherst Audio in Amherst, Massachusetts, which sells equipment from Audio Note, Blue Circle, and JM Reynaud, among others.