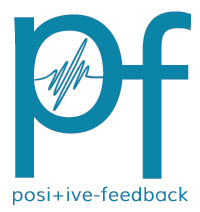 You are reading the older HTML site
Positive Feedback ISSUE
41

january/february
2009
Notes of an Amateur - January 2009, Part 4
by Bob Neill
Nielsen, Aho: Clarinet Concertos Martin Fröst, clarinet. Lahti Symphony Orchestra, Osmo Vänskä, conductor. Bis Records SACD 1463.
The clarinet is a very big deal in our household, thanks to our thirteen-year-old clarinetist. Like the oboe, it is an 'ill wind' when played badly; but when played well its natural and always surprisingly wide-range reedy tone can be rich and satisfying. For fans of the instrument, as well as curious music lovers in general, these two highly virtuosic modern works for the clarinet are a great find.
To begin with, Martin Fröst has a tone other woodwind players would die for. Add to that extraordinary dexterity and you've got a very promising musician, one of the world's most admired.
Nielsen's concerto is a twentieth century work (1928) by an essentially nineteenth century musical mind (born in 1865). That's a little too glib—the truth is that from our early twenty-first century perspective, this concerto is compellingly idiosyncratic music that defies period styles. Sometimes it sounds traditionally and comfortably harmonic and melodic, other times it throws off its traditional clothes and gallivants around like Petrouchka.
Kalevi Aho gets less press than his more radically ground-breaking fellow Finns, Sarriaho and Lindberg but writes more music which very likely reaches more listeners. And do not read any condescension into this observation. I have been listening to and enjoying Aho's music for many years now—his thirteenth (!) symphony has just been released on Bis. His music has wonderful melodic and sonic energy, which in his case are one, a rarer accomplishment than is the generally the case these days.
His Clarinet Concerto has become one of my favorite of his works and is among the very finest pieces written for the instrument. To begin with, it loves and admires all of the clarinet. Aho is apparently close friends with a great many musicians and seems to love writing for them. He has written concertos for violin, cello, flute, tuba, bassoon, contrabassoon, double bass, viola, two for piano, and a double concerto for two cellos. Each has grown out of a close relationship with an instrumental soloist.
What is remarkable bout the Clarinet Concerto is how steadily it manages to sustain our interest, almost from note to note. This is one of the best recordings I've heard this year, by far, though it was released in 2007. My 'to do' list of recordings is very long!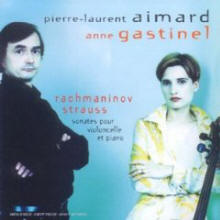 Rachmaninov, Strauss, Sonatas for Cello and Piano. Anne Gastinel, cello; Pierre-Laurent Aimard, piano. Valois V 4692. (Now available through Naïve records with same catalog number.)
More old business—this recording was released in 1999. Rachmaninov is one of the most popular classical composers, for obvious reasons: most of his music has instant ear appeal. Some of us elders heard him first when Tom Ewell played and rhapsodized about his Second Piano Concerto to Marilyn Monroe in "The Seven Year Itch." I ran out and bought it immediately …at the age of …fourteen? Most of his music is less overtly seductive, but most of it is recognizably from the same romantic lode. To these ears, which of course resist early loves, Rachmaninov's heart lies in the Valley of Pops. But like most composers who can write this kind of music successfully, he is capable of of mature moments.
His Sonata for Cello and Piano is one of these; and in the hands of one of the world's greatest contemporary pianists, Pierre-Laurent Aimard (who can play Ligeti and also Thomas Adès, on whom other pianists mainly break their fingers), and equally masterful cellist, Anne Gastinel, the work gets the best hearing imaginable.
Yes, we can hear the Second Piano Concerto clearly here—the Sonata was written immediately after the Concerto—but Aimard knows how to keep his feet off the pedals and Gastinel plays without a trace of indulgence. The result is that The Rachmaninov Sound—and this is a duo, not a concerto, which blessedly leans it out—is allowed to work the genuine charm it has. Musicianship can work wonders. If chamber music were all that Rachmaninov wrote, he would be less popular but arguably more admired. It is amazing how much rapture just a piano and cello can generate. The final movement, ruled by Gastinel and her cello, will break harder hearts than mine. This is surely one of the most beautiful pieces of romantic music we have: music for Natasha!
The Strauss work is a natural companion to the Rachmaninov, if anything, sounding like an ancestor, at least for the first two movements. Written long before the rich, bittersweet late romantic orchestral works and operas for which the composer is best known and admired (Strauss wrote this work when he was nineteen), this music initially surprises us, taking us back a generation to Mendelssohn and Schumann. The influence of Wagner had not yet set in. But in the third and final movement, with the arrival of something more emotionally subtle and suggestive, the Strauss we know takes the stage. If there is anything of the music historian in you, hearing the beginning of late nineteenth century romanticism in this movement should give you a knowing smile.
Saint-Saëns, Lalo, Fauré. Cello Concertos. Anne Gastinel, Orchestre National de Lyon. Emmanuel Krivine. Valois V 4754. (Now available through Naïve Records with same catalog number.)
There are times when nothing but nineteenth century music will do. When all of the dissonance and irony and cheekiness of the many modernisms seem just a bit too urbane and knowing. Modern composers cannot go back—that is something essential about art-making. Artists feel shadowed, watched by their predecessors when they are foolish enough to try. Their creative drive is crushed. But we can. And we needn't feel old-fashioned or sentimental when we do. True art remains immediately and powerfully accessible forever. When we go back, we simply go to a different aesthetic, a different way of being in the world. And when we go back to the late nineteenth century, we go to a world where emotions are more openly and generously expressed, less complex, often feeling more profound, romantic, grand.
Nineteenth century French music, compared with German, its principal competition, is more flamboyant, more rapturous, less earnest, less grand. It is closer to Russian, upon which it had considerable influence, as did the rest of French culture. (The latest translation of Tolstoy's War and Peace is full of a great deal of untranslated French—except in the notes.)
Played by Anne Gastinel (again in 1999), these three works by composers who were contemporaries are all we could ask for in this music.
Systems used for this audition: Audio Note CDT3 transport and Dac 4.1 Balanced Signature. Blue Circle BC3000 II/GZpz preamplifier and BC204 hybrid stereo amplifier, Jean Marie Reynaud Offrande Supreme and Orfeo speakers. Audio Note M6 preamplifier, Audio Note Neiro monoblock amplifiers, and Audio Note E/Spx SE speakers. With Blue Circle BC6000 line conditioner. Audio Note Pallas, Sootto, and Sogon interconnects; Lexus and SPx speaker cables.
Bob Neill, in addition to being an occasional equipment and regular music reviewer for Positive- Feedback Online, is also proprietor of Amherst Audio in Amherst, Massachusetts, which sells equipment from Audio Note, Blue Circle, and JM Reynaud, among others.