Zu Audio has garnered quite a dedicated following in the last few years. Since their initial success with the Druid they've gone on to create a buzz with the Definition and have among other things delved into analog with their acclaimed mod version of the Denon DL-103.
The Presence, subject of this review, falls between the Druid and the Definition in the product line. Zu bills the Presence as a "direct radiating, controlled dispersion, infinite baffle (sealed) 60 degree triangular floor-standing loudspeaker with internally powered, forward firing, two 10" low frequency drivers with simple user bypass ability".
One of the most unusual looking speakers you'll ever see, this enclosure is triangular and builds on the Druid (or is it really a smaller version of the Definition?) by adding 2 ten-inch Eminence woofers and an onboard Hypex UcD (v2) power amp to get your bass on. According to Zu the Presence is a full-range (16 - 25kHz) transducer. Part Museum of Modern Art (top) and part your grand dad's Philco wooden stand-up radio (bottom), the appearance of the Presence is bound to generate some controversy. The oh-so judgmental art director that lives at my house flipped over them. As soon as I wrestled them out of the box she said, "Buy them, I love the design". I said, "We haven't ever heard them yet". She said, "Who cares, the look is too cool". Well, they did look too cool, way too cool in their Dune Matte finish. Most unusual, and unlike any other speaker finish out there.
As soon as you get a look at the Presence up close it's obvious that some intense engineering and design went into this product. Not a flaw to be found, everything, and I mean everything about this speaker has a high-end look and feel. Just the mill work on the aluminum parts is enough to make you drool.
The manual that came with the Presence was a treat. It is a real reflection on the Zu philosophy. Amusing, entertaining, technically accurate, and a pleasure to use. I've written hundreds of technical manuals—from B-52 avionics (yes, that B-52) to 3D software—but, of all the manuals that come with high-end products, this one stood out as my fave.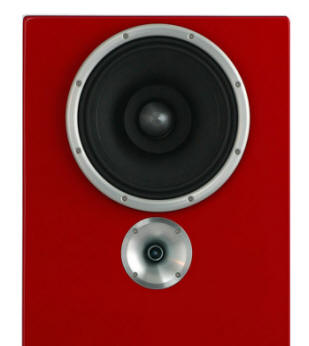 I do remember the manual saying the Presence was easy to set up. For me this was not the case. I struggled with set up, and tried several different tube and solid state amps. The problem was that the higher end of the mid-range spectrum was glaring and harsh. A long time and many positions, amps, and cables came and went before I could find a suitable listening configuration. Please note that this is not the first time this has happened in my room. Another speaker from a well-known manufacturer that several writers in PFO and other publications gushed over had the same problem in the almost-square room.
Eventually, I got close to that great "Zu sound" I've heard at so many shows. I heard a big-wide soundstage and a wonderfully present, but controlled low end courtesy of two sealed 10-inch woofers each driven by their own 400-watt class D amplifier. Zu provides almost infinite adjustments for these bass drivers, and you can bypass the built-in amplification altogether should you choose. I did not, thinking they were designed with this combination in mind—might was well use 'em that way.
Although I wouldn't call them imaging champs, the Presence was lush with lots of air and had a coherent, blended presentation. This was the first speaker I've had that did not like the Argent room lens in the center. The flanking lenses on right and left were OK—they did their job on first-order reflections, but the center lens, normally placed in between and just in back of the speakers, did not work. It added detail, but brought out more of the high-mid harshness I experienced earlier.
Once I had the Presence performing as well as possible in my room I thought about some accessorizing.
Many months ago Joe Ciulla from Equarack sent me a set of his Spike Adapters for the Equarack Multi-mount Footers. You may remember me gushing about the killer Multi-mount Footers. The Spike Adapters work in concert with the Multi-mount Footers so you can use with speakers.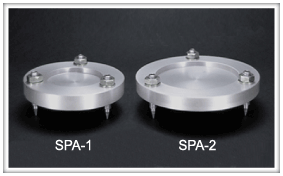 Without going into excruciating detail, it took some sweat getting the proper measurements for Presence's weights, and then getting the speakers placed correctly atop the spike adapters. I had to draft two young, strong friends, and ply them with quality libation—after the task was complete of course—to get the footers and spike adapters positioned properly. (Spike Adapters are available in two sizes: SPA-1 priced at $40 ea. for Multi-Mount Footers, SM-1 Speaker Mounts, and EquaBearings, and the SPA-2 priced at $60 ea. for Multi-Mount SM-2 Speaker Mounts.)
What did we hear? Night and day. Everything the multi-footers did for my tube preamp and CD player was multiplied by three to five times. Low-level detail came alive, dynamics much more natural, silkier midrange, harshness diminished. I'm sure the fact that the floor of my room is solid concrete covered by wall-to wall carpeting helped the footers, but the difference was amazing!
If I were king of the audio world I would declare that the Equarack Spike Adapters/Multi-mount Footers come standard with all speakers. What they can do for your speakers is just amazing. But hell, I'm not even king of my house. Hopefully I'll be able to devote an entire review to them in the future. I've never heard another "accessory" have such a profound effect on the music. Killer.
Obviously the performance of the Presence was greatly enhanced by the Equarack footers. The Presence is very sensitive to amplifiers, cables, and in my case room size and dimension. This speaker has a lot to offer especially considering its super-high sensitivity, which puts it in that small, select group that can use flea-powered amplifiers. You can drive these with 2 watts, yet get all the non-ported bass you need via the self-powered woofers. Using an amplifier that Zu recommends and possibly Zu's own cables could go a long way towards getting you to that great "Zu sound" that I've heard before. John Zurek
Presence
Retail: $8000
Zu Audio
http://www.zuaudio.com