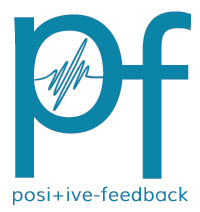 You are reading the older HTML site
Positive Feedback ISSUE
40

november/december 2008
Audioengine 5 loudspeakers
by Nelson and Sasha Kanno
He Says
So I've been going through life (probably for about 15 years now) with a basic receiver, a set of NHT Super Zero's, and a Kenwood subwoofer I scored at a garage sale. I know there's more out there in the audio world, but I rarely ever have any money burning a hole in my pocket. I mean, whenever I got some extra dough to spend it goes towards vintage motorcycles or parts to fix them.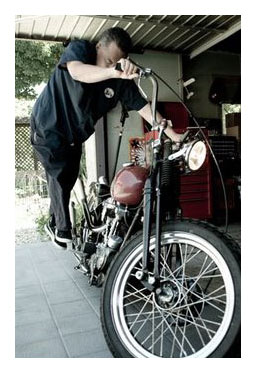 Don't get me wrong; I dig my music and my tastes in music range much further than the usual dude next door, that's for sure. Regular rotation in my iPod is reggae, dub, funk, ska, hip hop, tons of 80's new wave, goth, ambient, indie rock, stoner rock, metal, and even a little afro-beat now and then. Yeah, I'm all over the place.
Ok, so I had to get all that out of the way to let you know where I stand when I'm putting these words down. I may not sip wine and tweak out on $10,000 speakers with the New York Philharmonic blaring away, not me. But every now and then I will sit there and listen to an album thoroughly enough to see if I can pick up any other sounds that've been layered into the track… just to hear a little more out of an album that I truly enjoy.
I happen to live down the street to Dave and Carol Clark from Positive Feedback . They hooked me up with a gig I couldn't refuse. "Hey, check out these speakers for a bit, just write a few words in return." Yeah, cool deal. This is how I ended up with these Audioengine 5 speakers; they just kinda dropped in my lap.
Set up was easy. Just one look at the speakers and any man should know how to hook it up. Basically just the speaker wire from one speaker to the other, hook up your iPod, and give the speakers power—real easy stuff. And (maybe I've been away from electronics for too long), the speakers charge your iPod while you listen! Yup, killer.
It's really nice to hear such a good spectrum of sound come of these two small speakers. It's slightly shocking at first: wow, that nice of a sound is coming out of the iPod I bought off of some kid for $50! How could this be? Well, I ended up sitting around more (than usual) listening to my favorite tunes from these Audioengine 5's.
To me, I really feel the whole spectrum of sound is covered fairly well when I'm listening to something like 80s Elvis Costello. Nice highs, punchy lows, and natural sounding vocals. In fact, the bass coming out of these speakers is pretty impressive. There's definitely enough punch to fill a room or disturb your neighbors.
I really like bass. I like bass like how some people like hot sauce, they just pour it over everything. I'm not a total booming bass junky, don't get me wrong, I just like hearing it, almost feeling it. Whether it's the upbeat tones of an English Beat ska song or the stoner rock bass line from metal giants Kyuss, I want my bass and these little speakers somehow supplied it. Could this set use a subwoofer? In my honest opinion: yes, maybe a small one. I'm no real audiophile, that's for sure, but I feel as if these speakers should do its job of playing those real natural mid-range sounds and clear high's and leave the work of playing bass to a dedicated subwoofer… or not. That's really gonna be up to you. One thing these speakers do need is a remote control, just for the volume… but, I hate to complain since they sounded so well.
Far as placement goes, this set could go in any room in the house. From your main source of sound in the living room, to filling your kitchen with music, to singing along while you cook or doing the dishes. I almost feel bad to say that these would be a choice set to have in the garage for some reason, but I guess these gems should go anywhere you want to spend time listening to your favorite tunes.
Do I recommend buying these speakers? I don't know what others speakers in this range sound like, but I would guess that the Audioengine 5's would be a good set to compare against. They're most likely a very good guideline and to be very honest, probably a very good choice to purchase. Yeah, I'm happy to have had these in my home!
She Says
As a normal non-audiophile listening ear, I have been asked to review the Audioengine 5 speaker system. I am a regular listener to music. I am a subscriber to KCRW and have 100 gigs of music on my hard-drive along with stacks and stacks of CDs. I am privileged to be able to shop at Amoeba on a regular basis. I am not, however, into the technical side of audio. I love music and have it playing in every room. In the living room we have a surround sound package, and in the kitchen we use a small Klipsch iPod dock. Other than that, I don't know anything about stereo equipment.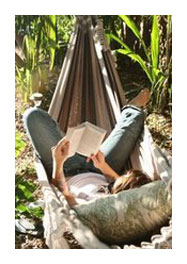 When I opened the box for the Audioengine 5 speakers I thought they were a great size. I could use them in the kitchen instead of my iPod dock or I could put them in the dining room so when we are in there we don't have to have the living room stereo on so loud. We choose to put them in the dining room. They have been nestled on the buffet and have not caused any problems. The bottoms of the speakers have a nice pad on them so there are no concerns with scratching my furniture.
They were very easy to set up. Audioengine supplied all the cables needed for us to get up and rocking. They provided the cable to connect the speaker to the iPod, but as an extra feature you can also charge your iPod while it is in use. I needed to supply that cable myself, it comes with the iPod so it's not a big deal at all. After a few minutes of set up we were ready to go.
I put the iPod on shuffle so we could listen to all genres of music. Our test run starts out with some Fela Kuti. The sound is amazingly clear, you can hear every instrument from this Afro-beat musician. These Audioengine speakers give out a very clear sound but they are not insanely loud. These speakers are definitely loud enough for our house as well as any room we would put the system in. But I'm saying that if you want to blow the doors off of your house this is not the system.
The fact that everything is built into the speakers is very cool. The left speaker has the volume knob so you can also control the volume there or on the iPod. There is no need to adjust the treble or bass. There is no amplifier or any other parts or components needed.
Next we listened to Los Angeles based band X. This is classic punk rock. The fast guitar and deep base was no problem for these speakers. I'm not sure if I have ever listened to X with this much clarity.
Looking on the Audioengine (www.audioengineusa.com) website these speakers are selling for about $350. I would absolutely recommend these speakers for that price. Especially considering a somewhat decent iPod dock system starts around $150 why not spend a little more money and get something that sounds truly amazing.
This the first in a series of articles by Sasha and Nelson Kanno about their experiences with various audio components and systems from the non-audiophile, but serious music lover's, point of view.
http://www.churchofchoppers.blogspot.com
http://chalkboardco-op.blogspot.com