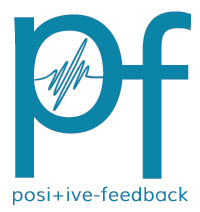 You are reading the older HTML site
Positive Feedback ISSUE
4

december/january 2003
Multi-Channel Releases from Telarc: Fantastique Berlioz and Sibelius, too.
by Max Dudious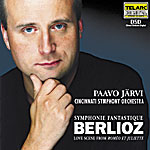 It might be fashionable to become an older dude nowadays, so many of us are making it to the, er, golden years. We work at developing a kind of "elder cool," wearing ancient Harris Tweed sport coats and baggy, balding corduroy slacks with Birkenstock clogs, and we become more attractive in the decrepit way that brings out the nurturing side of certain younger women. Just as I have accumulated old sweaters, trench coats, and hats over the past decades, I have accumulated a lot of recorded music, as well. With me, Berlioz figures large.
Some of Berlioz's music chronicles how he was stricken, as by a thunderbolt, with a passion for both Shakespeare, when he saw Hamlet performed in Paris in 1827, and the Irish actress who played Ophelia, Harriet Smithson. His early work, particularly Symphonie Fantastique, hit me like a thunderbolt and captured my heart. The story of the Berlioz/ Smithson love affair has been told in many CD liner notes, printed on LP album jackets, and I recommend it to anyone with an eye for a romantic yarn. His early work, particularly Symphonie Fantastique, similarly smote me like a thunderbolt and captured my heart.
As a lovestruck youngster, I began accumulating recordings of the Fantastique, dating back to the monophonic LP version offered by Westminster, Hermann Scherchen, conductor. (XWN 18279). After that, on LP I managed to find something worthy in Ataulfo Argenta's stereo reading with The Paris Conservatoire Orchestra (London, CS 6025), Pierre Boulez's oft-noted stereo version with The London Symphony Orchestra (Columbia M 30587), and Massimo Freccia's take with The Royal Philharmonic Orchestra (Quintessence PMC-7057). Come the CD era, and I crowded my shelf with CDs of Freccia's truly great reading (Chesky, CD88), Charles Munch and The Boston Symphony Orchestra's version (RCA Victrola, 7735-2-RV), one by Andrew Davis and the BBC Symphony Orchestra (BBC Music; Vol II, No 1), and yet another by Sir Georg Solti and the Chicago Symphony Orchestra (London 417 705-2). To say that I was pretty up on this symphony would be to put it as blandly as American cheese. I loved this symphony as one loves one's first audio rig.
In addition to knowing the music more or less by heart, I thought I was keeping pace with the technology: eight recordings over forty years, or so—about one every five years. LP Mono, LPs Stereo, CD remasters of analogue recordings, one digitally mastered CD. So it was with some excitement that I got the Paavo Järvi reading (my ninth), on Telarc, not only mastered in SACD, but in SACD multi-channel, as well. Boy, was I in for a surprise.
Let me take you through the time tunnel, as I did myself. I felt the CD versions would be the ones most relevant to this trip in the way-back machine, and for brevity's sake I limit myself to only those. I am almost embarrassed to report that after having very fond memories of live performances I found the Munch/BSO 1962 recording almost unacceptable. The recording engineering was poor, the string tone was harsh, there was a "hole in the middle" of the sound stage causing the recording to produce an exaggerated left/right effect, and the playing was sloppy. As a college student I drove long distances to hear The Boston play Fantastique because Munch was said to have a special affinity for French music. How one's perceptions change. Or, maybe the gang was having an off day.
Freccia's 1962 offering was obviously much better recorded, as was evident from the opening bars—a tribute to engineer Kenneth Wilkinson and to whoever chose the venue, Walthhamstow Town, London, England. The performance by the Royal Philharmonic Orchestra was much better executed. And the remastering by Jeremy R. Kipnis was one of the reasons Chesky Records enjoyed the reputation they did at the time (1993). This recording stands the test of time. Freccia seems to have had a way with this work and got very exciting readings from the many orchestras where he guest conducted. He had a very thorough conception which he was able to communicate to his musicians. This is a true collector's item.
Sir Georg Solti's 1972 reading is much like Munch's in concept. Solti doesn't play with foreground and background reversals, as Järvi does, accenting harmonic figures being played where most conductors accent the long lines. Solti plays it straight without those little pauses or accents that Järvi uses to create the unexpected in the ear of the audience. Solti relies on the score, which is an admirable one, but his reading is risk-free. Don't get me wrong, Sir Georg's reading is better than O.K. It is more or less what Munch aspired to and Boulez achieved, an exciting account, but traditional, without any innovation. Its only drawback is the harsh and grainy string tone, rather typical of early CDs.
Andrew Davis's 1993, live, in-concert recording with the BBC Symphony Orchestra is really quite good. He is the beneficiary of good engineering (no credit), his own refined concept of the entire work, a hall with a good acoustic (Hitomi Kinen Kodo, Tokyo), and excellent playing from his forces. The string tone begins to sound pretty natural, more woody and gutty. When he calls upon his players to give him faster fast passages and slower slow ones, they handle them with aplomb. Drawing out the slow passages makes for a greater sense of delicacy and mystery. Speeding up the fast passages makes for a greater feeling of bacchanalia. So Davis is able to draw both the Apollonian and the Dyonisian elements from Berlioz's text. In all, a surprisingly good reading with surprisingly good sound.
Unexpectedly, Paavo Järvi and the Cincinnati Symphony Orchestra (2001 Telarc, SACD 60578) just redefined the music for me. It was one of those experiences, like listening to George Szell and the Cleveland Symphony Orchestra, when the world was young, redefining something with which I was familiar: or like listening to Glenn Gould, at his best, play something I'd felt was musical wallpaper, and be surprised (and a little humiliated at my own hubris) to find there was drama and passion in music I'd dismissed. Järvi and his orchestra do this to music of which I thought I knew the limits. They added at least one layer of complexity for me.
How does a conductor do that? There are only so many things a conductor can do. He can dictate fast or slow, loud or soft. He can highlight certain little phrases with subtle pauses just before he voices them. He might speed up or slow down judiciously to exaggerate the mood of certain passages. He can emphasize certain lines in a composition by taking the arpeggiated phrases one had previously seen as harmonic ornament, and bringing them to the fore, by having the balance of the orchestra shift to pianissimo, as though these phrases were the soloist's work in a concerto, the orchestra now serving as accompanist. During the waltz section of "The Ball," for example, while the strings soar, we hear some trumpet figures that usually appear to be back in a densely scored background. In Järvi's reading, the trumpets come more to the foreground. This adds a somewhat Petroushkan air to the whole. It is unexpected and (in our time) fascinating.
Maybe that touch is something one would notice in live performance, as opposed to while listening to a recording. Järvi gives us soupçon, a trace, a hint, a prevision of Stravinsky's music about eighty years off in the future. Berlioz has written this familiar sound into his symphony, which Järvi catches and wants to call to our attention. Maybe the new multi-channel technology allows us to follow the trumpet line as we never could before, mixed in as it is with a building climax. Maybe Järvi's reading of the music is enhanced by the knowledge that this new recording medium will allow the listener to "get it." I am obviously speculating but, if so, it wouldn't be the first time the technology was in service of the music, rather than, as so often has been charged, the reverse. Going back down the time tunnel with my other recordings of the Symphonie Fantastique, it is clear Berlioz scored that same passage with dense instrumentation, and this level of trumpet detail was difficult, or impossible, to capture before such high resolution recording systems were available.
Järvi's new reading may only be possible in the new medium of high resolution audio which utilizes all the computer power it can in reproducing the wide-band multi-channel signal. Not only in crescendo (fff), but in diminuendo (ppp) are the effects of the recording system audible. I hear more detail, clearly, as instruments play softer and softer on their way to complete silence. I pick up many subtleties that used to be washed out by turntable noise, or groove/stylus noise, or other spuriae generated by the old 44/16 CD format. SACD is way-quieter, and that's in service to the music, music of any taste. Järvi and the Cincinnati Symphony's fantastic reading of Berlioz 1830 symphony is enhanced by the latest high-resolution technology, one hundred and seventy years later.
Recording engineers are doing a terrific job with this new medium. If you are considering going multi-channel and you want to hear for yourself, go pick up a copy of this performance, which is backward compatible, and take it home and play it on your regular CD player. Then go to your friendly Audio boutique, one that has an SACD multi-channel hook up, and play it through that system. You'll see. Take some older recording of the same work with you. Play that one: not the entire symphony, just the 2nd movement. You'll hear. It is not a subtle difference.
Järvi's reading is filled with touches like the trumpet playing in the Waltz. There are certain little things Järvi underlines that suggest a playfulness in Berlioz, who is not just the one-dimensional heroic quester as he's been characterized in his various biographies. There are other wry and ironic touches that will be apparent when you get to them. This is how Järvi takes the music and makes it new, makes Berlioz seem more a modern man. I applaud everyone who had anything to do with this recording. It is really something else, and I could run on, though it is not for everyone. Järvi's Fantastique might be best appreciated by folks who have other Fantastiques and who already know the music. I wouldn't recommend it for someone who is just discovering Berlioz. But with that caveat, Most Highly Recommended.
Similarly, Sibelius 2nd Symphony. This is another one of those works to which I was introduced as a college student, fell in thrall to, and managed to accumulate more performances of than I'd admit to anyone but a fellow PosFeed reader. I won't bother giving you a thumbnail sketch of each of them except to say I have a reading by Ormandy,1958, known for its sweeping grandeur (Columbia,MS 6024); another by Szell known for its conflicted modernism, 1965 (Philips 6570 084); another pirated Szell; another traditional account by Okko Kamu, 1970 (DGG 2561 273); and others by Barbirolli, 1962? (Chesky CD3); by Maksymiuk, 1993 (BBC Music Vol IV, No. 3); and now, by Järvi, 2002 (Telarc SACD 60585). As with the Berlioz, Järvi's Sibelius opened my ears to things I hadn't noticed before. He may be his generation's Szell. But before I gush in where savvy record reviewers fear to tread, I'll take a brief look at the two CDs I have as a basis for comparison.
Barbirolli's reading also benefits from the acoustic of Walthhamstow Town Hall, in London, the playing of The Royal Philharmonic, the stellar engineering of Ken Wilkinson, and the conscientious remastering to digital by Chesky Records in 1986. It is hard to beat. It is so much a great historical reading that it bears Chesky's proud number 3, an indication of the high esteem this recording generates. And it is quite something. It growls and snarls: it moans and roars. It seems to portray the Finnish coastal relationship with the sea. It gets down into the brush and captures the rustle of birds breaking into flight. It rises up like the mountainous coastline of fjords to strike majesty into the hearts of us small humans. It is damn good, compelling modern music, built from simple fragments into complicated structures, played by musicians who understand why this symphony has become the unofficial "Finnish National Anthem." I'd like to thank David Chesky for recapturing this one for us. (Hey David, Get Well Soon!)
Conductor Jerzy Maksymiuk, leading the BBC Scottish Symphony Orchestra, with a more modern (1993) acoustic, with a direct to digital recording, engineered by an anonymous team of BBC grizzled old recording engineers (no credits), gets a very spirited and thoughtful performance from his forces. He seems to have done his homework and listened to the truly great recordings of this work. He, too, hits the nail on the head, if not as forcibly as Barbirolli. Maksymiuk's is a highly creditable version, filled with the spirit of the music, that might have been considered great, if he'd have come up with it a generation ago. It is an example of very high level music making I'm glad to own.
Järvi's new reading, and multi-channel's new sonics, prove too great a challenge. The new SACD multi-channel medium seems to get more out of the digits than I've heard before from a piece I have enjoyed for over forty years. I haven't enough experience with this new medium to say, "It's the recording." It could be any number of things; the hall, the conductor, the playing. Having covered my butt so decorously, I'll go on to assert that I just can't remember hearing the kind of detail I hear from this recording anywhere except sitting up close in my favorite spot at my local symphony hall. Sometimes the density of the scoring makes it hard to follow certain lines, even at a live performance. When this happens, I'm usually forgiving enough to say, "Well, there are other musicians between me and the piccolo, so they mask what I might be hearing." The piccolo can be misperceived as a kind of white noise riding on the strings. If I sit, as I sometimes do, in my wife's seat where I have a clear line of sight (hence line of sound) to the piccolo, I can discriminate just what the piccolo is doing. Theoretically, the microphone placement eliminates these kinds of problems. Now, if I could only sit with the mikes, up above the podium...
Järvi's sense of timing, his feeling for orchestral balance, his razor keen musicianship, keep Sibelius's work from sounding like the tired war-horse it has become in lesser hands. He instinctively knows when to let it out, and when to rein it in; when to play the foreground as foreground, and when to play it as background; when and how much diminuendo is required to establish the listener's most eerie feelings, and when to herald the profound forces of nature with a profound orchestral crescendo. As a native Estonian, I imagine, he is familiar with the regional music, and he's probably heard this symphony innumerable times growing up in a musical household. Now it is his turn to show us how he thinks it should be played. And has he ever.
Still, there is the problem of instrumental density. There are those moments in some music when the entire orchestra of 100 or more musicians, a choir of 80 or 100 voices, four soloists, and an organist let it all hang out together. Then, on many older recordings—even good ones, even great ones—the limitations of the recording system become evident. Then, the various parts of the orchestra might mask the choir causing blurring and indistinctiveness. The bass might get muddy, being a mixture of watt-consuming organ pedal tones and bass strings. The sound stage may collapse to the center. Then, the soloists, as has often been the case in the past, might cause microphones to ring, or amplifiers to clip, or generate distortion in any of a dozen guises not yet identified and classified.
So far, on recordings like Sibelius Symphony #2 (and the Symphonie Fantastique), this has not happened, even once, even when I crank it up to 6x140 watts. (A better test of SACD multi-channel might be Telarc's Ralph Vaughan Williams' A Sea Symphony, which requires grander forces and has gotten rave reviews.) Jack Renner and his crew again lead the way in recording engineering technique.
I think this new medium has conquered many of the older forms of distortion, and I gather I'm not the first to say so. SACD-M (for multi-channel) may be the closest thing yet to the promise made twenty years ago. "Perfect sound, forever." Telarc engineering, with Paavo Järvi and the Cincinnati Symphony Orchestra, on their new recordings of Hector Berlioz's Symphonie Fantastique, and Jean Sibelius's Symphony #2 in D Major, have shown me the light. SACD-M is the real deal.
Telarc www.telarc.com