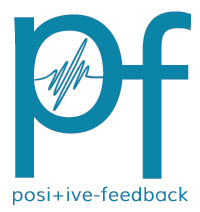 You are reading the older HTML site
Positive Feedback ISSUE
4

december/january 2003
Sunier on Hi-Res, Part 1 (with a little help where noted)
(John Sunier, long-time audiophile journalist and reviewer, has been a member of the Positive Feedback community for ten years. As editor of Audiophile Audition (www.audaud.com) and an "Editor of the Round Table," John and company will be contributing to PF Online by allowing the use of his and fellow audaud.com contributors' hi-res audio reviews.)

ZOMBIES, Greatest Hits
Audio Fidelity stereo SACD - AFZ 001
Ever since I heard this disc was coming out, I have lusted for it. I received a test pressing of the disc. There were no liner notes or cover literature. The disc exceeded my expectations. The Zombies were a British rock group of the sixties. They arrived with the British invasion of the mid sixties. Three of their songs are true rock classics. Those being: "Tell Her No," "Time of the Season," and "She's Not There." They produced five albums and had songs on the Bunny Lake Is Missing Soundtrack during the sixties. This is a collection from these six discs. The disc contains twenty tracks. The last two tracks are alternative versions of "She's Not There" and "Time of the Season." They are both not as good as the main version on the disc. There are seven mono tracks on the disc. These tracks sound good for mono, but not up to the stereo tracks. The regular stereo layer sounds very good and makes it a good buy for non-SACD player owners.

The Zombies had more musical content than most of their fellow British invasion counterparts. There music had more drive than Herman's Hermits and Freddie and the Dreamers. The surprising part of this disc for me was the quality of the other songs on the album. Every song on the album is worth listening to. The really great news is this album sounds really great. A friend was over at a listening session the first time I played the disc. When I suggested listening to the Zombies SACD, he was lukewarm on the idea. He remembered the sound on a lot of the pop recordings of the era. On the first cut his ears picked up. At the end of the disc, he said he thought it was one of the best pop recordings he had heard. I agree with him. Naturally there is some variation in sound between tracks, because songs come from different recording sessions. The lead vocals of Collin Blunstone are very well placed and clear. There is a good sense of presence in the recordings. The balance between to various members is very good on the recording. The even better news is the disc has a list price of $16. Great music and great sound, run out and buy this disc. It is an essential disc for anyone who likes 60's rock. Congratulations on a great first SACD Audio Fidelity! They are supposedly coming out with an Everly Brothers greatest hits album. I look forward to this release with great anticipation. Very highly recommended. Clay Swartz

Buddy Rich, The Best Band I Ever Had
Audio Fidelity Stereo SACD AFZ 003
I should admit first off that Rich has never been one of my favorite drummers, but this session of unknown date really smolders and features some terrific players. It's been called a "dream band," and fortunately Rich is balanced sensibly with the band and not over-riding it. Not only are his sidemen great but the choice of tunes and arrangements couldn't be better, and the added res of SACD makes this a must-have for any SACD owning big band aficionado. There's only 29 minutes here but seeing how there's no excess musical fat that's not worth complaining about. Tracks: Birdland, Bouncin' with Bud, Cape Verdean Blues, Fiesta, Funk City Ola. John Henry

Cal Tjader Quintet, Latin + Jazz
Audio Fidelity Stereo SACD AFZ 004
This is one of the few Tjader albums not recorded under the Fantasy Records aegis. The venue was a live session at an Aspen Colorado club back in l968. Conga player Armando Perazza heats up the group and the changing timbres of his drums are highlighted and differentiated by the added transparency of DSD. The below-standard tuning and timbre of the club's piano is also unfortunately put in the aural spotlight as well but one gets used to it after a while. Tracks: Armando's Quajira, Armando's Bossa, Why Did I Choose You?, Milo's Other Samba, Song for Pat, The Touch, Colorado Waltz, Nica's Dream. John Henry

Mel Torme, The London Sessions with the London Symphony Orchestra cond. by Christopher Gunning and guests Phil Woods, Barry Miles, and Gordon Beck
Audio Fidelity Stereo SACD AFZ 002
Many jazz vocalists are dragged down by full orchestra backing like this, but not the effervescent Velvet Fog. The arrangements are just perfect for Torme's style of casual delivery and they don't sound a bit overblown or pretentious as have many similar vocalist's "big productions" like this. I even liked "Send in the Clowns," which normally sends yours truly out of the room! Add the solid soundstaging and increased res of this two-channel SACD and you have a gem of a disc that makes us realize what a loss his passing has been to jazz vocal art. The tunes are: Send in the Clowns, New York State of Mind (boy, do New York tunes ever have a different feeling now than they did when this album was recorded...), All in Love is Fair, The First Ever I Saw Your Face, Stars, Ordinary Fool, Medley: When the World Was Young/Yesterday When I Was Young/Bye Bye Blackbird. John Henry

Miles Davis, Tutu
Warner Bros. DVD-A 9 48429-9
Here's the striking 1986 Miles album which was heavy on synths and percussion in a sonically opened-up surround sound version that is very appealing. Marcus Miller was responsible for all the tunes as well as most of the synth programming. Miles' trumpet is front and center and the surrounds are used primarily for exotic percussion and synth sounds. One can get into the music easier, and the often complex rhythmic interplay is put in relief via the spatial positioning. The visuals include a text biography of Miles and a discography. Tracks: Tutu, Tomaas, Portia, Splatch, Backyard Ritual, Perfect Way, Don't Lose Your Mind, Full Nelson.

Barb Jungr, Chanson the Space in Between
Linn Records, Stereo SACD AKD 167:

This is a very interesting album. I would classify the music as vocal cabaret songs with a European sound. Ms. Jungr has been called the English Edith Piaf. Many of the songs were written by Jacques Brel and Leo Ferre. The title song is her composition. Her voice reminds me of a German cabaret singer. It is lower in range than many women pop singers and perfectly fits the music. She shows good emotional range while she sings. Many of the song titles are in French, but all songs are sung in English. [I've wanted to hear some of these in English for years, but now that I have I think they sound better in the original French...Ed.] I find this album very pleasant. The sound quality is very good. If you like cabaret music, you might really like this album. The album is 56 minutes long. It is a stereo hybrid disc.

Tracks are: Ne Me Quitte Pas, Sunday Morning St. Denis, I Love Paris, Les Marguises, Cri Du Coeur, Quartier Latin, Mariele, April in Paris, La Chanson Des Vieux Amants, New Amsterdam, Les Poetes, The Space in Between, and No Regrets. Clay Swartz

Gerard Presencer, PLATYPUS
Linn Records, Stereo SACD AKD 139
Gerard Presencer is a jazz flugel horn player. Playing with him is Jason Rebello on piano, John Paricelli on guitar, Andrew Cleyndert on bass, Jeremy Stacey on drums and Chris Fletcher on percussion.

Tracks are Still Moaning', Blue-eyed Boy, Crimplene Lover, Married Woman, Platypus, Afterthought, In the Air, Green-eyed Girl.

The playing is very tight. The sound quality is very good. The flugel horn is well captured. The performance is energetic, yet laid back at the same time. There is next to no liner notes. I find this a good album to lay back and relax to with a good drink. The album is 55 minutes long. It is a stereo hybrid disc. Clay Swartz

Monty Alexander, My America
Telarc multichannel SACD 6355-2
This is the multichannel hi-res version of the standard CD I reviewed in the jazz section in September, so look there for more details on the music. It's a musical survey of all the musical influences on the Jamaican jazz pianist, with a talented septet joining him. While it was fun in two channel 44.1 its twice as much fun in multichannel SACD. The surrounds normally carry peripheral percussion effects, but they also contribute to a feeling of being in the jazz club where the group is playing. The four tracks with guest vocalists also take on an increased presence and realism with the singers solidly on the center front speaker and the rest of the band spread around the room. Rhythmic effects seem to be more visceral with speakers all around instead of just in front - even if the surrounds are not as wide range as the fronts. John Henry

We have next the first three releases from another record label new to SACD, based in Edina, Minnesota...


Peter Whitman Quintet, The Sound of Water
Multichannel SACD Artegra ART2003
Whiteman is a Minneapolis/St. Paul musician who has played with Cab Calloway and Harry Connick Jr. Besides being leader of the group, he penned three of the ten tracks and plays in a silky and lyrical style that quietly swings. Pianist Laura Laviani contributes two tracks and also has a nice fresh touch that never pounds out the sounds but still swings. I especially liked their version of "Gone With the Wind," distinguished by the dark sound of the trombone. The spatial separation of the five performers is not exactly one per speaker, but is enough to direct the listener more closely to exactly what each one is contributing to the overall sound, just as the musicians must do in any jazz group. There's an interesting tech note in the booklet I don't believe I've seen before, explaining that bassist Johnson was put solely on the center front channel, so if you have only four speakers you will need to select "no center" on either your SACD player or preamp/receiver so that the bass signal will be shared by the left and right speakers. This is a most enjoyable disc I'm sure I will be playing often. Tracks: The Sound of Water, Spy, Isn't It Romantic?, I Love You, Gone With the Wind, Passerine, Angle Wangle, Falling Grace, No Goodbyes, The Sound of Water (duet). John Henry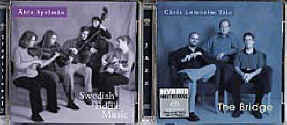 Äkta Spelmän, Swedish Fiddle Music
Artegra multichannel SACD ART3001
Now for something completely different! Akta means genuine and spelman is a group of folk musicians. That's what we have here - three folk fiddlers, a guitarist and a bassist - genuine Swedish folk musicians, except they are young Americans who when asked if they wanted to dress up in traditional costumes for the cover photo answered in unison, "NO!" They learned the music the traditional way, by listening and playing every week at Swedish gatherings. They have also performed at an annual National Folk Festival in Michigan. There are 17 short tracks here, many of them polkas, with a march and a couple waltzes. The musical skills of these amateurs are apparent, and the clarity and realism of the multichannel recording helps pick out the individual instruments and immerse yourself in the music. However, not being Swedish myself or heavily into traditional music, I found the tunes, rhythms and key signatures all very similar from one track to another and became a little too immersed before getting to the end of the disc.


Chris Lomheim Trio, The Bridge
Artegra multichannel SACD ART-2004
Pianist Lomheim is a regular performer at clubs in the Minneapolis St. Paul area, and his rhythm section have both played with top names in jazz. The Trio has a very polished and straight-ahead approach to nine tunes that happened to include some of my own favorites among those that weren't originals: Estate, It Could Happen to You, Oscar Levant's Blame It On My Youth, and Dizzy's Woody'n You. The original title tune by Lomheim was recorded away from the studio in a chamber music hall at Hamline University. This album also has the technical warning about assigning the center channel string bass to the left and right front channels if you lack a center channel speaker. John Henry