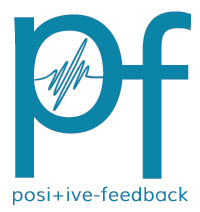 You are reading the older HTML site
Positive Feedback ISSUE
4

december/january 2003
Two from the Misty River Band
by Clayton Swartz

Misty River Band, Rising
(Misty River MRCD001)

Misty River Band, Live at the Backgate Stage
(Misty River MRC002)
I generally do not review standard CDs, but Rising is special. It is the most natural sounding CD that I have heard. If all CDs sounded like this, there would be much less need for other recording formats. I compared it with Will the Circle be Broken I and III, and there was absolutely no comparison in sound quality. You might wonder if I have a personal bias for the group, since they are from Vancouver, Washington, across the Columbia River from my home. I was introduced to the group by a PBS television show called Oregon Arts Week, and thought they sounded very interesting. A couple of weeks later, I ran into a used copy of the Rising CD and decided to take a chance. I was not nearly ready for what I heard. It brought great live music into my living room, more realistically than I have heard it before. I played the CD for my friend Marv Munden, who is in on many of my listening sessions. After about thirty seconds, he commented, "It's goose bump time." I went to the band's website to see if I could hear them live somewhere. I was in luck, as they were playing at a local place a couple of weeks later. They put on a great concert, and showed me that they were as good—possibly better—in concert than on this recording. If you get a chance to listen to them live, I suggest you do so.
What is so good about the sound of this disc? Each of the four band member's voices is heard distinctly, and at the same time their harmonies are extremely well represented. Their instruments sound crisp, clear, and detailed. The musicians are well placed and in balance on the stage. Images do not get oversized when they get louder. You hear every string on their instruments, without undue emphasis. The instrumental playing is excellent, and the singing is very good. The song choice is also excellent. There is also a great sense of presence that is not found on most albums. This recording may not have thunderous bass or the tingly highs of many audiophile recordings, but it sounds like real music. This disc sounds as good as 90% of the SACDs I have heard, and better than 80%.
Misty River is a group of four women. I'd call them a combination of folk, bluegrass, and country. They include Carol Harley on guitar, banjo, and vocals, her daughter Laura Quigley on acoustic double bass and vocals, Chris Kokesh on fiddle and vocals, and Dana Abel on guitar, accordion, and vocals. They also have John Reischman, Dale Adkins, Bill Storms, and Glen Moore as guest artist on various tracks. Chris Kokesh wrote three of the songs and Dana Abel wrote one. The group also does covers of songs by Townes Van Zandt, Tom Paxton, and William Cook, and they do a couple of traditional songs. The combination makes for a very strong album.
The next question is whether that their second album can do the nearly impossible task of sounding as good as the first. The answer is no. Though Live at the Backgate Stage sounds very good, it does not have quite the sonic magic of Rising, though at times it gets very close. The bass sometimes becomes a little too heavy. Detail and presence are also slightly less evident. The album does have its strong points. It is musically even stronger than Rising. The group's harmonies are slightly better. Dana Abel contributes one song, and there are a couple of traditional songs. They also cover songs by such people as Kate Wolf, Carter Stanley, Gillian Welch, Shawn Colvin, and Jay Ungar. The last cut is a killer acappella version of "America The Beautiful." This album will become one of my road trip favorites.
Rising is an absolute must-have for its sonics. Both Rising and Live are very highly recommended for both music and performance. Either may be ordered from www.mistyriverband.com or www.cdbaby.com.