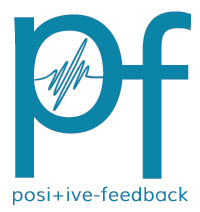 You are reading the older HTML site
Positive Feedback ISSUE
4

december/january 2003
The Higher End 2003: The Year of SACD—& Other Pensées
by David W. Robinson
First of all, apologies for the delays on my column and reviews this issue. Home stretch in this semester of my doctoral program had me pounding the keyboard in less audee-o-file directions throughout most of December. I'm finally up for air, and will make up for the tardiness by doing a dump of my editorial notes for the past 4-6 weeks.
2003 and SACD
First of all, a subject that's near and dear to the heart: DSD and SACD. It's been a while since I issued an editor's progress report, and so much is happening that it's hard to keep up with the format these days. Frankly, I spend more time listening to SACDs and seeing what can be done in my listening room to take the format further than I do to following the arguments that still seem to swirl amongst various audio partisans. This is a good thing, I think; certainly, audiophile capacity for passionate disagreement seems endless, and more people would probably benefit from my audiobud Stevie-o Rochlin's advice to simply "enjoy the music!" My delight in music has been immeasurably heightened since DSD and SACD arrived.
Which is what I've always thought that DSD and SACD were about: nothing less than a true advancement in the audio arts. And, Lord knows, we haven't had many of those over the decades since 1945 (for more on where we've been, see my Assistant Editor John Pearsall's very enjoyable notes on the history of audio; part one is at http://www.positive-feedback.com/Issue3/pearsoll.htm, part two is in the current issue at http://www.positive-feedback.com/Issue4/pearsall.htm): open reel tape, the best LPs (though these regressed from the quality of the best of half-track 7.5ips open reel)... then "direct to disk'...then what? What else would we put on the list? Cassettes? Nope. CD's? Definitely not in my book; as I've said before I consider 44.1kHz/16-bit PCM to be an insufficient standard for the highest standards of audio reproduction. 96kHz/"24-bit" (quotes there…there are no true 24-bit dynamics out there...which is a good thing for your ears, too! Deafness is a bad thing!) PCM is somewhat better, but still has the glare that I have come over the years to associate with PCM encoding. The little that I've heard of 192kHz/"24-bit" is better than 96/24, but less good than DSD-based SACD. In all fairness, these demos have been under "show conditions," and don't allow me to be categorical about the degree of improvement or how far behind DSD-based SACD the 192/"24" PCM format might be.
Based on my experience to date, I think that there are really only two audiophile formats: SACD (particularly when done in pure DSD... especially particularly when the Meitner chipset, generation 4, is being used!) and fine LPs on quality turntables. (To be most accurate, I also include open reel tape in half-track, 7.5ips format, though it really wasn't commercially viable, and there are relatively few fine tapes in existence. I have a few for my Revox B-77 Mk. II, and a few 15ips half-tracks that a good friend was kind enough to dub for me. They make for very fine references!) The best of the best LPs available to the general audiophile public are the new generation of 45 RPM vinyl being reissued by companies like Chad Kassem's Analog Productions and Michael Hobson's Classic Records. What I've purchased and listened to is truly fine, all right; clearly, we continue to make progress on the vinyl front, which is a very good thing!
But what about SACD in 2003?
It can be hard to know the difference between optimism and wishful thinking. Nevertheless, I think that we'll see SACD reach critical mass in 2003. My reasons?
The number of labels issuing SACDs has reached the point of "difficult to keep track of!" (For a pretty decent list of labels currently committed to the SACD format, consult www.highfidelityreview.com/reviews/sacd.asp; the right hand column shows the current High Fidelity Review tabulation.) There are several dozen labels turning out SA's in a number of genres: classical, jazz, rock, country, folk, traditional ethnomusical…we're in the midst of a growing flood of well over 1,000 titles now. Much more is in the pipeline, especially since the Universal Music Group is starting to heat things up with their releases.

Sony is planning to announce new labels and titles at CES 2003; we'll be documenting what's brewing there by Issue 5.

Pressing capacity for hybrid SACDs will not be an issue in 2003 the way that it was in 2001-2002. The new Crest pressing plant is online in Hollywood now, and according to my sources, Sony plans to get a hybrid plant up in Terre Haute in 2003. According to the folks at Philips, a new company, Viva SACD Ltd., a spin-off of the major Asian firm Viva Magnetics, is looking to deploy hybrid lines in Hong Kongand Toronto beginning in January of 2003. When fully up, the Viva lines alone are projected to have a capacity of 10 million hybrid SACDs per month, adding significantly to the global capacity. Sonopress will, of course, continue to press hybrids in Europe. Removing this bottleneck will help SACD adoption significantly in 2003.

Most all of the greatest mastering engineers that I can think of in the USA have either long since had, have now added DSD capabilities to their studios, or do work with the format. This includes people like Doug Sax, Bernie Grundman, Stan Ricker, Steve Hoffman, Bob Ludwig, Tom Jung, Paul Stubblebine ... quite the stellar group!

The digital toolset for DSD is now up to snuff, with all major capabilities now available. Third party consoles and tools are now online, as well. (I hope to nudge PF Online's resident DSD maven, Mike Pappas, to educate us on what's current in DSD studio technology and microphony sometime in 2003.)

Linn will be demonstrating its new "universal player," the UniDisk 1.1 at CES 2003. As one of the largest fine audio companies in existence, Linn's willingness to essay an SACD-capable player is evidence of further maturity of the format in the marketplace.

Companies like Linn, working in conjunction with Sony and Philips, have now developed transports for OEM distribution, so that alternatives to the Sony and Philips transports now exist.

Third-party SACD modification companies like ModWright, Audiomod, EVS, and Vacuum State Electronics have been busily involved in modifying and improving the sound of SACD to some pretty spectacular new levels. As those who have been following my series on modifications to the Sony SCD-1 know, there's a lot of gold in them thar hills! For those willing to void a warranty, the sonic returns can be quite spectacular. The presence of a growing community of modding companies for SACD players is a good sign of the interest (and passion!) that the format has drawn.

Heck, there are even SACD kits now, through companies like DAISy DIY'ers can start heating up their soldering irons! (Any PFO readers aware of other SACD kit building companies are invited to pass this information along to us via email: drobinson@positive-feedback.com. We'll publish worthwhile links pro bono publico.)

I am aware of—though am not yet at liberty to publish—at least one or two well known fine audio firms (in addition to Linn) that plan to unveil SACD players at CES 2003. Now that SACD is beginning to enter its fifth year, the technology is maturing, and we should see more fine audio companies entering the marketplace. They will take their place alongside other SACD producers like Sony, Philips, Marantz, Accuphase, Linn, Musical Fidelity, Classé, dCS, Luxman, Lindemann, Teac, Sharp, Xindak, Onkyo, Pioneer Elite, Yamaha and Denon. As far as establishing SACD as the new audio standard goes, the more, the merrier...

Of major interest is the fact that Ed Meitner, the "Dr. of DSD," is now into "Gen. 4" of his exceptional DSD chipset, the finest in existence, as far as I've heard. Expect to be able to purchase a consumer version of his marvelous DSD DAC's in 2003, as well. According to Meitner, there will be a Meitner Transport and Meitner DAC-6 (consumer version 2/6 channel SACD D/A) out by March of 2003. The availability of the Meitner DSD chipset and a matching transport in a consumer (as opposed to Pro) format from EMM Labs is an incredible development for audiophiles! Meitner says that the system will not only do 2 and 6 channel SACD, but will also automatically upsample and convert standard Red Book PCM from CD's to DSD, then decode them. PFO will be reviewing the results of Meitner's work during the first quarter of 2003 (see below)—meanwhile, audiophiles interested in SACD may want to start saving their shekels now!
The upshot? Given the above indications of real progress, I am optimistic that 2003 will be the year that DSD and SACD really begin to hit their stride as the standard for the next generation of fine audio reproduction. And frankly, I don't think that I'm out on much of a limb to say so...
We'll see, eh?
Ye Olde Editor does multi-channel DSD in 2003!
Yes, PF Online, River City Branch, is gathering up the logistical whatsits to listen to SACD m/c. While entry-level SACD surround solutions that are easy to deploy do exist, the world of fine audio is much more of a challenge, at least at this point in time. I expect that we'll be seeing some fine audio alternatives announced at CES 2003; that report will appear in Issue 5 of PFO.
I've been working to get a good system together, however, so that I can report on multi-channel SACD for our readers. To that end, we're bringing together m/c components from Balanced Audio Technology (BAT 6200 6-channel amplifier), EMM Labs (Meitner-modified SACD 1000 with fiber optic DSD outputs; DAC-6 6-channel DSD D/A with Meitner Gen. 4 chipset (!); EMM Switchman-2 6-channel preamp), Nova (left/right front, center and rear channel speakers), with the possible alternate use of the Kharma Grande Ceramique loudspeakers as front left/right.
This should make for a very interesting experiment, as we try to position and tweak the configuration. I'll keep you informed as to how this all turns out, and what you have to consider before taking the plunge into multi-channel.
Speaking of multi-channel SACD...
A good site to track multi-channel releases is Brian Moura's excellent m/c web site. Brian work diligently to stay up on the latest releases worldwide, and does yeoman's work for audiophiles who are interested in the latest m/c SACD news. You can tune in the "Brian List" at http://ourworld.compuserve.com/homepages/bmoura/.
And NO, we HAVEN'T forgotten about vinyl...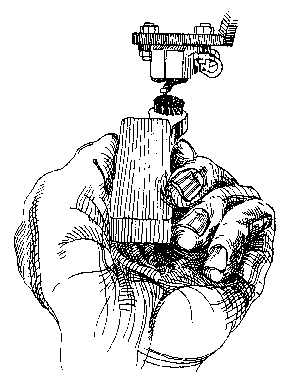 Also up as a parallel track in 2003 will be work with some very fine turntables and analog gear. We're looking forward to a review of the rad new American design from RedPoint Audio, their Testa Rossa XS turntable, sporting tonearms from Moerch, Triplanar, and Shröder (we hope!), cartridges from Cardas and Shelter (and others, should they become available), and piped through the highly regarded Manley Labs Steelhead phono amp.
Sometime during the first half of 2003 we hope to receive from Europe a Platine Verdier with the GTA Verdier Battery PSU (power supply unit) from the good folks at GT Audio (www.gtaudio.com). The tonearm is slated to be a Shröder Model 2, paired with a J. Allaerts MC1B cartridge. I've always been intrigued by the Verdier turntables; this will be a good chance to see how they sound here in River City.
On a different front, the folks at Linn have promised to send the newest Linn reference MC cartridge for review. I've got my trusty-rusty LP-12 waiting... poor creature, it's been fang-less since a very clumsy former cleaning crew trashed the stylus last May. We'll see what the new iteration from Linn sounds like very soon now...
Dave Clark and the "LA Gang" have been doing work with entry-level turntables in 2002. We hope to continue our reports on good values for budget-minded 'philes—vinyl continues to be a way to get an awful lot of great music reasonably... if you know what you're doing! We'll try to help you.
Fremer's Up!
Good news for music-loving 'philes everywhere! Mike Fremer's new web-based publication, musicangle.com (http://www.musicangle.com) is now online. It's a good-looking design, and has some of Fremer's reviews up. Those of us who remember Fremer's work with partner Nick Despotopoulos at Tracking Angle and were sorry to see it go have something to look forward to in the new format. Apparently, John Atkinson has allowed Fremer to work on this new venture while still writing for Stereophile. Good show, John!
Fremer mentions that there will be a transitional period during which the new site will be using parallel reviews mirroring his Stereophile titles. He hopes to move towards "real time" later in the year.
Having made this sort of jump in 2002 ourselves, we at PF Online wish Fremer & company well with musicangle.com.
Positive Feedback Online will be at CES 2003
It looks like there will be a good turnout of writers and editors for this year's CES. Both Dave Clark and I will be there, as will a number of our folks. Those of you who will be there should say "hi!" if you see any of the PFO gang wandering around.
See you in Las Vegas!