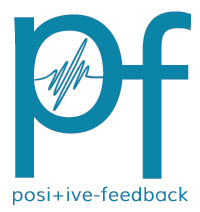 You are reading the older HTML site
Positive Feedback ISSUE
4

december/january 2003
CES 2003 - A quick look at what was good and, well, not so good. Part 2
by Dave and Carol Clark
As Dave mentioned in the CES 2003 Report, Part 1 we've been attending CES for many years now. In the early days, everything was exciting. My eyes were as big as saucers as we traipsed through the rooms. As the years went by it became harder and harder to get excited about the same thing over and over again. Now, I tend to drift along in Dave's wake, smile and nod my head, and spend a lot of time in the hallways in an effort to escape the dreaded audiophile recordings that seem to be the rule rather than the exception.
Each year at least one thing will jump out at me. This year it was the Lemniscus speakers in the Buggtussel room at the Hotel San Remo (www.buggtussel.com). I visited the room on two occasions, and both times the music was a soothing relief to otherwise jangly, bright sounding speakers elsewhere. Optimal sound is difficult to achieve under show conditions, yet this room seemed to have little in the way of treatments, which led me to believe that what I was hearing was just honest good sound.
I didn't bring any of my own music with me this year because I've realized that these audiophile quality recordings seem to be what everyone wants to hear, and my normal fare doesn't go over too well. Both times I visited this room, they were playing music I really wasn't interested in. The second time we went, it was Ricki Lee Jones. Perhaps it is bad memories of a relationship gone wrong, but I really don't care much for Ms. Jones. The sound from these speakers had me entranced though, which to me is the mark of a good system.
For the record, the rest of the gear featured was: the Consonance C1 integrated amplifier, the Marantz DV8300 DVD-Audio/SACD player, Straight Wire Octave Speaker wire, Straight Wire Rhapsody interconnects, and a Salamander Archetype 3.0 stand. I don't believe we listened to vinyl in that room, although they were also featuring a Pro-Ject Wood Classic turntable equipped with a Sumiko Blue Point phono cartridge. My hat's off to Buggtussel.
We would also like to add that while we did not get pictures of all the rooms, others that stood out as having good sound at the show would have to include rooms belonging to 47 Labs, Blue Circle, Totem, and Opera Audio.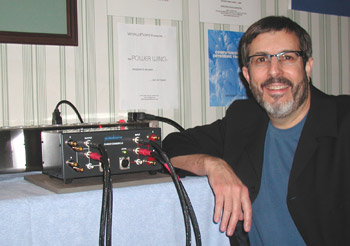 Alan Kafton, manufacturer of the Audiodharma CableCooker™ and the new WorldPower PowerWing™ (pictured below behind the CableCooker™). This could be the latest and greatest AC filter for $2000! Visit www.audioexcellenceaz.com. Alan was exhibiting in the audioexcellence az room along with Cain & Cain, Electron Luv—makers of the wildest electronics this side of Venus, and Prana Wire.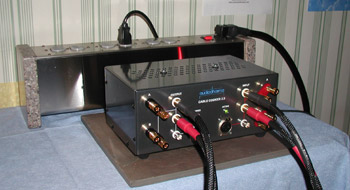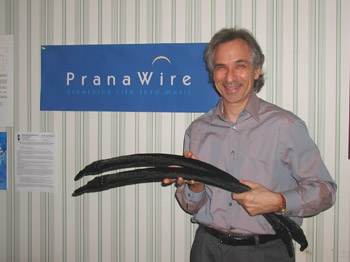 Joseph Cohen of Prana Wire (www.pranawire.com) and the new pure silver ribbon interconnects ($2450/1 meter). Oh, so sweet! These are VERY tweaky cables and reflect the best in materials and craftsmanship! Not a simple cable one can DIY or have mass produced. Joseph also was showing with Cain & Cain/Electron Luv in the audioexcellence az room. Expect a review in a few months or so.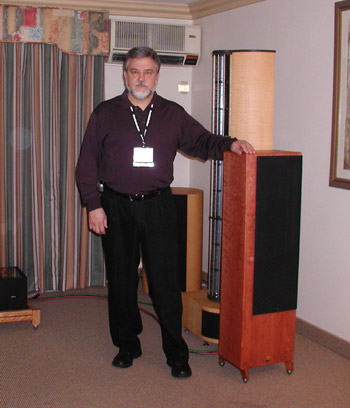 Proud papa Mark Conti of Impact with the new little Air Foil speaker. Sounded wonderful and is on the way to us this spring. A great sounding room featuring the Brinkman line of electronics along with Stealth cableing. I wll say that talking to these guys is a whole lot of fun!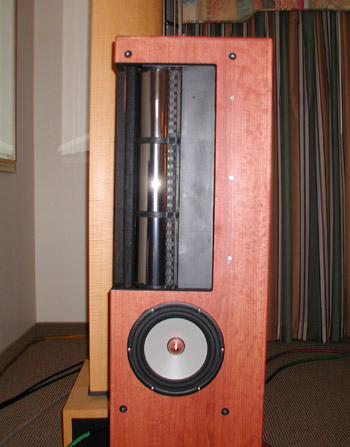 The new Air Foil junior uses a scaled down version of the driver found in the larger version. The single woofer produced enough bass output to make this under $6000 speaker a real steal.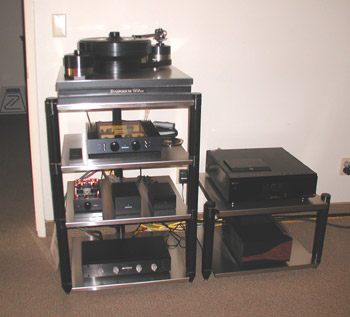 A bevy of Brinkman electronics as used with the Impact Air Foil speakers. Killer sounds to be sure. The bigger Air Foils can really move an awful lot of air! No pun intended. Expect a review of the Brinkman integrated soon (www.brinkmann-usa.com) with the rest to follow as soon as we can!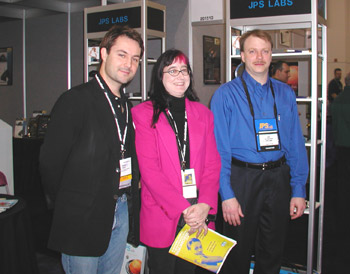 Danny Kaey, Carol Clark, and Joe Skubinski of JPS Labs at the LVCC.