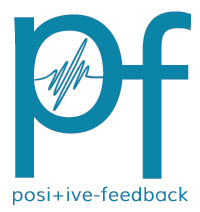 You are reading the older HTML site
Positive Feedback ISSUE
4

december/january 2003
Francisco's Favorites at this years 2003 CES
I didn't go into every room at the Alexis Park or the San Remo. I didn't even cruise down every hallway at the Convention Center this year. But Positive Feedback hit this years show in large numbers so hopefully we covered most if not all of the events, gear and parties. Here is a small list of products that touched my heart. Sorry, but forgot the camera!
Everything in the Margules Audio room at the Alexis Park sounded sweet and musical. I walked out of there with their cute little ADE-24 Analog/Digital Enhancer to test out. From the ADE-24 to their amps, preamps and speakers, Margules products had an abundance of useful features, practical design concepts and sounded wonderful. Tetra loudspeakers of Canada had their cute new little Kid speakers filling the room with good sound. Over in Monarchy Audio's room I spied a new preamp that Mr. C.C. Poon told me isn't quite ready for the market yet. What caught my eye was the 300B tube sticking out the front of it. I want one! Back at the San Remo, Opera Audio had a wealth of tube equipment on display which was being demonstrated by Stephen Monte of Quest for Sound. In the main room were a pair of beautiful Buggtussel speakers being driven by a pair of Consonance Cyber 845 mono block amps. The amps were gorgeous and the music sounded sweet and detailed. The real kicker for me was their little Cyber 10/30 integrated amp. It is a low watt headphone amp with one input and speaker outputs. It outputs 12 watts in Ultra linear mode or 5 watts in Triode. With the flick of a switch, this cute little unit switches off the speakers and becomes a very serious headphone amp. KT88 or KT66 output tubes can be used. Talk about features, this one's got them. I met Joe Fratus of Art Audio for the first time. He showed me his beautiful gear that was driving a pair of Reference 3A Da Cappo speakers to quite musical effect. Everything in Alan Kafton's, Audio Excellence room was unique. From the outrageous John Stippich Designs Triode Set Sculpture mono amps to the cool Cain and Cain speakers, it was a designers paradise in there. Alan also had the Teres and Progressive-Engineering turntables spinning away in his rooms.
Back at the Alexis Park I walked into the Rogue room and into what looked like $20,000.00 worth of amplifier. It was Mark O'Brian's new 250 watt stereo tube amp driving a pair of Meadowlark's new speakers. I was told the price of the amp is closer to $6,000.00. I couldn't believe such a big, powerful tube amp could be had for such a respectable price! In the Audiophile Systems room I heard an all Arcam electronics system driving a pair of the new Acoustic Energy AE1 MK.III's fronted by the beautiful Nottingham Hyperspace turntable. Steve Phillips, who is head of R&D told me that the development of those speakers took almost three years. The price of such hard work is expected to be around $3500.00 but they were really singing. As were the Living Voice speakers down the hall, which I have had the pleasure of having their Avator OBX model grace my house about a year ago. This year, like the year before, the guys in the ZU Cable room had a sweet and simple set up with their ZU Druids playing away. These speakers have to be the coolest made today with their unique looks, super efficiency and great sound. One speaker even had flames on it Ala Harley Davidson. But the sub woofers that they had off to the side were absolutely killer. I forgot the dimensions of the huge drivers but they were one of the biggest subs that I have ever seen. At the Music Direct booth, I picked up a few samples of the Flitz metal polish. When I got home and tried some out, I couldn't believe the dirt and grime that it took off of my power cord plugs. Trust me this stuff works.
Well that's it from me. I would like to thank all of the audio folks for their hospitality as I passed through their rooms. It was a quick three days for me at the show. But all that trudging down hallways was well worth it...again.