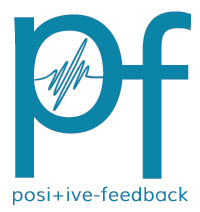 You are reading the older HTML site
Positive Feedback ISSUE
4

december/january 2003
2003 CES Report
by Danny Kaey
Wow! CES… on one hand, I am happy its done (how many MILES of walking did I manage over the 4 day period???), on the other, man – WHEN's the next one???
Of course, I was happy to finally meet some of the other staff members of Positive Feedback Online and exchange new ideas, discuss new products, and schmooze with all the industry people. So, Vegas it is–aptly named "Sin-City", we embarked on our little drive from LA Thursday morning. Immediately upon arriving, Dave and Carol greeted us and off we were to check out all the sites at Alexis Park. What did we see? Or, rather, the question ought to be, what DIDN'T we see? Of course, all the name brand manufacturers were there, as well as all these other brands you typically don't hear much about – either because they are nothing special, or more appropriately, they are SO special, that they don't need any in-your-face (think full page ads in your favorite audio publication, as in the M''… W's… R's… of this world – can you guess them?) marketing tactics to find the right customer/consumer. So, what's the scoop then? My first impression is that the two main forces I kept continuously encountering were (guess what?) VINYL (!!!) and SACD. SACD, of course, Super Audio CD, was pretty much the talk of the town – DVD-A was nowhere to be seen in hardware, except for the odd one-two dusty collection at the CD/Vinyl parlor. Isn't it ironic, that the good old vinyl disc has now outlived pretty much 2 of the main forms of distribution? The first one of course being the good ol' Compact Cassette, the second being the CD. Yes, I believe the CD has pretty much a limited shelf life here on out – it will gradually be replaced by Hybrid SACDs which were all the rage and talk of the town during the show (incidentally, Terre Haute is welcoming the addition of a Hybrid SACD factory where they will be pumping out these beauties for some time to come). Look for aggressive titles from all walks of life errr… music (Peter Gabriel, Pink Floyd, etc…) On the Vinyl end of things, I was utterly impressed – all these new and old tables, WOW! Long live Vinyl! Of course, the new VPI was available to drool over – guess what, it even graces the desktop of my computer as a wallpaper! It's every bit as good as it looks!
As we were walking through the myriad of rooms and suites, one thing became immediately apparent – man, there's a lot of junk out there! Of course, there is also tons of neat stuff to see too, and I can all but admire the designers with their ingenious ideas.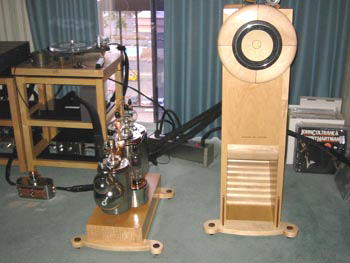 Ok, this is one for those who appreciate fine wood work … sound wise, well, it really isn't my cup of tea. But those who appreciate chamber music may well find this to be a superb system! (www.cain-cain.hypermart.net)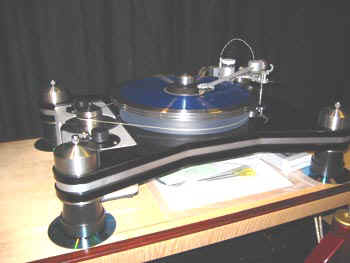 AHHHH!!! Here it is at last – the NEW 2003 VPI TNT HRX turntable. I was drooling over it and kept checking my bank account but alas, at $10K a pop it will be a while before I can afford this awesome engineering marvel. Yes, it sounds as stunning as it looks! Good ol' Louis sounded SO lifelike, it was a site and sound to be heard, for sure!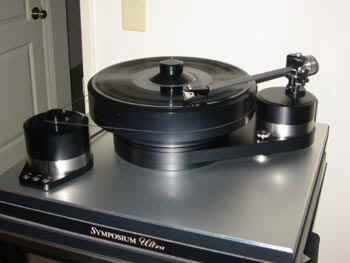 The "little" Brinkman turntable for a cool $8K. Still way out of my range! VERY nicely executed and designed, made for some luscious and sweet sounding Brubek music.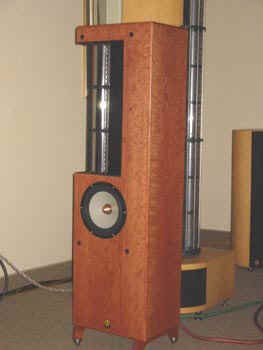 Airfoil launched the smaller version of their BIG design and it was one of my three favorite demo's all weekend long! Good job guys, and I would look forward to a review!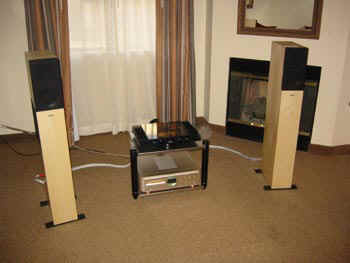 This little Brinkman (www.brinkman-usa.com) integrated can play with the best pre-power combo's out there! Nice design, of course, handmade in Germany, what do you expect! I believe we will be receiving some Brinkman gear for review, and I will certainly put my name on the list!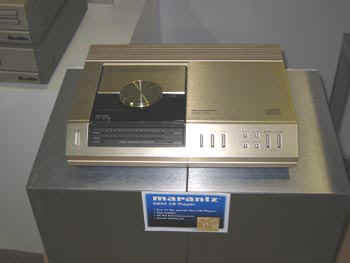 Ladies and Gentlemen – the very first Marantz CD player! Honestly, it really only has nostalgic values, as I wouldn't DARE to listen to it in this day and age. Can you say DIGITAL SOUND?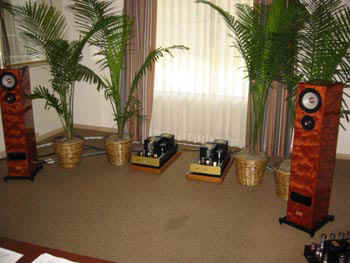 Cary Audio! (www.caryaudio.com) First of all, it was an honor to meet Dennis Had. When you speak to him, you really have the impression of talking to someone who's tried it all and then some; after all he is in full force behind tube gear (and who can blame him?). After spending so much time with the "little" Cary system – review forthcoming!!! – and having grown to love it so much that I am in the process of purchasing it, it was really a treat to see the big Cary gear in full force and then some… the then some was in form of their new speaker, the Silver Oak loudspeakers. Playing through the marvelous 805 anniversary edition mono blocks, the sound was amazing. The 805 is a sight to be seen and musically it's in a different league altogether.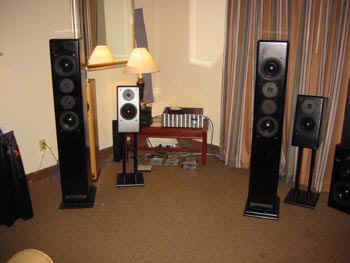 The little (I think they are up to $7K now?) Jeff Rowland integrated… Nice, but I think a bit overpriced for what it is.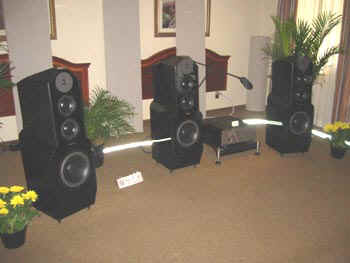 Ahh yes, Eggleston Works were at the show of course, featuring their head turning Andra II model, in a 5.1 surround configuration playing SACD! A bit too much for my taste, especially since it appeared that the surround processor was calibrate a bit on the "tech-geek" side, with too much surround information coming to me from all sides.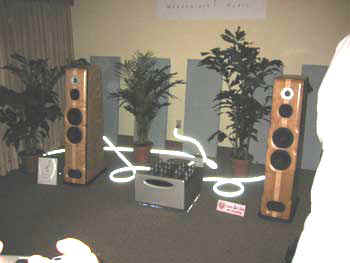 Rogue Audio (www.rogueaudio.com) – still reminiscing the sweet sound of their pre amp I had the pleasure of auditioning (see review in this issue), I was thrilled to meet the gang at Rogue. They were showcasing their new full size power amps, all tube of course and much to the delight of the crowd. No kidding, each time I figured I'd have a chance to walk in and demo the system, they had a performance going for about 10-15 people! On a very positive side note, Rogue is also the importer for Avid turntables from England (God save the Queen!) Avid, a very respected manufacturer should gain significantly from this as they have really nice vinyl playback equipment. Especially their mid priced Volvere should be a delight and I am hoping (more like begging!) Dave to get me a review sample.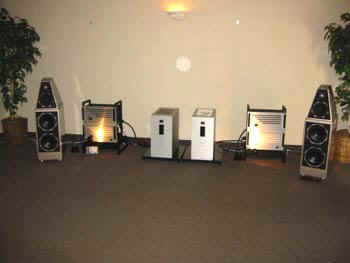 Wilson Audio (www.wilsonaudio.com) was also in prominent display, this being one of a handful of rooms demoing their equipment through WATT/Puppies in their current incarnation, the 7 series. The sound was Wilson like – which is to say predominantly harsh sounding and ultra revealing, not quite my taste but then again, who asked me? On a more serious note, Wilson Audio has marketed itself as a tour de force to be reckoned with and no doubt, they have a significant following out there. My personal recommendation: audition Reimer's McCullough GS's BEFORE you pay $7K+ for the Wilson Cub system, www.reimerspeakers.com… (more on this next issue with a detailed explanation as to the why and what not).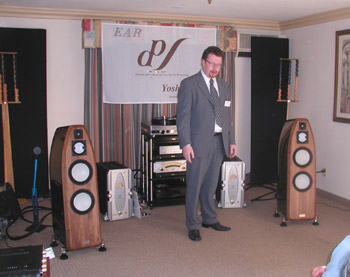 EAR! (www.ear-usa.com) Another WOW experience at the show. Dan Meinwald, EAR's US importer just fresh off picking up Marten Design distribution for the US, displayed his EAR gear in familiar yet awesome fashion: The BIG monoblock's, running through the BIG preamp and BIG Sony SACD player – all channeled through the fabulously built and very sweet and dynamic sounding flagship Marten's – the aptly named Coltrane. The sound was stunning and definitely one of the top 4 rooms at the show. Of course, my BIG moment came when I had the pleasure to converse with Tim de Parvincini himself – what a personality! One of my demo discs was Steve Hoffman's remastered Elvis 24 Karat Hits CD on DCC Gold disc. I plugged it into the Sony and was immediately greeted by the sweet sound of Elvis… Of course, nothing could prepare me for what I was about to hear – Tim looked at me and said – wait a minute! Let ME play you a cut of Elvis… Simply put, I was taken into a time travel machine, ca. 1969 – I am at the RCA studios listening in to a recording session courtesy of Elvis being in front of me – folks, I am not kidding. This was THE most realistic and impressive Elvis recording I had ever heard to date, and it made the DCC stuff look like ancient history! I mean, there was NO comparison between the versions I kept going back and forth between – the cut was "Suspicious Minds." I repeatedly kept inquiring where Tim had acquired this self made CD from; of course, I was never quite able to find out. I guess it pays to have Studios all over the world use your gear for demo sessions, recording, AND mastering!
I spent some time talking to Tim about the incredible difference between the two recordings and he basically attributed it to RCA sending the master tapes off to other studios for various overdubs, etc., which in turn made the recording suffer incredibly. The CD he had, was the REAL deal from the original masters, no doubt – heck probably from THE original session tapes!
Anyway, his gear is of course well known and I hope to get something soon for review.
Switching to the "THE Show" at the San Remo, I was greeted with a good assortment of other manufacturers who didn't feel like paying the exorbitant fees of Alexis Park/CES. Audio Physic was there, as was the most digital room of them all: TACT. No kidding, the signal was digital all the way up to the binding posts of the speakers! Impressive feat, but alas, suffering from too much digitalitis – who knows, maybe they will have the technology perfected in another couple of years. At any event, the San Remo also featured another highlight of the show, the Buggtussel room. Doing the usual demo, I was very impressed with their speaker lineup – detailed, dynamic, and a soundstage to match – what else could you ask for? Very nice indeed and among the top 4 rooms of the show for me.
So, without much ado, here's a top 4 list of all rooms – please note, in no particular order!
Buggtussel

EAR/Marten Design

Cary Audio

Airfoil/Brinkman
Well, that's all folks – CES was a blast! I am already looking forward to next year, and I promise to bring you CES 2004 as you have never seen it before – more on this development as the months progress and we get closer to the event; let me just say that it will be brought to you via the latest hi-tech available… (if I say anymore than this, Dave Clark and David Robinson will boot me off the team!!!)
Best wishes!