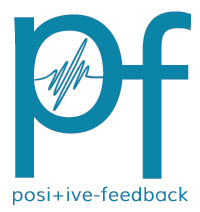 You are reading the older HTML site
Positive Feedback ISSUE
39
september/october 2008
RMAF 2008 - Part 2
by Dave and Carol Clark
Here is Part 2 of the coverage. We were dead tired Friday but enjoyed a fine meal and wine... perhaps too much.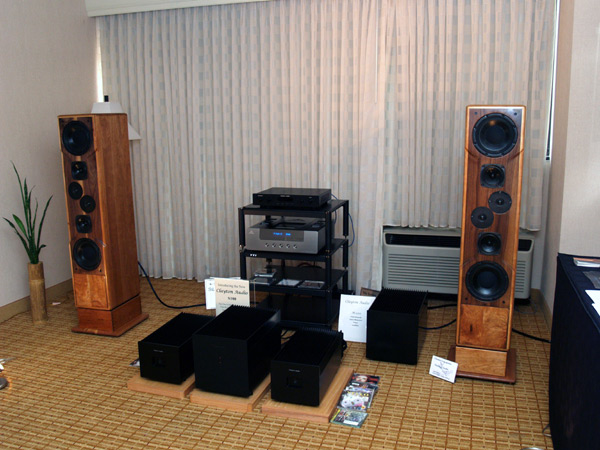 Wilson Audio had a new amplifier called the S100, as well as a new preamplifier P1. They featured Daedalus loudspeakers.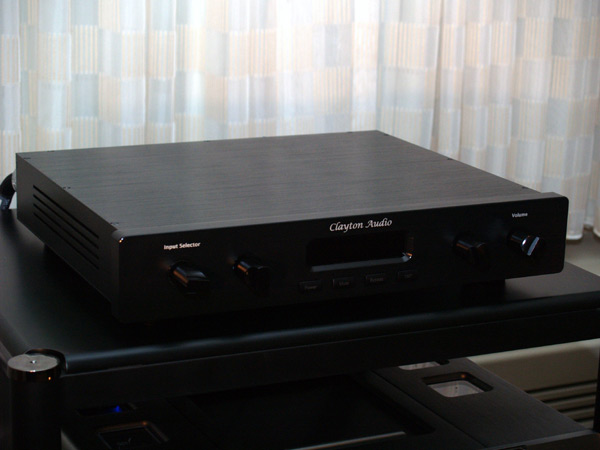 The Clayton P1 preamplifier.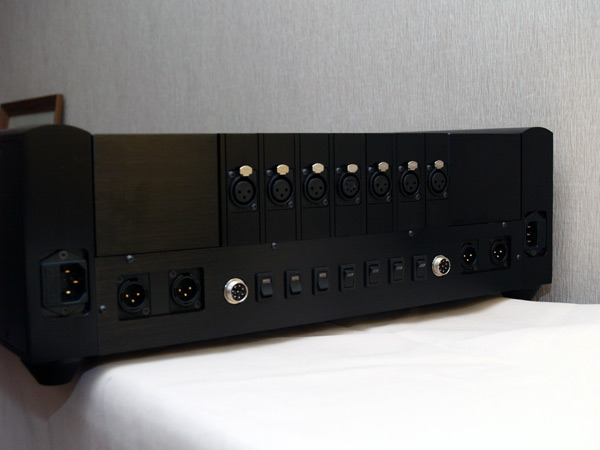 Wilson's new fully modular statement preamplifier is still in the works.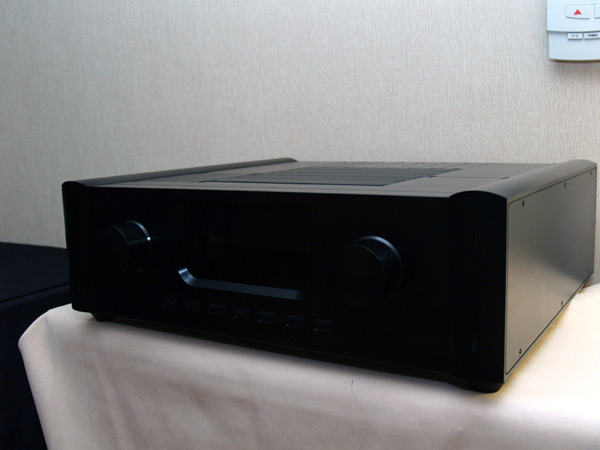 Clayton Audio statement prototype preamplifier. This things is huge and weighs a ton....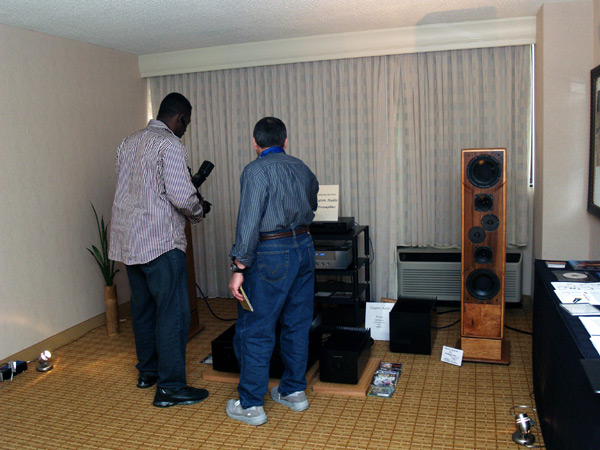 Terry Rossen showing off the Clayton line.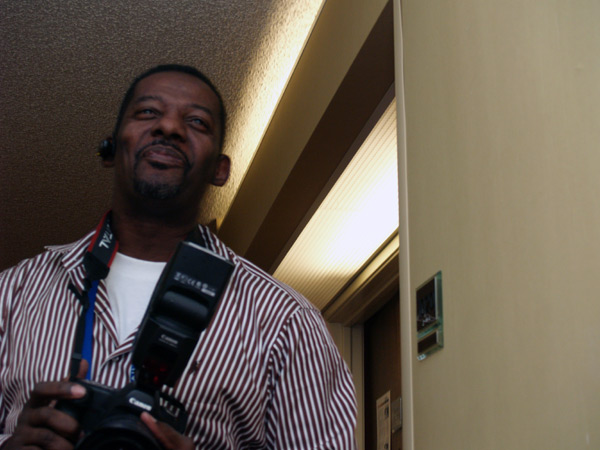 Clement Perry of Stereo Times.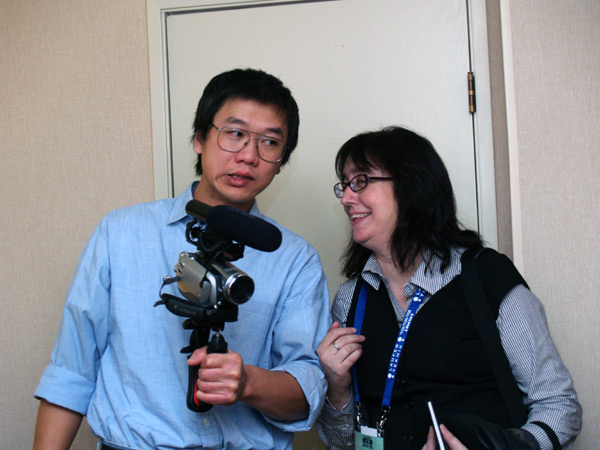 Gilbert Yeung of Blue Circle with Carol.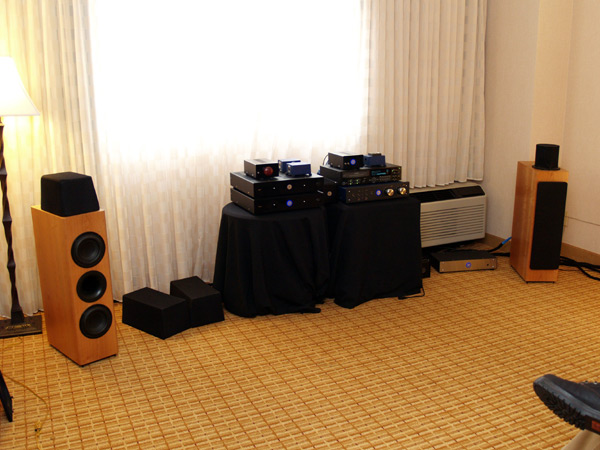 Blue Circle products including their Penny loudspeakers.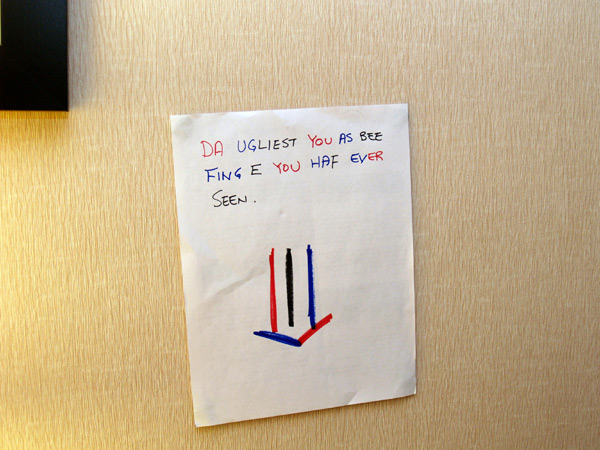 A Gilbert Yeung special sign.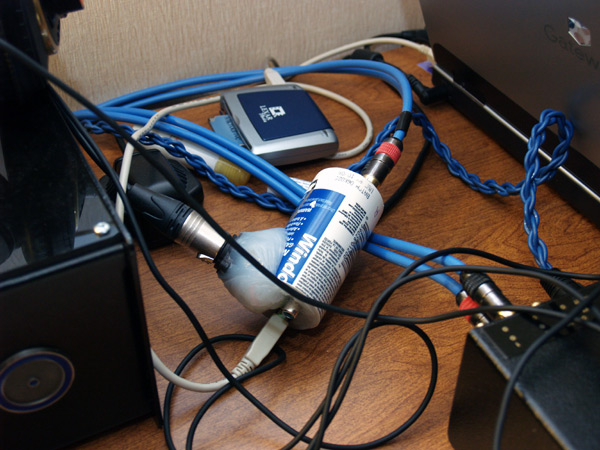 This is "the ugliest USB thing you have ever seen"...per Gilbert's note. A USB interface.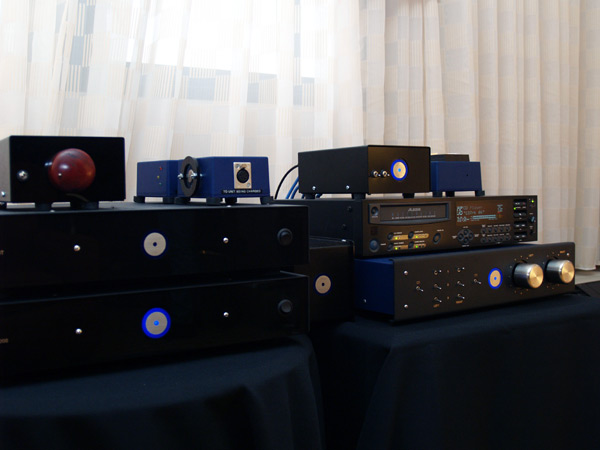 A collection of Blue Circle products featuring the BC109 linestage preamplifier uses capacitors for power supply, SB90T hybrid stereo amplifier, and SB100S solid state amplifier. On top is the BC501 24bit USB DAC.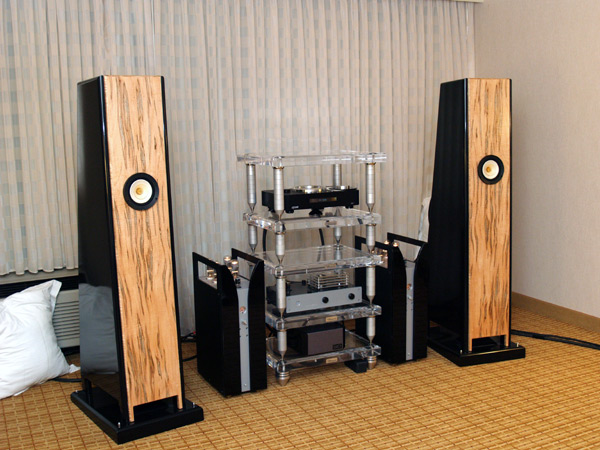 Affirm Audio loudspeakers with Red Rock amplifiers, Clarity cables and AC conditioning, Artemis Labs, Schroder tonearms, Ayon Audio, and Custom Isolation Products.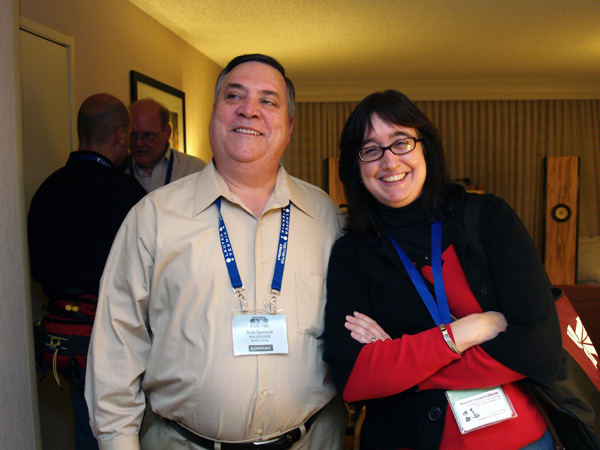 Bob Spence of Affirm Audio Loudspeakers with Carol.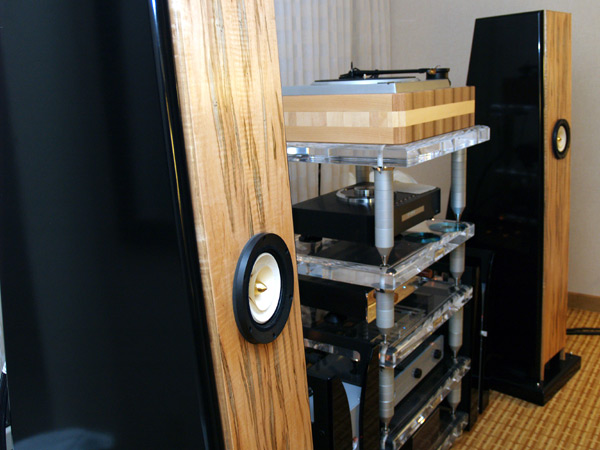 A close up of the Affirm Audio loudspeakers and the Custom Isolation Products stands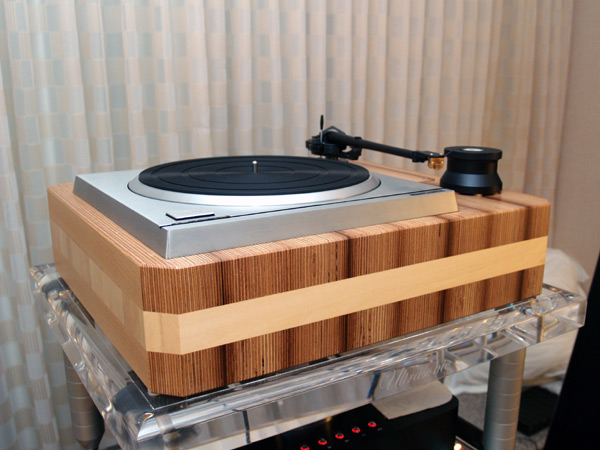 .
Another gorgeous turntable.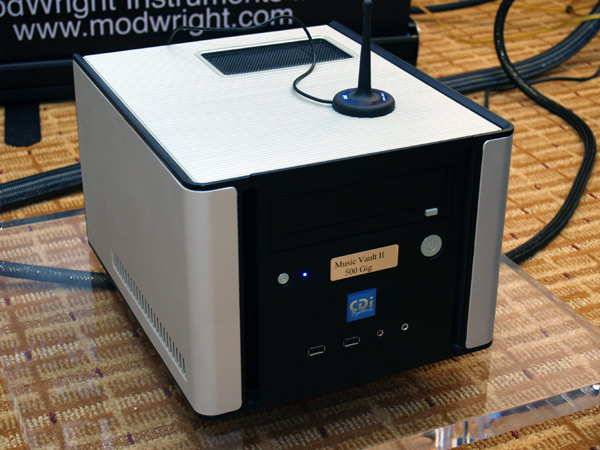 Music Vault II music server as used in the Modwright room.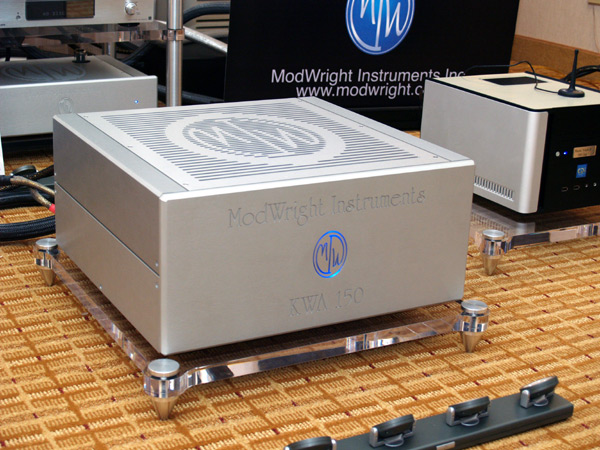 Modwright brand new amplifier, KWA 150. Way nice indeed.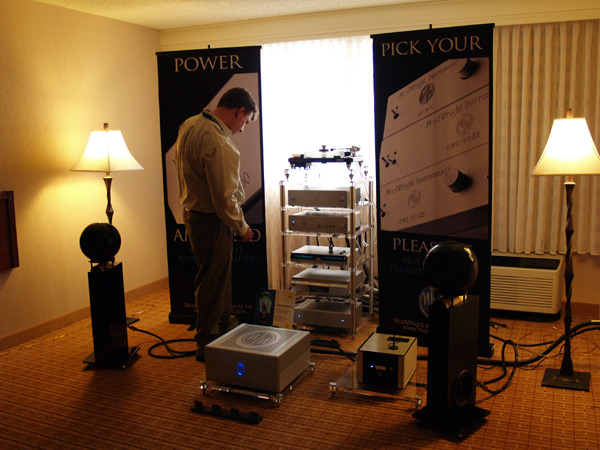 Dan Wright checking out his set up. The new amplifier is in front, tethered to the Studio Electric loudspeakers with Voodoo cabling.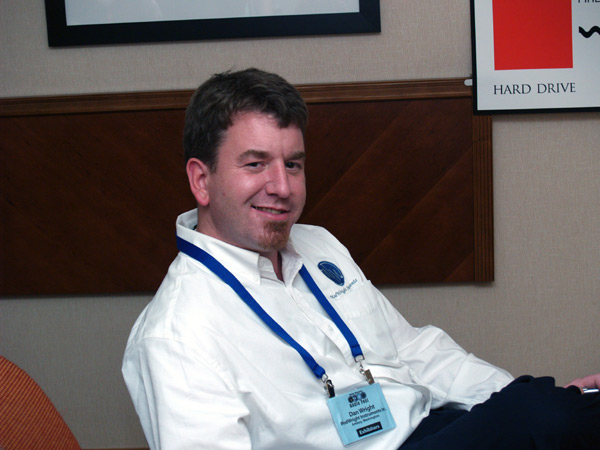 Dan Wright of Modwright, looking sharp as ever.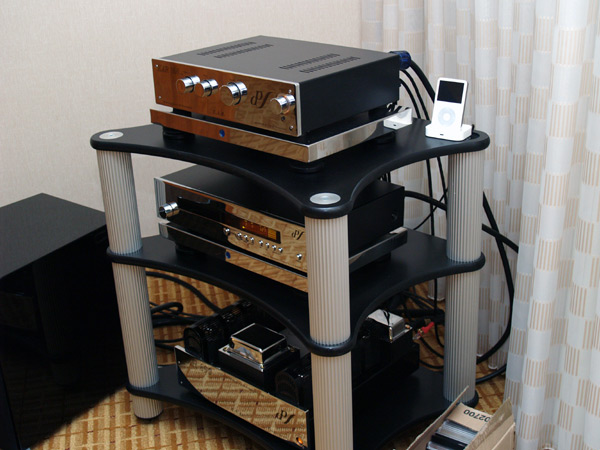 E.A.R. USA's Acute CD player, 890 amplifier, and 864 preamplifier. Cabling was by Jorma Designs.... great sound as always.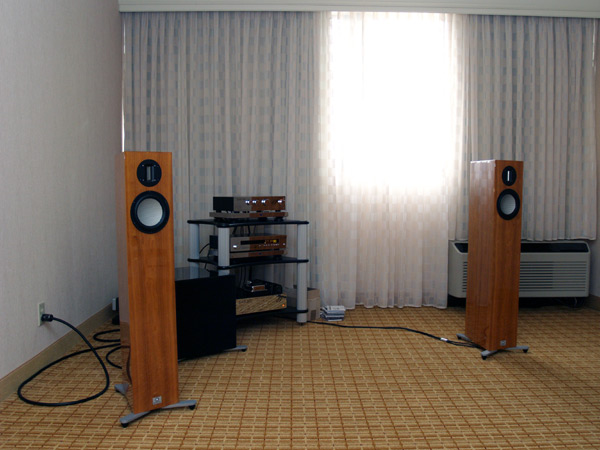 E.A.R. used Marten Design Form loudspeakers.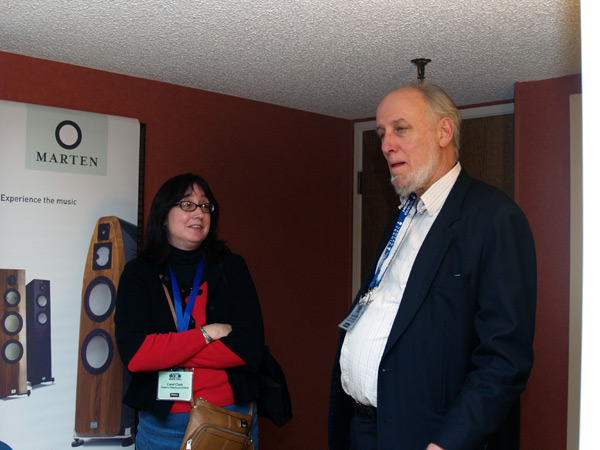 Carol seems frightened of Tim DiParavicini. Or, maybe she's just cold.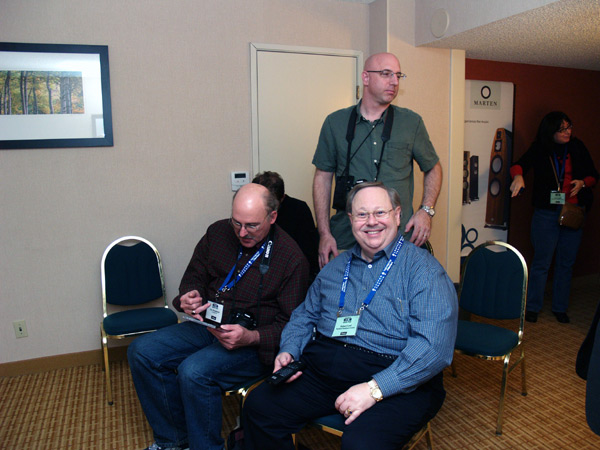 Bob Levi of the Los Angeles and Orange County Audiophile Society with Adam Goldfine hovering in the back.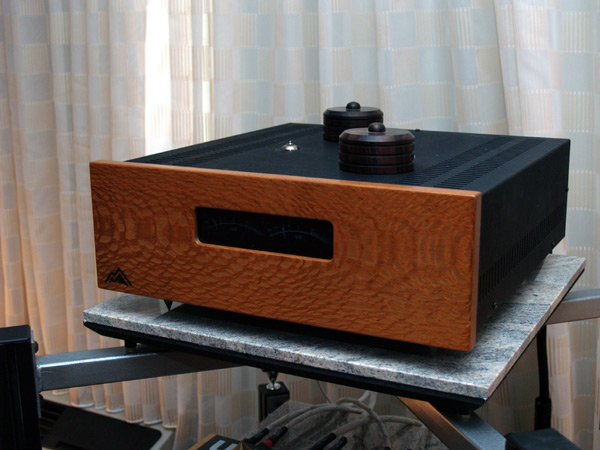 Bolder preamplifier.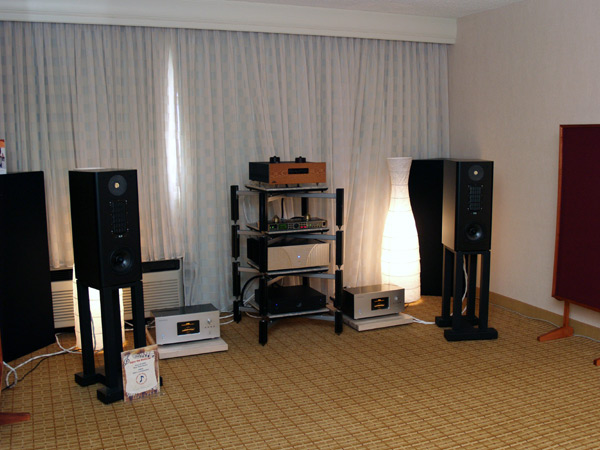 Bolder with VMPS, Eastern Electric, and GIK Acoustics.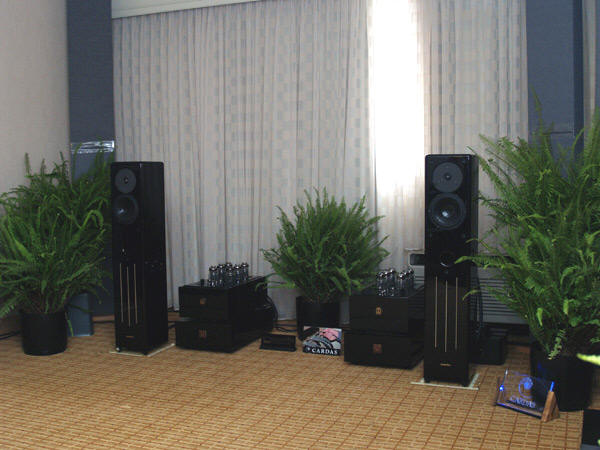 Merlin Music Systems with Cardas Audio and Joule Electra. Great sounding room. Bobby knows how to do it right! Played a bunch of cuts from the Flight of the Concords CD... way funny and very well done sonically.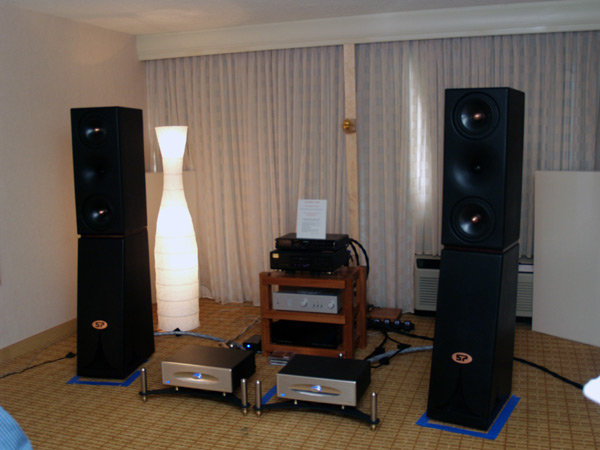 TweekGeek room with SP Technology loudspeakers, Spectron, Bybee Power, Synergistic Research, and Bolder.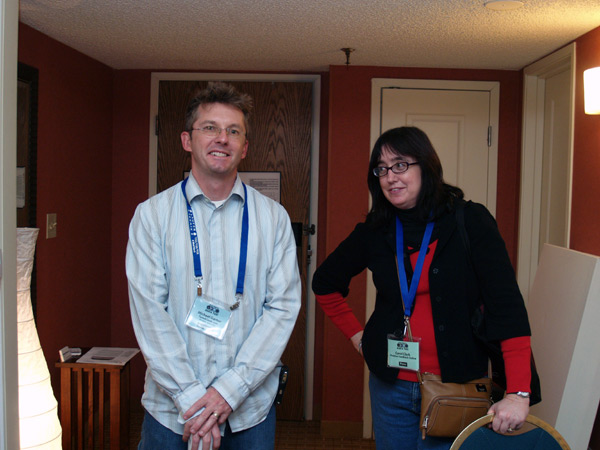 Michael Garner of TweekGeek and Carol wno seems rather unsure of Mike's intentions... a good guy to the nines he is!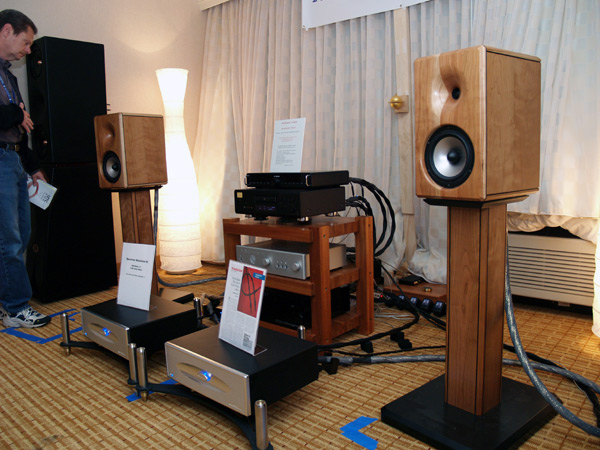 A closer look at the TweekGeek system with a different pair of SP Technology's speakers ...sounded nice too.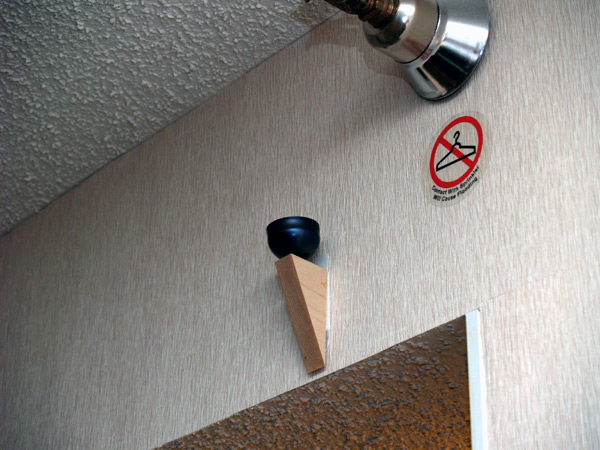 New Synergistic Research room treatment.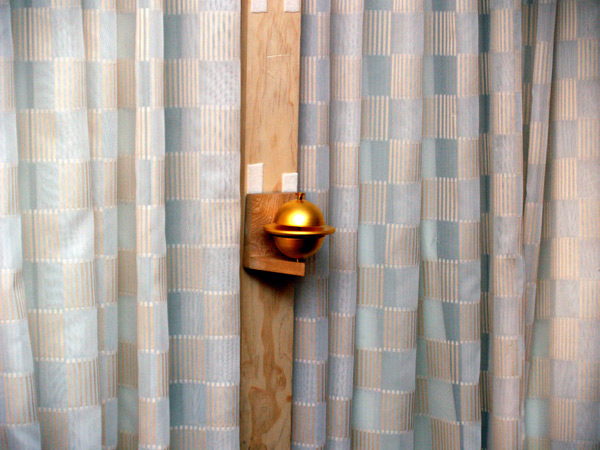 Synergistic Research room treatment.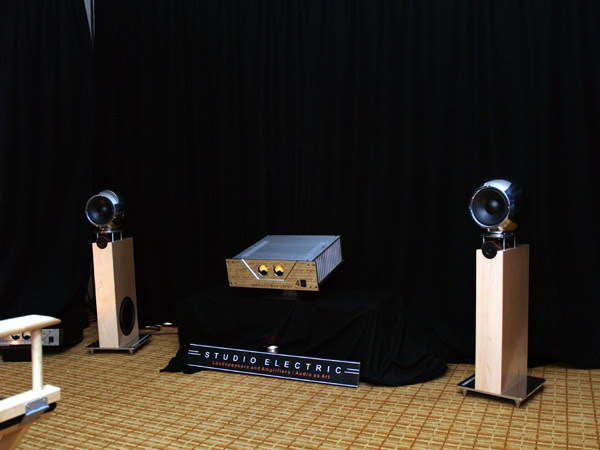 Studio Electric loudspeakers and hybrid amplifiers showed with Benchmark Media.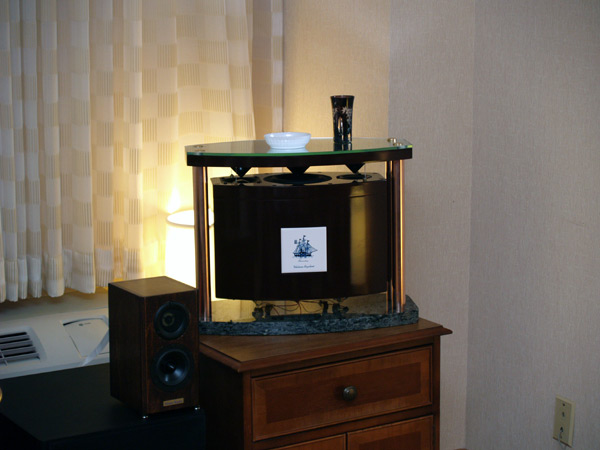 Yokohama Baysidenet Corporation.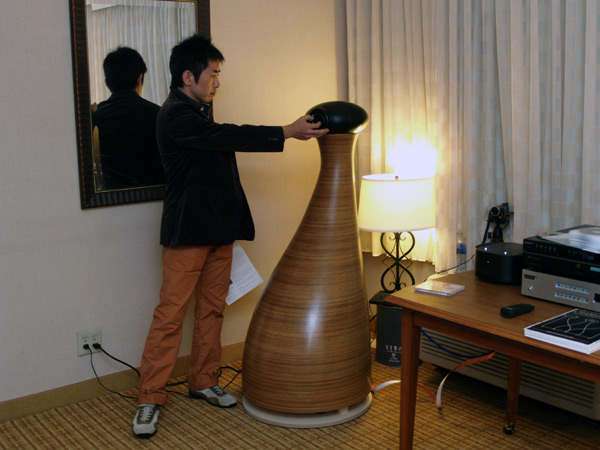 Yokohama Baysidenet Corporation and ViV Laboratory Ltd. the "Evanui" made from a new technology.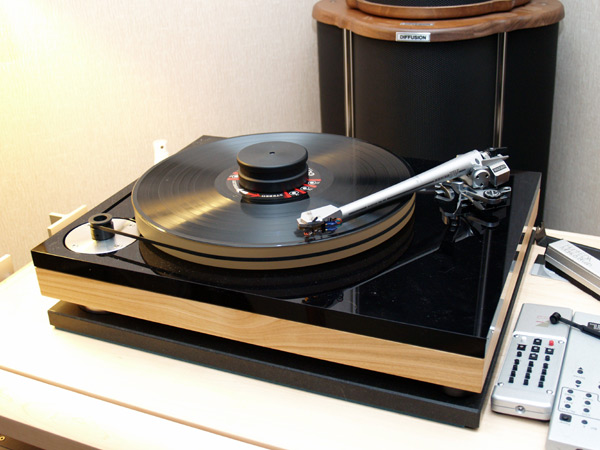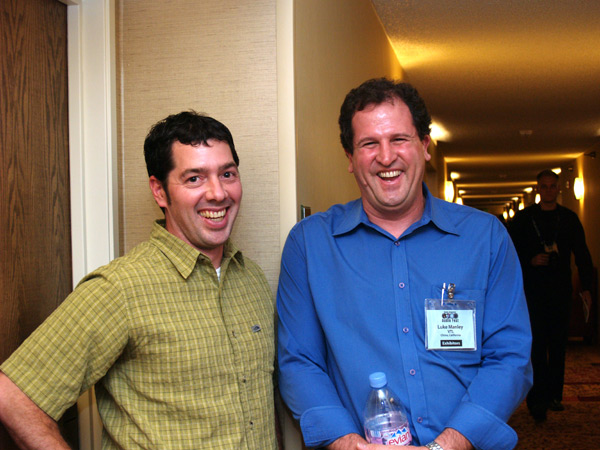 Brent Hefley of Ayre and Luke Manley of VTL sharing a laugh. Tubes... solid-state ... yubes... solid-state ...tubes... solid-state ...tubes... solid-state ...tubes... solid-state ...MUSIC they agree!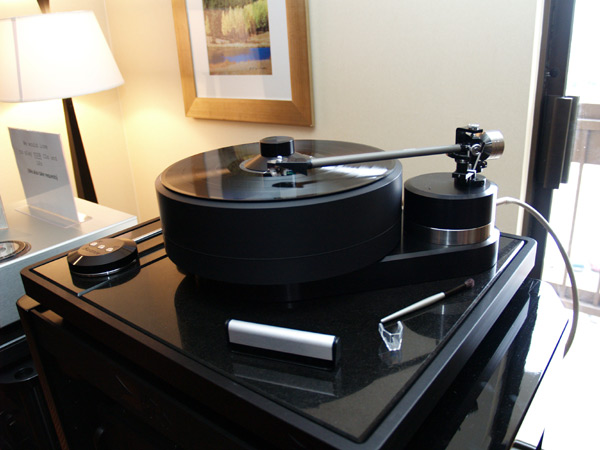 Audio Federation showed the Brinkman Balance turntable.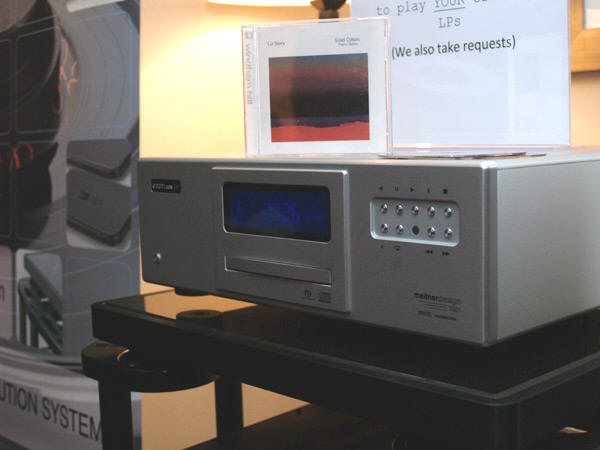 Audio Federation's room featured the EMM Labs/Meitner Design TSD1 SE transport.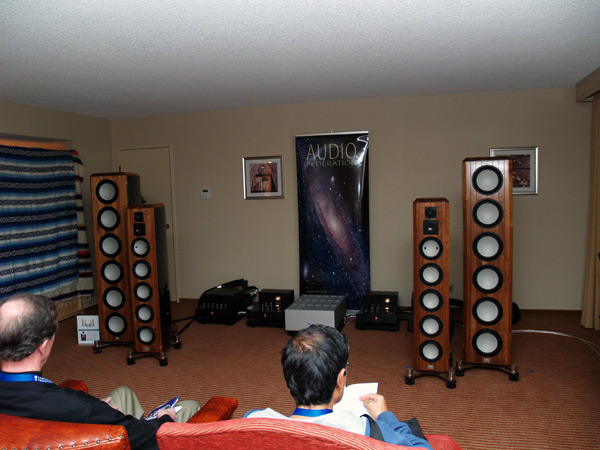 The Marten Design Coltrane Supreme loudspeakers with Lamm Industries amplifiers.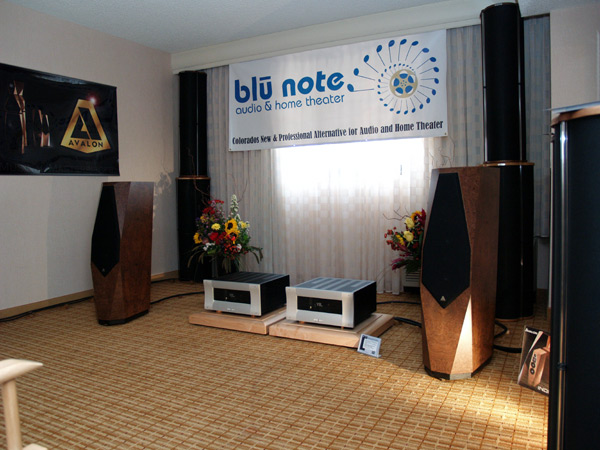 Blu Note Audio with Avalon Acoustics Indra loudspeakers, VTL amplifiers, and Cardas cables.
Tangram Audio imports with AcousticPlan of Germany electronics.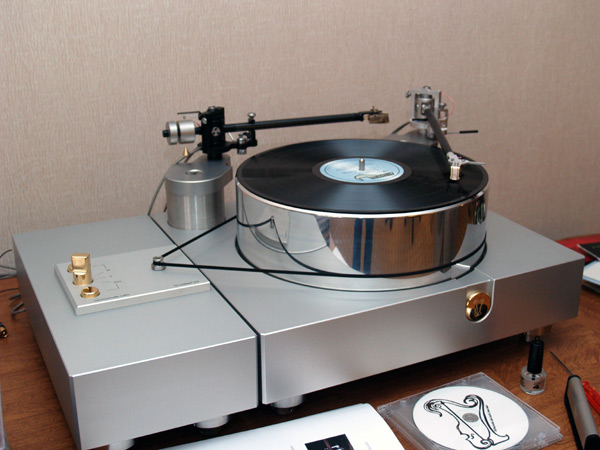 The Da Vinci Audio Labs Unison turntable.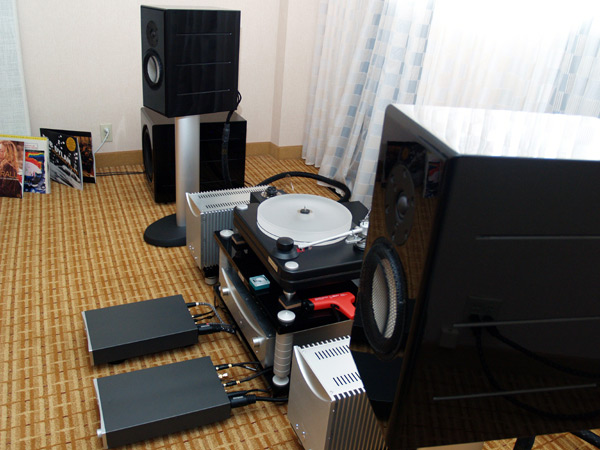 Roberts Acoustics Rapide Monitor loudspeakers, Vincent Audio amplifiers and preamplifiers, and a VPI Scoutmaster turntable for good measure.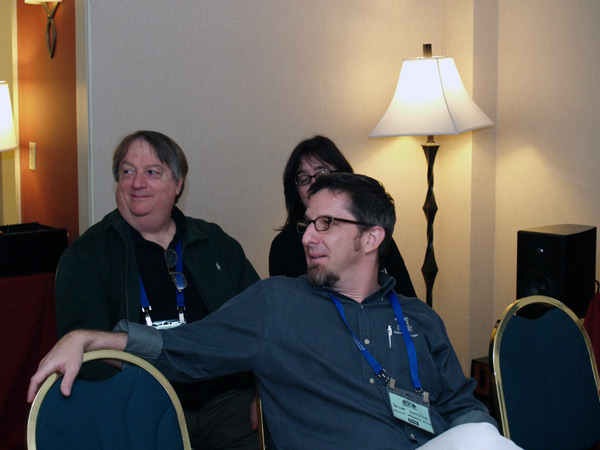 Albert Porter, Carol and Bryan Gladstone enjoying the sounds in the Roberts Acoustics room.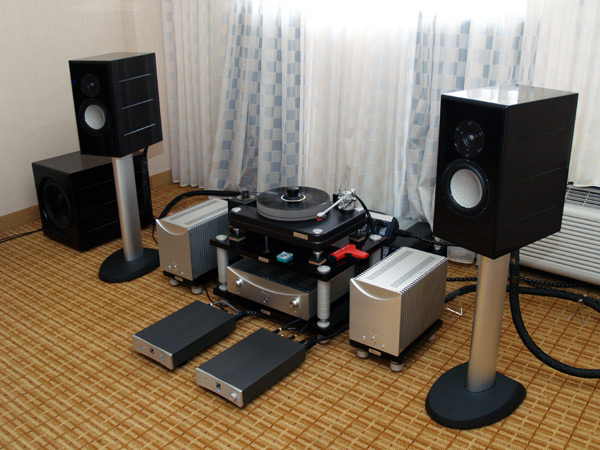 With the Roberts Acoustics loudspeakers, Vincent Audio SP-T800 monoblocks and SA-TI preamplifier, PS Audio DAC Link III and GCPH phonostage, Kimber Kable, and PS Audio power cords.