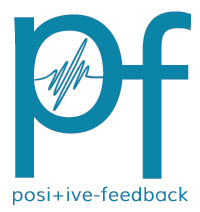 You are reading the older HTML site
Positive Feedback ISSUE
39
september/october 2008
Four from Naxos
by Karl Lozier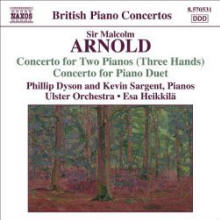 Sir Malcolm Arnold, Concerto for Two Pianos (Three Hands). Concerto for Piano Duet. Fantasy on a Theme of John Field. Pianists: Phillip Dyson and Kevin Sargent. Orchestra: Ulster. Conductor: Esa Heikkila. Naxos: British Piano Concertos series #CD 8.570531
On this recording's cover only the first two compositions I listed above are mentioned. There is a relatively short fourth selection, an overture, Beckers the Dandipratt that does not include piano. Arnold's parents were both pianists and Malcolm's previous musical career was as Principal trumpet in the London Philharmonic Orchestra. Arnold was not always mentally stable and while he was recovering from a breakdown, he wrote the Dandipratt overture.
Dandipratt is an old English name for urchin. The short overture has, not surprisingly, some dark musical passages and somber moods though intersperced with lively passages. Variety of musical expressions is pretty much evident throughout the main compositions. Melodic, upbeat, appealing and interesting are appropriate adjectives to describe them. They do have some interludes of contrasting contemporary music that spices things up a bit without going too far. I highly recommend this recording for listeners looking for something just a little bit different.
Conductor, orchestra and the two piano players turn in fine performances. The audio quality is definitely in the rather large percentage group of Naxos recordings of the past few years that can easily be called "very good" though not quite competitive with good SACD releases such as Naxos used to offer. The bass response is clean and solid while the higher frequencies are smooth without any digital edginess or audible distortions present. With his trumpet playing background his compositions often have, even if fairly subtle as here, some particularly beautiful or interesting passages featuring that instrument. I also recommend searching out any Arnold compositon with the word "Dances" in the title.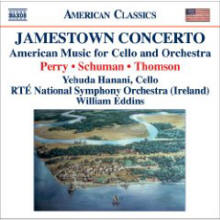 Jamestown Concerto, W. Perry, W. Schuman, V. Thomson. Yehuda Hanani, Cello. RTE National Symphony Orchestra of Ireland. William Eddins, Conductor. Naxos American Classics series CD #8.559344
Lovers of music for cello plus orchestra are in for a treat with this release! William Perry's Jamestown Concerto was written to celebrate the 400th anniversary of the founding at Jamestown Virginia of the first permanent colony in America. Perry has often written music for silent films and has won Tony nominations. He also won Emmy and Peabody Awards. He obviously knows how to write music that is immediately appealing! This brilliant composition briefly recants the story of the settlement right down to the famous native girl, Pocahantas, a program and rare in a concerto. This is similar to my favorite program featuring solo viola in Berlioz's Harold in Italy. Also unusual for a concerto is the division into five moments instead of the usual three and topped off by a solo cello overture introducing the first movement. Dear readers, if you know someone who loves music for cello, tell them about this concerto's world premiere recording!
The second composition is William Shuman's A Song of Orpheus, a fantasy for cello and orchestra. The title and melodic material is a song setting of Shakespeare's OrpheusWith His Lute of a poem from the play, Henry VIII. Schuman requests that Shakespheare's text be printed in the concert's programme or recited before being performed. Though seldom done, this recording features actress Jane Alexander reciting the text almost as if it is a prelude to the composition. Jane Alexander has an enviable resume with her acting career. Four times nominated for an Academy Award, six Tony Award nominations and a Tony Award Winner plus Emmy and Critics Circle Awards for television performances! Dear readers, can any of you name two of the movies, plays or shows she was featured in? This concerto is generally regarded as a tough or demanding one for the performing cellist. I also find some sections to be a bit demanding for a casual listener, not always outgoing and immediately appealing. The long-time knowledgeable listener will best appreciate all the many intertwined sections of this ambitious compostion.
The release finishes with Virgil Thomson's Concerto. Here as written, it is heard with full orchestration for the first time in fifty years. Thomson gave descriptive titles to each of the traditional three movement concerto. The first movement is Rider on the Plains and it definitely suggests or at least hints at a horse plus rider are crossing an open plain. This movement begins very attractively and melodically. The second movement, the traditional slow movement for a concerto, is titled Variations on a Southern Hymm. Still appealingly scored, it at times is a bit melancholy. The third and final movement, Children's Games, finds Thomson almost playing with melodies and orchestration for a very attractive and satisfying conclusion to his fine composition and this excellent release by Naxos. This is the most satisfying recording featuring the cello that I have heard in a many years! All around fine performances by Yehuda Hanani and very sympathetic accompaniment by conductor and orchestra plus fine CD audio quality by Naxos (encourage them to release this and more in the even better sound quality SACD format) makes for an outstanding release.
If you love the cello and the rich musical enjoyment it can offer, you need to obtain the near masterpiece by Dvorak, his cello concerto. I was introduced to the cello a very long time ago in Shiprock, New Mexico on the Navajo reservation. One of the recently graduated physicians stationed there with the U.S.P.H.S. was a cello player. He and his violin playing wife came over to our government supplied house (I was stationed there also) and gave us beautiful live music. His name was Dr. Jim Christainsen and while there he played with the Albuquerque Symphony Orchestra and planned to return to Iowa for private practice. If any of you reading this think you know of him, let me know. I will never forget the sight of him and his wife cramming into their little original VW Beetle with both a cello and violin.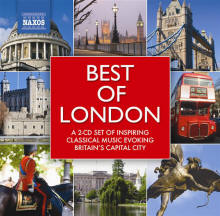 Best of London, A Two Disc Compilation of Music Spanning Three Centuries and Evocative of London in All Its Glory. Naxos 2CD #8.572098-99
This compilation from more than a dozen Naxos releases contains musical selections from some of Britain's most popular composers and from "adopted composers". The first CD focuses mainly on "light music" and catchy melodies. As the liner notes mention the overture to The Yeomen of the Guard by Sullivan, I would agree that it is probably the most familiar to American listeners. As would be expected, the first CD contains Coates' London Suite and his London Again Suite. I agree completely with the top selections of the second CD focuses on traditional classical music pieces. They range from the sublimely delicate arrangement of Greensleeves to the festive outgoing climactic Crown Imperial march by Walton. Of course, Vaughan William's London Symphony, in part, is included here.
The two discs combined offer a total of twenty six selections. All are performed quite well to outstandingly so. With so many Naxos releases involved, the seeming likeness of the very good audio quality offered by Naxos is a pleasant surprise with its sense of continuity. The Crown Imperial march by Walton was particularly notable for its fine overall presentation and excellent audio quality.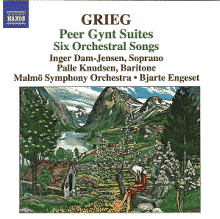 Grieg, Peer Gynt Suites. Six Orchestral Songs. Orchestra: Malmo Symphony . Conductor: Bjarte Engeset. Naxos CD# 8.570236
These Peer Gynt suites are the heart and soul of Grieg's incidental music to Henrik Ibsen's play of the same name. This beautiful and very impressive melodic music is one of my personal favorites of all time. The immense popularity of the original suite fueled much more. The Suite No.2 was a logical extension. Then conductors started adding a few personal sections and even changed the playing order, that seemed a bit more logical, then that decision grew even more. So in the good old LP days, hearing Peer Gynt went from half of one side of an LP to the whole side, then to all of both sides and even a couple of extended versions to two full LPs. That was not the ultimate. What began the ultimate for me was the addition of solo female vocals including Solveig's Song (beautifully sung on this release by soprano Inger Dam-Jensen). Solveig's Song became the most popular of Grieg's l80 songs and Solveig's Cradle Song subtly and beautifully ends Peer Gynt. The favorite versions in my collection add both a separate female and male chorus. In one, the male chorus, with full orchestra is seemingly almost highlighting it as a showpiece for tuba, in my personal favorite section, the outstanding In the Hall of the Mountain King. Unfortunately this fine production does not include the addition of choruses. The other songs added to this release are beautifully done by the aforementioned soprano and by baritone Palle Knudsen. Enjoy some of the most attractive and melodic music to be heard here in Peer Gynt. Also try to imagine a powerful male chorus perfectly added to build a climax to In the Hall of the Mountain King. Audio quality again is very good, actually outstandingly so, significantly aiding enjoyment of this superb release—just lacking the SACD format choice. Definitely my highest recommendation for enjoyable music, beautifully performed and very well recorded. If you want to hear more of this talented composer, simply try his piano concerto.