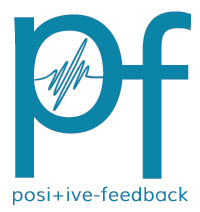 You are reading the older HTML site
Positive Feedback ISSUE
39
september/october 2008
Five 24 Bit 96kHz DVDs from High Definition Tape Transfers (HDTT)
by Teresa Goodwin
HDTT is an exciting and growing archival project and I am thrilled they are releasing 24/96 DVDs. Overall the sound quality of these "burned" DVDs is on par with all but best DVD-Audios and SACDs. One thing to keep in mind is that these are from mostly 50 year old commercial 2 Track and 4 Track 7 1/2 IPS Reel to Reel tapes and thus logically cannot compete with high resolution digital from actual 2 Track 15 IPS analog master tapes, or can they? Sometimes I am really surprised and do wonder how much better they could be if the original masters were available for HDTT's use.
Most of HDTT's 24 Bit 96kHz DVDs, 24 Bit 96kHz downloads, and CDs are from the best of the "golden age" of stereo sound with recordings from RCA Living Stereo, Decca/London, Westminster, and Capitol. They are in the public domain, out of copyright and perfectly legal. All of this is explained in my last article on HDTT along with a list of the equipment they use in producing these recordings: http://www.positive-feedback.com/Issue38/HDTT.htm
Analog reel to reel tapes from the "golden age" sometimes have strained, slightly overloaded or compressed dynamics, tape hiss, or other issues such as dropouts whether from the original masters or in this case the commercial reel to reel copy. I shall note in the text of the reviews what major issues any of the recordings have.
HDTT is switching from the Super Jewel cases to DVD soft plastic style cases for all of their releases. These are the same type of cases most movies come in, commonly known as "keep cases". They had to make the change because the Super Jewel box inserts for the cases that they were using are not being made anymore and the inserts that are available and don't fit the way they were printing them. A benefit of using the DVD case is it is easier to design and everything is bigger and easier to read.
The DVD keep cases allows extra space for their statement "Rare Recordings In Audiophile Sound. This disc will play on any DVD player; a DVD-Audio player is not required. To hear this disc at its full potential make sure your DVD player has the capability of outputting a 24/96 signal." I have been a champion of 24/96 DVD since the first Chesky and Classic Records 24/96 DVDs came out. And I always thought this could be the high resolution format for the masses as nearly everyone has a DVD player. But it was shunned by the majors as it offered no copy protection, I am glad HDTT is using it.
All discs auditioned are the physical packaged 24 Bit 96kHz DVD format which are available directly from HDTT for $19.99. They are also available in 24 Bit 96kHz downloads at a lower cost $12.00 to $13.00 for the full albums. http://www.highdeftapetransfers.com/storefront.php
My listening notes should equally apply to the high resolution downloadable version as well. For listeners not interested in high resolution music DVDs or high resolution computer music files HDTT also offers two different types of "burned" Redbook CDs.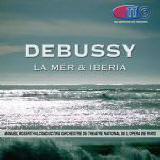 DEBUSSY: La Mer & Iberia Manuel Rosenthal, Orchestre Du Theatre National De L'opera De Paris Transferred from a Westminster 4-track tape. HDDVD 107
Manuel Rosenthal was one of the great French conductors that has been forgotten over time and with the demise of Westminster his recordings were also forgotten. This is my first exposure to maestro Rosenthal and both Debussy works are a real showcase for his talents. "La Mer" is the most beautiful, captivating and even exciting performance I've ever heard of this composition. In the wrong hands "La Mer" can became an absolute bore and I have heard many performances that put me right to sleep. Not so Mr. Rosenthal's I enjoyed the performance immensely with very realistic sound quality especially the ambiance, high percussion and deep bass. "Iberia" was as exciting as they come and perhaps one of the top performances of all time, truly captivating and with the same realistic sound as La Mer. I highly recommend this to all who love Debussy's orchestral music.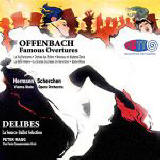 OFFENBACH: La Vie Pariesienne; Orphee aux Enfers; Monsieur et Madame Denis; La Belle Helene; La Grande Duchesse de Gerolstein; Barbe-Bleue Hermenn Scherchen conducts The Vienna State Opera Orchestra. Transferred from a Westminster 4-track tape.
DELIBES: La Source Ballet - selections Peter Maag conducts the Paris Conservatoire Orchestra. Transferred from a London 4-Track tape. HDDVD 145
Scherchen's performance of the Offenbach overtures is very exciting and the imaging and soundstaging are very realistic with the usual warm sound Westminster is famous for.
I like the coupling of Delibes' La Source even better; it is my first exposure to this seldom recorded ballet. If you love his Coppélia and Sylvia ballets you'll love this one as well. It also has excellent sound quality with deep bass and excellent imaging.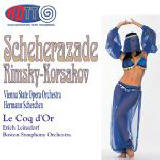 RIMSKY-KORSAKOV: Scheherazade Hermenn Scherchen conducts The Vienna State Opera Orchestra. Transferred from a Westminster 2-Track tape.
Le Coq D'or Suite Erich Leinsdorf conducts The Boston Symphony Orchestra. Transferred from a RCA 4-Track tape. HDDVD 101
This is an excellent performance of Scheherazade and the sonics are excellent, it stands up well against my favorites from Reiner and Kondrashin. Le Coq D'or didn't fare as well, there is distortion on the dynamic peaks and the performance is only adequate, I recommend the version by Arthur Fiedler and the Boston Pops from "Hi-Fi Fiedler" on RCA Living Stereo SACD. If you are into downloads you can just get the Scheherazade for $10.00 and look elsewhere for the Le Coq D'or.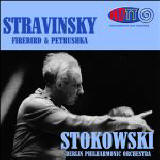 STRAVINSKY: Firebird Suite & Petrushka Leopold Stokowski conducts The Berlin Philharmonic Orchestra. Transferred from a Capitol 2-Track tape. HDDVD 112
Musically and sonically I didn't like this version of Firebird Suite. The deep bass is lacking, the strings are a little threadbare, and I found it musically uninteresting. The weight of the bass drum that is so important in the "Infernal Dance of King Katschei" is totally missing from this version. The bass drum is there alright but it's missing its undertones and sounds more like a midrange thud than a deep bass whack. On the plus side it does have excellent ambiance.
For the Firebird Suite I recommend either Telarc SACD version Robert Shaw & the Atlanta Symphony Orchestra or Paavo Järvi & the Cincinnatti Symphony Orchestra. However the Järvi Firebird is coupled with the inferior 1947 version of Petrushka. Best of all is the complete Firebird with Antal Dorati & the London Symphony Orchestra on Mercury Living Presence SACD.
Much better is Stokowski's Petrushka! The bass is a little deeper and the rolling tympani does have some weight but overall still a little bass shy. The strings are smoother and the high percussion is extremely exciting, the overall sound quality is a big improvement over the Firebird! This is one of the best performances of Petrushka I've heard and I highly recommend it. The sonic landscape is so different for these two compositions they must have been recorded on different days and I wouldn't doubt different engineers. Anyway once again if you are into high resolution 24/96 downloads you can get this exciting Petrushka for only $6.00!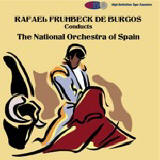 RAFAEL FRUHBECK DE BURGOS CONDUCTS THE NATIONAL ORCHESTRA OF SPAIN. CHAPI: El Tambor De Granaderos, CHUECA: Cadriz, GIMENEZ: El Baile de Luis Alonso, PASO: Benamor, CHAPI: La Revoltosa, USANDIZAGA: Las Golondrinas, DOMINGUEZ: El Bateo, GIMENEZ: La Tempranica, VIVES: Boheminos, SERRANO: La Venta de los Gatos. Transferred from a London 4-Track tape. HDDVD 149
I saved the best for last! This is really a fantastic sounding disc by little-known Spanish composers I had never heard of before and since it is a London tape is has plenty of low frequency energy. The music in this collection shines; I have now listened to this 24/96 DVD four times. Twice though speakers and twice though Sennheiser HD-580 headphones and it is so hard to describe the music as I keep getting swept away and lost in its Latin beauty and excitement. For example in Paso's "Benamor" the melodies are so charming, the rhythms so exciting and the Latin percussion perfect. Every single delightful composition is a pure gem. The sound quality is extremely realistic, some of London's best and the high percussion is bright and clear and has a delicacy usually only heard live. There is some unevenness during the beginning of Track 6 "Las Golondrinas" for about thirty seconds then the sound smoothes out and is perfect for the remainder of the DVD. This is most noticeable through headphones; you may not notice it at all through speakers.
If you love Spanish Classical music rush out and get this one right away, you won't be sorry.