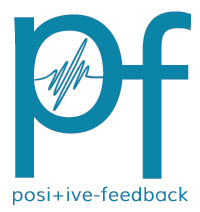 You are reading the older HTML site
Positive Feedback ISSUE
39
september/october 2008
Notes of an Amateur - October, 2008, Part 2
by Bob Neill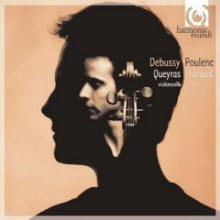 Debussy, Poulenc. Jean-Guihen Queyras, cello; Alexandre Tharaud, piano. Music for Cello and Piano. Harmonia Mundi HMC 902012
What a great paring! Many of us know Francis Poulenc in witty and playful bits and pieces for piano, but to hear his fascinating music for cello and piano, much of it playful but some of it a good deal more than that, alongside the creator of modern French (perhaps modern Western) music is eye-opening.
They are a generation apart but play from the same musical palette with similar understandings of where irony and shadow (must) now fit into even our most lyric reveries and visions. Yes, because he comes after, Poulenc feels compelled to establish distance from his musical father. He is quicker to laugh things off, his clouds scud across the sky where Debussy's linger. But he surprised me (Suite Française) with how absolutely charming he can be. And he understands wonderfully how to make a cello and piano dance together, even he generally lets the piano take the lead. Poulenc taught me a good deal about his musical importance on this CD.
Debussy is the more thoughtful and introspective composer. His Sonata is a major work in the cello repertoire—though I expect Poulenc's may join it when a few more cellists hear Queyras's version. Debussy is more interested in the cello than Poulenc. But the palette I spoke of is the same: Debussy's often spellbinding atmospheric passages and Poulenc's bold and spirited prancing both have a crisp, chromatic clarity that makes the two composers feel immediately like siblings. Poulenc resisted this recognition, as all children must, but ultimately came to see what our distance from them both makes clear.
What is most interesting to me here is that time has also made it evident that Poulenc and Stravinsky, contemporaries in early twentieth century Paris, are also audibly musical kin. Stravinsky is at least as French as he is Russian, perhaps more so. Both he and Poulenc can claim Debussy as musical forebear.
If you are fond of the melodious cheeky sound of early modernism that has lyric grace not far beneath its skin, you will love this album. Queyras is master of this music, as it Tharaud, who has soloed to acclaim on some French baroque keyboard music as well. A word about the sound of this recording: GREAT.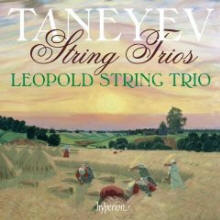 Taneyev: String Trios, Leopold String Trio. Isabelle Van keulen, violin; Lawrence Power, viola; Kate Gould, cello. Hyperion Records CDA67573.
String trios are few in number—composers have tended to favor quartets. And there's no getting past the fact that 25% more instruments makes a noticeable difference in fullness of sound and offers greater possibilities for closer matching harmonies (and disharmonies). Or they have preferred piano trios, which obviously provide greater variety and contrast in musical texture.
I like string trios. I like the clarity that comes from having three different and distinct voices, which are nevertheless closely related in timbre. And I like these. They are written in pure nineteenth century idiom: no hint of modernism. And the straightforwardness and emotional directness of this idiom is almost always most effective for us modern listeners when it is delivered in the leaner textures of something like a string trio.
Sergei Ivanovich Taneyev (1856-1915), half a generation younger than his countryman, Tchaikovsky, writes music that is full of counterpoint and this too works to temper and clarify the emotional expression—keeps the narrative of the music 'busy.' The three instrumental lines move in and out of each other, sometimes producing drama, sometimes simply a musical conversation. There is also a Russian flavor to all this music, a kind of plaintive romanticism that is both lyric and boldly affecting.
It helps to listen to music like this through equipment that prizes timbre and subtlety, since aside from the weaving of melodic lines, that is where much of the appeal of this music lies..
A note on the musicians. The Leopold Trio that recorded a complete set of Beethoven's string trios for Hyperion several years ago changed its name a while back to the Leopold String Trio and also underwent a personnel change, retaining founding cellist Kate Gould but introducing well known violist Lawrence Power and very well known violinist Isabelle Van Keulen.. The 'new' group sound very fine and have established a strong reputation, especially in Europe.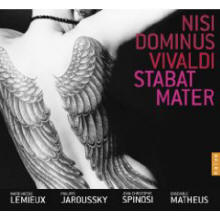 Vivaldi: Nisi Dominus, Crucifixus, Stabat Mater. Ensemble Matheus, Jean-Christophe Spinosi, conductor. naïve OP 30453.
I came to this CD following up rumors of excellence, but you should probably know before I begin to second the praise I've heard for it that I would even listen to Sunday school blather set to music by Vivaldi were it sung well. I treasure his sacred music, finding in it an emotional ebullience, reflectiveness, and emotional power that on occasion can outstrip even the music of Bach.
This is French Vivaldi—meaning the ebullience is turned down (just) a notch, the sensuality, suavity, and 'poetry' turned up. The solo voices are the principal features and strengths of these performances. Philippe Jaroussky's counter-tenor voice is as close to a female contralto as I've heard (more silver alloyed with the normal copper), which suits the music well. Not until the last strong note of the Nisi Dominus do we hear his true gender emerge. It also creates a stunning close mix with contralto Marie-Nicole Lemieux in the brief Crucifixus, the middle work of the program. Lemieux is the star of the Stabat Mater, a noticeably darker work in theme (Mary at the foot of the cross) and musical color. This is more difficult music to perform successfully, depending as it does on illuminating detail within dark shadows. The orchestra handles the lighting wonderfully, while Lemieux secures the foreground with a voice at least as strong Jaroussky's, perhaps stronger.
The instrumental textures from the period strings are as light and crisp as autumn leaves. Solo cello and doubled violin passages are wonderfully alive with color. The spirit of Aerial dominates the Nisi; a darker one, the Holy Spirit or some earthly counterpart, controls the Stabat. The recording engineer is open to each in turn. You wont' find better Vivaldi anywhere.
Note: This group have also recorded an award-winning version of the composer's Orlando Furioso.
Systems used for this audition: Audio Note CDT3 transport and Dac 4.1 Balanced Signature, Blue Circle FtTH integrated amplifier, BC3000 II/GZpz preamplifier and BC204 hybrid stereo amplifier, new Jean Marie Reynaud Offrande Supreme stand-mount speakers. With Blue Circle BC6000 line conditioner. Audio Note Sogon and AN-Vx interconnects and Lexus speaker cable.
Bob Neill, in addition to being an occasional equipment and regular music reviewer for Positive- Feedback Online, is also proprietor of Amherst Audio in Amherst, Massachusetts, which sells equipment from Audio Note, Blue Circle, and JM Reynaud, among others.