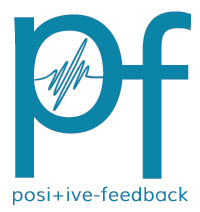 You are reading the older HTML site
Positive Feedback ISSUE
39
september/october 2008
Notes of an Amateur - October, 2008, Part 1
by Bob Neill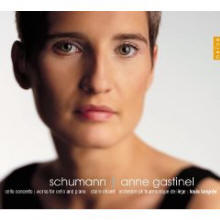 Schumann: Cello Concerto, Works for Cello and Piano. Anne Gastinel, cello; Claire Désert, piano. Orchestre Philharmonic de Liège, Louis Langrée. naïve V 4897.
The Schumann Cello Concerto has always struck me as an odd bird in the cello repertoire—mainly, I now suspect, because most cellists play it as drama rather than romance. Gastinel finds lyricism in it, turning its many corners with grace rather than the crispness I am accustomed to. She is not especially soft but her touch emphasizes the work's beauty rather than its tension. As a result, I find I like the concerto better than I have, so I am of course persuaded that she understands it better than most. The effect of her approach is to make the work seem less pretentious but also lighter than many of its fans (and who knows, maybe even the composer) imagine it to be. They will doubtless complain that Gastinel has "Frenchified" it. But again, to my ears, the work gains from being somewhat more elegant. It really hasn't the power to be …well the composer's First Piano Sonata.
And neither has the Fantasiestüke: she gives it the same treatment and it comes off as the fine romantic confection that it is, a far lovelier and more diverting work than I've heard it be in other hands. Schumann goes to finishing school and is the better for it. Romanticism needn't be sturm und drang to persuade us of its emotional sincerity and authenticity. Claire Désert, Gastinel's pianist, understands entirely, with a light, clear touch.
Gastinel's Schumann is not graceful or eloquent in the same way her Bach and Beethoven are—not to mention her Brahms and Haydn, see below. But her view of music tends to draw out the eloquence, grace and urbanity that these composers have, showing us another way of hearing them. She draws great beauty from Schumann. I am now listening to Fives Pieces in Folk Style and hearing an elegance I was unaware it has. Clearly, she is not grafting or stamping it onto this music, she is finding it there. Schumann would definitely want her as his advocate at the gates of Parnassus! This is the most beautiful and moving Schumann cello music I've ever heard—or that you will ever hear.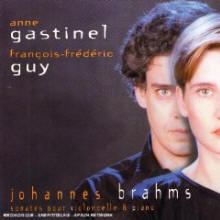 Johannes Brahms, Sonatas for Cello & Piano. Anne Gastinel, cello; François-Frédéric Guy, piano. Valois V4817.
Before auditioning this CD, necessity forced me to change out some of my best interconnects and sub in some new prototype Reynaud speakers I'm breaking in, which gave me some new insights into Ms. Gastinel's cello playing. The cables are a bit leaner than my standard stuff and I can correct for that difference in my head. But the stand-mounted speakers, which won't go public until later this month, are considerably more intimate sounding than my floor-standing Reynaud Orfeos. Less rich, more immediate. I checked first with the Schumann CD again to give myself a reference—still beautiful, cello more palpable, less rich. That's the new speakers—OK, to the Brahms.
Gastinel's Brahms is generally less elegant and delicious than her Schumann, less urbane than her Beethoven. The characteristic suavity and clarity are still there, but this performance is more emotionally direct and outspoken. The upper range of the cello calls out as much as it sings, the lower range is especially bold, sometimes approaching a roar. I would not hear quite this much frank emotion through my Orfeos, which is refreshing and interesting. I understand that performances are as much snapshots of where a musician is on a particular day as they are representative portraits. But it is clear here—and pianist Guy is with her on this (fortunately!)—that Gastinel hears strong, clear passion in this music, not a muddled and swooning kind, as we sometimes get in performances of Brahms. Even in the more rhapsodic movements, such as the finale to the Opus 99 sonata, she conspicuously avoids the lure of sentimentality – both in her vigorous bowing and in the relatively quick tempo.
This is bolder and exciting Brahms than I am accustomed to. I've heard hints of a more exciting Brahms in performances of the symphonies by conductors using smaller forces (and in Roger Norrington's using period instruments). This approach can be eye (and ear) opening. If you prefer the sleepy, heavily romantic Brahms of popular legend, stay away from this recording.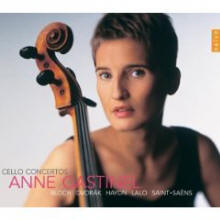 Joseph Haydn, Concertos for Cello. Anne Gastinel, cello; Moscow Soloists, Yuri Bashmet, conductor. naïve V 4820.
Note: The version I have of this recording is a single CD from Valois. Since Valois has been absorbed by naïve, this recording is now only available in a set, pictured above, which also includes Gastinel's performances of concertos by Dvorak, Lalo, Faure, and Saint-Saens. Good deal!
My favorite version of these great and infectious concertos has always been Pieter Wispelwey's on Channel Classics, partly because of the texture of Florilegium, the small period instrument ensemble that accompanies him. Florilegium's sound is light and tangy—and Wispelwey's cello blends well with his ensemble. He does not lean into his instrument. The effect is almost pastoral in the slow movements, fleet and light-footed in the faster ones. As a whole, the performance is lithe, spirited, full of esprit, a concerto with more of a first chair leader than an out front soloist. It is full of classical restraint and proportion, and that has always been its appeal.
Gastinel, who it seems has become my star of the season, gets a lot more out of her cello in her version of the concertos, partly because she puts a lot more in, partly because that's what the recording engineer, presumably with her urging, wants. Gastinel and her cello are the stars of the show here, no modest first chair, no blending into the orchestra. The cello playing is ripe, firm, and virtuosic. Bashmet's musicians comprise a small ensemble, so we get plenty of the instrumental texture we want, but as a group they are warmer and bolder, thanks in part to their modern instruments. The total effect of Gastinel and the Moscow Soloists here is a Haydn concerto that is emotionally stronger fare than Wispelwey's and that is its appeal.
These really are two different Haydns for us to consider, both authentic. Wispelwey's Haydn is a really fine dessert, Gastinel's a substantial, to be sure gourmet, meal. What I have heard from Gastinel the last few weeks foolishly led me to expect elegance where instead there is passion, high energy, and brio. Held together by her usual sophistication too, of course; but lots more of the Franz Joseph Haydn who excited Beethoven.
The net result for me of this comparison is that Gastinel has made Wispelwey's Haydn seem less weighty than it (or he) is. Comparisons can be instructive.
System used for this audition: Audio Note CDT3 transport and Dac 4.1 Balanced Signature, Blue Circle BC 3000GZpz preamplifier and BC204 stereo amplifier, Jean Marie Reynaud Orfeo and new unnamed Reynaud prototype speakers. With Blue Circle BC6000 line conditioner. Audio Note Pallas, Sootto, Sogon, and AN-Vx interconnects and Lexus speaker cable.
Bob Neill, in addition to being an occasional equipment and regular music reviewer for Positive- Feedback Online, is also proprietor of Amherst Audio in Amherst, Massachusetts, which sells equipment from Audio Note, Blue Circle, and JM Reynaud, among others.