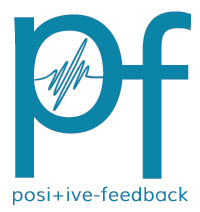 You are reading the older HTML site
Positive Feedback ISSUE
39
september/october 2008
Notes of an Amateur - September, 2008, Part 3
by Bob Neill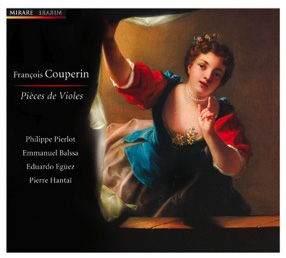 François Couperin , Pièces de Violes. Philippe Pierlot, viol. Emmanuel Ballaso, viol. Eduardo Egüez, therobo. Pierre Hantai, harpsichord. Mirare MIR 040.
Do not decide to pursue this album in the belief that the two gorgeous French baroque viol suites it features are recently discovered, as the promotional notes imply ("A long-lost Couperin masterpiece") because in fact they were discovered in 1922! No matter, they have in fact been recorded many times over the past thirty years by many of the leading violists, including Jordi Savall, Meinke van de Velden, and Wieland Keujken, to mention just the three I own. These suites are in the view of many the finest music ever written for the viol and so they will doubtless be recorded many times more, which is fine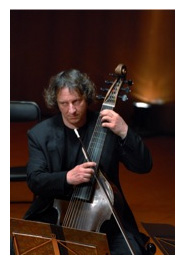 with me. Couperin, who has composed some of the best solo harpsichord music in the history of the world, wrote just two suites for the bass viol, each of which, played late at night and at moderate volume, can take you entirely out of yourself. And it can be a long way back. This album is filled out, as are all recordings of the viol suites, with arrangements for viol of the composer's small 'concerts' for chamber groups.
Philippe Pierlot's Couperin, both suites and 'concerts,' is less absolutely sensuous and indulgent than Savall's, less crisp and disciplined than van der Velden's, if comparisons of great music matter to you. I have never heard this music played in a way that didn't draw me in. I find Pierlot's performances ravishingly right on: plenty of warmth, superb touch, and a bit more backbone than Jordi, if memory serves. (My Savall recording is an LP and my turntable is out of town at the moment.) Pierlot is surely as good as any and all of the competition and I can't imagine now not having his version here. His musical associates playing continuo are impeccable. Hantai is one of the very finest keyboard players around. His Bach Goldberg's, also on Mirare, are the best—and I can't wait to hear his recordings of Couperin's harpsichord music which are beginning to come out on the same label. Stay tuned.
If you love the viol and/or the cello and don't know this music, you are in for a treat.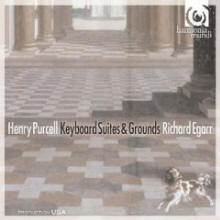 Henry Purcell, Keyboard Suites and Grounds , Richard Egarr, harpsichord. Harmonia Mundi
Harpsichord CD's, no matter how good the performances, tend to come down in significant part to the quality of the recording—which is to say, the recording engineer. It is a devilishly difficult instrument to capture on disc, mainly because its overall balance is toward the upper midrange and because its strings are plucked, limiting the possibilities for modulation of touch. Hearing one 'live,' especially in small, furnished rooms like those for which it (and the smaller clavichord) were designed, we are less aware of this. Prudence therefore suggests not mic'ing them too close for maximum clarity, thus taking the softening recording venue, even if it's imperfect, out of the picture. Another note on this instrument and the clavichord: they are meant to be heard at low to moderate volume. Crank it and you'll get a barrage of annoying transients from even a good recording.
Okay, to business. This recording of Purcell's delightful keyboard music is not so warm as some softies would prefer, but it altogether avoids the bright clatter that many less considerate engineers have dealt us. On balance, it works pretty well. Sonically, I'd say it's richer and more pleasing than its principal competition, Kenneth Gilbert, also on HM (1994). Musically, Egarr is more reflective than Gilbert, who in turn swings the music a bit more.
Purcell is one of my favorite baroque composers: gentler and more intimate than Handel; more personal and full of lyric sentiment than Bach; less overtly sensuous than his French contemporaries; and less florid than the Italians. British, in the best sense. And dead at thirty-six. If you've yet to meet him, begin anywhere. Love songs for lute, religious music for chorus and orchestra, chamber operas, small chamber ensemble music for viols and for viols and voice…or the keyboard suites and grounds! He is still too well kept a secret.
Pēteris Vasks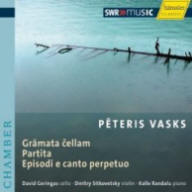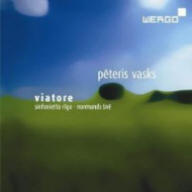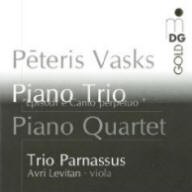 Works with Cello: Grāmata čellam. Partita. Episode for Canto Perpetua David Geringas, cello. Dmitry Sitikovetsky, violin. Kalle Randalu, piano. Hänssler classic CD 93.229.
Musica Adventus for String Orchestra. Viatore for String Orchestra. Concerto for English Horn and String Orchestra. Normands Snē, English horn and conductor, Sinfonietta Rīga. Wergo WER 6705 .
Piano Trio: "Episode for Canto Perpetua." Piano Quartet. Trio Parnassus. MDG 903 1513.
What is arguably the major strain of contemporary music from Eastern Europe is very difficult to talk about without sounding like a blithering sentimentalist. Many of us heard it for the first time in Górechi's Third Symphony, which has become very likely the best selling classical recording of modern music (there are around ten versions currently available) of all time. That work reaches directly into us, holding nothing back. Many of us music nuts remember where we were when we first heard it: What is that? Who wrote it? Few knew at the time (late 1970s, early 1980s—it was composed in 1976) what to make of something so nakedly and eloquently emotional but still utterly within the classical tradition. The music of Georgian Giya Kancheli is inspired by the same muse. And here in Pēteris Vasks, we have the strongest voice of them all, about whom you heard nearly more than enough last October. ( http://www.positivefeedback.com/Issue33/amateur4.htm )
These composers write from within a shared human experience that clearly made much modern music around them seem inadequate. Inadequate for expressing the depths and heights of modern life as they had known it under the post World War II domination of their countries and cultures by Soviet totalitarianism. This music is passionate, ecstatic, angry, tragic, elegiac, hauntingly beautiful, hopeful. Where does it come from musically? Shostakovich, it seems, who lived through the same regime, the string quartets in particular. But this music has a romantic core that is all its own.
Vasks strives for a hard-won, sometime terrible, sometimes breathtaking beauty, which has at the heart of it a simple lyric vision fighting its way to us. When his music is most successful, for example in the Partita in the first of the three albums listed above, it can be pure greatness as we seldom hear it these days. In Grāmata čellam, it is characterized by daring, a quality which requires genius or it guarantees failure, as less ambitious music does not. Vasks' Grāmata and Episode (which appears on two of these albums) leap into the world, wings spread wide, and lift us with them, where with less inspiration (who can count on that?!), they would crash around us like vainglorious Icarus.
Music for string orchestra has a mixed history in modern music. It has a tendency to go soft, repetitious, and sonorously indulgent. Bartok's Divertimento for String Orchestra got us off on the right foot, but it has proven a hard act to follow. Vasks' Musica Adventus and Viatore are very effective at making the genre's sonic homogeneity into a virtue. In Adventus, mixed pace, strong contributions from cellos and basses, textural experimentation, and mood changes are actually given continuity and a sense of structure by the uniform sound of the all string ensemble. Vasks' musical voice is not a complex one and is well suited to the form. The final movement of Adventus, bursting with a clash of lyricism and fury, is a great tour de force on how to write great and powerful music for this limited medium. Viatore is a more focused work, in mood, texture, and emotion. Quiet, introspective, exquisitely beautiful.
The Concerto for English Horn, the oboe's darker cousin, is one of Vasks most musically entertaining works. There are clear hints of Sibelius's Swan of Tuonela, written for the same instrument; but the Vasks moves well beyond the single mood of the Sibelius work to other livelier concerns. Vasks is much drawn to the sound of his favorite instruments – the cello most notably—and a work like this one, in addition to its other interests, is much taken up with exploring the sound of the English horn. "What a beautiful instrument!" (PV) Indeed.
English horn soloist Normands Snē, conducts the Riga Sinfonietta (presumably with his instrument!) in this work, as well as the two for string orchestra.
There is little to choose between the two performances of Episode for Canto Perpetua, both are effective – but there is an additional reason for acquiring the Trio Parnassus' version along with the Geringas,/Sitkovetsky/Randalu—you also get the wonderful Piano Quartet, another stunningly successful Vasks work. Vasks is a genius as sorting his music among musicians in a work like this quartet – the solos are simply heart-stopping.
I run the risk of over-selling this composer, I know. It could possibly be that he simply has my number, as does Benjamin Britten. So salt this review down a bit, if you're a cautious music lover. But do sample him one of these days and discover that classical music is far from over. All it needed was a heavy dose of suffering married to some old world genius and inspiration.
System used for this audition: Audio Note CDT3 transport and Dac 4.1 Balanced Signature, Blue Circle BC 3000GZpz preamplifier and BC204 stereo amplifier, Jean Marie Reynaud Orfeo speakers. With Blue Circle BC6000 line conditioner. Audio Note Pallas, Sootto, and Sogon interconnects and Lexus speaker cable.
Bob Neill, in addition to being an occasional equipment and regular music reviewer for Positive- Feedback Online, is also proprietor of Amherst Audio in Amherst, Massachusetts, which sells equipment from Audio Note, Blue Circle, and JM Reynaud, among others.