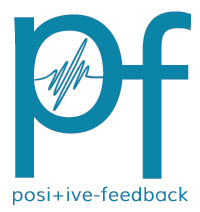 You are reading the older HTML site
Positive Feedback ISSUE
38
july/august 2008
Two from Telarc
by Karl Lozier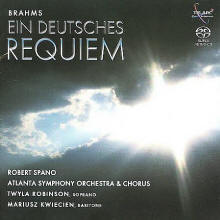 Brahms German Requiem (Ein Deutches) Robert Spano Conductor Atlanta Symphony Orchestra & Chorus Twyla Robinson, Soprano Marius Kwiecien, Baritone TELARC Hybrid Multichannel SACD-60701 & CD-80701
Telarc has a couple of winners here. The regular (Redbook) CD release is as fine as expected and particularly noteworthy for capturing much of the atmosphere of the recording venue, a feat usually thought of a being the providence of SACD sound. Make no mistake, as expected the SACD will be found superior by both music lovers and audiophiles. The sound reproduction captured here as often the case with Telarc, is led by Michael Bishop and his crew. This had to be created by more than one person and the results is to be appreciated by music lovers probably more than by audiophiles. To describe it another way, the outstandingly good sound reproduction does not depend on nor feature spotlighting or artificial effects. It pretty much simply lets listeners feel as if they, at times, are in Symphony Hall of the Woodruff Arts Center, Atlanta, Georgia. What more could a music lover ask for?
I lived a few blocks away from its current location while attending my post graduate alma mater, Emory University. I would love to be back for musical opportunities. Once again Bishop and crew have put the now famous Sanken CO-100K microphones, with extended high end response to one hundred thousand Hertz, to work with the more common Neumann models plus Sennheisers and Royer. So much for recording background information.
Do not be put off by what you may think this famous Requiem is about. Notice that it is not called a Requiem Mass and does not contain any of the traditional text of a Roman Catholic Mass. Simply consider it a concert work or cantana with an uplifting or soothing message of peace, and fond memories of the departed souls. This is the German Requiem by Brahms and meant to be enjoyed by the living with loving respect of the departed. The structure of this simply outstanding composition became neatly balanced after Brahms added another movement after the premiere. It became the fifth movement and beautifully balances its soprano solo with the third movement's baritone solo. If you are a lover of large-scale choral singing beautifully reproduced, do not pass up this outstanding release. I had not realized how popular Brahm's Requiem has become. There is even a fine DVD release with the great Bass-baritone Bryn Terfel, an English language singing version also from Telarc and releases with period instruments. The time variations between the various releases is as great as ten minutes!
This superb sounding release clocks in at almost sixty-seven minutes. Conductor Spano and the orchestra backup the singing almost to perfection. Dr. John Cooledge is again listed in the bass vocalist section. Long time audiophiles should remember John Cooledge as one of the first reviewers for Harry Pearson's Absolute Sound magazine and very long-time staff member.
Both of us had written a review of a loudspeaker system for the magazine featuring the new revolutionary Heil designed tweeters. Some of our written phrases were almost identical, including one about each of us tilting the front of the speaker upwards to better the dispersion. We were both amazed as we had not communicated about that component. Simply one of those once in a lifetime happenings and never even close to repeating. In this closing I shall again mention the beautifully recorded choral passages featuring music often with very solidly reproduced organ pedal notes that palpably add to the enjoyment while not obscuring the chorus or orchestra. These two recordings (separate SACD and CD discs) are the first ones reviewed by me using the newer and latest versions of the now very well known VSEI upgraded versions of the very early Sony SACD players. They feature outstanding heavy-duty construction (review coming soon). I had noticed a very few particularly loud passages featuring massed sopranos seeming to present definite hints of overload harshness with another player. I had guessed that the very revealing upgraded Sony would make it worse or even more obvious and that turned out to not be true. Possibly proving or at least indicating that the very detailed response from these new upgrades is very revealing but not adding or exaggerating harshness or distortion in this case. This pair of Telarc releases, each used only in two channel stereo, easily earns a top recommendation both for audio quality and large-scale musical enjoyment. As usual the SACD offers more and better to music lovers and audiophiles alike. Any reasonably serious listener that does not agree with that statement almost assuredly is not using a truly fine SACD player. The foundation (the player) has to be good to support or reveal the quality of your other components. There are potential negatives; only some releases are available in SACD and possibly they and players might start to disappear. Meanwhile, sit back, relax and listen and listen and...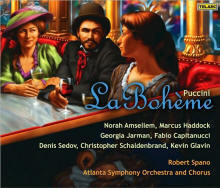 Puccini La Boheme Mimi, a seamstress: Norah Amsellem, soprano Rodolfo, a poet: Marcus Haddock, tenor Musetta, a young woman: Georgia Jarman, soprano Marcello, a painter: Fabio Capitanucci, baritone Colline, a philosopher: Denis Sedor, bass Schaunard, a musician: Christopher Schaldenbrand, baritone Benoit, their landlord: Kevel Glavin, basso buffo
Robert Spano, conductor Atlanta Symphony Orchestra and Chorus Norman Mackenzie, Director of Choruses TELARC 2CD-80697
The following few sentences are a preface to my review of the opera La Boheme: Operas are often very controversial to say the least. I have heard many negative comments about operas over the years that have unduly influenced potential listeners, particularly males. As part of my continuing efforts to promote classical music, let me clearly state here that listeners should have an open mind and be willing to give all types of music a fair chance to be appreciated and hopefully loved. In my not so humble opinion the best first choices to be introduced to operas are Bizet's Carmen and the reviewed Puccini's La Boheme and probably for symphonic music lovers, Wagner's ring cycle compositions might be even better. The important thing is to give opera a fair trial, not a brief once or twice over lightly. This simply outstanding release is a giant step forward for Telarc. Everything seems just right and the audio quality, again headed by Michael Bishop, is sublimely superb and even in "plain old" stereo CD form, the sound quality is the most natural or realistic that I can recall for an opera. No special sound effects here, simply natural or live quality. With the first two acts on disc one of the two discs set, the music is beautiful, appealing, melodic and entertaining. No screeching female singers' or weak chorus' performances here. The soprano soloists have a rich full quality. This is demonstration quality audio with no misguided attempt to be spectacular. Get out that really good player and lean back and listen and be entertained. You will feel no need to try vinyl. Now, until the undoubtedly even better SACD release is available, this is as good as it gets providing you are using a good, really good, player. It is not fair to compare a value priced player to a fine quality turntable system. If you decide you want to listen to something more spectacular you can then try one of Verdi's famous operas such as Aida.
The two greatest Italian opera composers were Verdi and Puccini. In contrast to Verdi, Puccini preferred to compose around or about real life situations and ordinary everyday people. As always, the experts do not agree on which is Puccini's best opera. The competitors for that controversial choice is always between La Boheme, Madam Butterfly (modernized some years ago as Miss Saigon) and once in awhile his almost finished Turandot sneaks in for consideration. Outstanding opera typically require a great deal of background effort often taking years to complete. A story is needed as a beginning. In this case, Henri Merger's story Viede la Boheme was being used as the basis for operatic treatment by Ruggero Leoncavallo and Giacomo Puccini at the same time! That is at least a rarity if not simply unique. The most famous conductor ever of classical and opera music, Arturo Toscanini led the premiere performance of Puccini's La Boheme. Evidently the audience had mixed feelings about the opera though the critics were almost unanimously critical. Even so, there were twenty repeat performances within a month reported as it become more popular almost day by day. Then something unique happened in a very positive way in my experience or knowledge of such things. With opera and opera lovers, unique events were usually negative events. We should remember that many if not most opera lovers are very emotional people with strong feelings about individual operas, vocalists or conductors. In any event, what I am reporting in the next paragraph is an exact quote from the fine liner notes by Nick Jones.
"The wild reception in Palermo, Sicily, that launched its worldwide fame. There, a near riot greeted the final notes of La Boheme. The audience would not leave the theater, cheering and applauding even after the singers had retired to their dressing rooms. The cast finally had to return, some of them already out of costume, and repeat the final scene with the half orchestra that remained. The amazed composer had never before seen, much less been the focus of such a fervid demonstration".
The first two acts of the opera are light, airy and melodic. The poor fun loving group living in the garret (room in what would be the attic normally) rarely are able to pay the landlord and here they get him drunk and he forgets to collect the rent and so it goes. All get to do some solo singing and as a group they are recorded so very beautifully and seemingly as natural as can be.
If a voice sounds distant here and there, they are out in the hall or on the other side of the room. Ultimately things do get a bit more serious though still beautifully done and recorded. Veteran opera lovers will continue to choose recordings based on a favorite singer or conductor. For all others, give this beautiful release a serious try at its bargain two discs for the price of one. Once again it is easy to award a top recommendation.
P.S.
A bit of additional information about opera and listening to opera is being shared with you.
This comes about from a former "new patient" of mine. This wealthy gentleman had moved down from Manhattan and was an extremely dedicated long time opera lover. Season box seats at the famous Metropolitan Opera, cruises with groups of singers and conductors, European opera concert tours and so on. At each appointment we wound up discussing music. One day he casually mentioned to me that he seldom bought "complete" opera sets (usually 3 or 4 long play recordings). Instead he usually purchased the single LP record "highlights" of the opera. I was shocked and asked for an explanation. It is quite simple he explained. With the story or libretto in mind, the composer writes a number of songs with his best efforts and of course an opening or introductory song or melody and a closing one and others scattered in between. That is what opera lovers love and desire; the rest of the "music" is to simply connect those songs and melodies. Those connections actually could simply be spoken and the performers can be walking around on stage. All that keeps patrons of opera busy or at least occupied visually with connecting music while waiting for the next "hit song or vocal" to be forthcoming. It is so logical and I had never thought of it that way. Sitting at home, listening to our fine stereo systems, it can be easy to get tired of all those connecting passages that just happen to be sung rather than spoken and nothing visual to hold our attention. In other words, it is okay to simply listen to the most beautiful or appealing passages instead of every word spoken or sung.