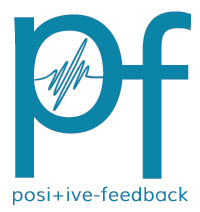 You are reading the older HTML site
Positive Feedback ISSUE
38
july/august 2008
A plethora of wonderful music... something for everyone!
by Karl Lozier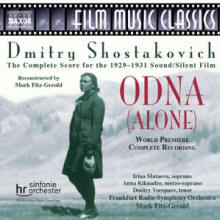 Shostakovich ODNA (ALONE) Op.26 World Premiere Complete Recording Complete Score 1929-1931 Sound/Silent Film Conductor: Mark Fitz-Gerald Orchestra: Frankfurt Radio Symphony NAXOS Film Music Classics Series CD 8.570316
This musical score is simply chock full of beautiful melodies and appealing musical passages. Many of the sections are relatively short for an unusual reason. Shostakovich planned it deliberately for technical reasons for easier editing with the visual almost 80 years ago. This goes back a long way and at one time it was thought to possibly be the Soviet's first full-length film score with sound. During wartime bombings much of the few copies of the film were destroyed though eventually in the sixties it was pieced together. A problem arose when it was discovered that the score had not been edited. A discovery found The Beginning Overture an outstanding fanfare to tickle the fancy of any true audiophile or music lovers! Not used in the film restoration it is prominently heard here. The background information for ALONE is complicated, unusual and interesting while being very well covered by John Riley's excellent liner notes. There are three fine soloists performing here plus an excellent small chorus. Irina Matavea is the soprano, Anna Kiknadze the mezzo-soprano and Dmitry Voropaev tenor. The orchestra and conductor are not to be faulted; the musical enjoyment they provide here is truly outstanding! Basically no one knows this score and minor flubs would not be known. I do not care about minor flubs, the whole is what interests me and basically I never report on them.
The extremely varied score is interesting and appealing. Various solists are featured at times and interest never flags. I do not know which section or instruments to give special mention. Audiophiles seem to almost droll over solid palpable drum or tympani thwacks and in some passages they might start slobbering here. Much more important and entertaining is the clear bass reproduction of other instruments often obscured in lesser recordings efforts. Make no mistake, this audio recording is outstanding, as is the entire release. Composer and performer Barbara Bucholz is noteworthy, playing the unusually scored for (remember it was 1930) early electronic instrument, the theremin. Do you remember that the theremin is the only musical instrument played without touch? Paavo Jarvi has been the chief conductor of this fine orchestra for the past two years and probably has a great deal to do with the great orchestral performance heard here. The horns, trumpets and wind instruments all shine—very clearly here. Bravo!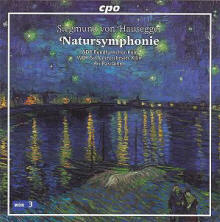 Siegmund von Hausegger Natursymphonie (Nature Symphony) WDR Rundfunkchor Koln (WDR Radio Chorus of Cologne) WDR Sinfonieorchester Koln (WDR Symphony Orchestra of Cologne) Ari Rasilainen conductor CPO Hybrid SACD 777 237-2
There is so much detailed background information to be found in the liner notes that unfortunately it tends to be confusing. Siegmund's family information is included and they
were not particularly "musical" though his father made every effort to help his son's career. The father obviously helped to get the famous Richard Strauss to conduct Siegmund's, second opera production in 1898. This massive tone poem calls for equally massive orchestral forces for performance. Just part of the added instrumental forces are a bass tuba, tam-tam, side and bass drums, parade drum and two players for timpani! In the last movement of this seemingly four movement composition and probably not really a symphony, all is joined by a large mixed chorus and when available, a large concert organ. This might be an audiophile's delight.
Though sometimes compared to Mahler, von Hausegger's approach to composition is fundamentally very different. Siegmund emphasized faith in nature as the essence of religious feelings and music. Ultimately, I personally sense that too much is trying to be done in this impressive and massive composition. The liner notes are extensive and yet only partially explain all that is going on and what is actually accomplished. Listener's looking for something new and different, yet definitely tonal in the Romantic tradition, should give this a try. Probably because of the huge forces here, the very good SACD recording is very slightly lacking in ultimate clarity and detail, though still definitely satisfying.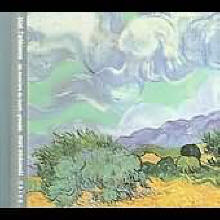 Georges Bizet Carmen suite L'Arlesienne suite Les Musiciens du Louvre Grenoble Marc Minkowski, conductor Naïve CD V5130 Limited Edition CD Hard Cover Book/Text/Pictures
Is this lavish production for sophisticated music lovers? Is there such a thing as a "boutique" release? If so, this is it. It is a lavish production with no expense spared in some aspects. Heading the list is not the booklet, but book, containing well written background and biographical information in all the "main languages". It is printed on fine semi-glossy photo quality paper. It is a hard cover book exactly the size of a packaged CD. The front cover is truly graced by an excellent reproduction/photo of Vincent Van Gogh's, "Wheatfield with Cypresses". Inside there are more than twenty beautiful photographs of works by Van Gogh, Mitchell and Gauguin plus some "music" photos! This limited edition release might be a perfect gift for that music lover friend that has almost everything!
The musical group heard here is either very outstanding or they have practiced tirelessly to give listeners a beautiful performance than can be described as subtle and enlightening. The size of the group seems to be roughly half the size of a major symphonic orchestra. They will very ably fill your listening room with excellent audio quality. Slightly turn up your volume/ gain control by about 2-3 decibels to compensate for a slightly lower than usual recorded sound level. Then, sit back and enjoy the beautiful music making, clearly revealed by the smaller than usual performing group and excellent recording quality. All this while being served "High Tea" and all are perusing the impressive accompanying book! The conductor makes no effort to make the familiar melodies more exciting than the written score and the few choral passages are simply excellent frosting on the cake while having your tea. May the good life follow you now and forever more while trying to decide if this superb release would be an appropriate gift to give to yourself.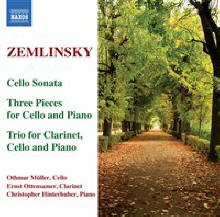 Zemlinsky Cello Sonata Three Pieces for Cello and Piano Trio for Clarinet, Cello and Piano Cello: Othmar Muller Clarinet: Ernst Ottensamer Piano: Christopher Hinterhuber NAXOS CD 8.570540
Though better known for his orchestral works and operas his chamber music was very prominent in his early years. These chamber works were all written in the eighteen nineties and are definitely individualistic in nature. These works were presumed lost or destroyed long ago. The manuscripts had been in the possession of pianist Peter Wallfisch and discovered later when his cellist son found them while going through his father's effects after his death.
I sought this release because I particularly enjoy piano and cello and find the clarinet to be a favorite addition for trios. This started from my introduction many years ago to a very early Beethoven trio featuring piano, cello and clarinet on the Artemis label, opus 11 and perhaps still my favorite chamber music or very close to it. Obviously I am not deeply into chamber music as yet. Too often I have trouble spotting or following melodies in much chamber music. This recording has turned out to be almost a gem to me. I love the sounds that the cello plus piano and clarinet make together and here with Zemlinsky's compositions I am hearing melodies much of the time while clearly hearing the piano and the other two instruments. While I think the sound quality is quite excellent overall, somehow the rich upper bass to lower midrange of the cello does not seem to quite as apparent as it should be. The clarinet seems just fine and the piano as with much chamber music seems to really dominate. Could it be the scoring or is it the recording techniques—microphone placement and so on? No real matter as all is so close to what I think it should be. There is a distinct possibility that the arrival of the newest Level 6+ upgrade of the SCD-1 and SCD-777ES models by VESI will, as before, have a slightly fuller richer overall sound than the fine DVP-9000 ES Level 6 used for these reviews. Time will tell and comparisons will start soon. In the meantime, give these Zemlinsky compositions a fair trial and hopefully you will enjoy them as much as I have.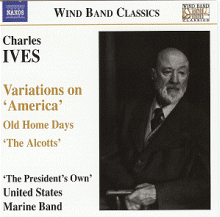 Charles IVES Variations on America Old Home Days "The Alcotts" Plus Ives' Compositions and arrangements for concert band "The President's Own" U.S. Marine Band Colonel Timothy W. Foley, Director NAXOS Wind Band Classics CD 8.570559
Obviously from the titles and other information these Ives' compositions and transcriptions are for Concert Band or Wind Ensemble. In other words, no violins, violas, cellos or string bass are heard here. Many of these twenty-one, mainly short selections are excerpts from other Ives' compositions such as Three Places in New England and his symphony Four New England Holidays. There is tremendous variety in all these selections and they should simply be considered fun listening and should be widely appreciated by lovers of brass and wind instruments. London Bridge is Fallen Down! is a great take off on that old familiar tune. The title selection Variations on America is probably of greatest interest here with almost every sort of variation imaginable and entertaining in the extreme, trying to figure exactly how Ives altered the original tones and rhythms. A fun recording not to taken too seriously or too often and excellently recorded.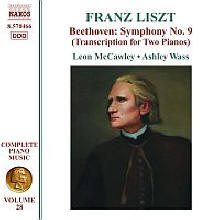 Franz Liszt Beethoven: Symphony No. 9 (Transcription for Two Pianos) Pianists: Leon McCawley & Ashley Wass NAXOS CD 8.570466 (Liszt Piano Music Vol. 28)
I love the piano, and here we have two. I love Beethoven's Ninth Symphony and here it is performed on the two pianos. Though others may disagree, long ago Liszt when talking about other kinds of reproductions and their limitations had been quoted that the piano with its great range could largely reproduce all features of musical creations. Of course the piano does lack a great variety of tonal colors as do most musical instruments.
Though there is fundamentally much to enjoy here, I am disappointed. The performances are straight forwardly done by two professionals. Perhaps with little interplay imagination heard but serviceable. However the audio quality portrays a pair, possibly not even matched, of average "home-size" upright pianos (less than 50 inches if memory serves correctly). The recorded sound does not approach the fullness, richness and at least a sense of power that a good (larger than baby) grand or larger/taller uprights posses. String length, whether in grand or upright pianos is basic to the bass range/register and fullness of sound. The bigger grands and taller uprights have it. It is missing in this release and that has been rare for Naxos. Is the blame with the engineer, the producer or ? Other than that failing it can be recommended for many listeners.