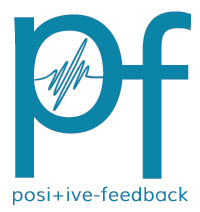 You are reading the older HTML site
Positive Feedback ISSUE
38
july/august 2008
Monterey Jazz Festival 2008
by Jim Merod
CRANKING IT UP
If you haven't trekked to glorious Carmel to kick off Fall's waiting grandeur, waving gentle au revoir to Summer's lingering warmth, the you're a bum-bum—just as my two year old grand daughter, Paloma Azure tells me) ...you are a genuine knucklehead BUM!
You've never been to Monterey on the third weekend of at least one September to join modestly unruly three-day revelers on their most elegant, slightly crazed behavior—crazed with song full joy? You're not in sync with the festive partnership of mature others seeking the redemptive power of the greatest music in the world? In other words, you've fumbled that Monterey's jazz welcome every time?
You are (gulp) truly un-American. Sorry, Bum Bum, but I've got to report your dereliction to the Minister of Mad Art, Utter Negligence and Unwarranted Violations.
Let me say "goodbye" right here unless you replace overlooked festive mania with by resigning from your lifelong membership in the Bowels of American Gunk and Idolatry. Apparently we have little need for one another, you and me. It seems that you get your kicks way beyond reach of Route 66, which, for more than fifty years strains illogically to bend north toward Carmel's ecological pulchritude and Monterey's demotic jazz bash. Look it up in the Britannica. It's all there.
I bid you adieu, Television Sailor, Couch Potato ...adieu from Walt Whitman, no less, since you care little for the "real" America—not the one at war, not the one bogged down with high gas prices, falling home values, and the anxiety of foreclosure—but the America grown to adulthood with optimism rooted in the jazz tradition that now holds a slim to real possibility that a half black-half white man might become our next President; that gave a horseshoe toss of victory to a woman presidential candidate; that rouses fires of brotherhood in us all, joining people of every stripe and persuasion together in the bond of shared rhythmic karma.
Are you with us, Huh?
Jazz is America written in bent off-color notes. No one without a vivid sense of where "one" falls when a mob of dancers rises to boogie, to invoke our great poet-pediatrician, William Carlos Williams, can be truly "in the American grain."
America at its best is jazz. At its worst, jazz mops up the mess and forgives the rest. As your true self (if you're still with me here) you decry the over-commercialism that nibbles at the heart of this more than one hundred year old popular folk music. Like me, perhaps, you could use a belt of staccato magic with your daily belt of hootch. Sinatra worked that both ways. Perhaps you take your Ibuprofen or Viagra with a shot of chardonnay ...or, maybe you stagger into the Monterey Fairground gates drunk on sunshine and music sobers you up. I knew a woman once like that.
This week I joined guitarist Mundell Lowe's 86th birthday tribute and saw, again, how age is a matter of the spirit only and getting high depends on how you breathe and how it makes you feel. The great Mundell is not a legend only because he's played so well so long, accomplished so much in the musical universe, but because he's a man who nourishes and supports (and educates) those around him with his deeply honest spirit. He has done that for decades.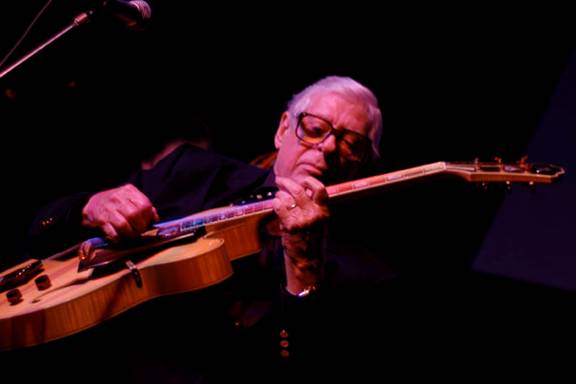 Mundell Lowe, July '08, San Diego photo, Michael Oletta
Getting On With It
Okay, I've forgiven you if you've not been to Monterey even once to take it all in and nosh on gumbo and barbeque along with grooving blues and bebop vibes. Walt Whitman's presence is there among us still (can't you hear his yawping voice singing to the surf?). Within his vast bardic spell, I forgive my enemies, my superiors, my bad neighbors, my worst teachers, my first clergyman (so daft a boy had to show him divinity), my bosses (all of them), my first wife (she didn't know any better), and myself for my own ills and oversights—and much worse.
The spirit of forgiveness is jazz itself. It begins with The Blues, which as everyone knows embodies ancient rituals of hypochrondriasis. The Blues is part lament, part accusation, but thoroughly self-redeeming. If it ails you, spit it out. Disgorge its noisome bulk. Say it or sing it, but toss it off. Make yourself lighter for the load now chucked away. That's the blues, in earnest.
Jazz starts with the blues but it veers quickly toward seduction, love songs, amour in all its forms. Jazz is eternally optimistic and positive. The jazz tradition is certain that loneliness is not permanent and the One You Truly Want (your life's companion) is near at hand as soon as you've shucked the blues and hooked your wagon to Duke Ellington's suave engine.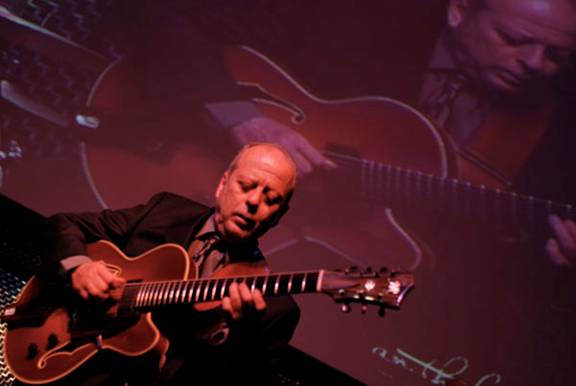 Ron Eschete, Anthology Jazz Club '08 photo M. Oletta
Here's where the Fall bash in Monterey, California comes home to roost. It's got the blues, the Duke's sunny heritage, Louis Armstrong's manic cheer, and Dizzy's bent trumpet—which sits on a chair as the festival's understated hip logo that says "here it is ...here is the shining glory of your life's best despite all worsts; here is America within immediate reach from coast to coast no matter how you get here—train or bike or dirigible. So you might gaze a moment at some of the heavyweight players who do their thing at Monterey: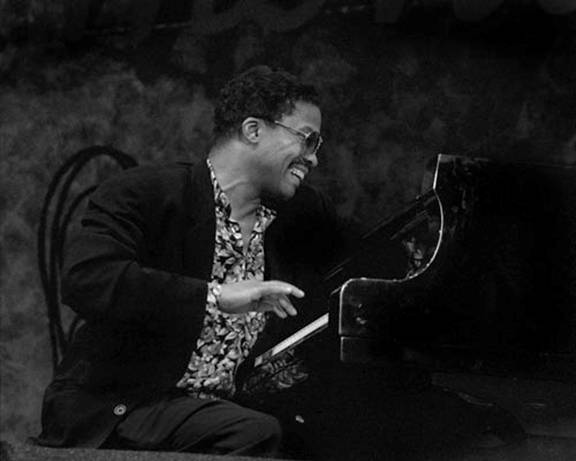 Herbie Hancock, Monterey photo, Michael Oletta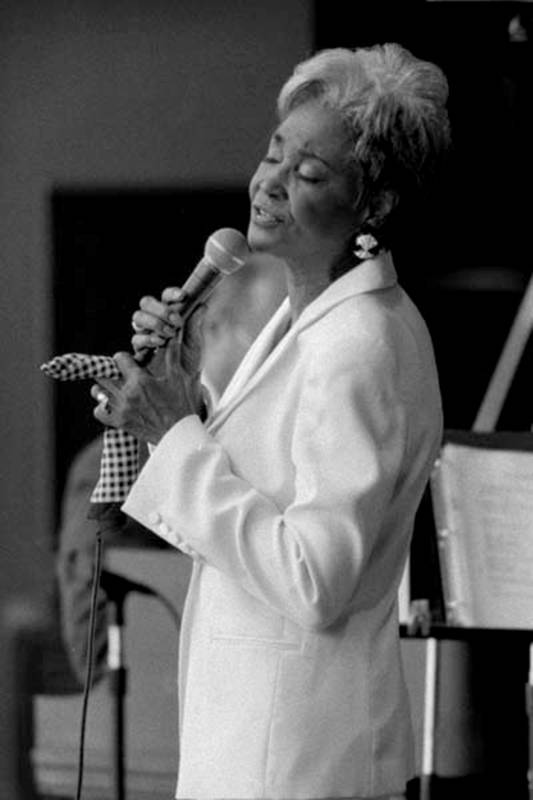 Nancy Wilson, Monterey photo, Michael Oletta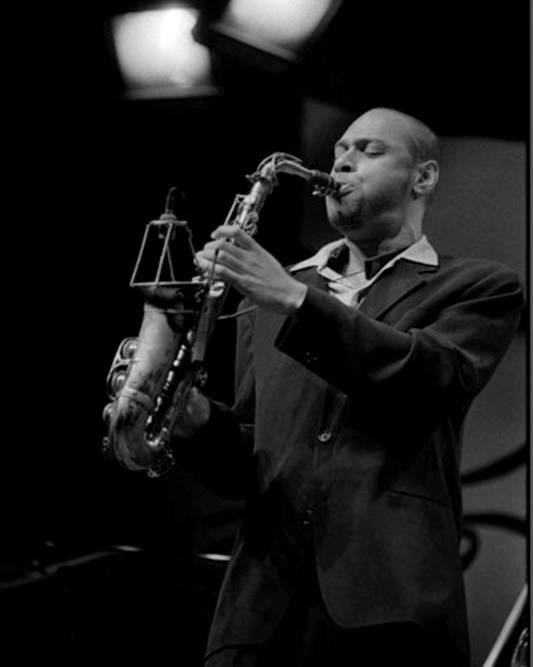 Joshua Redman, Monterey photo, Michael Oletta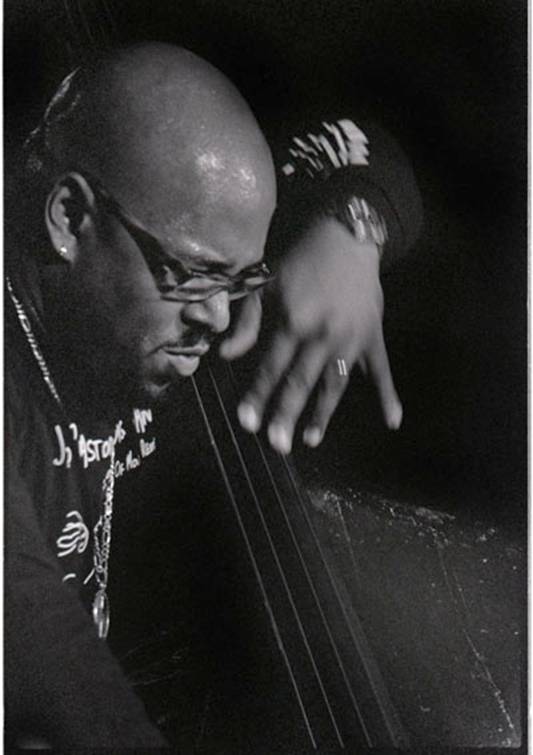 Christian McBride, Monterey photo, Michael Oletta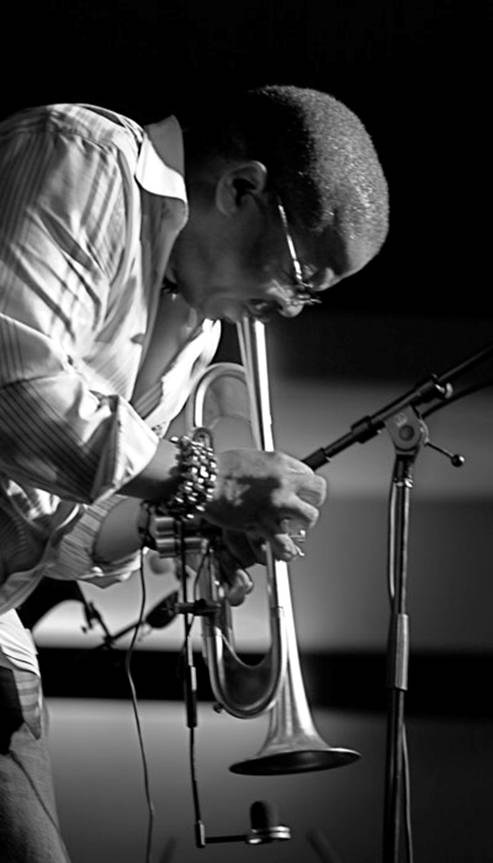 Terence Blanchard, Monterey photo, Michael Oletta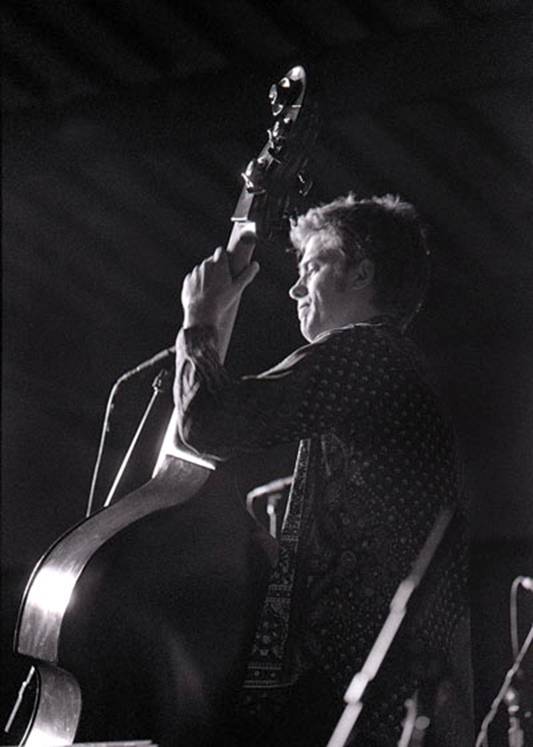 Kyle Eastwood, Monterey photo, Michael Oletta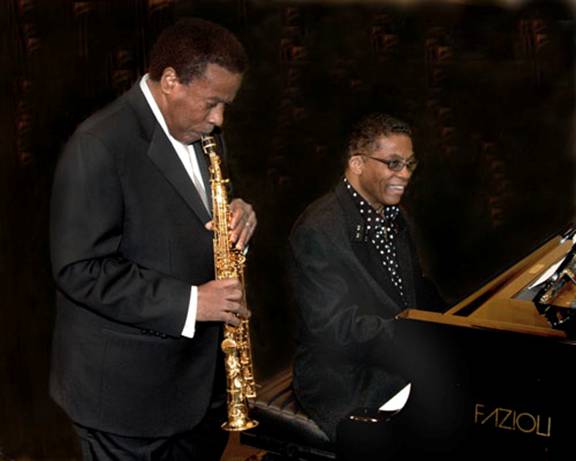 Wayne Shorter and Herbie Hancock, Monterey photo, Michael Oletta
This year coming up is Monterey's 51st jazz festival, again sponsored by Verizon, and if you are "on it"—hip enough to roll with the blues; astute enough to blow the blues away—then you'll be there this year or maybe next. If we see one another, one of us should buy the first round.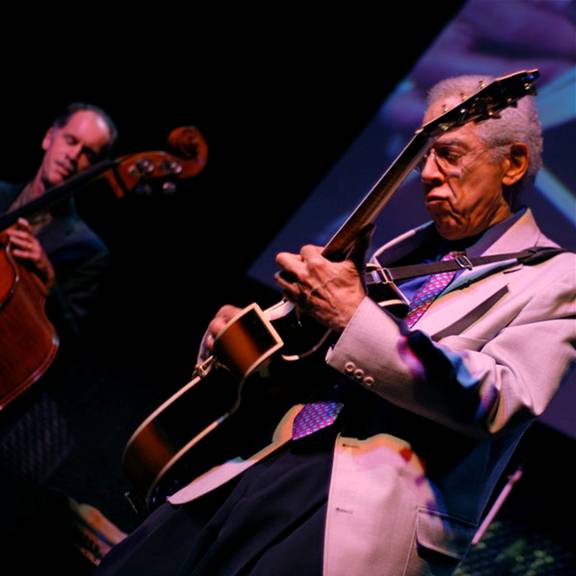 Kenny Burrel (guitar) and Rob Thorsen (bass) , San Diego '08 photo, Michael Oletta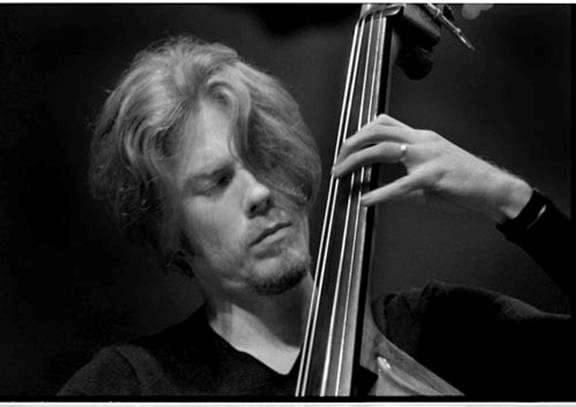 Kyle Eastwood, Monterey photo, Michael Oletta