Ok, it might seem a little strange to see a review of a guitar and iPhone cable at a high-performance audio site like Positive Feedback Online, but I happen to know that a lot of you also play the guitar and use an iPhone in your day-to-day life. Given that I thought I'd share a couple of discoveries with you that perform really well and have the potential to enrich your musical life: the Analysis Plus Yellow Flex Oval Guitar Cable and the Analysis Plus iPod/iPhone cable.
Analysis Plus Yellow Flex Oval Guitar Cable
The Eastman Uptown AR910CE Professional archtop guitars and Henrikson JazzAmps are musical miracles for working jazz guitar players on a budget. They are so ridiculously good that they are even attracting a lot of players who don't have to worry about the budget. The Uptown AR910CE archtop guitars are made in the Eastman Custom Shop and are carved entirely by hand using select AAA tonewoods. The AR910CE has a hand-carved two-piece flame maple back, an aged and hand-carved solid spruce top, and a five-piece flamed maple neck with an ebony fingerboard with no position markers (yes!). It has figured maple binding on the body, neck, headstock and pickguard, and inlaid purfling. It also has an ebony tailpiece and pick guard, a floating Kent Armstrong pickup with controls mounted on the underside of the pickguard, and Schaller tuners with ebony tuning buttons. That's enough to make any jazz-box lover drool.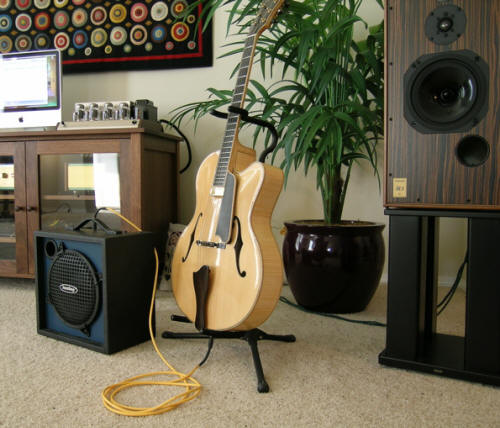 The quality of construction of my Eastman Uptown AR910CE Professional surpassed that of my vintage 1948 Gibson Super 300 (think $$$) that I had back when, has better tone, and plays better to boot. That's amazing, but the fact the Eastman weighs in at only $3495 USD retail (and can be bought cheaper than that) is simply astonishing when you consider a comparable quality archtop usually costs in the range of $9000 - $15000 USD. How do they do it? One word: China. Skilled Eastman Strings luthiers in China who normally make highly respected hand-carved violins and cellos worked closely with luthiers in the USA until they had the details dialed in for archtop jazz guitars, and as a result they are hand-producing guitars that are simply top-notch by any measure.
The Henrikson JazzAmp 10 ($699 USD) is a delightfully warm and tube-like solid-state jazz guitar amplifier that is powerful enough to get you through any jazz club gig, and light enough to carry that it won't break your back like the big tube amps do. The list of players who are embracing the Henrikson JazzAmp reads like a who's who of jazz guitar: Larry Coryell, Jimmy Bruno, Jim Hall, and Howard Alden, just to name a few. The design of the JazzAmp is very clever, and a lot like a solid-state version of the state-of-art Tom Evans Audio Design (TEAD) Linear A amplifier that I reviewed for 6moons back in August of 2005, with its use of an op-amp driver and solid-state output devices (instead of the Linear A's EL84 vacuum tubes).
I'd been using a generic Rapco guitar cable I bought at a local music store to connect my Eastman Uptown AR910CE archtop guitar to my Henrikson JazzAmp 10. Given my experiences in audio with cables I knew cable choice could make or break the sonics or musical ability of a Hi-Fi rig, so I figured it would be the same sort of thing for my guitar rig too. In doing a little research on cables I came across the Analysis Plus Yellow Flex Oval Guitar Cable, and bought one to see what sort of result I'd get with it in the system in place of my generic Rapco cable. I wasn't disappointed, but before I get into that, let me describe the Yellow Flex Oval in a little more detail.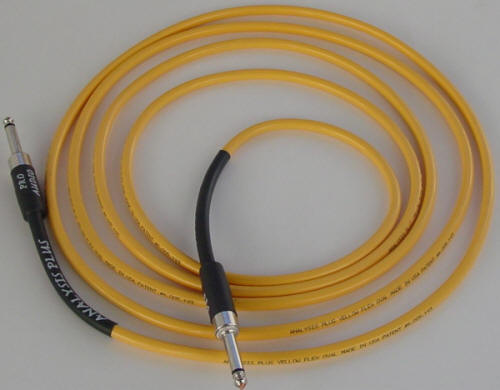 Analysis Plus isn't kidding when they call this cable the Yellow Flex Oval, as it's very pliable and flexible. That's a good thing for a guitarist, as you tend to move around a bit during playing, and you don't want to have your cable binding up and being a nuisance by distracting you away from your playing. So in a guitar cable—like people—flexible is cool. To get that extra flexibility Analysis Plus used an outer jacket of silicon rubber, which is probably the most flexible jacket material you could use next to silk or cotton, which wouldn't be as durable for the working musician.
The Yellow Flex Oval uses 18-gauge oxygen free copper conductors woven in the oval design Analysis Plus is known for. One of the more interesting aspects of the Yellow Flex Oval cable is that it is a balanced design instead of a coaxial design like most (all?) other guitar cables. It also uses a Teflon dielectric, which I haven't see used in a guitar cable before. Very nicely done all the way around...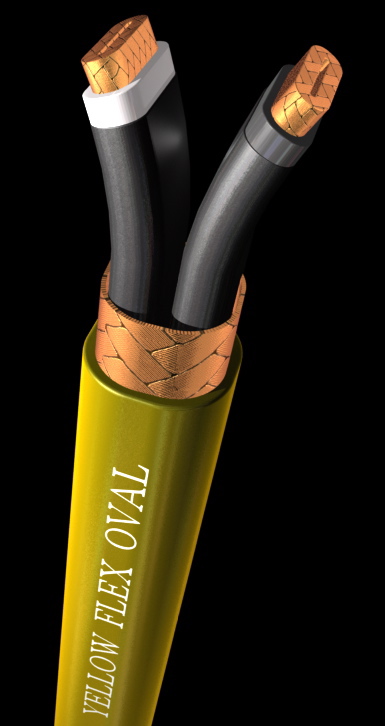 On their Yellow Flex Oval web page, Analysis Plus says, "If you can't hear the difference you don't need one!" That's not likely to happen, as I was positively floored at how much of a difference the Yellow Flex Oval made in the quality of sound and musicality of my guitar rig. Tone went off the charts by sounding fuller, richer, rounder and more expressive—jazzier. The generic cable sounded edgy, bright, and amusical in comparison. The Analysis Plus Yellow Flex Oval guitar cable is a revelation in musicality, and like the Eastman AR910CE archtop guitar and the Henrikson JazzAmp, it is a bargain at $89 (for a 10-foot length) for the enormous improvement it makes in sonic and musical quality. I won't belabor the point, but if you play an electric guitar, you owe it to yourself to give the Yellow Flex Oval a try in guitar rig to find out how good it can sound.
Analysis Plus Apple iPod/iPhone Cable
I bought an Apple iPhone when they first came out and have enjoyed it immensely. For frequent travelers it is a revelation. You can watch movies ripped from your DVD collection via HandBrake, listen to music from your CD collection ripped via iTunes, surf the web, send and receive e-mail, get map directions, check the weather, see how much your stocks have dropped, use it for an alarm clock, take photographs of your adventures (or just to help remind you where you parked the rental car), enjoy lots of handy applications from the iTunes App Store, and oh yeah—you can even make phone calls! I use the Shure SE530PTH Sound Isolating Headphones with my iPhone, and the combination of the two was impressive enough while listening to music or watching movies that I wrote it up for 6Moons back in September of 2007 as a recommendation for music lovers on the go.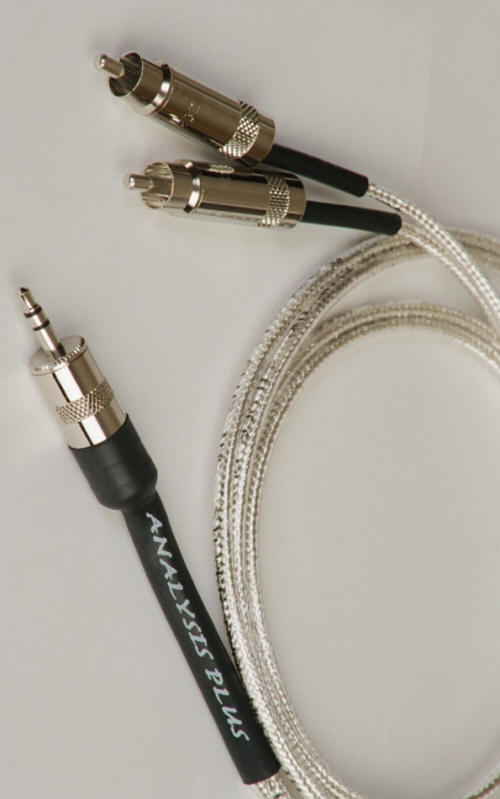 Lately I've wanted to put an office system together using my Apple iPhone as a source. I've been thinking of using my cool little Leben CS300X integrated valve amp, with perhaps a pair of the little Harbeth HL-P3ES-2's to round things out. There's nothing like listening to a little good music, or an audio book, to help the workday along. And watching a movie flick or great course lecture from The Teaching Company during the lunch hour could turn an ordinary lunchtime into an anticipated event.
My first trials with the Apple iPhone using the Monster mini-stereo-plug to RCA cable I had bought were less satisfying in my HiFi rig than I had hoped for given the excellent results I was getting with the road-warrior Shure headphones and iPhone combo. The sound was thin, brittle, and bleached—what everyone thinks of when the term 'bad digital' is uttered, as compared to the tonally rich, full-bodied, and musically compelling presentation of the Shure's. I figured it was the Monster cable I was using that was the culprit, and given the excellent results I had with the Analysis Plus Yellow Flex Oval cable for my guitar rig, I thought I should check out the Analysis Plus iPod/iPhone cable and see if it could perform the same sort of magic trick with my iPhone.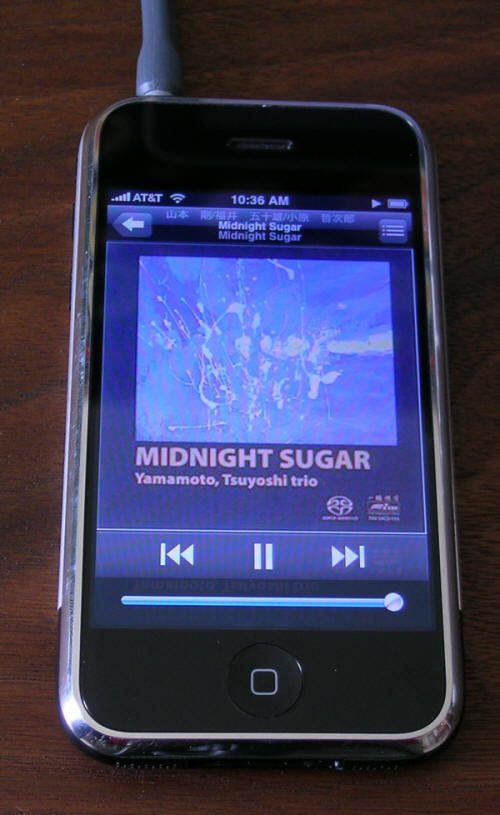 It so happened that I ran into Mark Markel (President of Analysis Plus) at the Consumer Electronics Show (CES) in Las Vegas in January and was able to ask him about the Analysis Plus iPod cable, and whether he'd be interested in letting me write about it. "Sure," Mark said, and he sent along an Analysis Plus iPod cable for me to write about.
The Analysis Plus iPod/iPhone cable is based on the Analysis Plus Silver Oval interconnects. The Analysis Plus iPod/iPhone cable uses a hollow oval geometry of silver-plated 18-gauge oxygen-free copper conductors in a Teflon dielectric, which is then wrapped in a braided shield to keep things quiet. Instead of RCA connectors at both ends like the Silver Oval interconnects, the iPod/iPhone cable has a mini-stereo-plug at one end and RCA connectors at the other end. The Analysis Plus iPod/iPhone cable is very nicely made and attractive to boot.
The Analysis Plus iPod/iPhone cable seemed like a perfect solution for my office system idea by allowing me to plug the mini-plug end into my Apple iPhone and the RCA connectors into my integrated amp. Well almost perfect. It turns out that the mini-plug pin on the Analysis Plus iPod cable isn't long enough to plug into the recessed mini-plug jack on the top of the iPhone to get a good connection. To make it work you have to get a Belkin iPhone Headphone Adapter plug ($11 USD) to make it work. That's sort of a Band-Aid fix, but it's not the fault of the Analysis Plus cable, it's the fault of the wanker design of the iPhone's recessed mini-plug jack (which, by the way I hear was corrected in the new iPhone 3G that was released on July 11, 2008. So if you've got the new iPhone you'll not need the adapter).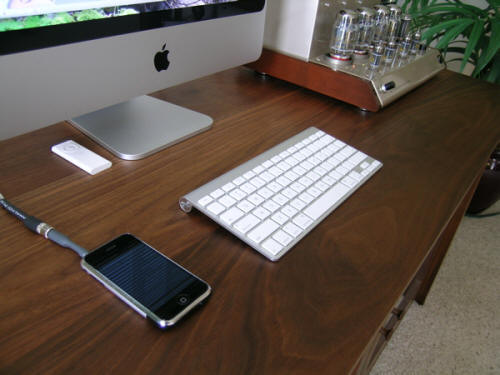 To give the Analysis Plus cable and iPhone a workout I used my primary music system (see sidebar), which makes for a nice comparison against my Apple iMac and MHDT Labs Paradisea+ vacuum tube USB DAC digital front end. Functionally the iPhone makes for a pretty nice mobile digital platform, as you can download play lists of music to it from iTunes on your computer, and still have much of the convenience of using iTunes on the touch-screen of the iPhone. For all intents and purposes, I find the iPhone to be a miniature Mac computer that I can carry in my pocket, and it'll hold a bunch of music or movie files with it's 8GB of storage (16GB is available on the 3G iPhone)..
The Analysis Plus iPhone cable transformed my iPhone into a respectable musical source for an office or bedroom Hi-Fi system. For example, the musical content of recordings like timbre, beat, tempo, melody, and harmony, came across as musically convincing and fun to listen to. The Analysis Plus iPhone cable provided a silky, liquid, and flowing presentation to the strings on Ansermet's Royal Ballet Gala Performances version of the Nutcracker that I found quite captivating. The timbral signature (the unique sound of a given instrument) of Jorma Kaukonen's Gibson Advanced Jumbo guitar on his Blue Country Heart album sounded believable, and you're not likely to confuse it with the sound of a Martin D-28—that's a good thing for those who know what musical instruments actually sound like in life. The beat in Good Time Charlie's Got the Blues on Harry Manx's Jubilee album came across as distinctive and lively, driving the music forward, just as it should. Melodic lines (the tune you 'whistle while you work') came to life in recording after recording, always drawing me into the music, and putting a Cheshire Cat smile on my face as a result. In short, the musical contents of recordings are portrayed in a believable and completely enjoyable fashion, and I never felt that Analysis Plus iPhone cable was altering the way tempos, beat, melodies, or harmonies come across the way some cables can—it's a really good cable.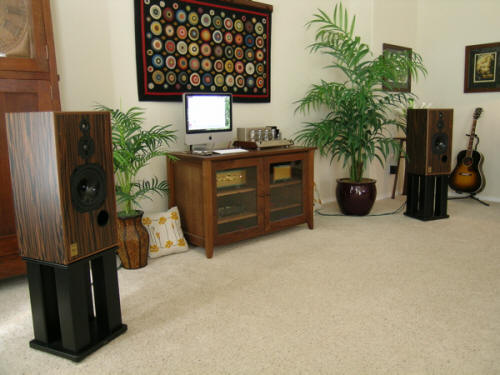 Sonically (in that traditional audiophile sense of artistically portraying the artifacts of the recording process to enhance the listening experience) things like a sense of space, soundstaging, imaging, detail recovery, are all very good. In fact, I'm surprised that the iPhone is capable of the level of performance in these sonic attributes that I'm hearing from it. Using the Analysis Plus iPhone cable, I heard a wide and reasonably deep soundstage, with well-defined imaging that has a lot of body and presence on Simple Things from Zoe Speaks' Pearl album. Take Joe Pass' Groove Yard from his Virtuoso #2 album: not only do you get a tonally rich and natural sounding jazz guitar, you also get a level of detail recovery (and thus 'living presence') that is completely consistent with what you'd hear in real life given the recorded perspective—that's way cool!
I have to admit; I'm pretty impressed with how good the music sounds through my Hi-Fi rig using the Analysis Plus iPhone cable on my iPhone. In fact, it's way better than I was expecting, and I'm guessing that I could fool at least some of visitors to my listening room into thinking it's really my Apple iMac and Paradisea+ USB DAC playing the tunes. But the iPhone and Analysis Plus cable combo isn't quite in the same league as the iMac and Paradisea+ combo, as you would expect. The latter is smoother, richer, more natural, and has more adept sonics and musical prowess all the way around. Even so, the iPhone via the Analysis Plus iPhone cable is certainly enjoyable enough that I doubt few would find fault with it as a source for an office or bedroom system. It's going to make a bitchin' source and interconnect for my office Hi-Fi rig! Jeff Day
iPod Cable
Retail: $149 USD (1-meter)
Yellow Flex Oval Guitar Cable
Retail: $89 USD (10-feet).
Analysis Plus
web address: www.analysis-plus.com
Quality of Packing: Nicely packed.
Condition of component received: Perfect.
Completeness of delivery: Complete.
Warranty: One year.
Human interactions: Friendly, professional, and with very quick responses to inquiries and questions.