The last time I saw Lou Hinkley of Daedalus Audio the look on his face was not unlike my cat Purcy when he strolls into the house clutching a bird in his mouth. As I sat down to listen to Lou's new flagship speaker, I began to understand why. My direct impression was "the Daedalus house sound, but much more refined". At the time, I didn't know the full degree of refinement. On first listen to this speaker, its relationship to the DA-1—Lou's first high-end offering—was apparent, but its degree of sophistication was light years forward. Since I was one of the first to extol the virtues of the DA-1, Lou thought it made sense for me to get a pair and take them through their paces ASAP. I agreed.
Daedalus Audio is steeped in Greco/Roman mythology, its namesake being the common symbol for the first architects, craftsmen, and sculptors, who principally worked with wood. Their new flagship speaker is named for the Greek hero Odysseus whose lengthy journeys are chronicled by Homer in the epic The Odyssey. Odysseus was known as Ulysses in Roman myths. After Lou told me the tale of all the work that went in to the development of this speaker, I've no doubt that the Daedalus Ulysses has been through an epic audio journey all its own.Sherman, set the wayback machine to July/Aug 2005, (seems so long ago) PFO Issue 20, my review of Daedalus Audio's DA-1: http://positive-feedback.com/Issue20/daedalusda1.htm.
I really enjoyed this speaker, one of the liveliest, most musical transducers I've ever listened to. It certainly had its own character, not your typical audiophile speaker. Some of the best dynamics and true textures I've ever heard, the DA-1 was a very good speaker. Although the lineage of the DA-1 and the Ulysses is apparent, these are very different devices. The DA-1 looks rather conventional (except for its two tweeters); while the Ulysses sports an unusual array that features two diagonally offset tweeters in the middle of the baffle.
The business end of the Ulysses includes 2 x1" Eaton dome tweeters, 2 x5" modified Fostex full-range mids, and 2 x 8" woofers made by Daedalus, for a total of six drivers per enclosure. The mid and bass drivers feature (according to Lou) "a custom coating which adds a precise amount of damping, but more importantly makes the cone more rigid. This keeps everything smoother and cleaner while still having the responsiveness of a light weight paper cone. Another benefit is this coating moisture-proofs the cone. Paper cones can over time absorb moisture and become slightly deformed, this treatment solves that issue, and these drivers should perform perfectly for decades."
The Ulysses measures 49" x 11" x 16" and weighs in at 115 lbs. each. The enclosure is made of solid hardwood with dovetail joints, 1 1/4" Baltic birch and solid walnut baffle, is heavily hardwood braced, and comes in a stunning hand-rubbed oil varnish finish. This makes for one inert cabinet. The front baffle is sculpted to reduce baffle reflection; this helps in the clarity of the system because much of the reflected sounds off the baffle have a 'distorted ' aspect. It also improves imaging.
On the rear there are three tuned port aperiodic vents (more abut these below) and one set of Vampire 5-way binding posts.
Frequency response is listed at 28 to 22 kHz +/- 1.5Bb, while sensitivity comes in at 97 Bb 1w/1m. A rear tweeter switch has three positions: flat, -1db, +1Bb. The crossover network is hand built, and features matched tolerances within 1%.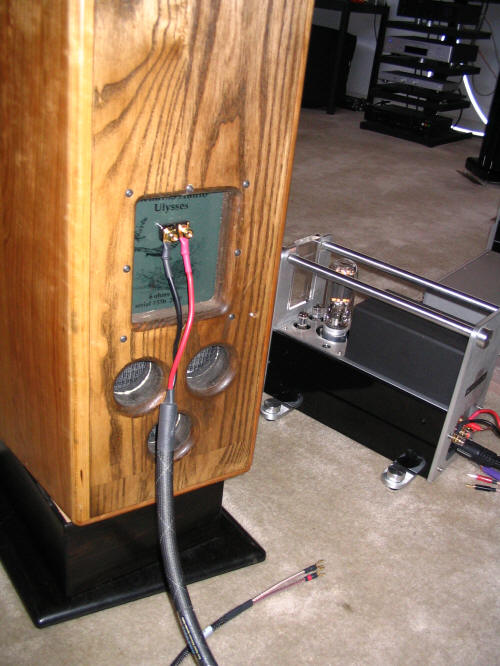 Lou sent me the pair that he'd been using to make the rounds for the audio show circuit, so I knew they were already broken in. Once they arrived in Colorado I wasted no time in setting them up. Luckily, I had three very different amplifiers to mix-n-match, the Audio Space 2A3 12-watt push-pull, the 28-watt Consonance Cyber 845 single-ended, and my Swiss army knife solid-state amp, the 150-watt PS Audio HCA-2.
The DA-1 was probably the easiest speaker to set up I've ever had. The Ulysses is a different animal. In my room they worked best far apart, at least nine feet. Tow-in was a slightly tricky affair. I found they worked best not pointed straight ahead, nor completely toed in, but somewhere in between. You'll need to see the insides of the cabinets to some degree. Once you hit the right spot… boom, the soundstage will open up, imaging will pop right into place, and all will be good. The optional stands are worth the few extra dollars. I had the Ulysses set up without them for a week or so and I thought the soundstage was killer. With the stands underneath it became ginormous. Floor-to-ceiling and wall-to-wall, the presentation expanded significantly.
I started with the Audio Space 2A3 amp. Instantly floored. Huge 3-dimensional soundstage. Resolution. Finesse. Detail. Coherence. Life-like mids. Tight, taut bass. My room is engulfed in glorious sound! Well… just my first impression, mind you. I shouldn't get too exited yet- but still...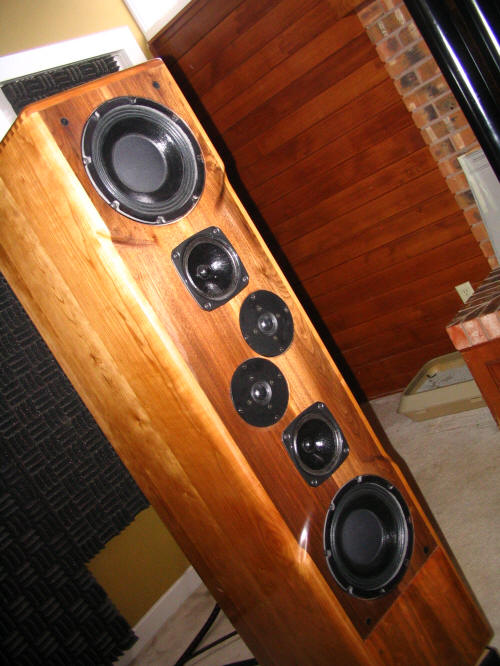 When I switched to the Consonance Cyber 845, a new world opened. Its 28-watts not only allowed me to drive the Ulysses to higher volumes, but also rendered glorious textures and voices and instruments, layers and layers of gorgeous sound. Bass was fast and full, overall presentation so, so lively, with detail always in attendance.
Jonesing for some Beethoven, I chose the Third Symphony, first movement, the classic '63 Deutchse Grammophon recording with Herbert von Karajan. The so-called Erioca was Beethoven's first beyond-genius work in the symphonic realm. From the instant I lowered the needle of the Shelter 501, I was rewarded with resplendent strains of Ludwig van. The opening theme was captivating, dynamics startling. The fundamental punch of the timpani came through as if I was there. I could feel the impact from the mallet striking the head, with all the splendid resonance of the copper kettles. Most recordings portray timpani like a pale gray ghost. The Ulysses gave me all of their impact in a way that most transducers only dream about. The decay on plucked string basses seemed to last forever. Ensemble timing was right on and conveyed this music in a most intimate way. To say Beethoven's impassioned genius was communicated is an understatement.
I listened to this piece first using the Consonance Cyber 845, then again with the 150-watt PS Audio HCA-2. Nutshell view, the Consonance gave me good dynamics, and rewarded me with lush textures you could almost reach out and touch. The HCA-2's iron grip resulted in dynamic swings that were so life-like I felt I was right there while the recording was being made. Pick your pleasure. I loved the three-position tweeter adjustment switch. It allowed me to tailor the sound to my room, but also to make changes while switching between amps and cables.
If it was up to me, all bass drivers would live in a sealed enclosure. The Ulysses provides extraordinary bass, and although there were three ports on the back, damn if they didn't behave—for the most part—like a sealed enclosure. I noticed each port was covered from the inside with a fabric. I asked Lou about this, he told me these are aperiodic ports; the covering helps the cabinet function as a sealed enclosure above the tuning frequency. It works!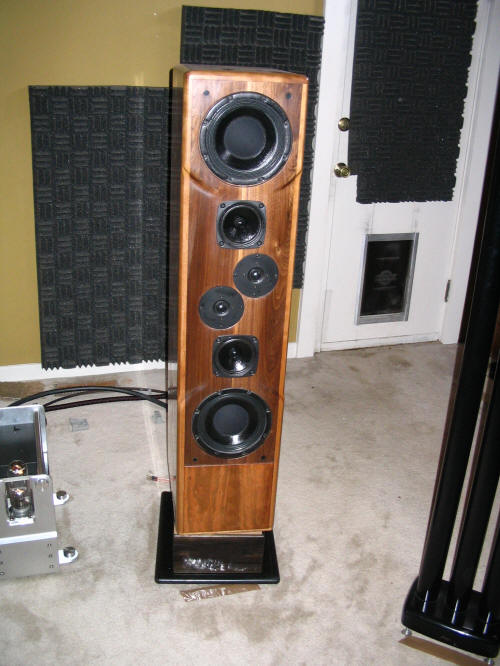 When I listened to the title cut from Buddy Guy's Blues Singer, it was a truly ethereal experience. Buddy's voice came across so realistic and spooky it had quite an emotional effect on me. With only a couple of candles and the glow from the 845s illuminating the room, Buddy was right there, his voice eerily suspended in front of the Argent Room Lens. Chilling. I was drawn in and before I knew it I listened to the entire recording.
I on put Wrecking Ball from Emmy Lou Harris and again listened to the whole recording. Most of the tunes on this CD have a lot of bass energy that can obscure detail. Not so with the Ulysses. The glorious bass was portrayed with accuracy and inner detail in spades. The speaker really keeps its composure at very high SPLs and does not choke on the details. On "All My Tears" I heard the synth bass line clearly for the first time, in addition to the piano comp that I never noticed before. The harmony vocal on the chorus was lucid and punctuated. When Emmy Lou sings some notes have a distinct edge. I've heard her live many times, and occasionally unamplified, so I can confirm this. That edge came across on the Ulysses, its reproduction of vocal music is outstanding.
Listening to J. S. Bach, "Orchestral Suite # 1", the Academy of Ancient Music, Christopher Hogwood, I honestly got chills when I listened to this piece. IMHO you need a really good acoustic recording to truly assess accuracy. You can compare studio recordings with each other, some are great, and some decidedly, are not. What works for me is listening to an acoustic ensemble recorded in a small hall. Over the years I've been lucky enough to hear a lot really quality music in small recital halls. The Ulysses really excelled at reproducing not only the instruments, their timing and texture, but the interaction of the sound with the room. It connected me with the music in a way that few if any speakers have before.
Although I know that Lou did not design this speaker specifically for low-powered tubes, the Ulysses can certainly deliver when driven by them. Is your passion the gorgeous sound of low power tubes? If so this speaker can accommodate you, though within limits. I felt at the 12-watt push-pull Audio Space amp was probably at the lower limit of power you could use and still get realistic dynamics. The 28-watt 845 Consonance SET performed very nicely.
How about mid- to high-power solid-state or tube designs? The Ulysses was built for high power. When I used 15 watts of class D power I loved the unlimited realistic dynamics that made the music seem so natural. My only regret was I didn't have a chance to try this speaker with some high-power tube amps.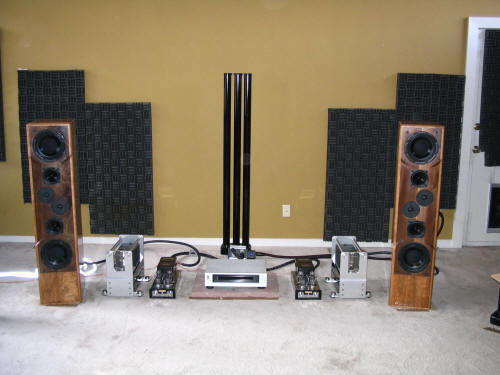 Which type of amplification/source did I prefer with the Ulysses? Usually, whatever I was listening to at the time. Pressed for a decision on one, I have to give the nod to the Consonance Cyber 845, and my analog rig (VPI Scoutmaster, Shelter 501, and Aqvox Phono 2Ci, Gingko Cloud 9) which together gave me some of the most extraordinarily cohesive sound my room has ever been graced with. If you read Lou Hinkley's quote "coupling high efficiency with high power handling makes for effortless reproduction of music" it is obvious that he prefers a high-power amp for these speakers. I look at the Ulysses low-power affability as a big plus. This chameleon-like transducer is friendly to many different types of amps, and it truly lets you enjoy the characteristics of each and every amp. Rare indeed and a dream for audiophiles who enjoy the sound of more than one type of gain device.
Any nits or problems? No, the Ulysses performed flawlessly during the months spent with me. Is this speaker perfect? No such thing. I noticed minor colorations, but these were consistent with what most speakers' exhibit in my room. Without measurements I couldn't be sure. The plusses far outweigh any perceived problems.
I am lucky to be able to listen to many high-end components. They usually follow the typical bell curve, most are good and fall in the middle provided they are properly matched. Very few offerings perform poorly. A select batch is outstanding. In my opinion you can plant the Ulysses firmly in the last category. It continues firmly in the Daedalus Audio tradition of the DA-1, but makes a quantum leap forward.
This exceptional speaker has many attributes that are important to me. Dazzling handmade-hardwood craftsmanship, the ability to be driven by almost any amplifier- and display the character of said amplifier (or up chain component). Dynamics that are exceptional and life-like the ability to convey true textures and colors of instruments and voice. A speaker that can take you to very high SPLs while keeping its composure, with all the thunder you will ever need, but also all the whisper-and-hush detail you could ever crave. The Ulysses is a very unusual product in this day and age—made in the US, very high quality, and a more than fair price—no fuzzy math here. I don't know how Lou can offer this speaker for such little scratch. I'd buy them now before he comes to his senses and raises the price; this is one of those components that you'll keep in your system for a long, long time.
It's an absolute pleasure to review a product like this. I could live very, very happily with this speaker till the end of my days and enjoy my time in audio heaven. The Ulysses takes no prisoners and asks no quarter. It sets a new standard in high-sensitivity offerings and price-to-performance ratio. A stunning accomplishment. John Zurek
Ulysses loudspeakers
Retail: $8800 a pair
Daedalus Audio
web address: www.daedalusaudio.com
A brief interview with Lou Hinkley of Daedalus Audio
What was your motivation in designing the Ulysses, and why did you change from the concept of the DA-1?
After the 2006 RMAF I did some soul searching and realized I needed to listen to my customers, the audiophile community. Originally I had designed the DA-1 for people who wanted realistic dynamics and tonality with a life-like stage that can be experienced from many seats in a room. After a while I understood that the audiophile wanted more detail and more precise imaging. So I decided to introduce two new models that would focus on detail and imaging. I quickly found that the hardest part was to keep the dynamics and life-like tonality while improving the detail and resolution. Of course it was immediately apparent that many of these changes would make the DA-1 a better speaker so I spent the last year creating the Ulysses & DA-RMa and re-designing the DA-1.1 and DA-2.1 from the ground up. I'm very pleased with the line as they all share the same level of quality yet each model is for a specific application, so there are no entry level or inferior products here.
What's the basic concept behind your crossover? Is it designed in-house?
The crossovers are designed and built by one of the true geniuses in the industry, none of these circuits are 'off the shelf' and some are truly unique designs. I've been fortunate to have been working with him for 15 years and I'm always amazed at his ability to make multi-driver systems coherent. We collaborate on the design & goals then he does the engineering, then we do our final tweaks. After so many years working together he usually nails it first time now, I don't know if that means I'm becoming predictable or what. As for basic design I wanted keep the handoffs high enough so that we are never pushing the power handling of mids or tweeters, (I really dislike the sound of tweeters used right down to their lowest point and below), I also wanted to find that fine line between detail and body. I think the Ulysses in particular does a great job of walking that razors edge.
Can you tell us why you use hardwood cabinets, when this obviously adds a lot of cost and labor?
Well in part this carries over from my pro systems, with those cabinets, which were designed for acoustic instrument amplification I found that there was a clear sonic advantage to using hardwood. Something subtle happens there and the sound is much closer to the sound of the actual instrument than with other materials. I follow the philosophy that the best cabinet is one which is very stiff as opposed to dead. Also realizing that pretty much any material no matter how well braced will have some small effect on the sound, I'd rather have that very slight effect be from a 'tone wood' than a synthetic material. Realistically these cabinets are easily as stiff and non-resonant as 300lbs MDF cabs, and a lot easier to move around. The last consideration is simply the elegance and beauty of solid hardwood. These cabinets are built to last a lifetime and age much more gracefully that veneered MDF. As a matter of fact considering the moisture resistant paper cone/cloth surround drivers these should provide trouble free use for decades.
What's your philosophy on speaker sensitivity?
Being a musician I've always understood first hand about dynamic range, and headroom. These rules even apply to acoustic instrument design; certain woods are used for the tops of guitars because they have the headroom and ability to handle a dynamic playing style. Another aspect that I look for in sensitivity is quickness, to a musician this translates to the subtle, un-measurable transients, harmonics and details of a note that identifies, say a '40s Martin. I've found this often goes hand in hand with a high sensitivity driver, and when you couple a very low insertion loss crossover… well the magic starts for me. This quickness has always been paramount for me, I have never wanted to sacrifice that quality just to get near sub-sonic bass. I figure that's what sub-woofers are for. I guess when I combine these goals of efficiency for dynamic range, headroom so the amp and speaker are never pushed hard and extremely quick response I get closer to what real music sounds like for me.
The Ulysses at 97dB efficiency would require anywhere from (I'm guessing on the low end) about 12 watts to 316 watts to produce levels of 105 to 115dB. This gives the listener a really wide range of amplifiers to choose from. Did you design the Ulysses so that the listener could use virtually any amplifier?
Yes the new crossovers are extremely linear in their impedance load and provide a very easy load for most any amplifier. I've had customers use 8 watts and I've run as much as 1000 watts per side. So it's a pretty wide range indeed.
Any plans for new models?
With four models now, two for home and two for audiophile I'm looking to add a bookshelf system. I've had a lot of requests for an 'entry level' system but I really feel that if I start cutting the quality to reduce cost then I won't end up with anything all that much better than a mass-market entry level speaker. So what's the point? On the other hand I do see a need for something smaller yet with the same detail, both sonic and cabinetry, and high sensitivity that I'm noted for. I've realized that size does matter and some people want a much smaller speaker.
Thanks for taking the time to answer these questions, Lou!