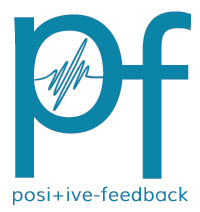 You are reading the older HTML site
Positive Feedback ISSUE
36
march/april
2008
Arnold Schoenberg; Concerto for Violin and Orchestra, and Jean Sibelius; Concerto for Violin and Orchestra; Hilary Hahn, violin and The Swedish Radio Symphony Orchestra, Esa-Pekka Salonen, cond.; (DG 289-4777346-7), 2008.
Venus and Mars, Again.
Max Dudious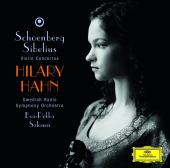 Back when the world was a whole lot younger, and I first discovered there was something about Schoenberg that I really liked, I had an epiphany of sorts. It started with an all-night classical DJ taking it upon himself to play all of Schoenberg's five string quartets, back to back to back, with little talking in between. Feeling it was incumbent upon me to listen to works that are collectively considered by some as ...a watershed in string quartet composition, in classical chamber music composed in the first half of the 20th century, or in "modern" composition of any form ...I dug myself in. I was prepared to "go to the mattresses," to stay with Schoenberg as long as it took. While my room-mate slept, I listened to these works through my Koss headphones. (It must have been sometime during the middle sixties.) And the most amazing things happened.
Being forced to concentrate while I sipped my coffee, I could make out a series of figures in the music, and changes in the voicings of the string quartet. That might have taken me an hour or so. Then I started to notice that these sounds, that I'd thought of as impossibly dissonant, and jarring, once I'd gotten myself into the "head of the composer," weren't that at all. Once I was able to make the necessary teleological suspension of disbelief, make the commitment to stick with the music from beginning to end, and settled into doing that, the music showed me its internal logic. In order to get a handle on what I might have thought of as dissonant at first, I allowed myself the illusion that I was going to have to accept what I'd "call" modal key tunings, used by the quartet, to follow the development. Though my calling it modal tunings didn't make the music so, it gave me a means of focusing, enough to get me through the second hour or so.
Now, thoroughly immersed in Schoenberg's "style," I found the twists and turns of the score to be interesting, often surprising, even witty. I could discern different moods he was getting out of repetitive figures, chromatically moving up and down, and varying the dynamics from loud to soft and back again. I found myself feeling happy, with a tinge of my old friend, yearning. I wasn't sure how he was manipulating these effects, but he was manipulating me. I was sure I could never whistle select passages (to show any interested party, like Corno di Basseto), to demonstrate what I thought was going on in the score. I had found a way to listen—without being a Conservatory student. It was like learning, or making up, a new and childish language of my own to handle concepts about which I hadn't had any instruction to guide me. Kids do it a lot.
Though how I listened was purely idiosyncratic, I could make my sense of the music. And I started to "think" along with the music in my head. "Oh, now he's making an upward chromatic progression of dissonances, played in triplicate figures." And just when I had a handle on it, or so I thought, he introduced a very dis-associative new set of "variations." I started to laugh aloud. What was funny? Well, like Haydn in his "Surprise" Symphony, or what I have come to call his "Flatulent" Symphony (that has generally come to be called "The Bassoon Joke" Symphony), Schoenberg played a trick on me, the audience, by getting me to expect one thing, and giving me something else. So, either that response (being startled by the order of progression) was what Schoenberg expected, or I was over-interpreting his intention.
In either case, I realized then, Schoenberg was a truly gifted composer, capable of expressing at least happiness, tenderness, and jokes through his (to me, then) quirky music. Would he prove to be an earthy figure? A 20th Century Haydn? It was still hard work to listen along. It was hard to make sense of, harder to analyze (as I'm trying to do now), and I couldn't explain it to others seeking confirmation that I had "caught on" too, by whistling a few passages. I figured, Schoenberg's music will never be popular. You have to be a music conservatory student to "get it." But here it is, more than a century since his first quartet, forty or so years since I had my negative thought, and the recent CD ranked second in downloads in the classical music category this past week: and the Schoenberg composition debuted as #1 in retail sales for the first time since such records have been kept, both "firsts" for the composer.
Seldom has a classical release been met with such an enthusiastic first week in sales. What could have caused it? The only thing I can think of is the brand recognition that goes with the name Hilary Hahn. She may be not only the foremost violinist of her day, but a one-woman music appreciation course as well. It takes courage and shrewd programming to couple the angular and astringent Schoenberg concerto with the lushly romantic Sibelius violin concerto on one disk. But Hilary has been courageous and thoughtful about programming from her earliest albums. And her album notes, which she insists on writing herself, reveal her perception to be not too different from mine. "...Schoenberg's grace, wit, lyricism, romanticism and drama came through with an impact that was almost visual ..." Years ago I'd have thought that judgment ...smoke.
But here I am to say that once again Hilary Hahn has delivered on her promise. She has played Schoenberg's Violin Concerto as I could not have anticipated. It is still a bit difficult for me to follow. I must pour all my attention into it. And don't be surprised if you, too, must listen to it repeatedly to "get it." But when you do, I think you'll find it worth the effort. It is full of musical grace and wit. Once you get into Schoenberg's head, you'll find you can see how he can use his non-melodic technique in a lyrical and romantic way. It is a very skillfully constructed concerto, all the more for not being in the manner of Bach, Mozart, Haydn, or Beethoven.
Sibelius (b. 1865; d. 1957) and Schoenberg (b. 1874; d. 1951) were roughly contemporaries, and I'm certain they knew each other's music. While Schoenberg looked to the future, the unabashedly romantic Sibelius Violin Concerto (coming after his Symphony No.2) looked to the past. Hilary has this to say about it: "...it now took on a plaintive yet sensuous quality: an exquisite, nostalgic beauty, laced with hope, that undergirds the work's extraordinary power."
For comparison's sake, I went into my concrete bunker vault to find what might be of interest. I found an early stereo LP version of the concerto (MS 6157), featuring David Oistrakh on violin, with The Philadelphia Orchestra, Eugene Ormandy, conducting. Oistrakh takes the first movement about two minutes (10%) faster than Hilary does. Each performer takes the second and third movements in nearly the same amount of time, varying by only a few seconds. Hilary's first movement hits the long, singing lines and stretches them out a bit more than Oistrakh's. She emphasizes the emotional, the yearning.
Overall, Oistrakh's playing is more vigorous and muscular, causing his instrument to snap and snarl. In the same passages, Hilary finesses it with a bit more stress on sensuality. She is not afraid of speed, for in the quick passages her fingers dance over the strings like pixie wings, seeming hardly to touch the fingerboard at all. Her tone is rapturous while Oistrakh's is athletic. It seems Hilary knows Oistrakh's reading, respects it, all the while opting to linger a bit over the most lush passages. For in her hands the exquisite, nostalgic beauty counts for more than machismo, even if the two readings are very similar in the final two movements. The tone is set in the first movement where she feels free enough to play it her way. Given my choice, I'll vote for rapturous over athletic Sibelius every time.
That's saying a lot, because in many people's eyes, David Oistrakh was the personification of what a violin virtuoso was supposed to be: a violin soloist secure enough in his technique to take us to the edge with risk-taking musicianship. I believe Hilary has trumped Oistrakh's ace with lyricism. Scissors cuts paper, at least in this comparison. Who can predict what will follow?
Here we have two pieces of significant violin music written in the first half of the last century. Hilary Hahn, apparently taken by the William Congreve axiom, "Music has charms to soothe a savage breast," has dosed the Schoenberg and Sibelius violin concerti with liberal amounts of lyricism to good effect. She has made the difficult Schoenberg accessible to the listener who would actively listen, and she has brought an extra keen sensibility to the beauty of the Sibelius where others have brought a stop-watch. Her understanding of both these pieces seems pretty profound, even if (according to her album notes) as a kid she used to listen to the Sibelius through a walkman and earbuds while sitting in Baltimore's baseball stadium watching the Orioles (who continue to surprise the league).
Special congratulations go to the production gang at Deutsche Grammophon, and particularly to Tonmeister Stephan Flock, for an excellent job of recording engineering. Also to all the folks at Swedish Radio, and the Swedish Radio Symphony Orchestra, especially Maestro Esa-Pekka Salonen for an attentive and supportive accompaniment. Most of all, my summer Panama Hat is off to Hilary Hahn, who continues to amaze me.
If you would know what the fuss is all about, and you haven't heard Hilary at her finest, this is a great recording. If you'd know more about Arnold Schoenberg, and the movement he started, this is a great recording. If you want to hear the romantic Sibelius played the way a cultured woman plays it, you can't do better than this recording. So, get on the phone, or on your computer, and be in touch with your favorite vendor, and order a copy of this one. You won't be sorry.
When you do, tell 'em Max Dudious sent ya'.
Ciao, bambini.