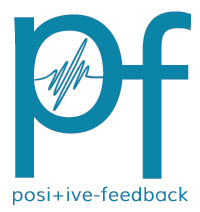 You are reading the older HTML site
Positive Feedback ISSUE
36
march/april
2008
Four from Naxos
by Karl Lozier
These 4 American Classics CDs by Naxos contain music composed in the past century and a half. It starts with Harris' inclusion of songs from our Civil War era through Anderson's music playing regularly through the fifties at the same time as Toch's Pulitzer Prize Award for music and Bolcom's ever continuing efforts. All are American composers and three were born in the good old USA! You do not have to go abroad to find "new music" to discover and enjoy. Our aim is to help you find it.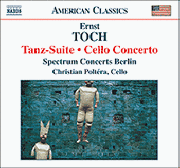 Ernest Toch Tanz (Dance)-Suite+Cello Concerto, Spectrum Concerts Berlin. Naxos American Classics CD 8.559282
After some extremely unusual and very interesting initial passages featuring a bit of percussion, things settled down a bit. After becoming very settled, pianoissimo (very quiet) in fact, Toch's Tanz-Suite (Dance Suite) at times seems to have various fragments of melody, not always complete. The beginning can be considered an overture though certainly not a typical one. In the body of this composition conflicting passions or moods are heard vying against each other though very subtly and quietly at many times. Let's call it interestingly so. Very approachable with appealing touches of modernity is my brief description overall. I shall be listening more to this composition.
Modernity is far more apparent in Toch's Cello Concerto. The cello is often heard solo here and at other times a single instrument is heard accompanying it. The group of talented soloists that make up Spectrum Concerts Berlin, get to really shine here. Almost every one has a solo part while playing. At other times the talented soloists of this group are heard paired with each other. Featured soloist, cellist Christian Poltera does a fine job here and is clearly heard with the overall fine audio quality. A very fitting conclusion in the last (fourth) movement ends in a rousing finale for this disc! A very prolific and far ranging composer, Toch did a number of film scores for Hollywood, well-known overtures, a famous piano concerto (no. 2) and his very unusual and unusually scored symphony no.3—the Pulitzer Prize music winner in 1956! I shall see if any of those might be available for future review. In the meantime these selections must suffice.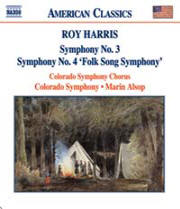 Roy Harris Symphony No. 3 Symphony No. 4 'Folk Song Symphony' Colorado Symphony Orchestra Conductor: Marin Alsop Colorado Symphony Chorus. Naxos American Classics CD 8. 559227
This is the first in Naxos' ambitious project to record all thirteen of Roy Harris; thirteen completed symphonies. His Symphony No. 3 was called "the first great symphony by an American composer" by Serge Koussevitzky, the conductor of the Boston Symphony who led the premiere in 1939. The opening lyrical theme is quite long and is attractively handled mainly by the cellos. Ultimately this single movement symphony progresses not by more conventional development but by fresh melodic passages developing and growing into a powerful whole symphonic composition. It seems to definitely be an American composer's composition. It turned out to be the basis of Ray Harris' musical career and symphonic works turned out to be the backbone of his musical writings.
Many if not most listeners, find his fourth symphony, the "Folk Song Symphony" to be their favorite. Interestingly, Harris misnamed it as it turned out to be a fantasia for chorus and orchestra. Its original outline was for five choral movements. Ultimately that was revised and two appropriate musical interludes were included and inserted between the second and third choral movements and between the third and fourth. The particularly attractive choral movements are excellently sung here. They are also very clearly presented and reproduced. The first, of many, included signs in The Girl I left behind Me and the last is Johnny Comes Marching Home. Included are cowboy songs, spirituals and frontier ballads. This composition should easily grow on most listeners. It is melodic and an important part of the development of American classical music. This superb series by Naxos deserves support by American listeners. The price is a bargain and the quality is very high. The orchestra and audio reproduction combination is truly excellent here if not quite as big, powerful and overpowering as a few other recent recordings. The clear and clean reproduction of the many bass thwacks is easily the equal of other recent recordings. Remember that in any given hall what the listener may hear can vary depending on the tuning of the drum, its hall position and the listener's position. With a recording must be added the microphones, positioning and the listener's room and his or her position in that room as well positioning of the loudspeakers. It is not simple nor an absolute.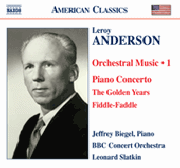 Leroy Anderson Orchestral Music Vol.1 Piano Concerto BBC Concert Orchestra Leonard Slatkin conductor. Naxos American Classics CD 8.559313
Leroy Anderson occupies a rather unique niche in American music. His classical training and composition was done with Walter Piston and George Enescu at Harvard. His future direction was destined when a guest spot conducting the Boston Pops Orchestra impressed the legendary Arthur Fiedler. The justly famous Fiedler, was particularly well known as probably the best conductor in the world with so called "light-classical" music, shorter compositions and numerous concerts with the most famous jazz and pop performers in America. Fiedler hired Anderson to do arrangements of popular music for the well known Boston Pops. Anderson also composed short miniature gems and the score for the Broadway show, "Goldilocks". Most of his most famous compositions were deliberately written to be about three to four minutes long. That was the craftsman coming out so that the pieces would fit the technology at that time on one side of 78 rpm and then 45 rpm discs. With the dawning of the long-play 33 rpm discs he still usually stuck to those time limits. Anyone older than fifty-five years has heard at least some of Anderson's finely crafted miniatures. Many years ago a national rating organization known as the "Hit Parade" had a number of Anderson's songs ranked including Blue Tango at number one for fifteen weeks. Some of the most popular compositions included in this compilation include Bugler's Holiday scored for a trio of trumpets and loved by all trumpet players, Clarinet Candy that sounds like a take off from the aforementioned Bugler's Holiday and never as popular. Blue Tango, Bell of the Ball and Fiddle-Faddle were all very extremely popular. Ask your parents if you do not believe me. Well known American conductor Leonard Slatkin manages to make the BBC Concert Orchesta sound like a good American orchestra if not always quite the equal of fond memories of the Boston Pops led by the unequaled Arthur Fieldler. There is no discernible difference with Anderson's seldom heard Piano Concerto with pianist Jeffrey Biegal. This very melodic and appealing concerto has a very storied history. Performed first by Eugene List, then others, receiving mixed reviews. He withdrew his piano concerto and decided to work on it, particularly the first movement and simply never got it done, possibly not even started. His widow released it in 1989 and it has been increasing in popularity and that in deed is needed, a good American composer's piano concerto.
The Oxford (England) Dictionary of Music lists Leroy Anderson as an American composer of light-music plus a few longer compositions. That is accurate but he was so much more as any of us in the older generation will testify. He deserves a hearing by anyone who has not heard him. You will listen and love much of it even though you may not listen often. That is simply and attractively the kind of music this master of the miniature specialized in. These performances elicit no significant quibble from me. The fine audio quality on this CD is becoming so common nowadays – hurrah! If you do not hear it that way, I suggest, very seriously, checking out your listening equipment. Start with your CD (hopefully a CD/SACD) player and next your preamplifier or AV receiver. You can be helped by reading the many equipment reviews we offer and remember that questions can be answered by the reviewers or editors. We want you to enjoy music!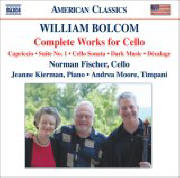 William Bolcom Complete Works for Cello: Capriccio, Suite No.1, Cello Sonata Dark Music and Declage Norman Fisher, cello. Jeanne Kierman, piano, Andrea Moore, timpani. Naxos American Classics CD 8.559348
The first composition on this release, Capriccio, has been recorded several times. That almost automatically means that it is popular. In this instance it is deservedly so as it is also entertaining as well as downright enjoyable. In passing I shall mention that it is fairly close to being in sonata form. Since many of our readers are rather new to classical music you can forget that. Here you can think of Capriccio as kind of a mini concerto for cello. The piano takes the place of an orchestra accompaniment and it is in four short movements instead of the traditional three for a concerto. The first movement, accurately listed as "very rhythmic" is a bit contemporary in nature and to me sounds as if both the cellist and pianist are playing around and simply having fun. You should relax, allow yourself to enjoy it. The composer refers to the third movement as, "rather-Brahmsian". The last movement has strong hints of Brazilian music with a bit of "Tango Tempo" referred to as capricious by Bolcom. The recorded quality of both the cello and piano is quite simply excellent. Music lovers and audiophiles realize that most living rooms or music rooms can accommodate both these instruments. So turn up the gain or volume control and enjoy the sound of your personal home concert featuring two of the most beautiful music instruments, the cello and piano.
Briefly, the second selection, the Cello Suite No.1, reflects either a sad reflective mood or perhaps a somber one. It is based on the stage music for the tragic Broken Glass play by Arthur Miller. The Suite is for solo cello and the overall mood is seldom broken. I should note that in the last movement that beautiful "growl" of the cello as the notes descend from the middle ranges down into its bass range is beautifully captured in this rather close-up recording. The liner quotes Larousse, a well known French encyclokedist, as saying declare is a displacement in time or space and that often describes the unexpected pacing in this selections. As an aside, today the most common use or translation of declage is declage horaire, or jet lag. As you might guess there are often strong hints of contemporary composition here, and smaller hints in the last two selections.
The listed timpani are only heard in the Dark Music composition adding some appropriate dark atmosphere. There the timpani and cello pretty much share top billing and often are heard as solo instruments. The timpani here are not emphasized but played quietly, pianissimo much of the time, are heard as equals of the cello—an unusual combination to say the least. The last selection is to a great extent more traditional and definitely traditional in form with three movements. Bolcom, probably with "tongue in cheek", lists it as "Allegro assai-Steady tempo, but uneasy". I kid you not. Again the piano and cello are pretty much treated equally and are presented with great clarity and detail. Lovers of the cello will treasure this release though not every one of the compositions will be found immediately appealing by all though most will be.
Bolcom is a prolific and well-respected contemporary composer; Naxos offers at least four other CDs featuring his compositions, most notably Songs of Innocence and of Experience, based on poems by William Blake, Naxos CD 8.559216-18.