When I ran into my old friend Vinh Vu at the Rocky Mountain Audio Fest '07, he was his usual smiling self, having a great time. Vinh was eager to let me know about products his new company, Norvinz, which include the Consonance line, Sanders Sound Systems, the Merrill Scillia Research turntable, and the RL Acoustique Lamhorn, in addition to his own Gingko Audio products. Although I hope to get some of the Consonance amps and Roger Sander's electronics for review sometime in the next few months, my first priority was to talk to Vinh about his newest turntable platform, the Cloud 11.
Vinh remembered the review I wrote on the Ginkgo Clara-Vu and Mini-Clouds, featuring my cat Purcy. See www.positive-feedback.com/Issue20/gingko.htm. I loved his products and thought they were an excellent value. We still get a hoot about the photos of Purcy on top of my 'table. Funny, since I wrote that review I've had several analog buffs tell me about their cats who also liked to perch on 'table tops. Since Ginkgo now makes a version of their top-of-the-line Cloud 11 specifically for the VPI Scoutmaster (still my reference for analog) we agreed it might be a good idea for me to give it a listen.
In a few weeks a glossy black version of the Cloud 11 that matched my turntable showed up at my door. This platform also comes in a clear acrylic finish should you prefer. Both of these platforms are real lookers. I'm not really sure which one I prefer.
The Cloud 11 offers some added features compared to the other Ginkgo platforms:
Its bottom plate is designed with deeper wells to provide an added level of safety in use. The ball stays in the well and rests squarely on the dimple thus preventing accidental rolling off of the bottom plate.

The top plate features a thicker skirt that makes the platform more rigid to withstand heavier components and minimize deformation.

The regular size of the top plate is 18 x 16 to accommodate components with larger footprints.

The extra thickness of the bottom plate and the top plate skirt improve vibration reduction performance to an average of 99% of the vibration from 5Hz to 500Hz, with a resonance frequency of around 13Hz.
Easy to set up, first put the bottom plate of the Cloud 11 on your rack; then drop the balls in place. After that, the top plate fits easily on to the bottom. It's easy, you'll be up and running in minutes. The Cloud 11 comes standard with five balls. Each ball has an optimal weight load of 10 lbs. A regular Cloud 11 with 5 balls is matched perfectly with components up to 50-60 lbs. Subtract balls for lighter loads gear; add more balls for heavier loads.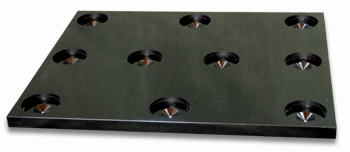 After you set up the Cloud 11, position your turntable on top of the Ginkgo and center it. Once in place, move your table gently up and down back and forth. You'll notice immediately that you are table literally floats in all axes: X, Y, and Z. Like floating on a cl**d? I'm not going to say it. But true enough.
After playing many different types of records for about a month, I heard several things that were consistent:
The noise floor was lower. You can't help but notice this straight away.
The Cloud 11 allows you to see deeper into the recording. Details that were previously obscured were now audible.
The entire musical stage seemed to emerge from more a void. I believe this is because of turntable and its musical delivery system—the precious cartridge and tonearm have now been decoupled from the rack and the floor. Whatever nasty hindrances to great sound that may have previously been delivered through the feet of the 'table are greatly reduced if not eliminated.
A little raggedness I hadn't noticed before in the highs was now gone. Bass was more clearly defined. The midrange took on a new-found smoothness. That last hint of motor noise was gone. (I did continue to use a mouse pad underneath the motor.)
Certain low notes that seemed slightly out of control (again, that I hadn't noticed before) had been tamed. After more listening, I noticed I was enjoying the experience more. I can't be sure, but I felt the fatigue factor had dropped.
Dynamics, both large-scale and micro, improved. After awhile, I noticed minute shadings that were not present before the Scoutmaster sat on the Cloud 11. The turntable seemed to handle large dynamic swings with a new-found ease.
The attack of notes was more precise, while the trailing edges, when appropriate, seem to sustain longer.
My Scoutmaster/JMW/Shelter 501 had to struggle less to get the music out. The Cloud 11 enabled the combo to do its job better and easier. After knuckle-knocking all around the plinth, I noticed noise that had formerly been transmitted to the speakers was absent. For some reason, the Cloud 11 made setting the VTA much easier. I was able to dial it in quicker and with more accuracy than ever before.
If you own a turntable you owe it to yourself to try this superb product at an honest price. The music emerges from a cleaner background, the overall presentation is livelier, the soundstage larger and more detailed. Individual instruments and voices now contain missing detail. After living with it beneath my Scoutmaster for a few months, I now think of the Cloud 11 as a requirement for great(er) analog sound.
Want to turbocharge your turntable's performance? The Cloud 11 is your ticket. John Zurek
Gingko Audio Cloud 11
Retail: $449
Gingko
web address: www.gingkoaudio.com