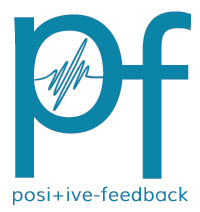 You are reading the older HTML site
Positive Feedback ISSUE
36
march/april
2008
CES 2008 Show Report
by Adam Goldfine
With over 4 million square feet of exhibit space and a scant four days to cover it all, calling CES overwhelming is like calling Carmen Electra pretty. But through the veritable jungle of gear a few things became abundantly clear. 1) With the aid of computer modeling, materials research and just plain old experience and hard work, the state of the art has taken a giant leap forward, with a number of systems playing music that bore a frighteningly close resemblance to the real thing. 2) The technological innovations being pioneered at the top are trickling down producing some incredible sounding mid priced systems (for the high end that is) as well as lower priced systems. 3) Music servers have taken over the world and resistance is futile. I actually think this is a welcome if not somewhat daunting development and there is and will continue to be plenty of traditional technology to occupy those of us not ready to play on the bleeding edge.
My intention here is to report on what I found to be good sound for the money whether it is $600 or $600,000. And while the best and most expensive gear generally tended to sound the best, extremely satisfying sound could be found in every price range. It is a good time to be an audiophile. That being said, read on; I'm going to go soak my feet.
April Music

New from April Music (known for the Stello brand name) is the Aura Note, a one box 50 wpc integrated amplifier that also includes a top loading CD player, tuner, two USB inputs, an analog input and full remote control. One of the USB inputs can take a flash drive, memory stick or any other standard USB connected device. The other takes a mini USB cable. It also includes a headphone jack. All this for $1850.
The companion Aura Note Model One speakers are a two way bass reflex design with a 5.25 inch woofer and a 1 inch silk dome tweeter. Response is claimed as 70 Hz – 22 kHz with 86.5 dB sensitivity and 6 ohm impedance. They measure 6.7" W x 9.8" H x 11" deep. The price is $650/pair including 3 foot cables!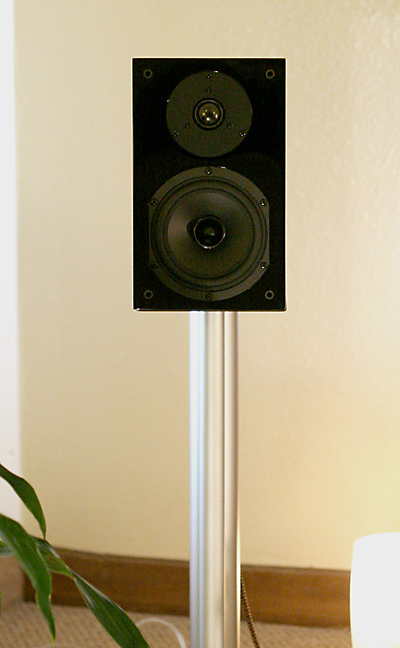 The sound from this combination was surprisingly rich and musical and is clearly a high end bargain. I'm thinking of getting one of these for a second system.
Atohm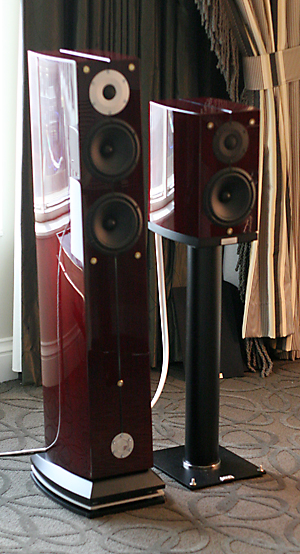 French speaker manufacturer, Atohm debuted the Grand Thrill Series loudspeakers, the GT1 mini monitor and the GT2 floor stander. They are distributed by VMax of Triangle fame. The brand has been in the US for one year and these models should be shipping by the time you read this. The sound was smooth and sweet, and somewhat atypical for a French design. Very engaging. $3500 for the GT1 and $6500 for the GT2.
B&W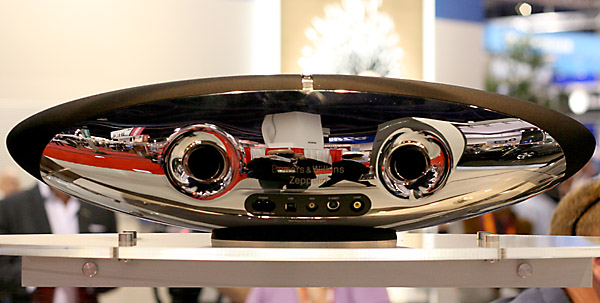 iPod docs were everywhere and in some surprising places. British manufacturer Bowers & Wilkins was showing their Zeppelin iPod dock featuring five drivers, 100 wpc of amplification and an S-VHS out jack for connecting your docked iPod to an external monitor. I didn't get a chance to hear it but its appearance was striking. $599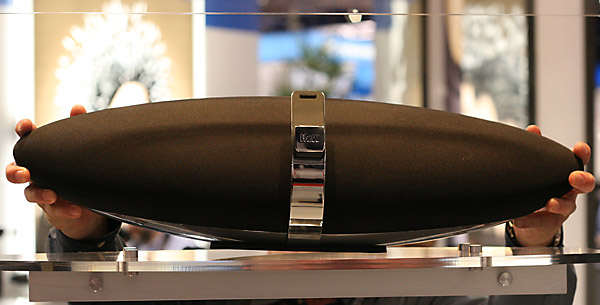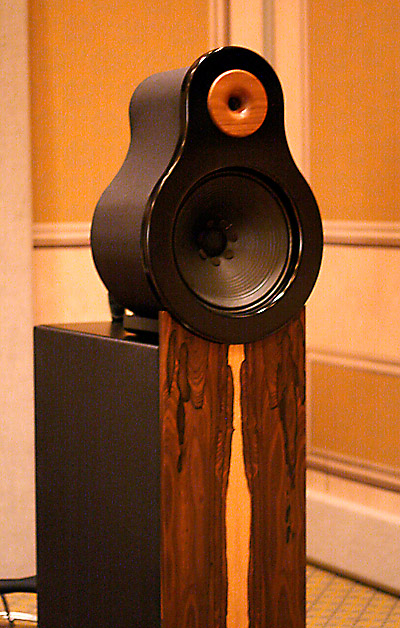 Bastani
At 16 ohm input impedance and 98 dB efficiency, Bastani's Apollo open baffle loudspeakers are an SET lovers dream come true. The speakers are designed around (2) 12" wide band drivers covering 100 Hz to 10 kHz with no crossover. They also feature (2) 1" horn loaded dipole tweeters and (2) 15" powered sub drivers. The sound was seductive driven by Navison SET amplification and among the best at the show. Yours for a mere $23,800.
Benchmark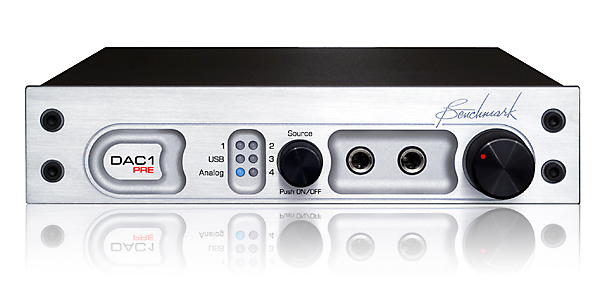 New from pro-Audio manufacturer, Benchmark is the DAC1 PRE stereo pre-amplifier. Features of the DAC1 PRE include: 4 digital inputs, a USB computer input, a stereo analog input, 2 stereo analog outputs, 2 headphone outputs, and a true analog master volume control.
According to Elias Gwinn, Applications Engineer, "The DAC1 PRE offers the music lover an elegant combination of the most advanced D-to-A conversion, outboard computer audio technology, pristine analog audio circuitry, and reference-grade headphone amplification. The result is a central device that can bypass the inferior audio circuitry in all connected devices."
Proprietary features include: Benchmark's jitter-immune UltraLock™ clock system, Benchmark's HPA2™ 0-ohm headphone amplifier, Benchmark's Advanced USBTM 24-bit native USB computer audio interface, and Benchmark's DAC1 conversion system. The analog circuitry is driven by LM4562 premium opamps. Other features include selectable headphone gain ranges, power/standby button, high-current analog output drivers, and premium connectors.
The new DAC1 PRE is expected to begin shipping worldwide in February, 2008 and will retail in the USA for $1,575.00.
Berning
New from David Berning are the Quadrature Z OTL monoblock amplifiers claimed to deliver 220 wpc into any impedance. Berning's unique ZH technology eliminates the audio-output transformer, by using radio frequency to change the voltage-current transfer characteristics of the output tubes from their normal impedance-plane to one suitable for driving a dynamic loudspeaker. The high-voltage, low-current tube impedance-plane is re-mapped to the high-current speaker impedance-plane through a special transformer at a constant RF carrier frequency of 250 kHz. Because the audio signal is riding on a carrier, it is not subject to parasitic elements of the transformer that would otherwise distort the audio signal.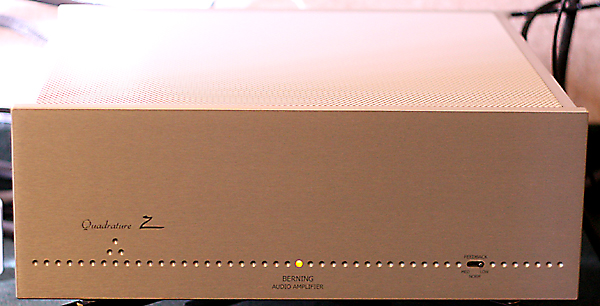 The Quadrature Z applies the ZH technology to a higher power application, and in particular higher output current capability. The term "quadrature" refers to the interleaving of the impedance conversion process in that parallel impedance conversions are taking place with phase overlap so that all conversion dead time is eliminated. This means that the coupling between the output tubes and the speaker in the Quadrature Z is much tighter than it is with the previous ZH products.
Other features include a rated 20,000 hour tube life, single ended and balanced input, low negative feedback with three settings and Stillpoint vibration damping feet. The sound was exquisite through German Physics loudspeakers. The Quadrature Zs are available now at $29,995.
Burmester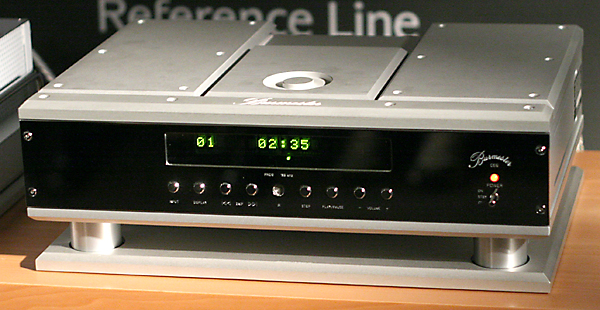 New from Burmester is the Reference-Line CD Player 069. Its belt driven top loading mechanism is built in house and it features an outboard power supply and upsampling to either 96 kHz/24 or 196 kHz/24. It also features balanced outputs, and an analog volume control. It's a hefty 110 lbs with the Reference Line power supply and can be yours for $49,995.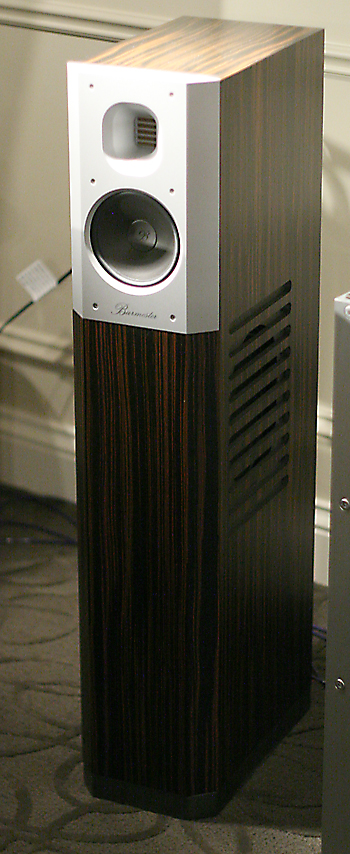 Cambridge Audio
One of the biggest values in high end audio is the offerings of Cambridge Audio and this spring will see the introduction of the Azur 840E Preamplifier and the Azur 840W Class XD Power Amplifier. The 840E preamp will be priced at $1299 and will include a sophisticated resistor ladder and relay based attenuator for volume/balance control, 8 inputs including two balanced, nameable inputs that will store tone and trim settings, balanced output and a hefty remote that will also control iPod track skip and volume functions. It will be available in Silver or Black.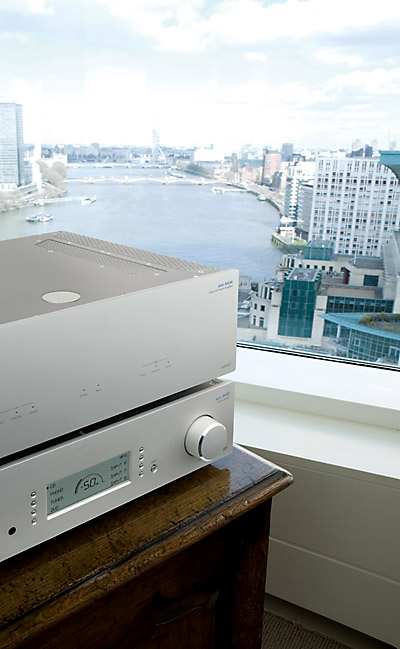 The 840W Amplifier delivers 200 wpc into 8 ohms, or 500 watts in bridged mono. It features Cambridge's Class XD (crossover displacement) technology. This unique design gives pure Class A operation at low levels, moving into an enhanced version of Class B at higher levels. This system should not be confused with Class AB, which inherently generates greater distortion at high levels than a pure Class B design. XD technology feeds a controlled current into the output stage actively displacing the crossover point in a new way so that the usual Class B crossover point no longer occurs at zero volume - the worst possible position in terms of distortion – but at a significant output level. The result is a smooth and linear transition between the two modes of operation, which differs significantly from the abrupt, gain transition of a Class AB amplifier. The 840W will be priced at $1900 and will also be available in Silver or Black.
All of this technology would be meaningless without delivering the sonic goods and these two pieces were quite excellent sounding driving Mordaunt-Short loudspeakers.
Clearaudio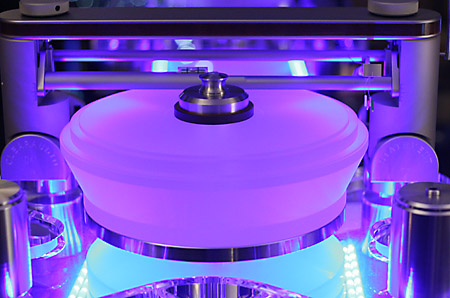 Clearaudio's The Statement turntable was on display. The motor drives a sub platter which magnetically drives the platter shaft, mechanically decoupling the two. The hanging counterweight seen at the bottom of the stand levels the platter. $150,000 including the linear tracking arm.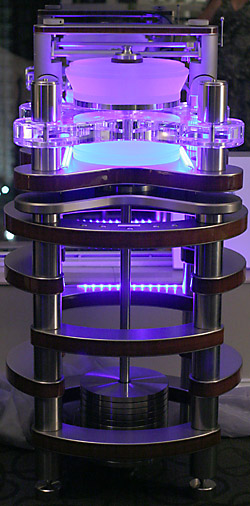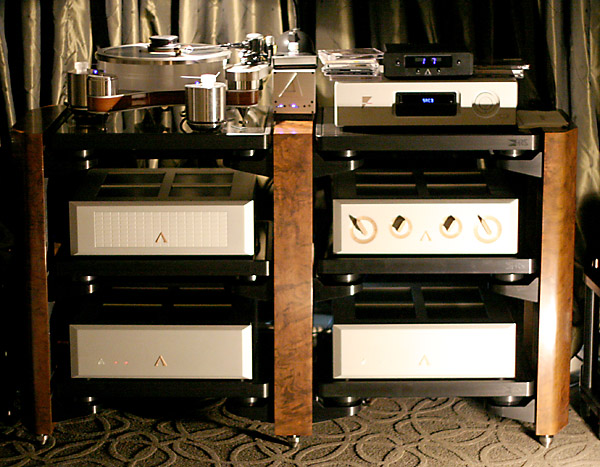 conrad-johnson
cj has several new offerings this year including the TEA1b phono stage, essentially a basic version of the TEA1 but without the large Teflon CJD capacitors. It's also half the price, $5,000, and is available now. Shipping mid 2008 is the CD2B CD/SACD player featuring a vacuum tube analog output stage. $8500. The ET2 Enhanced Triode Preamplifier features a single ended triode voltage gain stage direct-coupled to a very high-current output buffer. $3500 shipping in February. Lastly the LP66S Linearized-pentode stereo amplifier features the circuit architecture of the pricier LP70S but without the Teflon CJD capacitors and metal foil resistors. It is available now for $4,300.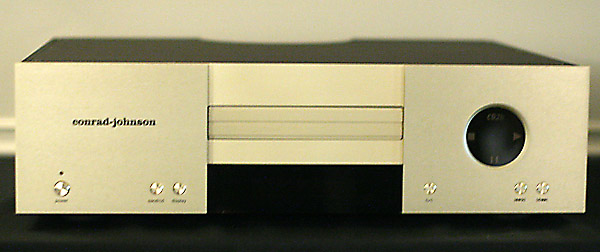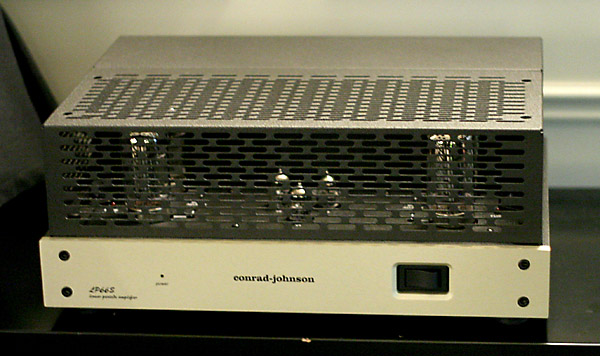 Continuum
Widely seen at the show was the new Criterion/Copperhead turntable/tone arm package from Continuum. The Criterion is derived from the Caliburn system and features a new bearing, arm board, pump and controller. The Copperhead tone arm is said to mount easily to most high end tables. I had the opportunity to hear the combination in a number of different systems throughout the show and the sound was uniformly spectacular. And for $55,595 it should be.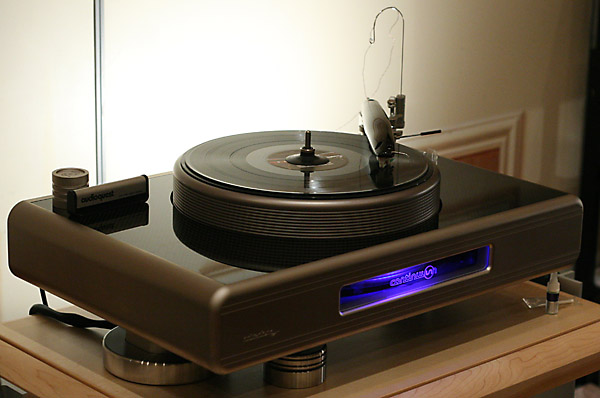 Dali
Dali's Helicon [400 MK2] loudspeaker features a hybrid ribbon and soft dome tweeter and two 6.5" mid/woofers. The stated response is 31.5 Hz to 27 kHz along with 88dB sensitivity. It is bi-wire-able, stands 40.4" tall and weighs 70.5 pounds. The fit and finish were exquisite and the sound was smooth and sweet with effortless highs. I would consider it far and away a top contender in the price range $6300/pair.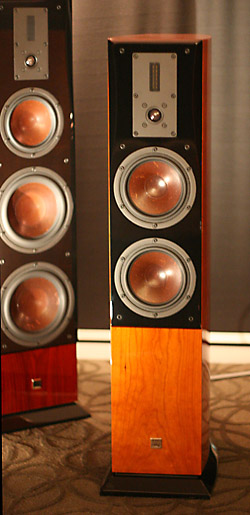 deHavilland
deHavilland's GM70 Single ended triode monoblocks could be heard driving Sonist Audio's Concerto 3 loudspeakers. They danced well together and made the Concerto 3s sound ridiculously good for a speaker costing $3495/pair. The GM70s put out 50 wpc and cost $9995/pair.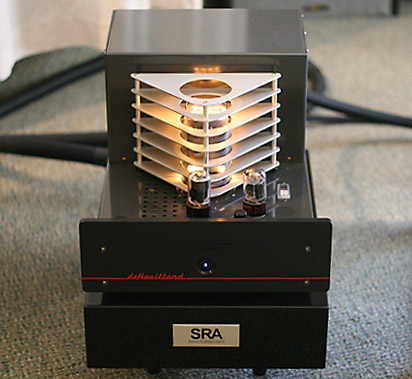 Esoteric
Previously sold only in Japan, Esoteric has introduced their specialty wire and cable to the US market. Products include component interconnects in RCA/RCA-digital and XLR/XLR-digital configuration. Other products include speaker cables, phono cables and AC power cables. 6N, (99.9999% copper purity), 7N (99.99999%), and 8N copper are used extensively throughout the line. Products will be available in February.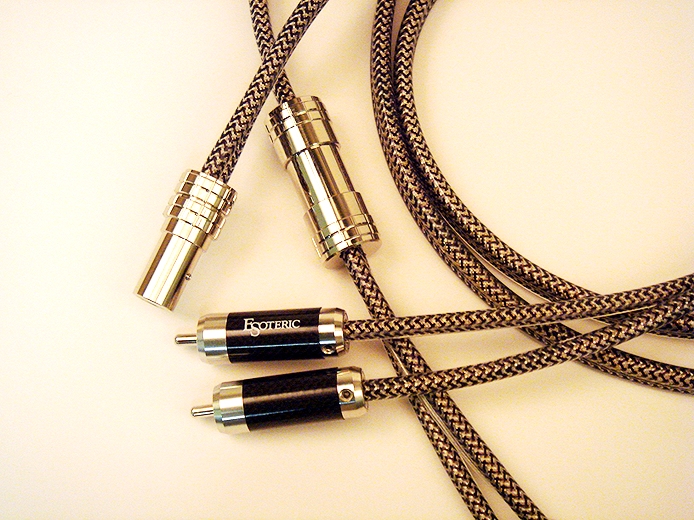 New in their highly acclaimed "X" series, the new model X-05 CD/SACD includes Esoteric's VRDS-Neo/VMK-5 transport mechanism. This new transport expands the VRDS family and is optimized for the high speed rotational requirements of Super Audio CD. The X-05 incorporates a newly developed, high precision aluminum turntable and a new drive mechanism for disc loading. The short spindle shaft design implemented in the X-05 contributes to very stable turntable rotation, reducing vibration and random movements associated with long shaft designs. The spindle motor incorporates a frequency generation sensor enabling self detection of rotational speed. Unlike conventional designs, this provides ultra fast motor response and optimal speed control capability. The X-05 uses Cirrus Logic's 24-bit / 192 kHz processing DAC, model CS4398, in a dual mono configuration and will be available in February with an MSRP of $5500.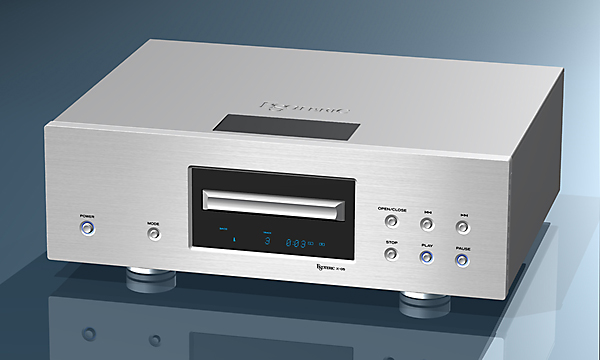 Also new this year is the A-100 Triode Tube Amplifier that can be used as a stereo power amplifier or as an integrated amplifier. This new hybrid technology incorporates proprietary circuitry and "cutting edge," tube technology. The A-100 provides 45 w/ch power output from KT-88's in UL-push/pull operation driven with a direct coupled cathode follower.
The A-100 is designed for pure power amplification but it also works as an integrated amplifier by selection from an operating switch on the rear panel designating DIRECT or LINE IN. LINE IN mode activates an input selector (RCA x3 / XLR x1), and also a high quality volume attenuator. For integrated amplifier operations an illuminated remote control is included. It will be shipping in February at an MSRP of $18,500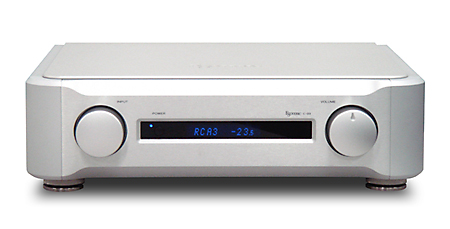 Esoteric has introduced their first pre-amplifier for the U.S. market the C-03. A dual mono pre-amp driven by dedicated channel, custom power supplies, the C-03 input stage, output stage, and power supplies are completely isolated. The C-03 has 5 line level input selections (RCA x3, XLR x2). During line level operation, unused inputs are completely disconnected from the circuit. This eliminates electrical noise generated by having unused inputs active. Based on variations in system requirements, an XLR phase invert function (input only), is included. There are 2 RCA output lines for bi-amp configuration and 1 XLR output line. The C-03 allows 3 user selectable output modes; RCA, XLR or RCA/XLR. The C-03 is currently scheduled for availability by April, 2008 with an MSRP of $9500.
Esoteric is now shipping 2 new master clock generators used for "WORD SYNC" among compatible digital devices. An external master clock generator re-times the synchronization between disc transports (or disc players), and digital to analog converters. This re-timing process achieves advanced three-dimensional imaging and exceptional acoustical transparency for playback of source material from CD, SACD, DVD-A and DVD-V.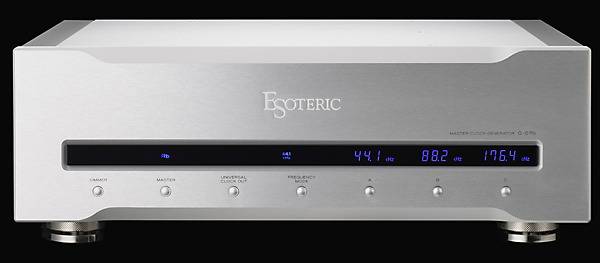 The design of the G-0Rb is fully optimized around its rubidium ("Rb"), oscillator core. The G-0Rb does not have a crystal controlled oscillator, therefore voltage variations and other external influences do not affect its accuracy. The rubidium oscillator is mounted in its own temperature controlled and electrically isolated oven, making the G-0Rb the most stable oscillator within the audio video marketplace. Incoming electrical power is connected through a high quality rhodium plated power inlet plug and fed directly to the main power supply without passing through any stand-by circuitry. The power supply uses specially selected capacitors for enhanced power stability. High purity 6N copper wire is used between the power supply unit and rubidium unit. (6N copper provides a conductive purity level of 99.99997%). The G-0Rb outputs a clock signal accurate to +/- .05 parts per billion.


The G-03x has an oven controlled crystal oscillator circuit ("OCXO"), on board. The OCXO is a small thermostatic chamber used to heat the combination oscillator core and control circuits at a fixed, high thermal level. This provides stability to the crystal and greatly reduces unwanted variations in the signal. As a result, the G-03x is exceptionally stable and outputs a clock signal accurate to +/- 0.1 ppm, even within severe thermal environments ranging from -20° to over 70°.
The G-0Rb and G-03x can be used with a wide range of digital source components accepting an external WORD SYNC clock signal. The G-0Rb (MSRP $15,000), and the G-03x (MSRP $4000), are available now.
Lastly, Esoteric has introduced a masterpiece recording of Beethoven Overtures with Sir Colin Davis conducting the Symphonie-Orchester des Bayerischen Rundfunks. Originally recorded in October of 1985 and released in 1986 it was made into a new SACD/CD hybrid disc using Esoteric D-01 D/A converters, Esoteric's G-0Rb master clock generator and Esoteric "Mexcel" interconnect cables. This re-master is being distributed exclusively by Teac Esoteric Company and TEAC America, Inc.
The remaster was directed by Okihiko Sugano and engineered by Tetsuya Naito (Sony Music, Nogizaka Studio). It was planned and produced by Motoaki Ohmachi (Teac Esoteric Company). MSRP is $55.00 and it is available now.
Fujitsu Ten
Fujitsu Ten was demonstrating the uniquely styled Eclipse TD 712z a single driver loudspeaker with dedicated stand. The 4.7" glass fiber cone has a claimed frequency response of 40Hz to 20 kHz, 6 ohms impedance and a sensitivity of 83.5 dB. Though they won't go very loud, they did sound quite good. They are available now at a cost of $7000.

Gershman
Also among the best sound at the show, was the Gershman Black Swans. They have a remarkable, you are there, see through quality. Frequency response is 18 – 24 kHz, 8 ohm impedance and 88dB sensitivity. $30,000/pair.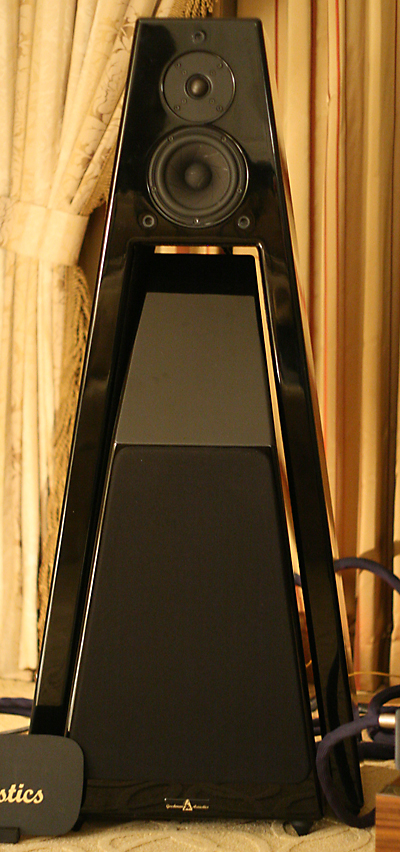 The more modest Avant Gardes ($7800/pair) produced some of the best sound in the price range and I would have easily guessed they were at least twice the price. Frequency response is 24 – 24 kHz, 8 ohm impedance and 87dB sensitivity. The effortless quality to the music these were making driven by VAC electronics, is usually only heard in much more expensive systems.
Granite Audio
Got Hum? Granite Audio's Ground Zero ground loop elimination system matches the ground impedance of every component in your system. It eliminates hum and lowers the system noise floor. Who could ask for anything more? $600.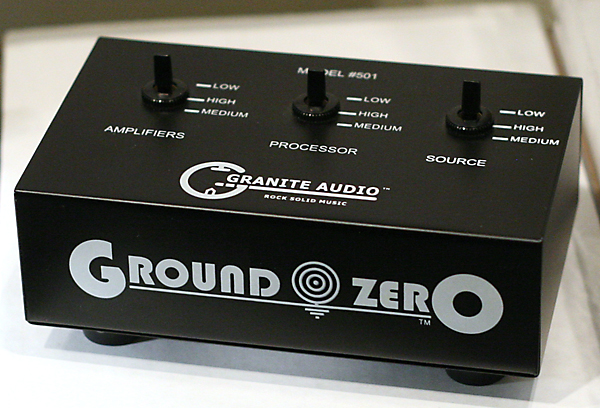 Hansen
Wow! The Prince v.2 from Hansen was, in my opinion, the best sound of the show. The 3 way, 3 driver system is mounted in a Hansen Composite Matrix Material cabinet. The mid driver and woofer are made by Hansen and the tweeter is made for Hansen. Each pair is hand built in Canada, the fit and finish is top notch and not only were they unequivocally the best sound of the show, they were some of the best sound I've ever heard. $39,000/pair.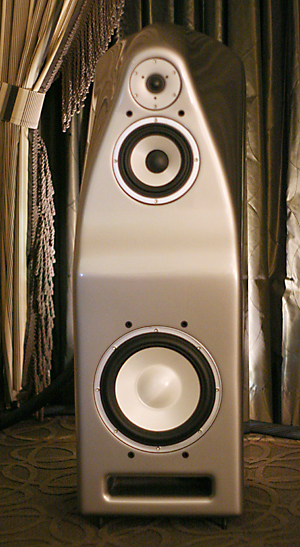 Kharma
The new Kharma Exquisite Galileo loudspeakers, driven by Tenor amplifiers, were another contender for best sound of the show. The frequency response is 30Hz to 100kHz, 91dB efficient and they are capable of 112dB SPL. The cost is $87,000/pair and they just started shipping.
Also new from Kharma is the Matrix preamplifier coming in April. $5000.