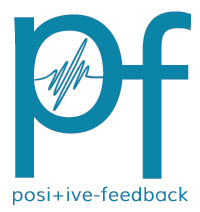 You are reading the older HTML site
Positive Feedback ISSUE
36
march/april
2008
Notes of an Amateur - March, 2008, Part 1
by Bob Neill
Shostakovich, Piano Quintet, Trio No. 1, Five Pieces. Julian Rachlin and Janine Jansen, violins; Yuri Bashmet, viola; Mischa Maiksy, cello; Itamar Golan, piano. Onyx Records Onyx 4026.
This is the famous Shostakovich piano quintet, preceded on the program by the composer's 'other' piano trio and some entertaining arrangements of short sections of other works, all played (and recorded) as well as you're ever likely to hear them done. The performers in this group (who leader and violinist Rachlin tells us is not just a super group but musicians with whom he has played in various combinations often) play the modest Trio and Five Pieces well and then play the hell out of the Quintet, which is how it should be. This is a live performance in Vienna, which explains the program some and, I'm sure, adds to the brilliance and exuberance of the show.
I don't know the trio well at all. It is a short, one-movement work (which Shostakovich originally called, more appropriately, Poeme, written when the composer was seventeen. Its role in the recital is to break ground. It is not a monumental piece of music but catches the composer early, with his later eminence still in the offing. It is educational as well as entertaining. The Five Pieces are adapted from some of Shostakovich's film scores and ballets by his friend, Lev Atovanian. They are, in turn, sonorous, playful, lyrical, sentimental, and rollicking; and come off very well in their new, more intimate form.
All this by way of a prelude to a blockbuster performance of the extraordinary Piano Quintet, considered by many to be the composer's greatest work. It was written in 1940, when Shostakovich was 34 (he lived to be 69) around the time of his Symphony No. 6. It has a synoptic feel to it, offering a window on his whole oeuvre. The Prelude works like an overture: it is lyric/elegiac, then wonderfully counter-pointed, finally bold and dramatic. The second movement Fugue begins with the piano laying out; it sounds like one of the slow, reflective movements from the composer's string quartets, giving us some of the most poignant music Shostakovich has written. Around three minutes in, the piano enters quietly, playing the fugal theme, then in another minute becomes a full fifth voice, providing a powerful contrast to the strings. By this point the music is more energetic, the fugue at full throttle. About halfway through the movement, we return to the opening mood, the piano again laying out—and then once again the piano tip-toes in. First in the bass, then up through its middle range. We always expect the treble range of the piano to play a major role in any Shostakovich work the instrument is a part of, singing vigorously and rhythmically high above stentorian bass; and soon enough the pianist's right hand enters, but in a restrained, almost punctuating, role. The movement ends quietly, back down in the bass range, the piano the principal voice.
Leading to a rousing third movement Scherzo, sounding a lot like the composer's flamboyant piano concertos, a rural peasant dance if there ever was one. This movement has an orchestral fullness to it. Quintets can produce a lot of sound. The Intermezzo fourth movement that follows returns us to the elegiac mood that dominates the second movement but has more forward motion, provided by a walking bass or pulse from the plucked cello. The cello's role is soon taken over by the piano in its upper middle range, the cello playing longer lines. The violin soon takes over the long lines, near the top of its range, the piano maintaining the walking bass an octave or so below its earlier level. This pulse is key to the movement's mood: even when the four strings play together we are always aware of its presence. The pulse eases off for the last moments of the movement, enabling the musicians to step directly into the fifth movement Finale, which opens with a piano alone, soon followed by its fellows but in a more subsidiary role than they have been heretofore. Soon we are back to the piano concerto feel of the Scherzo. Bold and rhythmic, sliding into near solo asides by the piano… and then back to the feel of the string quartets for a bit, the piano out…and then she's let back in while the work turns into an almost elegant dance. The Finale is synoptic of Shostakovich's oeuvre all by itself!
As a whole, the Piano Quintet is more fun and less intense than the quartets, more complex in mood than the piano concertos and most of the symphonies (which I don't know well). But it contains aspects of them all. Whether or not it is the composer's best piece of music depends entirely on which parts of him move you the most. But it's very fine and representative Shostakovich in a superb performance.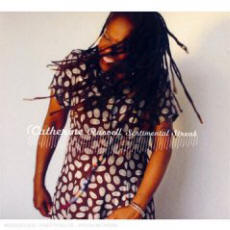 Catherine Russell, Sentimental Streak, World Village 468075.
One of the most enjoyable experiences to have when listening to a new voice is to not hear other voices—presences, influences—in our minds. I'm sitting here listening to jazz singer Catherine Russell and not hearing Dinah Washington, Sarah Vaughn, and Ella Fitzgerald (well maybe a little Ella). It's a new voice making its way through our house all by itself. Even my twelve-year-old son stops to listen on the way to the computer to play his games and comments favorably, which is rare. It is a fresh, warm but open sounding, confident and utterly engaging bluesy jazz voice. Her father was New Orleans (by way of Panama) jazz pianist Luis Russell, close friend of Louis Armstrong, among others. (Her mother was New York City bassist and vocalist Carline Ray.) In a word, she is clearly at home in the musical world she inhabits and her comfort is evident in every phrase she sings. As I listen further into the recording, other presences do emerge: Russell is a sweeter and more lyric Pearl Bailey, a warmer and feistier Ella—if any of this helps to give a clearer sense of her. But you really have to listen for these influences: they are well digested. And the musicians behind her, an assortment of twelve, are a great match for her. Sound is A-1. There is an earlier release, Cat, also on World Village (468063), which I will now proceed to hunt down.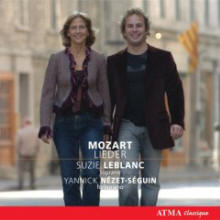 Mozart, Lieder, Suzie Leblanc, soprano; Yannick Nézet-Séguin, fortepiano. ATMA classique ACD2 2327.
Suzie Leblanc is the soprano the late Back Woods Barry and his wife Judy from northern Ontario used to push on me as the antidote for too much Emma Kirkby. Comparing musicians is a generally silly game but in this case it is also interesting. Kirkby strives for a pure whiteness of tone that is the Platonist's dream. It can do wonders for some renaissance and baroque music, which too much vocal personality (see Dawn Upshaw trying to do Purcell) can utterly ruin. Leblanc's voice is harder, stronger, and more worldly, ale to Kirkby's Chablis. It has an immediately recognizable 'character,' where Kirkby's almost defies character. Kirby's is easier on first hearing. Leblanc's demands to be heard.
Okay, enough of that. Leblanc's reputation is international. She has performed in the Boston Early Music Festival, at Tanglewood, in Berlin, London, Amsterdam and Vienna, with La Petite Bande, the Amsterdam Baroque Orchestra, the Freiberg Baroque Orchestra, Les Violons du Roy, Musica Antigua Köln and Tafelmusik. But she has done all of this within the professional world of classical music and not in the press. And while she has made more than 40 recordings, a great many have been for the small but superb Canadian label, ATMA, which has been floating between US distributors for several years now. I say all of this to scold myself for knowing so little about her before now. (ATMA is now distributed by Naxos USA.) And for not heeding Barry and Judy sooner!
Leblanc's Mozart has a quality we seldom hear in the composer's performances. She sings these lieder firm, strong, and clear, which does them a great service. This is thoughtful rather than ebullient, joyful music, already showing Schubert where to go. The fortepiano stays a step farther behind her than a modern piano would, clear but more modest in dynamic range. You would think that 22 songs listened to at a sitting would be a bit much, even of Mozart. It isn't.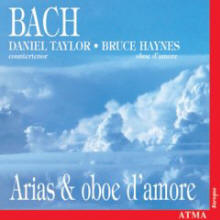 Bach, Arias and Oboe d'Amore. Daniel Taylor, countertenor; Bruce Haynes, Oboe d'Amore. ATMA classique ACD2 2158.
Periodically, I come across a favorite recording I've never written about (or even much thought about) which I feel really needs both my thought and some public words. Daniel Taylor's voice (Taylor has managed more public prominence than Leblanc) shows us why seventeenth and eighteenth century composers wrote so much music for countertenors (even after women singers joined the field): the beauty of a female alto coupled with that marvelous reedy (oboe-like) quality that only the male alto seems able to produce. What genius to put Taylor, a truly great counter-tenor, together with the (alto) oboe d'amore on this recital of arias accompanied by two oboe concertos. Genius because it induces us to consider an aspect of Bach some of us pay little attention to: sonic color. It is related to the choice to use the viola da gamba (over an organ or other keyboard instrument) as continuo with the St. Matthew Passion, something only occasionally done but which colors the whole work a shade darker and more melancholy.
The oboe is a coppery sounding instrument contrasted with the more open clarinet that sunnier composers seem to prefer. Even Bach's joyous moments are colored with, if not irony, then a touch of rich bitter-sweetness. So this highly focused recital, excerpts from three cantatas, two passions, and an oratorio and the two concertos, grasps a central aspect of the composer. Another fine ATMA release.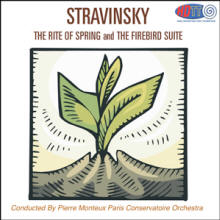 Stravinsky: The Rite of Spring and The Firebird Suite. Pierre Monteux, Paris Conservatoire Orchestra. High Definition Tape Transfers. HDCD 105. (Transferred from an RCA 2-Track tape. Recorded 1958.)
Rite of Spring: This recording is better than it sounds! On first hearing. Especially compared with the more lush and beautiful Firebird. What Monteux and RCA get across in this performance and recording is the crisp, raw passion of the music that is often subdued a little in more refined approaches. It took me two hearings to appreciate how good it is. Instruments are separated so effectively and the acoustic is so dry that it often seems we are listening to a chamber rather than a full orchestra. Even when strings play together, they barely seem to blend. Presence and immediacy are stunning. This is The Rite at its incisively brilliant best. Don't sit too close.
Firebird Suite: The Firebird Suite performance and recording are easier to love. This is some of the best recorded Stravinsky I've had the pleasure to hear. Brilliant clarity and high natural definition from violins and trumpets to double basses and low brass. Monteux is a star in bringing Stravinsky to compelling and vibrant life and he does so here once again. Coming to us on this CD directly after The Rite, it enables us to appreciate how well the conductor understood the great Russian modernist. It is hard to believe that, as the composer himself tells us, The Rite was already taking shape in his mind as he wrote The Firebird. It would be nice to have the full work—the finale is more powerful coming at the end of the full exposition of the ballet. But the Suite gets the essence of the piece, especially when there are no dancers to watch.
It helps to be reminded from time to time how truly extraordinary Stravinsky is. Reputations can get in the way sometimes.
System used for these auditions: Audio Note CDT3 transport and Dac 4.1 Balanced Signature; Blue Circle SBT/SBM separates; Blue Circle BC6000 line conditioner; Jean Marie Reynaud Orféo speakers; Audio Note Sogon and AN-Vx interconnects and Audio Note Lexus speaker cable.
Bob Neill, in addition to being an occasional equipment and regular music reviewer for Positive- Feedback Online, is also proprietor of Amherst Audio in Amherst, Massachusetts, which sells equipment from Audio Note, Blue Circle, Manley Labs, and JM Reynaud, among others.