My favorite mini loudspeaker is the currently available Amphion Ion—a most revealing little transducer, though rather costly at $1400—as my reference JM Labs Cobalt has been discontinued. Well, along comes this surprise entry; a new U.S. designed, but Chinese built, little wonder called the Evidence. The manufacturer and designer is MHI, Musical Heart Instruments, a division of Micro Home Installation, Inc., Corona, CA. They are available from Brooks Berdan LTD, in Monrovia, CA. They currently make only one model and this is it! You can have any color you want as long as it's gloss black lacquer.
It's equal to the Ion in midband transparency, is a bit smaller, and costs a paltry $600 in beautiful black lacquer. With its high tech design—for the music loving audiophile and nearfield experimenter alike—it has more midrange definition and high band air than anything made under $1000; maybe even more. They are as detailed as my Stax Headphones and reveal everything on one's music. One can spread them wide for a wild, live experience, or bring them together with your iPod and computer for nearfield monitoring. Add a subwoofer for a full-range sound or play them as is. You want ultra high definition, beautiful looks, small size, and at a low cost? The Evidence is your ticket.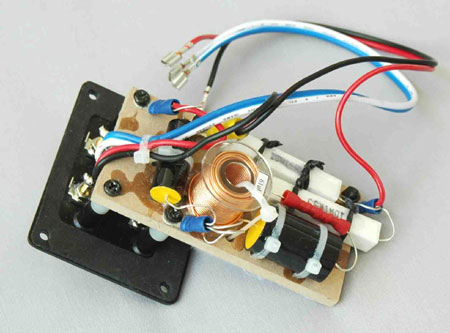 Being only about 6 inches wide, 9.5 inches high and 8 inches deep, they sound HUGE on just 8-watts per channel from my Cary SET amplifier. Efficiency is an understated 90dB. They are rated at 4 ohms and should be bi-wired [don't use the supplied jumpers]. Now here's what's so new about these cool speakers! The 4.5 inch robust Mogami paper midrange/woofer, sourced from Pioneer of Japan, is ran full-range. The driver is surrounded in a high tech cloth that will last vastly longer than foam. It has a response from about 60Hz to 10,000Hz. A crossover controls only an exotic two inch long ribbon super tweeter, also from Pioneer. This is crossed over at about 10,000Hz and extends up to 100,000+ Hz! Ultra well built with knuckle breaking solidity, this baby has no vibrations to upset either driver. Grooves cut between the stacked drivers separate their baffles to assure better isolation and performance. There's virtually no solder used as most parts are professionally crimped in place for less coloration. There's no grill cloth either; just an attractive black metal mesh over the mid/woofer and a nicely recessed silver ribbon tweeter just out of harm's way. The cabinets feature a small rear port to augment the bass response. Very cool.
I wired them with the recently reviewed superb new Harmonic Technology Reference 9+ Biwire Speaker Cables. Along with the Cary SET 300B amp, I used an E.A.R. 834L linestage and ModWright Sony 999 CD/SACD player. Interconnects were also by Harmonic Tech and included the latest Cyberlight Interconnects with the Battery Pack Type 4. The speakers were placed on Target stands about six feet apart, parallel to each other with no toe-in, with the tweeter at ear level.
From the Manufacturer:
Specifications
Tweeter - Pure aluminum ribbon

Woofer - MOGAMI paper cone 4.5"

Impedance: 4 ohm

Frequency Range: 65Hz to 120,000Hz

Sensitivity: 90 dB / 2.83V / m

Max. Power: 75 W RMS.

Crossover Frequency: 10,000Hz

Break-in period: 50 hours

Weight: 4.0 kg (8.8 lbs.) each
First impression: where did all that sound come from? They look small, but sound big, open, and scarily detailed! They have mountains of midrange definition, spectacularly delicate and extended highs, power and snap galore, and a soundstage like Mount Wilson. Vocal reproduction is their specialty. According to Ed Kojima, their designer, having no crossover in the mid frequencies allows vocals to be neutral and detailed. He got it right, as vocals are truly astounding; you are there! If the performers have bad breath, you'll know it!
Imaging of this nearly perfect point source speaker is, needless to say, spot on tight. They are even more focused than my reference Cobalts, while being fast and clean, with no discernable distortion or driver breakup [at least none with my little amp]. Simply put, what they have is phenomenal definition in the mids and highs with top notch focus. Naturally with such small-ish drivers, what they lack is any deep bass, and to a great extent, power and weight in the midbass. Of course I did all my listening without a sub but I would think that you would want one eventually, these are that good. Any quality sub will work just fine crossed in at about 50 or 60Hz.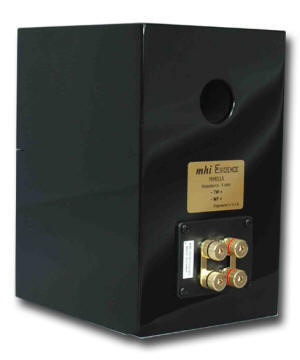 I discovered that you don't want to aim them at your ears like many highband deficient designs, there is just too much energy. When I put them parallel to each other, they exploded with music and sounded quite right. Put them about a foot from the rear wall for best bass; further out for best depth. If you buy these, you'll toss out your earbuds and never go back.
I found that with such extraordinary definition, I could listen at a lower volume and be just as satisfied. Classical music needs subtlety to sound right and the Evidence's come amazingly close to what I like. You may want to pump up the volume with jazz and rock, and the Evidence's do that, too. It's fun to have nearly limitless highband performance in a speaker this size. It so enhances the harmonic structure of horns, cymbals, and the like. Plus, vocals are mellifluous to the max. Female voices are finely present.
This brand new, low cost, super high definition loudspeaker gets my attention. The MHI Evidence Loudspeakers are tiny and elegant. They require few watts, but yield big musical sound. With definition like my electrostatic headphones and designed with exotic cutting edge thinking, you'll see and hear the performance right in front of you. These are probably the best small sized, point source loudspeakers I've heard that are currently available. Their only flaw is lack of bass. Other small designs work hard to give you bass by sacrificing mids and highs in the process. Some others use cheap, common drivers and construction that's light weight so as to be affordable. These do neither. The Evidence's are a sonic over achiever, very beautiful and well made, and inexpensive; at least right now. Highly recommended! Robert H. Levi
Evidence
Retail: $600 per pair
MHI Musical Heart Instruments
Micro Home Installation, Inc.
Ed Kojima, President
1235 Countess Drive
Corona, CA 92882
TEL: 951. 898. 1121
email address: microhomeinc@msn.com