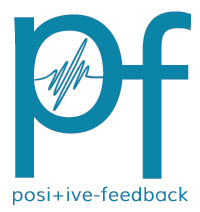 You are reading the older HTML site
Positive Feedback ISSUE
34
november/december
2007
John Corigliano's Red Violin Concerto, and Sonata for Violin and Piano: A Review
by Max Dudious
It has been my occasional experience, receiving an album for review, that I have no frame of reference, nothing to relate it to, and I don't know where to begin. Then, digging into my 1935 edition of the Grove's Dictionary of Music and Musicians, I'd find a clue in the chronologically listed Oeuvre, or works by that composer, and I'd try to get my hands on an early somewhat well-known work that might serve as a road sign. I mean, some seminal work by the composer under study that might surrender a clue as to where he is coming from, so the work for review tells us where he wound up. This is often true of the juvenilia of novelists as well.
This is similarly true of the latest disc of John Corigliano's Red Violin Concerto; Joshua Bell, violin; The Baltimore Symphony Orchestra, Marin Alsop, cond.; (Sony 82876-88060-2). While the contemporary Concerto was composed over a seven year span begun in 1996 and finished in 2003, when he was 65, this disc also contains Corigliano's often witty and playful piece (Sonata for Violin and Piano, Joshua Bell, violin & Jeremy Denk, piano), which was begun in 1962 and finished in 1963, when he was 25. The CD should come with a sticker advising the listener to hear the Sonata first. Thank you, John Corigliano.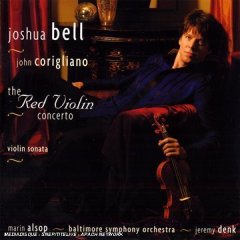 I happened to be present at Meyerhoff Symphony Hall, in Baltimore, on June 16th, 2003 to hear the "World Premier" performance of the Concerto, and I had some inkling of what it was about—beyond the marvelous overall effect of the piece, which alternated between dazzlingly virtuosic playing by everyone involved, and beautifully romantic sonorities. I had this feeling the composer was looking back to the big romantic violin concertos of, particularly, Brahms and Bruch. Corigliano is intimately familiar with the major works for violin, as his father was a once-a-season soloist with the NY Philharmonic Orchestra, in his role as concertmaster for more than 25 years. Corigliano (born in 1938) mentions the "the great tradition," and Ravel's Tzigane, and Chausson's Poème in the album notes.
Alternatively, I think The Red Violin also looks forward to the angular sounds of Hindemith and Bartok. It may be a cliché to say The Red Violin Concerto is an attempt to bridge "the great tradition" of the violin concerto of the late 19th century and early 20th century to the contemporary violin playing techniques and compositional developments of the early 21st century. But there are passages in the first movement that seem to pivot back and forth between the conventions of the Romantic and the Modern. Sometimes, in the cadenza of the first movement, Corigliano gives the soloist juxtapositions of the musical centuries from bar to bar. The concerto is all that, and also much more. The work demands the violinist have great pyrotechnical skills, and the accompanying orchestra have great precision.
Which brings us to Joshua Bell. Josh is the current champion among American violinists, able to float like a butterfly and sting like a bee, to soar like an eagle and sing like a nightingale. I've heard him perform in concert perhaps a half-dozen times over the years, and he only seems to get better. This CD shows off a whole range of his ability to play with both speed and cleanliness. He hits all the fast notes spot on without mis-fingering, his glissandi (slides) are done with very crisp stops and starts, his double-stop (two string) bowing is likewise brought off with great accuracy. You never feel that he is out of control, or stretching his technique to accommodate the music. Actually, I feel like he has resources yet uncalled upon in his presentation of The Red Violin. He might be at his best in the slow third movement, which is suggestive of Barber's Adagio For Strings, though it is scored for full orchestra. In the Bartok-like finale, he makes his instrument growl and snarl sometimes resembling animal noises. He's got all the moves.
In the Violin Sonata Bell plays with a joyous freedom the syncopated, a bit jazz influenced, score that Corigliano fils (aged 24-25) wrote for Corigliano pere. This sonata won a Spoleto Festival prize in 1964, the first piece of chamber music to do so. So it is not a bit of padding to fill out the album. It sounds to me like the kind of thing Gershwin might have written if he had lived longer. In the second movement the piano plays around with some chords in the style of the Gershwin preludes, while the violin plays some sweet, long singing lines. The sonata is a worthy companion to the concerto, and Bell plays it with vigor.
The Baltimore Symphony Orchestra is now like a fine Stradivarius violin that can play however an expert violinist wants it to. During the tenure of the great Maestro Yuri Temirkanov, many key players came in to fill vacated first chairs. The Orchestra, always known for its good string tone, improved when an even stronger concertmaster came on board. Similarly, there are new and improved first chairs in the second violin, cello, reeds, brass, etc., sections. While the great majority of BSO players have enjoyed tenure, (one of my neighbors has played his bass-viol here for 25 years) there has been considerable turnover as key first-chairs came on board during the Temirkanov era. The orchestra played Russian music to please the maestro, American music to please certain guest conductors, Mozart for other guests, Spanish music for still others, etc. etc. The orchestra's reputation moved up a notch from being a good regional orchestra, to becoming among the best in the land.
This recording of the BSO shows what it can do under its new Maestra Marin Alsop in its home, Meyerhoff Hall. She is a very knowledgeable and personable individual with a great commitment to contemporary music. Known as a "student of Leonard Bernstein's," she has her own take on emotional music. She also brings a lot of discipline to a performance that demands great precision, as she does with the Red Violin Concerto. Recently I heard her conduct a concert that featured John Adam's Fearful Symmetries, and Gustav Mahler's Fifth Symphony. She handled each with such grace. I'll keep an eye out for BSO CDs, under the baton of Marin Alsop, to be released soon on the Naxos label. If the new Corigliano recording is any example, they all ought to be pretty exciting.
The CD as a whole has terrific production values, and captures the sonic thumbprint of the Meyerhoff Hall as I've come to know it as a subscriber over the past two decades. It was a good design when it was new (in 1982), but as the acousticians advanced their art and science, the management of the hall decided to tweak it some more, covering some reflective surfaces with a burlap kind of fabric, and building in a battery of acoustic traps on the rear wall and at other key spots. This has tamed unwanted slap-echoes and reflections, and made the hall sound noticeably "sweeter," without losing its ability to capture detail. If you've never purchased a recording made in this hall, this CD is worthy on that score alone. Hats off to the Sony engineers who have captured the sound of a very good acoustic.
So, the music is fine and represents the end point of a lot of iterations which began as soundtrack music for the film, The Red Violin. I like iterations. I think many iterations allow for bringing an idea from bud to full flower. The music on this disc reflects the personality of John Corigliano, which is worthwhile as he is a major American composer. The soloist, Josh Bell, gets to strut his considerable stuff, and we can see why he is now the Michael Jordan of the violin. The orchestra, which has gone through a do-over, is of interest as an organization on the rise, and it gets a chance to show what it can do. The conductor gets a chance to show how well she handles a very contemporary piece. And the Sony recording engineers get a chance to show what they can do with the acoustic of the Meyerhoff Hall.
Altogether, I give this recording an A-. The reason for the minus is, the recording is not available in SACD hybrid (Sony's own invention), nor DVD-A. But still, recommended most highly. A very interesting disc.
Why'n'cha funky-chicken downa store, and tell 'em Max Dudious sent ya. Ciao Bambini!
Max Dudious