Getting to review the new PS Audio DL-III Digital Link DAC was as simple as taking it off the hands of another PF reviewer. That is, his generosity in letting me try out this unit in my system resulted in a swap. I traded him a CD player I was supposed to review that didn't exactly live up to my expectations in my system.
Upon initial inspection of the DL-III, one cannot help but notice that its build quality is more than sturdy. A handsome component, the thing even has silk screened on the back, PS Audio, Boulder, CO, USA. Something that really appeals to me though is the connection options. There are XLR and single ended outputs, (hook up one at a time). Digital inputs include two methods, SPDIF and USB. "SPDIF is a serial digital interface available as either an optical (toslink) or coaxial (RCA)". Use USB for most computer hook ups. So far I have not used this option but plan to in the near future and will report on it. Under the quick start guide PS Audio warns that "Bits ain't Bits." In other words use quality cables when hooking up this unit. Gotcha! One two or three digital inputs can be connected at the same time. Then simply select one from the front panel input selection button. There is also an auto scan feature that selects the input for you. This feature is the preferred method at my house. The DL-III also upconverts 44/1 to either 96 or 192kHz sample rates. This function is also selectable from a front panel button.
There is no on/off switch so the DL-III is on at all times when plugged in to the old AC. According to the manual, the current draw is negligible so the DL-III scores points for the green side of life. This is yet another positive aspect of this unit and we haven't even gotten to the reproduction of music yet. The manual is concisely written yet packed with useful information for the successful operation of this unit. What caught my attention was the mention of an internal fuse. As with the HiFi Tuning fuses I wrote about a few issues ago, PS Audio also has their own version of ceramic fuses. Whether they are made for PS Audio by HiFi Tuning of Germany or not I cannot say. But it is nice to see that PS Audio has paid attention to even the smallest details in the design of this product. I did not open this unit up for fuse inspection. So I am not sure what kind of fuse it sports.
The DL-III was installed in my system and quickly went to work. Hooked up to my Musical Concepts modified Pioneer DV-414 unit before the Pioneer went south, I did get to hear a glimpse of what that old unit would do as a transport. Not bad. Next came a stop gap unit, a Panasonic DVD-S53. It was not too shabby for a $99 unit. Finally a Play Station 3. Yes a PS-3! What prompted the purchase of the PS-3 was the purchase of a Sony XBR 46 inch LCD TV. Wow, what a beauty that new TV is! We wanted to get the most of that HDMI connection. But with the format war currently going on in the video realm, the choice was obvious. The Play Station is a jack of all trades and a wise choice in these uncertain format times. If you think audio is neurotic, just try researching for a new TV or high definition DVD player. In comparison high-end audio is relatively simple.
The PS-3 was the most logical choice for several reasons. First and foremost for me it plays CDs, and some current Blu Ray players do not. It also plays Blu Ray disks of course. It plays regular DVDs but doesn't up convert them and also doesn't up convert 720p games. But I tell you my regular DVDs have never looked so good. It also plays SACDs, but you are restricted to 48khz if you use the optical output. Most importantly for my son, it plays games. There are too many features to mention here, but four USB connections in front and LAN and HDMI 3.1 in the back along with Wi-Fi and 7.1 channel Dolby True HD capable make it a no-brainer. Besides Sony already has an upgrade just as soon as I make a connection (which includes an upgrade on the optical connection) to my PC. If Blu-Ray fails we can still have boatloads of fun with this thing. While it might have been more practical to buy a HD player of the more conventional vein since I have many regular DVDs and only two Blu Ray discs, the package I bought came with one game of my choice and an extra wireless controller. In addition, for all you dads like me who are game controller challenged, a conventional remote. Oh and the fan noise is really negligible.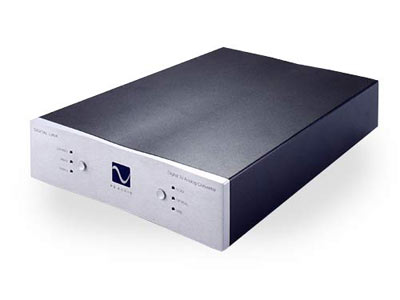 All of the above praise of the PS-3 would be useless unless it delivered as a transport. It works very well as a transport connected to the DL-III via its optical connection. My optical cable of choice is the Analysis Plus Digital Optical cable. Although always in stand-by mode when first turned on, it did sound a tad cool. In the months since I have had the PS-3 though it is well broken in. Truth be told I have never heard a more three dimensional presentation from the Eagles Hell Freezes Over CD as I have through these two components. The crisp detail, dimension and clarity were beautiful to behold. It's best to set the PS-3 to PCM and not Bitstream in order for it to open up. Maybe some day I will look into a dedicated transport for my CD's only, but I am in no hurry.
The PS Audio DL-III also saw a bit of service connected to my modified Pioneer DV-414 player as I said above. I used to think it was a pretty good transport as well as a DVD/CD player but times do change. It was slightly closed in and colored compared to the PS-3. It was also less clean and surprisingly not as involving. This last one was a surprise because many a CD was enjoyed through the Pioneer. I also had a chance to try the DL-III and PS-3 with JPS Digital power cords. Forget the stock cords for these units. The JPS cords opened up, cleaned up, and jacked up the detail, smoothness and musicality in a most excellent way. It is well worth investing in an after market power cord for the DL-III. In fact the owner's manual encourages it. It is to the DL-III's credit that changes in transports, cables, and power cords were easily discernable through this handsome silver box.
If many of you remember back to the dawn of the digital age you will remember that first, second, and even third generation CD players sounded lousy. Then came the remedies. Digital cables of all types, jitter devices, vibration control accessories and then digital to analog converters or DACs. Soon it seemed that DACs fell out of fashion for straight one box CD players. Which brings us to the present and the one box Universal players. But DACs never really disappeared. Whether filtered or not, up-sampled or straight 16/44, the outboard DAC is here to stay. Yeah! After all it is tempting for us gear heads to think that you can slap a box to the end of another piece of equipment and make it sound better. It certainly appeals to me. As far as choosing a new CD player, the choices are many, too many it seems. Should one go for a straight CD player of the 16/44 variety, an up-sampler unit, or a universal player? Should it be solid state or have tubes? Will it come from China, Japan, Europe or the good old US of A?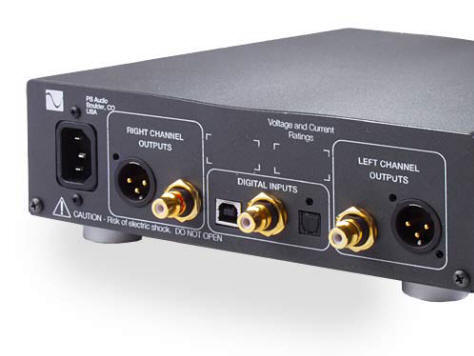 Honestly it has been more difficult to try and describe the performance of the DL-III than any other component that I have reviewed. In a sense the DL-III was more like a plug and play unit than any other component that has graced my system. That is for me a very high compliment. Having installed it, I immediately started enjoying music through it instead of dissecting the sound. Rumors of the DL-III as being one of the warmest digital devices of late seem justified, but not overly so. It does not exhibit warm, euphonic coloration either. It walks the fine line between a slight warmth and neutrality; it retains natural warmth. It is very detailed yet not to the point of sounding overly analytical, etched, dry, sterile, and above all bright. This abundance of details was evident when listening to the music of the Eagles Hell Freezes Over. Having sat on my shelf for over a year I just had to try it on the DL-III/PS-3 combo. This is kind of like trying out the Fifth Element, Gladiator, and the new King Kong (which we also did) on a new DVD player to test its mettle. OK maybe it is not the greatest classic audiophile sonic blockbuster and even after a rather long hiatus, the dimension that this DAC displayed on this CD was simply awesome. It made my old modified Pioneer sound stodgy at best. The air around Henley's drum kit, the skin tone on the drums, the minute yet very natural inflections in Walsh's voice sank into the small group of listeners in my den with ease. Likewise on the CD, Joyful Noise and the track "Home in Your Heart" where the texture in both Solomon Burke's voice and Derek Trucks guitar sounded so true and palatable. The midrange had body and articulation. Trucks let out all the stops on this disk with his electric guitar. His phrasing and bending of notes is simply soul stirring. This CD is killer!
Moving on to another string bender of the highest order is Pat Metheny's solo effort Secret Story. Track four "Finding and Searching", will stretch the performance of most systems not up to reproducing the eclectic array of string instruments and synthesizers. The DL-III reproduced the many types of tone colors with ease. Again on track seven "Rain River", listening to the electric Sitar and piano I was reminded of the Eagles disk with the naturally spacious and dimensional reproduction that was spreading over my system. Likewise the Pat Metheny disk, Letter From Home, on track eight to track twelve the many colors, sounds, and musical details in these tracks were reproduced naturally.
It is almost a given to read in a review that a solid state product has the "qualities" of deep and tight bass. The PS Audio DL-III has the qualities of deep, tight, and solid bass. But more important to me is the way in which it reproduced the dynamic shadings of an acoustic upright bass. Take for instance the Bass playing of Dave Holland on Gary Burtons' Like Minds. And as long as we are on a Metheny kick, the Great Charlie Haden along with Metheny on their Beyond the Missouri Sky CD. From "Waltz for Ruth" on Missouri Sky to "Question and Answer" on Like Minds, one can hear bass notes that range from supple to muscular. Bass that is quick, clean, and textured. If it was deep and tight, I'm sure I was listening to some bombastic rock or romantic classical recording.
The DL-III is quite a bargain for what it is. But PS Audio has officially sanctioned upgrades for it that won't void the warranty. I can hear all of you tweakers scrambling for your soldering irons. But hold on, this upgrade does not give just any solder slinger license to freely dive into its innards. Underwood Hi-Fi has been chosen as the official company for many PS Audio component upgrades including our DL-III. It seems if you build a component to a price point in the USA and it is affordable, there are compromises. Parts selection would seem to be one of them. Enter Underwood. Chris Johnson, former president of Sonic Frontiers, designed the modification for the DL-III. There is a level 1 and 2 mod that includes new resistors, diodes, capacitors, wire, and installing chassis damping material among other things. With this in mind the very areas that the Underwood mods improve were just the places that I thought the DL-III could be improved. There is a little glare in the upper mid range. Bass, while solid and clean, could stand a little more weight and fullness. The mods are said to improve sound stage and background quietness. These last two I would like to hear because the DL-III is pretty good in those areas already. But please don't be put off by this. I have heard famous and expensive brand name high end products that have been improved by modifications. You would be surprised. Kudos to PS Audio for this move!
So with all of this praise heaped on the little DL-III does it rank as one of the best DACs out there? I think for the price and where it is made (USA) and its performance, yes! Products from companies like Benchmark, Bel Canto, and PS Audio have a lot better DAC chip sets and component parts to work with and design a product around than high end manufacturers did ten, five or even two years ago. This would seem to make some of the old, expensive war-horses obsolete. With the option of a USB input the DL-III plants its foot squarely in the future for serving music. With its other connection options it pulls in the large CD collections many of us have and refuse to part with and upgrades them along the way. The official mod by Underwood is just the icing on the cake to this old modder and tweaker. The fact that I bought this review sample means I want to play and enjoy my music right NOW and not worry which format is best. I admit to not shopping around as much as I should have, but the DL-III won my heart over almost instantaneously. Francisco Duran
DL-III Digital Link DAC
Retail: $995
PS Audio
web address: www.psaudio.com