It's not often I get a face-to-face meet with the designer of a component I'm going to listen to and live with for a while. At this year's Rocky Mountain Audio Fest Dave Clark introduced me to Wilson Shen and his lovely wife Winnie of Clayton Audio. We all shared a wonderful wine and dinner, and had a great time talking about everything (it seemed) but audio. Passionate and animated about life and music, Wilson is not only a great amplifier designer; he and Winnie are fun people to spend some time with, even within the constraints of an audio show. I believe the personality of a designer is always reflected in his product. So, when Wilson asked me if I'd like to take the Clayton S40 amplifier home with me for a listen, I eagerly accepted.
Not a flashy look, the S40 is a solid, plain black box with a power switch on the front and substantial cooling fins on top to dissipate all that Class-A energy. The back is all about business. You'll find solid binding posts, high-quality RCA inputs, three fuses, and a dedicated ground connection. The S40 is the smallest, least expensive of the Clayton line of amplifiers. For $4000 retail you get:
Rated power output: 50-watts continuous RMS into 8 ohms, pure Class-A, 100-watts continuous RMS into 4 ohms, pure Class-A

Voltage gain: 26dB

Input impedance: 47K

Negative feedback: Virtually zero

Dimensions: 9.25" W by 20" D by 9" H

Weight 42 lbs
Don't be fooled by the S40's 50-watt power rating. As Terry Rossen, Clayton's marketing director told me "because the S40 is a pure Class-A design it can drive most speakers to high levels, it plays louder and with more authority than you might think. We've also gotten feedback about changing the name to the S50, some think it's only a 40-watt amp."
Remember, in a Class-A amp the output device is always on, it conducts all the time and never switches off. Because of this, it is possible to use a single output transistor (or tube). But, because it never switches off, it runs hot and wastes energy which is dissipated in heat. Better sound from a simple circuit?
A more efficient Class-AB amp uses a pair of output transistors (again, or tubes). Each output device conducts for about ½ of each cycle, while the other is turned off. A more complicated circuit.
You might think $4k is a lot of scratch for 50-watts. Don't make that mistake. This amp is all about quality, and after listening to it I decided Terry was right about its punch. No worries about the S40's ability to crank.
A first for me, a pure Class-A solid-state design has not graced my system before the S40. When I got back from the RMAF I wasted no time. It was up and running in minutes, although I let it warm up for ½ hr. My immediate impression? This was a neutral amp, though not one that is really lean. Accurate and more pleasing than any solid-state design I've heard in a long time. The little Clayton had a soul that painted remarkably rich textures. I hate to say it, but it is tube-like in some respects.
If by tube-like do I mean a lush mid-range with lots of air and bloom? Then true enough. What the Clayton has that most tube amps don't is the ability to render highs that are decidedly not rolled-off, and bass that is fast, full, and accurate. Dave and Carol Clark have been smitten with the Clayton amps over the years. Now I know why.
This year's RMAF entertainment featured the Fry Street Quartet, IMHO the best music ever at the Denver show. Why? Not only was this a stellar string quartet, but the real key was location. They played in the lobby with no amplification. The live music came right through, just as it should. Imaging? Soundstage? Nonsense. Pure mono was a thrill.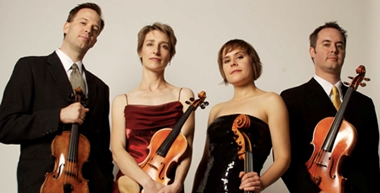 I decided to take advantage of short audio memory before my synapses started to misfire and listen to some string quartets on the S40. As the night wore on my first impressions were confirmed. Other nuances also started to become obvious. Dynamics, micro and macro, are vividly portrayed by this little gem. I heard details in pianissimo sections that were previously absent and dynamic swings to fortissimo passages that were never portrayed with such passion prior to the arrival of the S40. Images were life-like; in a way you could reach out and touch.
Speed and drive were razor-sharp when required. Violins had that cutting bow-meet string quality you could experience. The treble sparkled and danced around the soundstage. Always distinct, but never calling attention to itself. Whether it was prominent or whispered, the sound was never etched, no fatigue factor. Mid range was incredibly rich and pleasing unlike most solid-state. The result of pure Class-A; coupled with the virtually zero negative feedback design? The bass was clean and well-refined. Simply the quickest, most articulate bass I've heard.
At first I thought the almost-perfect midrange was its strong point. Then, I changed my mind and voted for the oh-so lovely highs. After more listening, I decided it had to be the lightning-fast coherent bass. I was wrong.
The real strength of the Clayton S40 is its ability to synergize the entire musical picture.
The more I listened, the more the complete picture came to mind. The S40 has an organic rightness to its character, that is, it doesn't highlight certain parts of the recording. Rather, it delivers a wholeness that makes the music feel more absolute, emphasis on the feel. Its portrayal of dynamics can be startling or minuscule, depending on the recording. The Clayton doesn't leap out at you. Instead it seduces like a fine wine with all the sublime things its does right. This is where other maps eventually fail; they have certain strengths (which most tend to highlight), but can't pull it all together to deliver the big picture like the Clayton does.
As with any really good amplifier the S40's performance improved when I tried a better power cable. After listening with the stock cable I replaced it with a PS Audio Extreme Statement. Performance improved in every respect. A teeny little grain I hadn't really noticed on the top end was gone. Bass had more punch, pace, and authority. Images were more distinct throughout the soundstage.
Let this amp warm up at least a half hour—you'll notice the difference for the better.
Caveats? Nits? Only one. The binding posts, while very high quality and easy to work with, are set very close together. If you have oversize spade connectors as I do, it is easy to touch right to left while installing or adjusting. Just be aware.
The new line of Clayton amps occupies an interesting rung on the high-end ladder. Beautifully built with a sound that is truly stunning, some of their other offerings are priced at: $7500/pair for the 100-watt monoblocks, $9500/pair for the 200-watt monoblocks, and $11500/pair for the 300-watt monoblocks. Although not in budget territory, compare these prices with those of the very finest solid-state amps out there—and make no mistake about it, the Clayton amps belong in the upper rung of that category—and I believe they are all very fairly priced.
The Clayton S40 really lets the music shine through. It is enchanting and neutral, but not lean. Precise and accurate, it glows with rich textures, and has bass to die for. I can't imagine a better sounding solid-state amplifier.
This could be the amp of your dreams when mated with the right speaker. $4k is an absolute bargain to get this kind of performance. Properly matched, the S40 could take you to audio paradise and keep you there.
Is the Clayton S40 that good? Yes, it is. My highest recommendation.
Get yourself to a Clayton dealer and prepare to be seduced. John Zurek
Clayton Audio
8151 Stratford Ave.
Clayton, MO 63105
TEL: 314. 862. 6017
email address: claytonamp@aol.com
Dealer Sales, Marketing, Technical Support:
TRI Audio Marketing
13604 Hartsbourne Drive,
Germantown, MD 20874-2828
email address: tri@erols.com
TEL: 301. 540. 1156