I suppose I'm too old for Christmas. Or, perhaps I'm not the good boy I once was. Still, I do enjoy a surprise. So finding a package waiting for me on the porch is always a kick. So it was when the Cary CDP 1 arrived. I quickly took it inside, noting its heft and solidity even before I had the box open. No high mileage review sample this, but a double boxed and brand new unit. Solid and clean of line but not so much audio jewelry or industrial art as functional, fine and pleasing to the eye.
The Company
Cary Audio Design, known for their quality tube electronics, has changed significantly over the years, and now offers four separate product lines including the Classic Series, the Cinema Series, the Designer Series and the Concept Series, this last containing the subject of this review. The Classic Series includes many of the signature tube components best known to audiophiles but also some quality solid state gear. The Cinema Series is as the name implies and needs no explanation. The Designer Series has it's focus on the latest digital technologies with a no holds barred approach, whereas the Concept Series brings new technologies from the Classic and Designer Series components into a more affordable product category.
The Product
The CDP 1 is an all solid-state two channel CD player offering a 24 bit/192 kHz Burr Brown 1792 DAC chip set, HDCD decoding in DSP, upsampling to 44.1 to 96, 192, 384, 512 or 768 kHz, both balanced and single ended analog outputs, coaxial and toslink digital outputs, IR and RS 232 port control, and a triple-beam laser multi speed CD/DVD ROM transport. It also sports a dynamic range of 129dB, a Signal-to-Noise Ratio of 122dB, channel separation of 104 dB, and weighs 23 pounds.
Cary's stated intent for this player was to bring the high-end performance of the Classic Series CD 303/300 tube Redbook CD playback section to a lower price point. To accomplish this Cary utilizes CLASS A audio circuit design with fully regulated power supplies, 48 bit solid-state memory, and a heavy duty steel chassis.
If you've tried to ship anything anywhere recently, you'll really appreciate what Cary has done with this product. The player is suspended inside the doubled shipping carton in heavy shaped foam. This type of packing is not only sturdy but adds to the overall cost of doing business. Unfortunately, the alternative is a smashed or damaged unit. Don't get me started on the dismal way in which all shippers seem to be doing business these days. I swear, they must use gorillas to load the trucks. Sadly, it is to the shipper's advantage to force customers to these lengths to protect a product. The heavier the box, the higher the shipping cost. The manufacturer has no choice but to pass these costs on to the customer.
Although the included owner's manual is nicely written and clearly illustrated as far as it goes, I would have preferred it if a section on circuitry had been included. For instance, it is my understanding that the unit utilizes fully balanced circuitry throughout and is expected to perform best when used with the balanced outputs but I could find nothing on this feature, either in the owner's manual or on Cary's website. In operation, the player's front panel controls are well laid out and intuitive to anyone who has used a CD player in the past. Functionally, the only problem I encountered was with the power button. Admittedly, this function performs exactly as described in the manual. However, having a light come on when the player is in standby and go off when ready to play confused me a bit until I got used to it. I'm one of those nerds that save all my product literature and I actually read the manual BEFORE I start using a component. Even so, a few minor facts always slip through my Swiss cheese memory.
The included remote is somewhat unconventional in its layout and also took a little getting used to. It is intended to be usable with the CDP 1's companion products in the Concept Series. So, if you have an all Cary system you needn't have a table full of remotes. Also included is a basic detachable power cord with molded plugs, which I suspect, most audiophiles will replace with something fancier.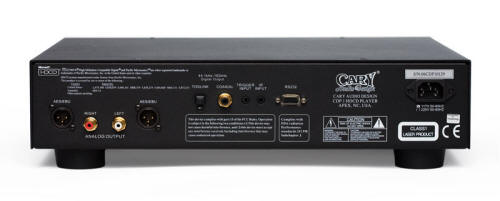 Setup
Initially, I used the included power cord and some non-audiophile approved basic cabling. I don't mean to imply that this cabling was inadequate in any way. It just wasn't boutique. I hooked the player to my preamp with both single-ended and balanced cables so that I could compare the two outputs. With the exception of my analog front end, everything in my system is connected via balanced cabling. As my system has evolved I've found this to provide the most consistent performance. So, were I to be in the market for a player in this price range, the fully balanced Cary would probably make it to my short list.
I placed the CDP 1 on a Black Diamond Racing carbon fiber shelf and cones in my Lovan equipment rack just below my own player, the Esoteric DV-50. Functionally, I encountered no surprises. Everything worked as advertised. The size, weight, and looks of the player were right at home in my system. Build quality, fit and finish were excellent. I no longer have a separate DAC, so I did not audition the CDP 1 as a transport.
The Cary CDP 1 is the first player I've had in my own system that is equipped with HDCD decoding. Although I have been curious about the potential performance advantages of HDCD, the fact that I only have eleven discs that utilize this codec pushes this feature down on my personal priority list.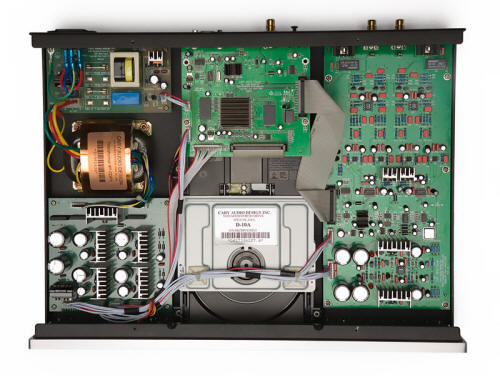 Listening
I did not precondition the player before auditioning it. Cold out of the box the soundstage of the CDP 1 was foreshortened and somewhat flat and dynamics were, well… not. However, within about fifteen minutes the sound began to evolve. I did all my initial listening via the single-ended outputs.
Since my current reference is the Esoteric DV-50 universal player, a roughly three times more expensive unit that I run balanced, my initial impression of the CDP 1 was lukewarm. Cary's website makes no mention of break-in time but after a couple of listening sessions, I decided to leave the player on and let it cook for a while. So I ignored it for a couple of weeks before trying again. The results were encouraging.
After break-in time, the player's characteristic sound began to emerge. The top end was clean and extended, the bottom a bit fuller than I'm used to, and the initial politeness was starting to disappear though I'd still characterize the sound at this point as smooth, but involving.
Having gotten an initial sense of the sound, I switched to the balanced outputs. Well now, this is a little more like it. In balanced mode inner detail and articulation were improved while still maintaining the same characteristic sound. This had the overall effect of improving soundstage and presence. In direct A-B comparison to the DV-50, I still preferred my own player but the gape was shrinking.
Time to try those HDCD discs. So, into the player went such diverse material as Joni Mitchell's Both Sides Now and Court And Spark, Ginger Baker's Falling Off The Roof, The Flaming Lips The Soft Bulletin, Emmylou Harris' Wrecking Ball, and Mike Garson's The Oxnard Sessions - Vol. 2, to name a few. The resolution enhancement on tap via the HDCD codec pulled the CDP 1 another notch closer to the DV-50 without HDCD.
Initially, I experimented with the various upsampling options but ended up just leaving the player at its highest sampling rate for most of my listening. The DV-50 offers similar sampling options and I have a tendency to do the same for it. Yes, fiddling with the sample rate can help fine tune the sound of specific discs but, to my ear at least, doesn't offer enough incentive to overcome the inertia of my laziness. I just like to listen, not fiddle or tweak. For those so inclined, sampling rate is adjustable via the remote.
Lastly, I decided to try some experimentation with cabling. I had just received a bunch of Soundstring's offerings for review, including balanced and single ended interconnects, power cords and speaker cables and had been gradually introducing them into my system, starting with the power cords. So I outfitted the CDP 1 with the Soundstring balanced interconnects and power cord to see if this would push the player's limits further. The Soundstring cables offer solid performance at a competitive price point that is not out of line for a player of this caliber and price. Again, there was a subtle improvement to the sound over more pedestrian cables but not enough to affect the players overall character. For more on Soundstring, see the PFO review here or wait for my full review ...coming soon.
Conclusions
The CDP 1 is as full featured as any two channel CD only player out there and includes excellent build quality, the backing of a company with high end credentials and an impeccable reputation, fully balanced operation, upsampling and HDCD decoding. If you have a significant number of HDCD discs in your music library and provided you can listen to it in balanced mode, I highly recommend you check it out. This is the first Cary product I have had in my system but I suspect that the bottom end fullness I heard is part of Cary's "house sound". Depending on your associated equipment, it may be just what you are looking for at this price point. I encourage you to seek this player out for an audition, preferably in your own system. Excellent work Cary! Bravo! Will Wright
CDP 1
Retail: $2000
Cary Audio
web address: www.caryaudio.com