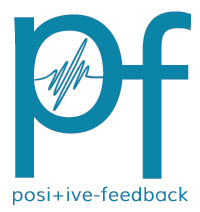 You are reading the older HTML site
Positive Feedback ISSUE
34
november/december
2007
The 4th Annual Positive Feedback Online's Writers' Choice Awards - for 2007, Page 2
This year almost everything concerned with these awards changed nearly overnight! Final listening sessions have not been completed, but I feel reasonably comfortable with these choices. These choices forced out two previous choices—choices that I feel should at least be mentioned. Therefore, I have bent the rules and added them very briefly to what I shall call "Honorable Mentions."
Accent Speaker Technology's Nola Viper IA
Accent Speaker Technology's Nola Viper IA floor standing model is Carl Marchisotto's efforts to bring much of his highly respected larger model system's virtues to music lovers at a more affordable price. That also includes an attractive cabinet with a stunning piano gloss cherry finish admired by everyone who has seen the pair in my living room! At less than three and a half feet tall these loudspeakers are visually closer to being diminutive than imposing. They are, as would be guessed by all who know Marchisotto, designed for music lovers. They will play loud enough for home theater use, but one should not expect bloated bass or extra-live treble response—they are musical and all that implies. The only shortcomings for some listeners is the lack of bottom bass extension and power. That is a design decision to give listeners nearly everything else at a moderate price. The ability to easily rectify that one possible shortcoming is offered by adding one or a pair of Nola's well-known T-Bolt subwoofers. They are seamless matches both audibly and visually. Full review is scheduled shortly for this gem of a musical sounding loudspeaker.
Crown Imperial (Festive Music for Organ, Winds, Brass & Percussion) Reference Recordings (HDCD) RR-112
Quite simply this is an absolutely superb audio/recording/musical quality release. Also for the delight of many audiophiles is the fine organ playing. The ten musical selections are varied and interesting with probably at least a few for most everyone's taste. Highest possible recommendation in all respects. Review will be forthcoming.
Tchaikovsky Symphony No. 6, Telarc SACD hybrid multi-channel #60681.
Though certainly not identical in sound quality as heard from the above RR release, this is also simply superb. This excellent melodic and emotional symphony by Tchaikovsky can be appreciated more readily by non classical music lovers than most symphonies. The outstanding sound quality, with great solidarity and detail, will be appreciated by music lovers adding even more enjoyment. As usual the SACD release is to be audibly preferred over the standard (excellent) CD. Review will be forthcoming.
Honorable Mentions
Handel's Messiah, LSO Live recording with 2 SACD discs plus an outstanding DVD recorded bonus with excellent audio complementing the video. Now religious music lovers have a fine Messiah with excellent sound and a superb chorus.
Naxos American Classics series of recordings. An outstanding continuing series showing the surprising amount of enjoyable classical music by American composer. Give them a try—all at bargain prices.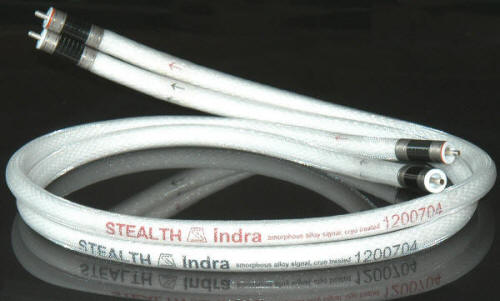 Stealth Indra and Metacarbon interconnects Review
These interconnects accomplish a virtually unimaginable standard of unobtrusive signal delivery. Their self-effacing quality extends not only to an absolute refusal to impose personality upon the purity of tones, chords, and sonic clusters. The Indra seems not at all "there" in the signal path, while the Metacarbon appears to be voiced like the instruments and sonic bundles it delivers. www.stealthaudiocables.com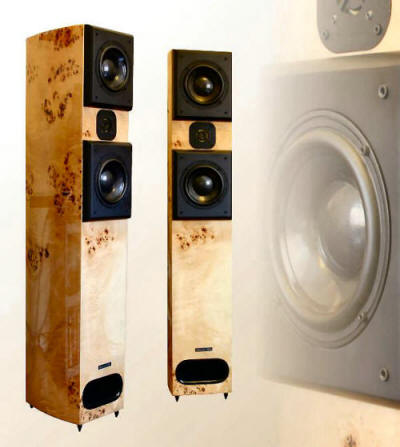 Acoustic Zen Adagio speakers Review
These relatively inexpensive floor-standing three-way speakers are offered in a variety of wood finishes that visually enhance any listening environment. But their strength is a take-no-prisoners sonic heft and musical delicacy that reveal how dynamic sotto voce passages can be and how relaxed fortissimo passages ought to be. One of the true "bargains" in high end sound reproduction. www.acousticzen.com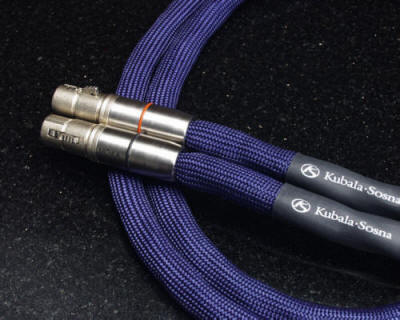 Kubala-Sosna Emotion speaker cables Review
Only pure carbon van den Hul speaker cables approach the musical authority of these expensive heavy gauge twisted cable behemoths. The Emotion's blue cloth exterior is unique and deceptively modest in appearance. More unique yet is the commanding sonic "rightness" of these cables, which quite literally may express the state of the art in current speaker cable design. Once into harness, these wires are likely to remain, even as front-end gear and speakers shuttle in and out of a high performance system. www.kubala-sosna.com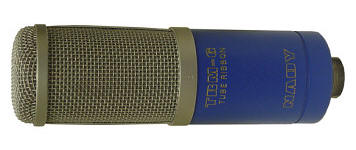 Nady TRM-6 Tube Ribbon microphones
This large capsule, beautifully built high-resolution microphone sets a new standard for the rare "tube - ribbon" signal capture interface. Aside from its gloriously relaxed acoustic reception, the TRM-6 achieves that special sonic quality called "ambient reach" ...a characteristic of superior microphones with exquisite tonal delicacy. The TRM-6 is a huge winner : a microphone not for the feint-hearted since its resolution of detail is sonically naked and musically precise. A world class recording instrument. www.nady.com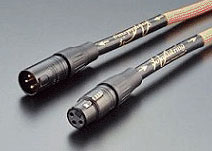 Soundstring Omega Pro Line microphone cables Review
These custom made mic cables may be the inaugural "recording creations" of the Soundstring cable team. Yet, regardless of heritage, Soundstring has crafted a revealing microphone cable that achieves a lovely richness of sonic texture with a minimum of dynamic loss, sonic glare and signal noise. Microphone cables are not built equally. Each brand and iteration is eccentric in one way or another. These are distinct in their generous reproduction of transient information free of grunge. www.soundstringcables.com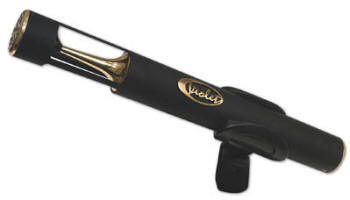 Violet The Finger microphones
Made by the creators of the highly praised B.L.U.E. microphone line, this newly emerging series from VIOLET appear set to make an enormous impact on the world of recording. Least expensive in this line are the "Finger" mics—elegant looking, "large sounding" condenser mics that seem designed for virtually any application. Although I've not tried this review pair in vocal settings, these mics make a gorgeous tandem for two-channel stereo recording, for full-spectrum grand piano recording, and for supplemental ambient pick up as well for individual instrument uses. Highly recommended ! www.violetusa.com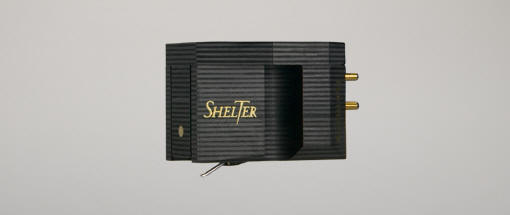 The Shelter Harmony Phono Cartridge $4000
An amazing new medium output moving coil cartridge just came out from Shelter of Japan. Called the Harmony, it is a Shelter with a twist. The cartridge body is constructed of layers of carbon fiber—a Hero Boy, multi-level sandwich of carbon slices.
I noticed the Shelter house sound changing when the 9000 model recently replaced the best-selling 90X. While much is the same, the 9000 has more focus and less warmth. Now comes the Harmony: it travels further along this path.
First impressions generated a string of adjectives. Speedy. Quiet. Clean. Dark. There is the same even frequency response, the fulsome body and image size. Be aware, though, the Harmony is much darker than the 9000—although the top is extended, there's less light and air. But the big news is the noise suppression achieved with the carbon-reinforced body, which is purported to decrease vibrations. You'll hear less breakup and a broader dynamic range. Even better, the noise reduction accounts for a huge boost in resolution. There are tons of explicit dimension cues: if they're on the recording, you'll hear them in playback, and hear more of them than before on familiar recordings.
Huge amounts of hall echo are revealed: it's almost overdone. In one fell swoop, your room will seem to have acquired four $ figures of room treatment. The Harmony is the best cartridge yet from an important analog house. www.axissaudio.com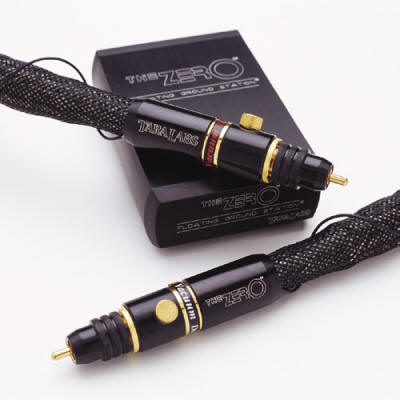 The TARA Zero GX Phono Cable Review
When I put the TARA Zero GX cable into the tonearm's DIN plug, my first stupefied reaction was: "Huh? What the …" Incoherent, unintelligible babbling followed as I tried to make sense of the terra incognito landscape before me. I was hearing things I've not heard from an audio system before.
For one thing, the start and stop action of the cable hits a new benchmark. I've never heard such a uniform wave front on both ends of the note. There is absolutely no hesitation up front or lingering about at the end. The Zero GX is by far the fastest and cleanest of the coherent cables I've met.
And yet the delicate stuff is there, and it doesn't sound phony. Hall cues and air abound. Timbral signatures and bloom on woodwinds are sufficiently robust to be realistic, without overdoing it.
The Zero GX causes "active eye syndrome." This occurs when the auditory cues are so intense your brain has no choice but to begin involuntary reflexive tracking of the phantoms traipsing along the periphery, causing your orbs to jump about trying to locate all the ghost images.
The TARA Zero GX gives you a front-and-center ticket (along with the cost of such). Step right in and enjoy the show. $3800 www.taralabs.com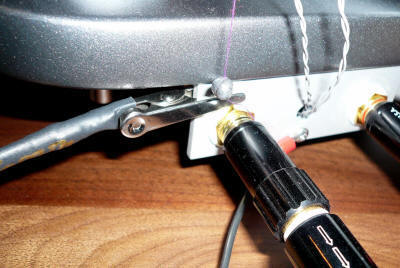 Audiopath Phono Ground Cable
Joe Fratus of ART Audio mentioned he had a ground wire he wanted to ship to me. He didn't say why, just took down my requirements: spade on one side, alligator clip on the other, four and a half feet long.
It never ceases to amaze me, how the least likely suspects often turn out to make a significant difference.
Finally, a real cheapie product I can heartily recommend! I can hear you now, "No way! You're telling me that this ground wire changed the sound? But everybody knows it's nothing but a piece of wire conductor, isn't that so?"
I connected the Audiopath Ground to the Simon Yorke S9 Record Player, let the table warm up for one side of an LP, and then listened. The S9 didn't sound like it had the night before. It was definitely faster and crisper. PRAT had zoomed up, along with image focus. Dynamics were popping so that ordinary vinyl acquired the characteristics of a Direct To Disc LP, possibly even to the point of being a tad aggressive. I noted there was a change in timbre—not any additional bloom (I didn't want that), but increased accuracy to the ID of the instrument.
Audiopath's designer, Tom Hills, says the big difference between his product and the usual stock ground wire is in the termination quality. The wire itself is no big deal, a tin copper braid, but he uses good silver solder and Cardas (or equivalent) spades. He's very modest. $49.95
Audiopath cables are made by Hudson Audio www.hudsonaudio.com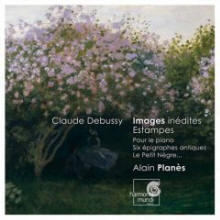 Claude Debussy, Images Inédites, Estampes, Pour le Piano, etc. Alain Planès, piano. Harmonia Mundi. Review
Planès, who has already given us the best Schubert within my memory, gets Debussy perfectly. The music rings with late nineteenth century lyricism; it strides with a grandeur that only a lean modern imagination could achieve without being overblown. Debussy's music for solo piano is to his oeuvre what Picasso's drawings are to his. Passionate but also absolutely clear. Apollo who understands Dionysus, who has been Dionysus. It is difficult to appreciate how extraordinary this music is until you hear it played like this, by a musician who clearly has come to inhabit it.
Henry Purcell, Divine Hymns. William Christie, Les Ars Florissants, Virgin Classics.
William Christie's Les Ars Florissants have been the best early music vocal ensemble in the world for a generation. Their home base is France but they do English baroque music as well as English do. Their recording of Purcell's Fairy Queen, which I heard them do live in a concert edition in Boston, is absolutely delicious. This CD of the composer's divine hymns is better yet. One of the best vocal performances and recordings I've ever heard.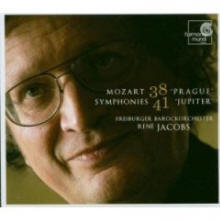 Mozart, Symphony 38 "Prague" and 41 "Jupiter." Freiburg Baroque Orchestra, René Jacobs. Harmonia Mundi. Review
It is wonderful at this comparatively late date in the 'early music' revival of eighteenth century music to (finally?) hear what it was supposed to be all about with Mozart. Lightness and grace; power, clarity, and élan—all seemingly coming from within the music rather than foisted upon it. It will be hard to listen to anyone else's Mozart for a while.
Keith Jarrett, Gary Peacock, Jack DeJohnette, My Foolish Heart; Live at Montreux (2001), ECM.
I sometimes have the feeling that Straight Ahead jazz will stay alive and well only so long as Jarrett, Peacock, and DeJohnette continue to play together. I enjoy the Marselises and their whole alumni association, I really do. But they never make me sit up the way these guys do. Jarrett is our Miles and our Coltrane and we are lucky to have him. This is a great outing, possibly their best. I need to go back and listen to the others to see if it can possibly be this good.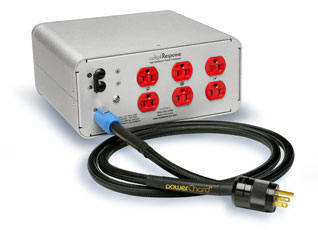 adeptResponse aR6 High Resolution Power Conditioner
This is the six-port version of Audience's extremely well respected adept/Response12, and as part of the second generation of these line conditioners, it strikes me as even better than the twelve-port model I had here a year or so ago. It has just a bit less testosterone and a bit more refinement. It retains the earlier model's enhancement of resolution, lowering of noise floor, and overall ability to increase a system's natural smoothness. Its effects are less sensational but more satisfying. It significantly improves the performance of both my Blue Circle and Manley electronics, making them better versions of what they already are. A wonderful little box.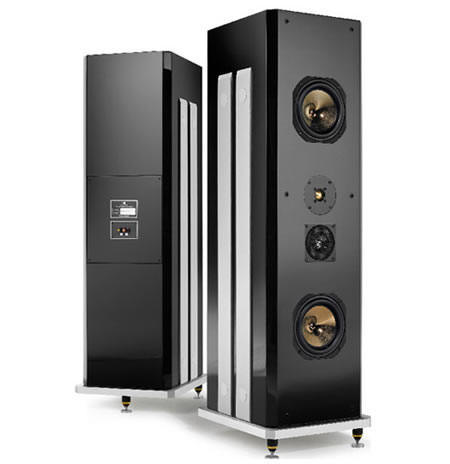 Polymer Logic Review
"It is very rare in our industry when a product comes along and establishes a new level of playback performance. Usually as reviewers we get excited about subtle improvements that take us a step closer to musical realism or perhaps increase the level of listening enjoyment. Well, the Polymer Logic is a loudspeaker that achieves something that is in no way subtle, it completely shatters everything that I have previously experienced from any other loudspeaker system regardless of price. The performance from the Polymer Logic is not just jaw-dropping (this term is just one of many superlatives used by reviewers), but suffice it to say that I simply lack the audio vocabulary to express just how significant is the increase in playback realism. Astonishingly, after giving these speakers a rave review and having purchased the review pair, everything that I reported previously now sounds even better. As it turns out these diamond drivers benefit need a long break-in time and just keep getting better. Scary.
It is important to note that the performance offered by the Polymer Logic is not just in the realm of subjective opinion. This is the only loudspeaker in the world that reproduces the entire critical midrange by a single diamond cone, a material that behaves like a theoretically ideal piston.
When you factor in the fact that the Polymer Logic retails for $24,990/pr and easy outperforms any loudspeaker that costs over $100,000 you have the most exciting high-end audio product of my entire life as an audiophile. The diamond midrange in the Polymer Logic is only featured in one other loudspeaker, the Marten Design Coltrane Supreme which has a retail price of $250,000/pr. How is this possible? I have no idea, it remains a mystery to me how this company is not losing money on every pair sold."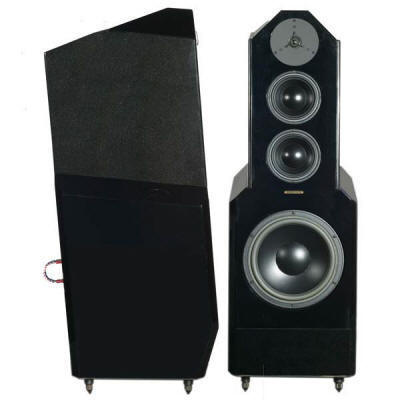 Eggelstonworks Andra II loudspeaker
This is a true full-range speaker that combines both detail and resolution with warmth, listenability, and musicality. It has truly awesome bass performance, a sweet musical midrange and sweet, yet extended and airy high frequencies. On top of that, the finish is second to none. Truly a world class performer, gorgeous to look at, all in a very modest sized enclosure. Well priced, too.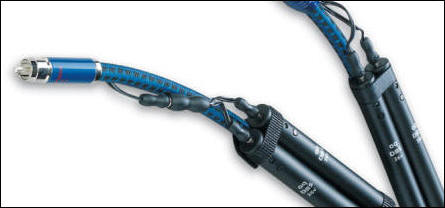 Audioquest Sky (silver) interconnect Review
For all the same reasons that I stated in the past.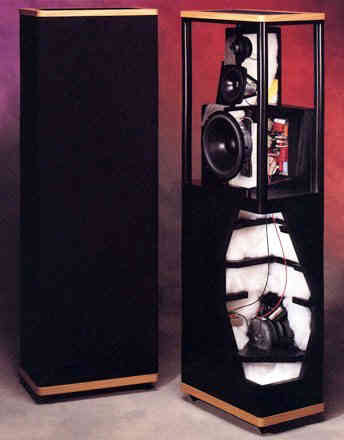 Vandersteen 3A Signature loudspeaker Review
The Vandie is an incredible loudspeaker. It is full range, musical, with an open spacious soundstage. It images like a time and phase coherent speaker, which is excellent. It is well built, incredibly well engineered and meticulously well designed and executed. And considering its price, an absolute bargain.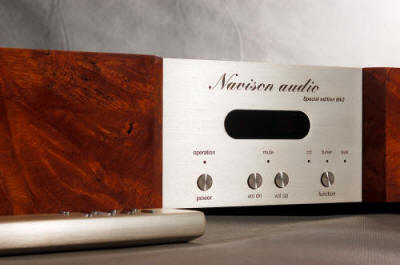 Navison NVS SE-MK2 preamplifier
Last May Ben Nguyen of Navison Audio sent me a pair of NVS-003 OTL monoblock amplifiers along with the NVS SE-MK2 preamplifier to review. As you know from my review I truly enjoyed my time with the NVS-003 OTLs, even though they lacked a degree of bass slam with my Aerial 7B speakers. However, what did stand out was the Navison preamplifier, it was to die for. The music seemed to flow out in such a transcendental manner, that depending upon the quality of one's source, the SE-MK2 could propel the listener across time and space where one truly experiences music coursing through their veins; and at times, going as far as touching one's soul. I tried this preamplifier with three other amplifiers, and in each case, the sound improved.
Call it what you want euphonic distortion or organic flow, but I will call it one of the best natural sounding preamplifiers I have heard to date. It is that good! It has a quality about it that lures the listener towards those never-ending late night musical experiences (notice I did not say listening to music) where many times one looses track of time. During these experiences I realized that if I stayed up any later than this it was going to be a true "all nighter." It was at these times that I often felt seduced by this organic musical experience; that, long after I left my soundroom, all of my day's worries were lifted from my mind and a newfound calm was about me. I was ready for another day. Now that is audiophile nirvana! With that being said it is with earnest enthusiasm that I recommend the SE-MK2 preamplifier a PFO Writer's Choice Award. Congratulations to Ben and the Navison Audio team!
Only one little niggle. I sure wish the NVS SE-MK2 had at least two pairs of balanced inputs and at least one balanced output, that was the only thing that prevented me from purchasing the unit. Good news, Ben told me in the future they are looking into a balanced preamplifier. I can hardly wait!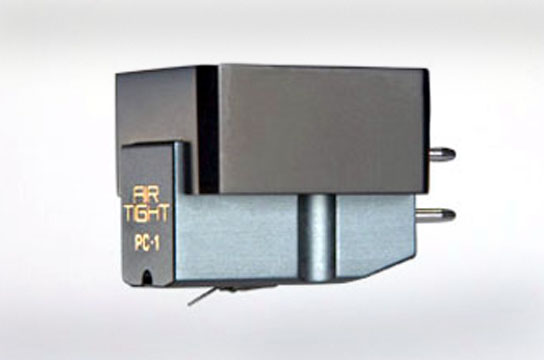 I have only two nominations for product of the year, but these were the easiest choices I've made since I began with PFO.
The first goes to Air Tight for their PC-1 moving coil cartridge. Its unique internal engineering has placed it on many reviewers' best and favorites list in addition to receiving the Stereophile Class A Recommendation and Absolute Sound's Golden Ear Award.
I understand why. This MC design has become my favorite cartridge of all time in less than three months. I've auditioned dozens of cartridges including some of best and latest. None tempted me to move from my Koetsu Jade Platinum. I wanted a cartridge that resolved all problems, an accurate presentation that didn't trade the emotional connection for the sake of a little more speed or resolution.
The Air Tight PC-1 is not a better Koetsu; in fact it's not like any cartridge I've ever heard. Regardless of the music, the PC-1 tracks the most difficult passages, while maintaining the individual dynamics of each instrument.
What I find really unique is the PC-1's ability to separate several similar sounding instruments, even when they are mixed on top of each other. The PC-1 untangles the clutter and lays it out before you with realism and ease that stays true and balanced to the music, regardless of amplitude.
To put it in perspective, this is the first time my best LPs are able to go head to head with my 15 IPS half track open reel and master dubs. I think until modern materials and technology became available this design would have not been possible. The Air Tight utilizes a new high permeability core combined with fewer coil windings that allow the ultra low level detail to emerge. This is accomplished with very low internal impedance along with .6 MV output.
The end result is a cartridge with tremendous channel separation, perfect staging and depth with huge contrast swings, stunningly tight bass and true-to-life dynamics regardless of the complexity of your software.
I seldom go to print with so strong an opinion, but this product qualifies as a breakthrough. www.axissaudio.com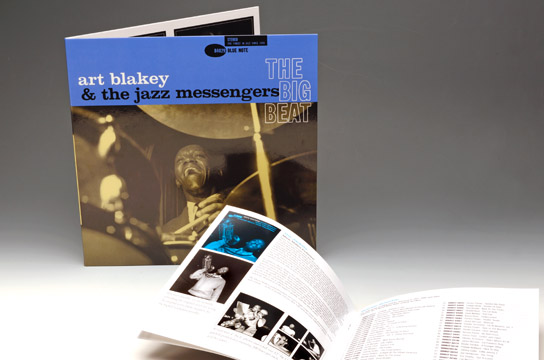 What value is a great cartridge or a great audio system without software? You know the answer, and that's why my second award goes to Music Matters for their new Blue Note 45 RPM Reissue Series.
We are a very young country and our musical history is equally young but we are responsible for one of the most creative forces in the history of music. The venue I'm referring to is Jazz, the only truly American art form and in my opinion Blue Note defines American Jazz like no other label.
Original Blue Note titles have become very scarce, and what remains is either worn out or unaffordable because music lovers in Asia and Europe have been quietly acquiring our Blue Note records for the last 20 years.
Over the years there have been many reissues of the Blue Note titles and some have been quite good, but what if one company set aside all the boundaries and decided that they would produce THE definitive Blue Note releases.
Music Matters is that team and they represent of some of the most talented people in the music business. Ron Rambach, Joe Harley, Steve Hoffman and Kevin Gray.
Ron Rambach has been acquiring rare records for music collectors for more than 29 years. He's the founder of Music Matters Ltd and during that time, also served in an advisory position to leaders at Atlantic and Verve. Ron also managed the largest collection of Jazz music in the United States, an amazing 300,000 plus titles. Obviously Ron is a music lover of the highest degree.
Joe Harley is a long time friend; he and I go back to his early days at Audioquest when we were kids (at least it seem like that now). Joe is now Vice President of Audioquest and probably the person most responsible for my Miles Davis addiction. Joe's list of recording credits includes a Grammy nomination as well as serving as creative director for the JVC XRCD project for 6 years.
Steve Hoffman is the mastering engineer; this man has the uncanny ability to totally please me with every reissue he's been involved with, from Ray Charles to Art Pepper. I have some of his early DCC releases and his touch was as obvious then as it is now.
Kevin Gray is probably best known for his work at AcousTech but his hand has been in almost every genre of music. He has the tenacity to insist that everything be perfect and if that requires upgrading all the hardware in the studio, he presses for that as well. Doing everything necessary to make the record perfect is what Kevin is known for.
Why am I so positive about this group of guys and the upcoming Blue Note releases? I have the first two releases as RTI test pressings.
Art Blakey & the Jazz Messengers The Big Beat and Horace Parlan, Speakin' My Piece. And if this is any indication of what's to come, I advise you to get on the list now, before this collection is sold out.
As much as the originals are wonderful and a piece of history that cannot be replaced, musically this reissue is it's equal in many ways. I'm not referring to just the super quiet surfaces that are to be expected with new vinyl, the two samples I have show increased dynamics and high frequency clarity missing on all my other Blue Note issues, including the Japanese versions, the Mosaic box set and even good quality USA Blue Note original's.
If you've never owned Blue Note Jazz, this is your chance to have some of the most important music of our time, in a format that presents the artist in an almost perfect way. https://musicmattersjazz.com

The Marantz SA-7i SACD Player Review
There is no question what my number one pick would be this year. For about half the price of comparable machines, the SA-7 has swept the market with initial demand so high, it took Marantz months to begin filling back orders. This beautifully made piece combines the virtues of superb and substantial construction, ease of operation and flexibility, and perhaps the most suave sound of any stock player extant. For those who have suggested it is "polite" and not as detailed as it's more pricy competitors, I say …give it several hundred hours to break-in completely, set the CD filter on setting 3, and make sure it is properly isolated and powered. Under those circumstances, it has no peer at anything like its price point. The newly emerging SA-11 (little brother, or sister if you will) promises to be just as impressive. An extraordinary accomplishment! $6500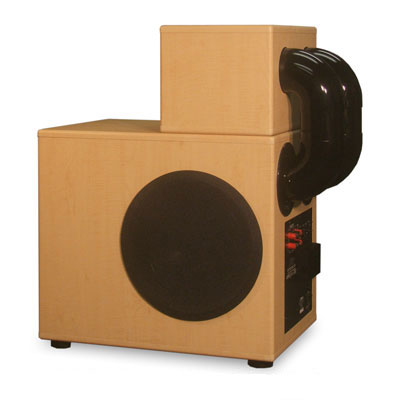 The Hsu Research VTF-3-Mark III true-sub with Turbocharger (above) the MBM-12 (below)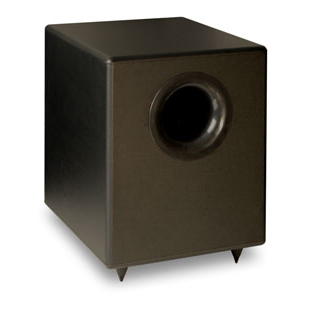 While this combination is relatively new to my reference system, it has been transformative. The combination of isolating and carefully presenting mid-bass frequencies (50-150Hz) through the mid-bass modules, and the superb performance of the VTF-3-Mark III true sub, has re-drawn my system in much larger and more substantial frame. The user ability to tailor these frequencies for room and source material adds a new dimension to the enjoyment of music, most especially that which may have come in a bit thin and threadbare. I don't care what the cognoscenti say about subs and audio, the slightly dry nature of the Hsu units, coupled with their flexibility and musicality add more to the experience of listening to music than you can possibly imagine without hearing them for yourself. At under $2000 for the complete system (two mid-bass modules and a true sub, with turbocharger) it is certainly one of the best values in audio. Add to this their entry-level STF-1 sub ($254), and you can turn a modest integrated amplifier and two-way speaker system into something remarkable. VTF-3-Mark III true-sub, with Turbocharger, $799, MBM-12, Mid-Bass Modules, $499 each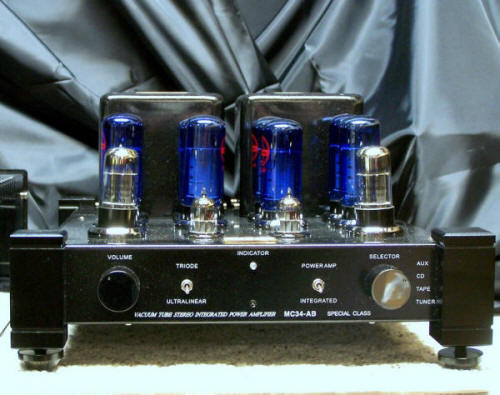 The Ming Da EL-34-AB Integrated Amplifier Review
This amazing integrated from China comes with a startling amount of iron. In addition to the large chassis-mounted power transformers, it has a beefy external power supply "humpty." Based around the venerable EL-34 tube (in this case, these really cool blue-tinted Jinvinas) it utilizes eight EL34 output tubes, two 6SN7s, and two 12AT7, to produce 75-watts in pentode and 40-watts in class "A" triode mode. There is an Alps Blue Velvet remote-driven volume control, input selector for 4 inputs, gold plated speaker binding cables and point-to-point wiring throughout. The sound is big and lush with both snap and resolution. Durability has proven excellent. During its extended time with me (I bought it …one of the principles at Pacific Valve was apparently frightened by a reviewer some time in his past, and they are very unfriendly to reviews) I popped one fuse …(they are VERY conservatively fused). At a bit over $1200 this amplifier represents a startlingly impressive combination of value, good looks, terrific performance, and durability. $1275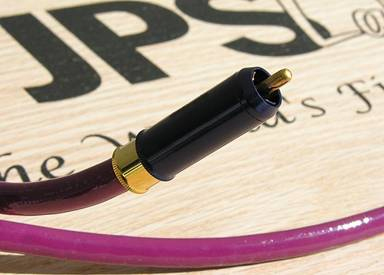 JPS Labs Superconductor 3
Image by john potis
The JPS Labs Superconductor 2, with their solid shielding and Alumiloy™ core, have long been esteemed for their sonic realism and visceral dynamics, though for some users the sheer tumescence of the cables was daunting, and they required exceptionally careful set-up and dressing. Now, designer and JPS Labs honcho Joe Skubinski has completely reconfigured the line and the new Superconductor 3 loudspeaker cables and interconnects offer appreciable enhancements in both performance parameters and user-friendliness: they are smoother, cleaner and more linear, and convey even higher levels of musical detail and ambient information—while being considerably more ductile and easy to use. An extraordinary foundation in clean, fulsome bass has always been the calling card of JPS Labs' cables, interconnects and power cords, and the new Superconductor 3 interconnects and speaker cables expand upon that lineage, with even tighter, more tuneful bass, resulting in a quicker more focused low end, with a touch less weight but greater speed and top-to-bottom balance—for enhanced holographic depth and dimensionality. The high frequency response of the Superconductor 3 is clearer, smoother, more detailed and transparent, without a hint of glare or artificial brightness—they seem to disappear altogether. But the real glory of the Superconductor 3 line is the natural, effortless quality of their midrange performance, which conveys enhanced layering and depth of field, for an enormous soundstage and spellbinding image illumination without the forward, analytical, italicized, larger than life, attack-of-the-fifty-foot-women qualities which too often denote the performance of much pricier, over-hyped designs. Everything is realistically scaled; the timbre is textured and true; the leading edge of transients are conveyed with bristling presence, lifelike impact and subliminal grace—while the Superconductor 3's authoritative foundation of tight, tuneful bass lends unmistakable dynamic realism to every aspect of the musical presentation.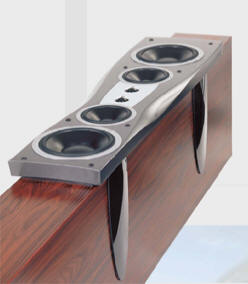 Dynaudio Confidence C4
Having fallen heads over heels for the Dynaudio Confidence C1 Mini-Monitors Review, as fine a mini-monitor as I've ever experienced—with world class accuracy, realism and soundstaging (not to mention bass extension and dynamic veracity that are positively surreal given the size of the cabinets)—I was understandably curious about the performance of their big brothers, the Confidence C4. And so, when an audiophile friend purchased a pair, I got to enjoy several extended conjugal visits with these full-range floor-standing models, and boy oh boy, are the Confidence C4 ever a music lover's dream. The basic design principles as so beautifully executed in the C1, are vividly on display in this true no-compromise loudspeaker—or as a reader who'd already moved up from the C1 to the C4 e-mailed me, "Imagine all the qualities you love about the C1s, only with more of everything." Obviously, as the larger cabinet and multiple driver arrays suggest, bass extension extends well into the organ pedal realms, and on down to the Earth's core. The C4's most salient aural characteristics are not simply its exceptionally taut, substantial bass extension but the seamless driver integration and coherence—there is nothing point source or out of proportion about its presentation, as images retain their stability and scale, acoustic cues and dimensionality are utterly believable, and when carefully set up, the C4's disappearing act is every bit as compelling as that of the diminutive C1s. Likewise, the purity of the C4's midrange, and the mellow transparency of the top end makes for a fatigue-free presentation, and remarkable top to bottom balance—the limitless low-end dynamic foundation never obscures more delicate details. In part, one supposes this is because of the manner in which Dynaudio deploys their symmetrical array of drivers: the superb Esotar tweeters are mounted in a cast aluminum block; while the mirror-image midrange and bass drivers are housed in an exceptionally rigid, vibration-quashing external baffle—and when coupled to its deep narrow cabinet, the C4's lack of diffractions, reflections and colorations makes for a spacious, capacious soundstage with driver integration and coherence more redolent of a mini-monitor than a floor-standing megalith.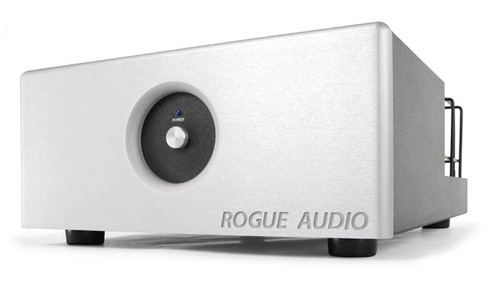 Rogue M150 tube monoblocks
I am still ensconced in the review process for both of these two components, so you'll forgive me if I toss aromatic garland of flowers in their general directions without getting into too much detail this close to finishing formal reviews. Let's just say that in representing two different aspects of the price point spectrum, the Rogue M150 tube monoblocks and the Music Hall Trio CD Receiver offer state of the art performance at price points that carbon-based life-forms will find hard to resist. Those serial snobs who adjudge the audio verity of music reproduction gear based on the list price need not apply. Having put the Rogue M150 monoblocks through every type of torture test, they have proven over an extended period of time to be positively bullet-proof, superb sounding tube amps, offering sublime real-world power (100-watts triode/150-watts Ultra-Linear) sufficient to drive the majority of audiophile loudspeakers to concert levels in all but the biggest rooms—perhaps the finest value extant in an American-made, tube amplifier at only $3995, and more than able to hold its own against amps selling for two or three times the price.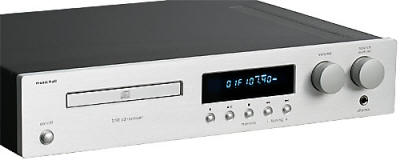 Music Hall Trio
And then at $995 there is the Music Hall Trio, which right out of the box offered a more detailed sounding CD player and significantly more drive and dynamic veracity than the Linn Classik CD Receiver, one of my favorite one-box solutions, for half the money. When Sam Tellig pooh-poohed the Music Hall Trio with faint praise in Stereophile some time back, I was frankly baffled by the distempered arc of his logic (Sam long being a champion of value-for-buck gear), the gist of his "not-exactly-disdain" but more like "I-can't be-bothered-to-take-this-all that seriously-ho-hummery" being that, yeah, it's nice enough, but I like comparable (and incrementally more expensive) separates better and surely you would want more? Like, duh ...for people who want more, and who can spend more, to tell those for whom even $300 a component is a stretch that you cannot possibly expect to enter the kingdom of heaven for under a thousand dollars is an invitation to iPods, lossey compression, video games and musical despair. Well, fear not musical pilgrims, because from the diminutive Epos micro-mini-monitors, to Joseph Audio and Acoustic Zen floor-standing models, to Dynaudio's state of the art Confidence C1, the Music Hall Trio took on all available loudspeakers in my crib without breaking a sweat, delivering true audiophile performance parameters (no, not absolute audiophile performance, but authentic musicality) in a simple, compact package at a historic price point. Begging the question, why would you need anything more?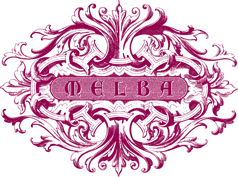 Melba Recordings
As with my picks for last year, Melba once again gets a nod from me for their stunning conclusion to the uber ambitious recording cycle of the four Ring operas of Richard Wagner on SACD. Siegfried and Götterdämmerung finished the cycle in style, with superb sound, great singers and competent orchestral playing. I hope to finally finish my review of Götterdämmerung soon! Here's looking forward to more opera from a company who created history! http://www.melbarecordings.com.au/

2L
This still relatively unknown company from Norway has been turning out some absolutely top notch recordings, from choral music, wind band, solo violin, and beyond. Superb sounding recordings (all SACD) with interesting music played by outstanding musicians, I encourage all to check them out. http://www.2l.no/2L.htm
CSO Resound
Ahh, where do I start? My beloved Chicago Symphony Orchestra has started to record again! HALLELUJAH! The first two offerings are both Romantic heavyweights: Mahler's 3rd Symphony (on Redbook with a review in the works) and Bruckner's mighty 7th Symphony (on SACD) and both with Bernard Haitink at the helm. Let us al hope that this trend continues! http://www.cso.org/main.taf?p=15,2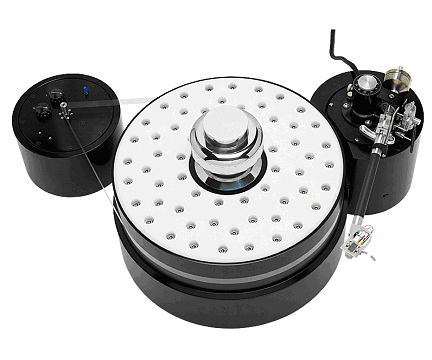 The Redpoint Audio Design Model D
The term silent doesn't begin to describe the complete calm the D so effortlessly and consistently portrays—unless the recording is fraught with noise. Bass is center-of-the-earth solid, unfailingly reaching D-E-E-P to accurately excavate tone, pitch definition, and detail. I have yet to hear more accurately and powerfully recreated bass recovery from any source. Midrange is utterly alive with tonal color, transient information, and energy. Treble is at once detailed and vibrant, articulate and full of shimmer and life! Its ability to reconstruct dynamic events, both large and subtle, is as effortless and nuanced as it gets. And talk about pace and drive! This table is utterly confidant in its reconstruction of the musical event.
The arrival of the nearly 120 pound, $19,500 Redpoint Audio Design Model D has been revelatory, to say the least. Though you can't exactly call the Model D "affordable," when you consider the sheer number of 'tables available today that exceed $50,000, even $70,000, you'd be hard pressed to call it extravagant. While the bulk of today's mega-buck tables are significantly complex, employing sophisticated, often intricate approaches to decoding vinyl, the Model D is downright elegant in its simplicity. And once you are treated to its exquisite performance, easily on par with most tables I've heard at 3, 4, or even 5 times its price, it begs pointing out that, if all else is equal (i.e. sonic performance), simpler engineering would be the preferred choice. Point, set, and match, Redpoint.
What an accomplishment! The D provides bone-crushing bass, living, breathing midrange and treble so crisp and clear you'll recognize a cymbal's brand. If the Redpoint Model D isn't the lead dog running with the analog pack, it certainly isn't far enough back to be spattered by any mud thrown up by the few paws ahead of it... Watch for my full review—coming soon. www.redpoint-audio-design.com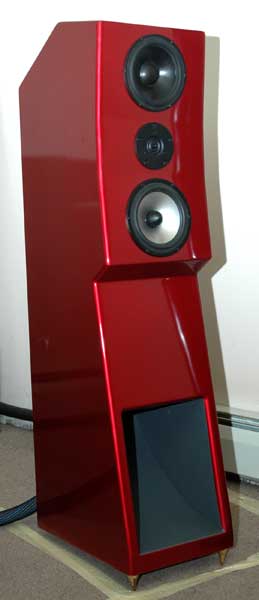 The NSR Sonic Research Concerto Loudspeakers (D1 Reference and D3 Sonata)
Every once in a while, a new product comes along that is truly both innovative and stirring. Enter the Concerto Series of loudspeakers (the $32,000 D1 and $4500 D3, shown above) from NSR (Natural Sound Reproduction) Sonic Research. Built as much like a prized musical instrument as a scientific device, one of the primary innovations of their design is the use of an Acoustic Projection Lens, or APL. John Tabernacki, President and designer of NSR, introduced himself to me at CES 2006 and I have followed the fascinating development of his products ever since.
The D1, introduced at the 2006 RMAF, offers a sense of instrumental body and tone unlike any speaker in recent memory, regardless of price. And talk about weight! You will be hard pressed to find any speaker that can match the D1 in its ability to get down all the way into the realm of sub-sonic information so clearly, cleanly and with such articulation and definition. And is it ever versatile! From Dream Theater to Dvořák, the London Symphony Orchestra to Laurie Anderson, the Academy of St. Martin in the Field's to Tori Amos, they deliver.
The D3, introduced at this year's RMAF, offers an astounding dynamic expressiveness and degree of focus. This allows them to completely vanish from the room, leaving only the music, while providing a deeply layered, intricately textured presentation. What is perhaps most astonishing is their ability to excavate deep, authoritative BASS, especially given their price and slight footprint.
Keep your eye on this company… You will be in for a fun ride. www.nsrsonic.com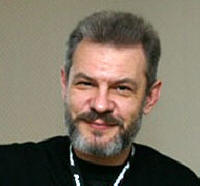 The accomplishments of Serguei Timachev, Stealth Cables
My last award this year goes to recognize a man, not a device; to acknowledge a career rather than a creation; to celebrate the spirit of innovation, drive and excellence rather than a single accomplishment. Rather than prattle on, I will merely point you to my amazing experience with his Stealth cables, and the similar sentiments of Jim Merod, fellow PFO staffer, esteemed colleague, and cherished friend.
Serguei comes to the table with "right mindedness" and an authentic craving to get as close as possible to perfection, should he learn that he cannot indeed achieve it. His foray into the use of less-than-conventional conductive materials exhibits just how far out-of-the-box he is capable of thinking. While he is in business, he is not caught up in it, choosing rather to push himself and his designs, motivated solely by finding a way to better his last creation. Such spirit and drive, especially in today's marketplace, deserve to be singled out and celebrated, hence my recognition of this gifted and illustrious audio pioneer. www.stealthaudiocables.com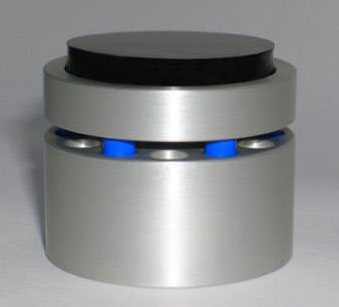 EquaRack's Multi-Mount Footers Review
EquaRack's Multi-Mount Footers are an excellent product that really, really, delivers the goods. They are as good—or better—than other similar, though much higher priced, products. Every component you use them with will benefit, and the effect is cumulative.
You have to be wary in the world of high-end tweaks, lot's of snake-oil products out there. With Joe Ciulla's footers you can be very confident you'll get your money's worth—and then some. The easiest and most cost-effective way I know of to affect a massive upgrade on your system.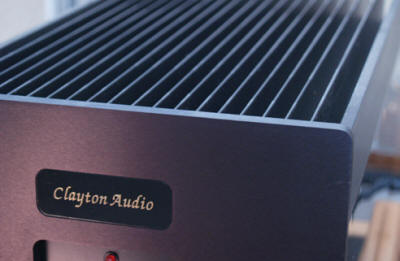 The Clayton Audio S40 Amplifier Review
Unassuming, but all business, this amp is the finest solid-state gain device I've had in my system. Subtle and graceful, it will win your heart. The Clayton Audio S40 is a gem. The real proof is in long-term listening, not a quick audition. The S40 competes with products far out of its price range. Even though this is the baby of the Clayton line of amplifiers, don't underestimate it. Wilson Shen has a genuine success on his hands in the S40. $3995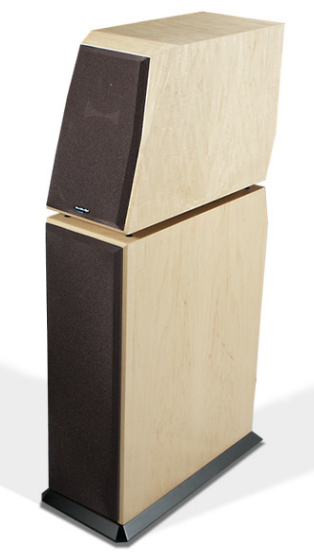 The Von Schweickert Vr4 JR MKII Review
The original VR 4 JR was very, very good. The MK II goes far beyond. A few hertz shy of full range, but how many recordings do you really listen to that plumb all the way down to 20Hz? The MkII is a transparent, dynamic, and detailed speaker. It is able to play loud at a single bound when required, and very, very close to reference-quality when properly fed and cared for. You can drive it with a wide variety of amplifiers, and it's perfect for medium-sized rooms. The ten-year warranty doesn't hurt either. Although the price has gone up the MK II is easily worth the extra dinero. Upgrading your original JRs for less than a thousand is a bargain to shout about.