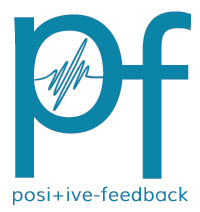 You are reading the older HTML site
Positive Feedback ISSUE
34
november/december
2007
Notes of an Amateur - November, 2007, Part 4
by Bob Neill
Franz Joseph Haydn
Franz Joseph Haydn is the central figure in western classical music from the time of Bach to that of Brahms. Everything between the baroque and rise of the modern period feels to us as if it comes from him. Through Mozart to Beethoven to Brahms including everything in between. That is not to say that he is the best at anything he did, it means he did nearly everything one can imagine doing extremely well, teaching and influencing all who came after him. He is the implicit standard by which we assess his successors. He was the beginning that marks off the history of music after the baroque and even the rococo transitional period immediately following the baroque. When you listen to Haydn, you can hear a two-hundred year musical tradition begin.
To those at home in this musical tradition, he feels like the center, the mean. It would not be too much of an exaggeration to say that he invented the string quartet, the piano trio, and the symphony as we knew them into the twentieth century. He was monumentally prolific: 104 symphonies, 29 piano trios, 47 piano sonatas, and 67 string quartets—along with operas, oratorios, masses, string and keyboard concertos, and an enormous quantity of miscellaneous vocal and instrumental music. And most of this sounds mature and engaging. Even the masses and oratorios, which my renaissance and baroque ears resist, have a huge following. The Seasons and The Creation are still regularly performed and recorded. There is a consistent level of excellence and musical interest that is hard to find from any but the very best major composers. You can spend weeks listening to no other music and be perfectly satisfied and fulfilled. Mozart was more inventive and eloquent; Beethoven was bolder, grander, and more complex; Schubert can be more sublime; Brahms more soul stirring. But none contains them all as Haydn does. Without him, the western musical tradition since the baroque has no form.
So I take this opportunity to tip my critical and appreciative hat to Papa Haydn and offer up my responses to a handful of current recordings of his music.
Haydn, String Quartets, Opus 9. The London Haydn Quartet: Catherine Manson and Margaret Faultless, violins; James Boyd, viola; Jonathan Cohen, cello. Hyperion CDA 67611.
Haydn has figured prominently in the Early Music revival (and reaction). Early on in the late1980's and 1990's, we had the Simon Standage led Soloman Quartet's Haydn (and Mozart), which like Christopher Hogwood's Mozart symphony series of the same vintage were a bit hard on the ears, as first expressions of new ideas tend to be. In the next generation we had the considerably less astringent and more elegant Mosaiques Quartet and then the equally listenable but more energetic (and less elegant) Festetics Quartet.
I sent my set of the Soloman's Haydn away a long time ago but still enjoy both the Mosaiques and Festetics and wouldn't be without either. They are among the best Haydn we have.
Now, new to recordings but not to the (Western European) music world, we have the London Haydn Quartet, whose Haydn on first hearing is a bit of an anomaly. They use modern instruments but string with gut rather than steel and use 'classical' (eighteenth century) bows. Their sound is clearly Early Music, but their style is prosy—not prosaic, prosy. As a general rule, it is more deliberate, with more of a sense of line than pulse. Their Prestos are quick enough to please Early Music fans, but their Adagios and even their Minuets are slower-paced, more sonorous—and more savoury. This contrast makes for a more reflective and more complex Haydn. Depending on whose Haydn you've been listening to lately, the LHQ can initially put you off. But they wear very well. They take their Haydn seriously, working with eighteenth century editions of the music, which are less prescriptive, leaving more room for interpretive creativity.
One of the great fascinations in specializing in Haydn quartets is that the music is full of such astonishing inventiveness that there seems to be a limitless variety of interpretive possibilities. LHQ
What this approach does is expand our idea of Haydn and what he is supposed to sound like; and it demonstrates how much more interesting the Classical Period is than one can come to believe, listening to less imaginative performances. It is easy listening to the LHQ's Haydn to understand just how he could have been such a strong influence on the string quartet writing of Mozart and Beethoven. I have returned to this album frequently over the past few weeks and still don't have a clear fix on the composer they seek to reveal. What greater tribute can I offer!
I do hope this is the beginning of something larger for this fascinating group. Faultless is an Early Music veteran, having performed with and led the London Classical Players, The Academy of Ancient Music and Taverner Players. She is now co-leader of the Orchestra of the Age of Enlightenment. Cohen, who has a considerably younger resumé, has done a set of very enthusiastically received Vivaldi cello concertos that I plan to track down. Boyd, also young, has already made several recordings with the Raphael Ensemble for Hyperion and more recently recordings of British composers York Bowen and William Hurlstone for Dutton. And Catherine Manson has also performed as a member of the Raphael group. All of this is encouraging—meaning that these four musicians are having no trouble finding work and are more likely to stay together and keep the Haydn project alive. Fare forward!
Haydn, Concertos for Cello, Jean-Guihen Queyras, cello. Freiburger Baroque Orchestra, Petra Műllejans, director. Harmonia Mundi HMC 901816.
Haydn's cello concertos are among the very best we have and are central works in the repertoires of most cellists. They are infectious virtuoso pieces, full of brio, providing some of the most delightful musical moments of the eighteenth century. The arrival of this new recording on the scene three years ago, had I known of it (and cellist Queyras) then, would have been one of the highlights of my musical year. I went searching for this recording after hearing Queyras in his recent set of the Bach Suites. It is a great record, but before elaborating, I'd like to do some comparative performance homework. This is not at all a definitive or even very inclusive retrospective, just a summary look at several of my favorites to provide a little perspective.
One of the first and most convincing Early Music recordings of the concertos (the Queyras recording also features period instruments) was by the Dutch cellist, Pieter Wispelwey with the British ensemble Floreligium on Channel Classics. Elegant, smooth, sprightly, and refined—all that is best in British Early Music performance. Wispelwey fits into this style perfectly. That we barely notice that both soloist and orchestra are performing on period instruments tells us how far we've come in adapting to them. And perhaps how much more professional musicians have become in playing them! This is the essence of musical classicism as I have understood it for years, and I have been extremely fond of this recording since it came out, as have many others been.
Mstislav Rostropovich with the Academy of St. Martin in the Fields, both playing modern instruments, is one of the best known and most widely esteemed recordings of the concertos. Sonically this is a warm, full sounding presentation as expected, and Rostropovich himself brings a bit more personal warmth to the occasion, muting his usually robust style slightly for the occasion, which was his first recording for EMI. His cello is warm and sweet. This is what I would consider a traditional performance of the concertos and many of us Haydn and cello fans treasure it.
French Cellist Christophe Coin and Christopher Hogwood with his British Academy of Ancient Music on L'Oiseau Lyre return us in general to the sound of Floreligium, though Coin is a bit more lyrical and expansive than Wispelwey. Hogwood picks up on this, letting his soloist lead the Academy to a more deliberate approach than Floreligium takes. There is less sprightliness here and considerably more lyricism.
Which brings us back to Queyras and the Freiburgs. The German musicians sound remarkably like, if a little crisper than, the Academy of Ancient Music, but Queyras is a more freewheeling and inventive musician than his fellow cellists considered here. He seems to bring a fresh vision to this music, reminiscent of the London Haydn Quartet in its originality. This is especially conspicuous in the long cadenzas, which take the concertos off on fascinating ruminative byways; but it's also present in the radical tempo changes from the long, relaxed Adagio to an unusually fast Finale in the C Major concerto. Queyras also brings new interest to long opening movement of the D Major concerto by forming it into an extended declamation in which the cello seems to be instructing the orchestra on how the music should go. And then he takes the slow movement and turns it into a Chateaubriand as tender and thick as your taste buds can imagine.
I love this recording. It has got me listening to these beloved concertos with new ears. M. Queyras is for real, folks. Don't let him out of your hearing.
Haydn, Piano Trios: Hoboken 12, 27, 28, 25. Kalichstein - Laredo - Robinson Trio. Dorian DOR 90164.
For me, it is in his piano trios that Haydn's musical genius blooms must happily. I am a fan of the genre to begin with—I find the violin, cello, and piano achieve the perfect 'chamber scale' balance. I was thrilled last year to be able to reacquire the Beaux Arts Trio's complete set on vinyl, having sold my first set off in a foolish vinyl purge some ten years ago. I will listen to just about anyone play this music and come optimistically to this reissue of a 1992 release from one of the very few successful all-star ensembles ever assembled.
As I understand the situation, Dorion went out of business a year or so ago, but there is now a selective re-release program of their best recordings in process by Harmonia Mundi. This is a great move for music lovers and audiophile alike, as Dorian is world famous for the sonic quality of their releases.
Even trying to adjust for my prejudice in favor of the music and Dorian, this is a really fine CD. It sounds like what you'd hear at a high-demand concert recital these days: Haydn not played in a highly inflected or tangy attempt at reproducing the aura of a late eighteenth century performance (as the Trio 1790 desperately attempts to do on CPO and as Patrick Cohen, Erich Hőbarth, and Christophe Coin succeed in doing for HM) but Haydn as he sounded in 1992, on modern instruments, lovingly performed: still alive and well: timeless.
Haydn, The Seven Last Words of Christ on the Cross. Original Orchestral Version. Le Concert des Nations, Jordi Savall. Original commentaries by José Saramaggo and Raimon Panikkar. Alia Vox. AV 9854
Hadyn's Seven Last Words is unique in the classical repertoire. Seven sonatas, all either Largo, Grave, or Adagio—that is, seven 7-8 minute, slow sections played in succession, divided from one another only by the reading of each of the short 'words' spoken by Christ according to the Scriptures and originally by brief formal commentaries read by a lecteur. (Savall moves the commentaries to the CD booklet). All of this is intended to be performed in a formal, public ecclesiastical setting. Almost upon its composition in 1787 it was also transcribed for string quartet without its commentaries in an attempt to give it a usable life outside the circumstances of the original commission. It was also later transcribed for chorus and orchestra.
The orchestral version, which Jordi Savall and his musicians give us here in a second outing (their first recording of the work on Astree in 1991 is no longer available) maintains the work's stature as a work for ecclesiastical occasions; the scripture is read in German, as it was in 1787. New commentaries, which to me give the performance a measure of its importance, as I said above are printed in the booklet. (Saramaggo's commentary, predictably witty and critical, grows directly from his wonderfully scandalous novel, The Gospel According to Jesus Christ. Panikkar's is supportively interpretive and equally acute in its way.) Savall tells us he chose the commentators with the intention of giving the work a fresh and current spiritual life that takes into account the 200 years we have lived through since the work was premiered.
I have not heard the choral version, but would guess that it is even more harmonically rich and ceremonial, though speculating, I'm not sure that's needed. The version for string quartet, which is how I know the work best, is predictably starker and more intense. It would be reasonable to say that the orchestral version, especially with both its critical and supporting commentaries, is about the meaning of the crucifixion seen from the point of view of Christianity as an institution; whereas the string quartet version seems to take us closer to what may in fact have gone on at the cross, the experience on which Christianity was erected. That is at least how it feels. Both versions are musically successful, though each of us will have a preference. The Mosaiques Quartet's version is the most intense and beautiful string quartet version I've heard. The Emerson Quartet is a bit bolder, perhaps in an attempt to inject some drama, but seems to lose a little something as a result.
Savall gives the orchestral version all it is due. This will not do for those who prefer the complexity, ornament, and drama of baroque style or the poignant, close harmonies of renaissance motets and masses. These listeners will feel Haydn's Seven Last Words, as well as his masses and oratorios, are too plain, insufficiently artful for the purpose; they would likely go on to say that the Classical style that is delightful in quartets, concertos, trios, and symphonies will not do for religious matters. Even granting their point, which as a lover of baroque and renaissance religious music it is easy for me to do, once we adapt to the different musical aesthetic of Haydn's times, I'll have to say Savall gives us a moving production. It is not so tangy, crisp, and immediate as his 1991 outing, which has some of the qualities of the string quartet version. If that sounds attractive to you, the Astree recording can be found here and there on the web or in used shops. It makes a fascinating contrast with the considerably more refined approach Savall brings to the music now. In the new recording, he is assisted effectively by his recording engineer, who captures the venue wonderfully. Finally, the accompanying material (in seven languages!) is sumptuous and informative, going a long way towards getting us closer to what the composer was after.
System used for these auditions: Audio Note CDT3 transport and Dac 4.1 Balanced Signature; Audio Note M6 preamplifier and Neiro monoblock amplifier; and Audio Note AN-E/SPx SE speakers; with Audio Note Sogon and AN-Vx interconnects SPx speaker cable.
Bob Neill, in addition to being an occasional equipment and regular music reviewer for Positive- Feedback Online, is also proprietor of Amherst Audio in Amherst, Massachusetts, which sells equipment from Audio Note, Blue Circle, Manley Labs, and JM Reynaud, among others