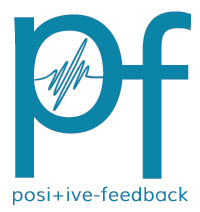 You are reading the older HTML site
Positive Feedback ISSUE
33
september/october 2007
The Nutcracker
by Mark Wagner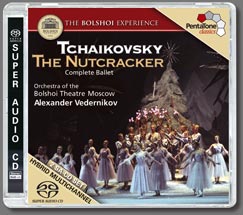 Peter Tchaikovsky. Orchestra of the Bolshoi Theatre Moscow, Alexander Vedernikov conductor PentaTone 2 SACD Hybrid Set 5186 092
Christmas time ...in summer?
In the latter part of 2006, PentaTone (one of my now uber favorite labels) announced a new SACD recording of Tchaikovsky's ultimate Christmas fantasy, The Nutcracker. Featuring the world renowned Bolshoi Orchestra (of which I became familiar with through another fine PentaTone SACD http://www.positive-feedback.com/Issue26/bolshoi.htm) I suspected that I was in for a serious treat. Thus I had high hopes that it would be released in time for Christmas 2006, but that was not to be.
Over the years I have heard countless recordings and even live performances where the orchestra seemed more interested in showing off its technical prowess at the expense of the poor dancers huffing and puffing on the stage. I guess that if the recording is a studio effort (with no dancers present) such virtuosic efforts might be okay. Well, any such fears were quickly put to rest with this wonderful offering.
Over the years I have heard many folks espouse a belief that only an orchestra from a certain region can play that region's music, i.e. only an English orchestra can truly play Vaughn-Williams or an American orchestra can really play music such as from Copland. I personally do not subscribe to such tripe. However, this recording, with a Russian orchestra playing Russian music, gives perhaps the most natural and relaxed playing I have ever heard of this music ...hmmm. Is it possibly true that only a Russian orchestra can play The Nutcracker well? Maybe it is just that the orchestra is so very familiar with the music that it simply flows so very naturally?
I hope that I need not delve into the story of the ballet, as I suspect that even the smallest of towns hears some or all of the music around Christmas. I love the opening of the ballet where we then meet the guests, the children, Drosselmeyer distributing the presents with Clara getting her beloved Nutcracker, to the departing of the guests to the big battle between the Nutcracker and the mice. Great music with the Dance of the Snowflakes, the Arabian Dance, with Tea, Coffee and Chocolate. Want to learn more? Then get your own copy!! I personally feel that this is some of Tchaikovsky's best music (please, no flames).
The sound is typical of what I love about PentaTone: warm (not thick or fuzzy), detailed, expansive, deep ...all presented in the fine acoustic space of the Bolshoi Theater. The playing of the Bolshoi Orchestra is top notch and extremely confident! Frankly, I sometimes wonder how PentaTone manages to crank out great sounding recordings one after another. Sometimes I think I sound like a broken record praising PentaTone, but heck, they are indeed that good! This recording is NO exception!
VERY highly recommended!