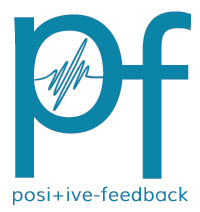 You are reading the older HTML site
Positive Feedback ISSUE
33
september/october 2007
The Nutcracker - the complete ballet
by Karl Lozier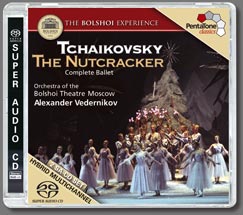 Peter Tchaikovsky. Orchestra of the Bolshoi Theatre Moscow, Alexander Vedernikov conductor PentaTone 2 SACD Hybrid Set #5186 092
PentaTone is presenting the complete Nutcracker Ballet here. One of the five most popular ballets in the world often becomes the most popular ballet during the annual holiday season. On recordings the Nutcracker Suite is often presented and is a traditional collection of the most popular scenes and dances. There is even an unofficial second suite and beyond that some conductors simply offer excerpts, usually consisting of the original suite and some selected favorite excerpts to fill up a certain amount of time. Here the entire ballet is heard, not just the suite, suites or excerpts. Total playtime for The Nutcracker on this release is almost an hour and a half. PentaTone has added a selection from Swan Lake and the Eugene Onegin Polonaise to give listening time of just over one hundred and four minutes. Our last issue's Ballet Feast of the live performance of The Nutcracker ran 101 minutes including applauses. With this new release of The Nutcracker, we are treated to ballet music performed by a conductor and orchestra that are used to performing in a manner necessary for the dancers to be able to perform as needed. After all, ballet is not just music. Put it this way; the conductor could "spice up" the performance a bit to make it more noticeably spectacular but if the dancers were performing they might not be able to perform their needed moves and dances as required. This is an outstanding performance of a famous ballet performed as intended by the composer. Nothing seems to be done to interpret it for an audio only audience.
The recording philosophy and results seem to follow very appropriately. Remember that many ballet lovers enjoy watching from the balcony or one of the many balcony tiers. That height enables watching group patterns develop, form and then change. That also, as an aside, would affect the listening experience. My listening experiences, suggest the very good natural audio quality in SACD, even in the stereo or two-channel mode, places the listener perhaps two-thirds of the way back in the concert hall. Voluptuous massed string tone often predominates and is augmented by the horns. Brass instruments seem to be muted a bit in general. Many small instruments and percussive sounds seem to be quite distant and rolled off in the highest frequencies. The celesta, used in The Nutcracker for the first time in classical music, comes through quite naturally and clearly. The full and rich overall sound quality is firmly and soundly anchored with almost palpable bass response that is naturally integrated within the fine sounding and performing Bolshoi orchestra. A particularly good recommendation for lovers of live ballet music must be my conclusion. For those of you looking for more good choices
by Tchaikovsky, in addition to his famous Swan Lake and Sleeping Beauty ballets, see if you are almost charmed by his first three symphonies (particularly No.2) all of which are regularly neglected at concerts. Both his piano and violin concertos are probably the most immediately appealing of any ever written. His Capriccio Italian is an extroverted gem of Italian flavor and melody. These choices may prepare you to eventually appreciate his possibly great fourth and sixth symphonies.