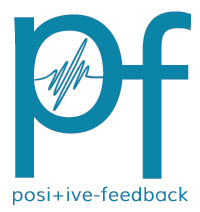 You are reading the older HTML site
Positive Feedback ISSUE
33
september/october 2007
Luxman returns
by Danny Kaey
Luxman… the name alone is worth its weight in gold (especially these days). In my opinion, Luxman exemplifies Japanese high-end audio: since their beginning in 1925 (!) the Lux corporation has been engineering the finest audio components available.
Pushing the innovation envelope year after year, Luxman in the early 70s hired none other then Tim de Paravicini (of modern day E.A.R fame) to continue their technical prowess. Sadly, the 80s saw Luxman being sold off to the Alpine brand and as a result seemed to find their way out of high-end into mainstream big box retailer gear. Another ownership change occurred in 1994. This resulted in Luxman returning to the capable hands of a Japanese private ownership in 2000 that has since restored the former audiophile brand's glory and direction.
Luxman is also back in the US market via Philip O'Hanlon, formerly Halcro's US importer and distributor. About two months ago, Philip asked me if I was interested in visiting his offices for a rundown and formal introduction€"who could resist?" was my earnest reply.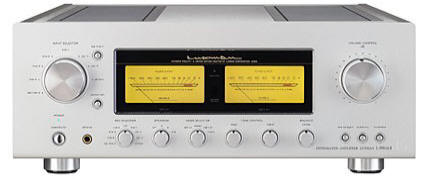 First reaction? "Wow!" Folks, Luxman is back, and back with a vengeance—the gear has returned to its glory days: beautifully made, first-rate craftsmanship, and a build quality that is the hallmark of every piece I saw. Beginning with the 60-watt per channel M-800 Class A stereo amplifier (bridgeable to 240-watts mono), to the L-550A-II (shown above), 20-watt per channel Class A integrated amp (driving Quad electrostats), and culminating in the truly amazing B-1000 reference monoblocks, the sound was utterly faultless. Through Philip's Wilson Audio Maxx2 loudspeakers, the sound was dynamic, open, possessing of a phenomenal bottom end, and a sweet and palpable midrange—all reminiscent of the finest tube gear.
Two of the CD players—the DU-50 (shown below) and DU-80, both universal playersTwo of the CD players—provided great music on CD, SACD (both stereo & multi-channel) and DVD-A sources, while the respective amplifiers kept humming along with style and finesse.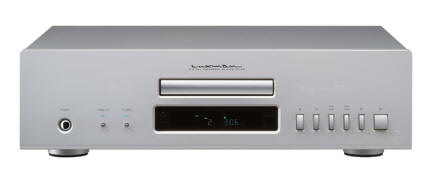 A few weeks later, Philip inquired if I wanted to sample the MQ88 (shown below), a KT88 based tube amp prior to shipping it off to this year's Rocky Mountain Audio Fest. The MQ88 is the CL88's (preamp) partner in crime, matching the preamp's stunningly good looks and superb build quality. A quick listen to the MQ88 only proved my point further: beware of Luxman! These guys have some seriously good engineering muscle behind their products. The "tube" amp sounded really nothing like a tube amp, rather a first rate (dare I say Class A?) solid-state amp with dynamics and resolution that would make many other tube brands sweat. Though boasting a seemingly modest 50-watts per channel, the MQ88 had no problem driving my Zu Definition 2 loudspeakers to levels beyond loud. Needless to say, a full review is scheduled immediately following the Rocky Mountain Audio Fest.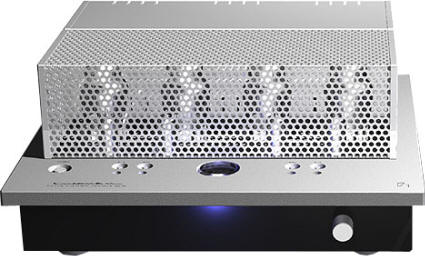 Also on hand for a quick home turf burn out session is the SQ-N100 NeoClassico amp and matching D-N100 CD player (shown below) that up-samples to 24/176.4. The diminutive EL84 based tube amp has defeatable tone controls, as well as a very nice phone stage suitable for high output cartridges. More of an office style system, these two components are simply killer, and with something like a high-efficiency speaker up front (say 101dB efficient Zu Druids), they offer quite a satisfying and musical sound. In case you thought that build quality would have been dropped in favor of silly gimmicks and nonsense, think again 'cause these puppies are built to last and then some.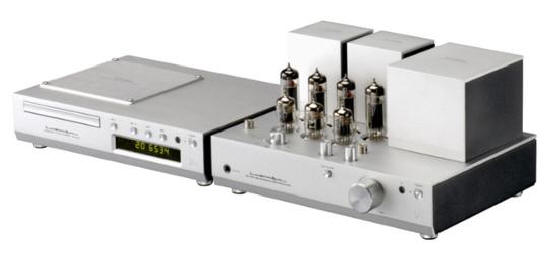 If you plan on attending RMAF this year, make sure to stop by the Luxman/XLO/Music Giants room for a full demo, as well as 12 pieces of Lux gear on view. Luxman is indeed back!