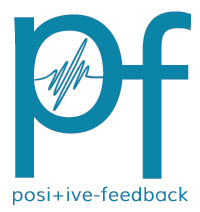 You are reading the older HTML site
Positive Feedback ISSUE
33
september/october 2007
Notes of an Amateur - September, 2007, Part 3

by Bob Neill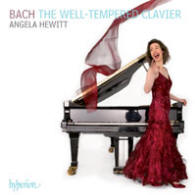 Bach, The Well-Tempered Clavier, Angela Hewitt, piano. (4 CDs). Hyperion Records CS 44291/4.
If The Goldberg Variations is the heart of Bach, then the forty-eight preludes and fugues of The Well-Tempered Clavier provide the full body, so we can see where the heart fits into the whole. Those who are drawn to baroque music come to the WTC not only for musical pleasure but also for a sense of perspective and reassurance. It is like a complete and full color map of what is possible in this style of music. We can hear cantatas, concertos, and of course, all manner of solo repertoire herein.
There are many ways to perform this music, on both harpsichord and modern piano, each tending to tone or color to some degree the whole aesthetic. Angela Hewitt, who has recorded (or if not may still be doing so) all of Bach's keyboard music (as well as some of Rameau and Couperin among others), recorded this music ten years ago. Hyperion has now generously (prudently?) decided to reissue it in a box set at mid-price.
Hewitt's WTC is characterized by grace, quietude, flow, lyricism, and clarity. I have heard it played more vigorously, dramatically, and quixotically. Her playing is not without dramatic contrast and dynamism; but as always with Hewitt, these qualities are not prominent. They keep their place within an overall aesthetic in which colors are not deeply saturated, in which the piano's many voices are choir-like rather than full of prominent soloists. It as if she always sees and hears the whole and plays to keep the parts from twisting it into some short-term or local shape for effect. There is constant forward motion, as there always is in Bach played right, and her steady tempo helps keep the whole ship that this work is, moving. But she is not as relentless in this respect as some others are, especially in some of the Preludes which serve to some extent as pauses, resting places. And coming out of these quieter places she invariably steps slowly and gently to avoid artificial contrasts and false dramatics. Again, we sense an overall commitment to proportion—to a clearly perceived and thoughtful rightness.
I sometimes find myself making use of the terms yin and yang, feminine and masculine, in characterizing performers (and audio equipment!), fully understanding the limitations of these conceptual shortcuts, but also having found nothing that quite serves as well in synthesizing what I hear. (And plenty of male musicians are yinny and plenty of females are yangy—I am talking style here, not gender.) So, as is probably clear from my choice of adjectives so far, I find Hewitt on the yin and feminine side. Her complement as a performer would take a more robust, contrasty, passionate, forceful approach. The music might in such performances be more exciting, bolder. Or it might be sound shouty, eccentric, overbearing, anxious, and wrong. To my ears, it would definitely sound less Bach-like, definitely less baroque. Like Mikhail Pletnov's CPE Bach referred to in my last set of reviews. I can imagine Pletnov playing a very exciting WTC, but my guess is that it would burn out about a quarter of the way through!
I love Hewitt's Bach and recommend it to you without reservation.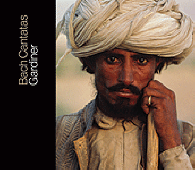 J.S. Bach, Bach Cantatas, Volume 23. For the first and second Sundays after Easter: BWV 150, 67, 42, 58, 104, 85, 112. (2 CDs). The Monteverdi Choir and English Baroque Soloists, John Eliot Gardiner. Soli Deo Gloria. SDG 131.
Gardiner's Bach cycle is fast becoming the standard for me because I prefer its freshness, liveliness, and elegance to Koopman's slightly dour reverence and Harnoncourt's earthiness. This is not a preference that carries a value judgment with it. I am fond of all three of these cycles but at heart am an Anglophile in several respects; and Gardiner's Bach is English in style, spirit, and (largely) performing personnel. What this comes to is an interpretation that sees and hears in Bach's Christianity a positive, life-affirming energy rather than awe and pedagogy. More C.S. Lewis than Martin Luther.
Critics of British Bach tend to find it too light and easy sounding and call it shallow. It seems not to be grim enough for them. Tempos are too quick, voices too open sounding. They seem to feel that matters of God deserve more apparent weight and reverence. Those of us who like it, believers and non, hear the human side of the faith being welcomed, lived, and savored and can't get enough of it.
Of course it's easier to write joyous, energizing music when you're still within two weeks of Easter, and in these recordings Gardiner and his forces get it all. Fine soloists as always: Gillian Keith, soprano; Daniel Taylor, alto; Charles Daniels, tenor; Stephen Varcoe, bass. Voices which complement one another perfectly. Notable among the musicians are Alison Bury, leader and first violin; Katherine McGillivray, viola; Marcel Ponseele, oboe.
Pray these folks make it through the whole cycle, they are a blessed damn delight.
System Used for these auditions: Audio Note CDT 3 digital transport and Dac 4.1 Balanced Signature; Blue Circle FtTH hybrid integrated amplifier; JM Reynaud Offrande Signature speakers; Audio Note Sogon and AN-Vx interconnects and Lexus speaker cable.
Bob Neill, in addition to being an occasional equipment and regular music reviewer for Positive- Feedback Online, is also proprietor of Amherst Audio in Amherst, Massachusetts, which sells equipment from Audio Note, Blue Circle, Manley Labs, and JM Reynaud, among others.