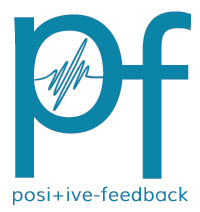 You are reading the older HTML site
Positive Feedback ISSUE
32
july/august 2007
Naxos Film Classics
by Karl Lozier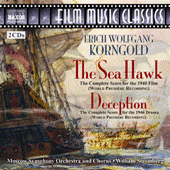 Erich Wolfgang Korngold, The Sea Hawk 1940, complete score (World Premiere Recording). Deception 1946, complete score (World Premiere Recording). Moscow Symphony Orchestra+Chorus, William Stromberg conductor. Naxos Film Classics CD 8.570110-11
This two-disc CD release has had film music lovers anxiously awaiting the famous The Sea Hawk. The wait turns out to be worth it and then some! A true classical music composer, Korngold is also famous for his Hollywood epics. This composition plus Captain Blood, Elizabeth and Essex and The Prince and the Pauper comprise a quartet of romantic swashbuckler scores featuring Errol Flynn. Korngold joins a small group of film music composers that I and others consider to be the very best. Korngold pretty much treats those famous epics as if they were operas without singing (though I obviously heard a short vocal part as part of the film script). These and similar comments simply do not apply to the much shorter score for Deception. Deception is a drama and starred Bette Davis and Paul Henreid. Shorter than his other film scores it contains fragments of classical music as per the storyline or plot. As called for in the plot, Korngold composed a short cello concerto heard as a rehearsal piece and as a finale. He expanded that eventually; it was later published as his Opus No. 37! To my way of thinking, the score for Deception does not seem to hold together for repeated listening. Basically it seems to be a collection of very short, though attractive, fragments.
By contrast, The Sea Hawk holds together excellently whether like an opera (without words) or as a long tone poem. There are more than twenty descriptively named sections to this complete, almost two hours long, score. My suggestion is to not look at those descriptive titles and simply go ahead and listen while trying to hear what the appropriate music seems to be describing to you. Write your descriptions down and then compare with the printed notes. Then and only then, listen again and repeat your hopefully improved efforts. Give it a try; it can be enjoyable.
This truly epic score is big, really big, bold and beautifully impressive. It begins with what I would describe as an excellent fanfare for the brass instruments and takes off from there. This is from the golden years of Hollywood epics and is obviously from another era. Enjoy; enjoy what is no longer being created. Also I highly advise reading all of the liner notes and paying particularly close attention. They are the most interesting notes I have read in a long time. You will be treated to an insider's view of the old giants of the film maker's industry and the star system of yesteryear. Fascinating is my brief description. The overall audio quality is very good though obviously not a spectacular effort with added special effects and palpable bass. The orchestral playing, conducting combination is absolutely top drawer. If you enjoy film music this is simply a must buy—a genuine film score masterpiece- remember that they do not make 'em like this any more!