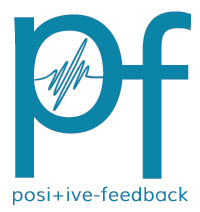 You are reading the older HTML site

Positive Feedback ISSUE

32
july/august 2007

Monterey Jazz @ 50
by Jim Merod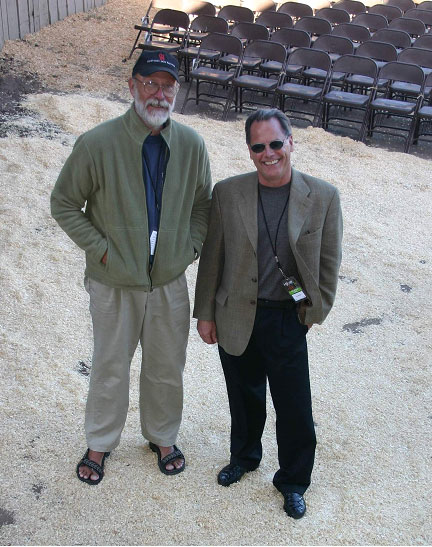 Jazz Festival Director Tim Jackson (right) and Stage Hand '06
photo jim merod
Fasten your buckles and get ready for the festival that's been laying in wait for all dedicated jazzophiles. The 50th annual Monterey Jazz Festival, sponsored by Verizon, is gearing up to tickle music bones and blow the roof off the Monterey Fairground Arena.
If you've been taking annual pilgrimages to Monterey each third weekend in September for awhile, you do need not further goading. If, however, you've put off the trek to the world's greatest jazz bash, then the time's arrived for you to get your butt in motion.
Let me mention a few of the all stars set for the festival: Gerald Wilson's legendary big band; Kenny Barron's Trio; Sonny Rollins; Dave Brubeck with Jim Hall; Dave Holland with Chris Potter and Gonzalo Rubalcaba; and Kenny Burrell's Quartet.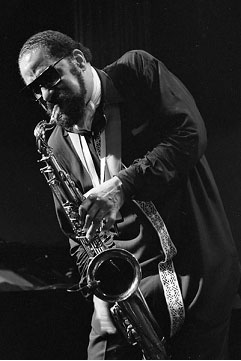 Sonny Rollins Monterey '06
photo michael oletta
Tenor sax titan Sonny Rollins makes his second straight appearance and one can only applaud that acknowledgement of the legendary horn man's path-breaking, tenacious career. Anyone familiar with Rollins' penchant for long medleys that test both stamina and meditative lyricism recognizes how utterly extraordinary this saxophone colossus truly is . . . and has been for a half-century.
I'll confess to complete adoration of Gerald Wilson's orchestras. Each musical iteration this amazing arranger and conductor has put forward over the course of five decades always carries staggering instrumental power and delicacy intertwined with exotic tonal colors. Gerald Wilson's predilection for Latin-tinged themes and Afro-Cuban rhythmic accents constructs unique and thoroughly seductive enchantment. Quite literally, Monterey '07 would be worth the price of admission if only to dwell in Gerald Wilson's cosmic aura and Sonny Rollins' magnetic force.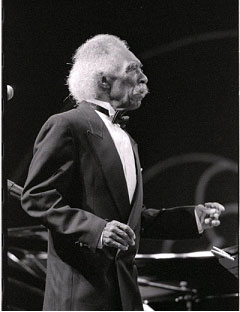 Gerald Wilson Monterey '06
photo michael oletta
Consider this in addition : unusual (and brilliant) pairings of guitarist extraordinaire JIM HALL with, on one hand, the inimitable Dave Brubeck's piano and, on another hand, youthful veteran (and pianistic cyclone) Geoffrey Keezer. Imaginative duo voicings seldom come With such distinct, and potentially magical, allure.
Last year's surprise was the appearance of Oscar Peterson despite a stroke that impaired his playing not long before his appearance. In a word, one can only praise that great man's enormous courage. Tears rolling down his cheeks, the brave veteran held his own against physical travail and earned uproarious applause and hoarse, vociferous adoration from a standing room only arena throng that edged toward the stage. I must say that, in all my years of concert-going and jazz witness, I have never experienced such poignant anguish and beauty. The 2006 festival ended with Oscar and his longtime pianist friend, Hank Jones, trading piano motifs that veered to a strolling blues vamp taking the weekend's festivities to a close.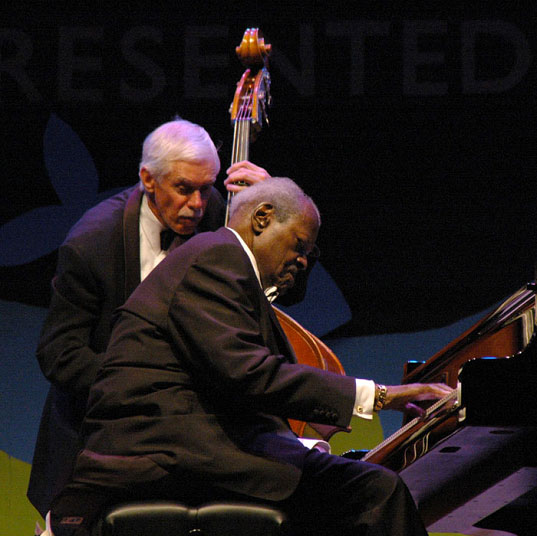 Oscar Peterson Monterey '06
photo michael oletta
Something special is about to occur this year. One has little doubt of that. For the 50th Monterey celebration of America's greatest native art form, Tim Jackson has chosen a world class line-up designed to regale festival goers from the first note on Friday night on through Sunday's last jam session. Diana Krall, a favorite at Monterey, returns. Ornette Coleman, recently honored once again, will also make his way to the big stage as will the one of a kind rock-jazz-funk ensemble, Los Lobos.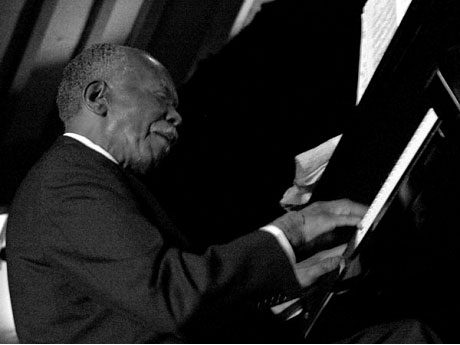 Hank Jones Monterey 06
photo michael oletta
Venerable comedian and cultural commentator Mort Sahl will be on hand as the Emcee on the final night in the arena while Hammond B-3 guru, Joey DeFrancesco, who inherited a great deal of the late Jimmy Smith's organ virtuosity, will light it up ferociously. The pianist I consider to be One Beyond Others—the exemplary Kenny Barron—brings his trio to these nonstop musical offerings. And, if you're searching for unusual, truly beguiling sonic bliss, check out Anthony Wilson's Nonet that will be lurking in plain sight to send you on your way hearing sound differently. How could that be otherwise, given the fact that the younger Wilson's lineage sits in the direct path of his unparalleled father, Gerald?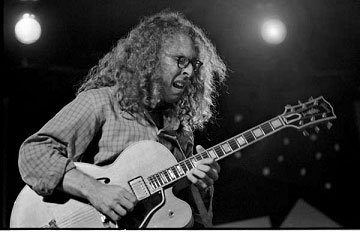 Anthony Wilson Monterey 06
photo michael oletta
A young trumpeter from Pittsburgh, Sean Jones, has been quietly making his way to the front ranks. I highly recommend his gorgeous soft touch on an instrument often lent to bombastic over-statement. Cyrus Chestnut whose new album explores the music of Elvis Presley (someone in jazz had to do this), will perform in a trio setting and a Bay Area group I've come to admire a great deal, Along Cane Betty(dubbed in honor of the great Benny Golson song), will bring their bright feeling to Monterey once again.
All in all, the 50th version of the best continuous running jazz festival on earth is certain to entertain and delight a sold out fairgrounds crowd. Each segment of this three day party has a surprise in store. Each area of its multi-venue jazz celebration will regale wandering as well as sometimes permanent auditors ...for there, in miniature, is part of the special vibe that only Monterey has. So much is going on simultaneously, indoors and outdoors, that folks often camp out in a single location (like bettors at the finish line @ the Del Mar Race Track) in order not to lose focus. Their contentment derives from the joy of one act after another coming to them, well placed in their chosen seat.
If America in the first decade of the 21st century faces crises of many sorts, if it's to prevail in terms of its own idealistic past—the Jeffersonian and Lincolnesque amalgamation of pragmatic public virtues tolerant of personal eccentricities and contradictions —then jazz will continue to play a role in moving our culture closer to a vexed but viable brotherhood of men and women whose joy outflanks fear.
That, in essence, is the deep meaning of the jazz heritage. That's what, on the Jimmy Lyons Stage at Monterey last year, we saw and saluted when Oscar Peterson brought his enormous heart and vast talent, his courage and vulnerable humanity, to conclude a festival that pointed to this one that you and I surely do not want to miss.
The Event Staff Gang
photo jim merod

Tierney Sutton & Christian Jacob
photo jim merod

Monterey Jazz Fans
photo jim merod


Eldar Djangirov
photo jim merod


Hangin' @ Monterey
photo jim merod

Brazilian Singer Claudia Villela
photo jim merod

Garden Stage Crew
photo jim merod

Photograph Michael Oletta
photo jim merod

Miles Sculpture

Trio Paradiso Guitarist Steve Erquiaga
photo jim merod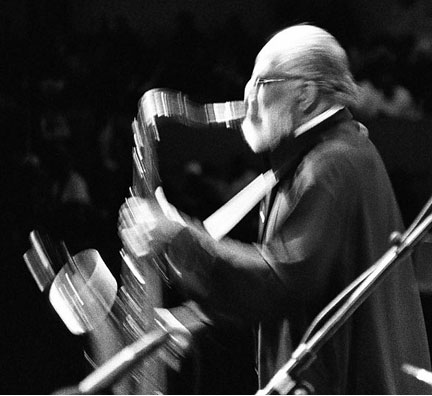 Sonny Rollins "In Motion' '06
photo michael oletta