To write this review I had to do something I was loathing—remove Joe Ciulla's EquaRack Multi-Mount Footers from my system. A few months ago when the footers arrived I didn't waste any time, I installed these little gems on the spot.
No reason to regurgitate all the technical descriptions of the Multi-Mount Footers, go to Dave Clark's excellent review at http://positive-feedback.com/Issue29/equarack.htm for what you need to know. If you did read Dave's review, you remember that some prep is involved. Fear not. It's not that complicated, it really won't hurt your brain, and it is so worth it.
I had two sets of the Multi-MountFooters to work with various components. After deciding which components to place the footers under, it took about an hour, start-to-finish, to get the Multi-Mount Footers underneath. The set-up was not as daunting as I'd imagined. Fear of the unknown diminished. Soon I was ready.
Under my class D amplifier, the effect was noticeable, but not huge—typical with this box. My Aqvox phono stage? Again, noticeable difference, but my thinking was the Multi-Mounts might better serve a component with tubes or parts that are moving. I desperately wanted to try them under my VPI Scoutmaster, but I would have had to remove the 'masters feet—which would have led to a re-level scenario—and I was worried about my big Siamese Purcy (remember him from http://positive-feedback.com/Issue20/gingko.htm) destroying the whole setup. Purcy loves to perch on top of the dustcover, and I'm probably the only Scoutmaster owner who loves his cat more than his 'table. Gee, am I breaking one of the audiophile commandments?
In my system, the Multi-Mount Footers made the biggest difference under my Cary preamp and CD player. Meaning that the greatest value added was realized under these two components. I normally detest the phrase value added. Usually it's corporate drivel, but in this case, it truly applied.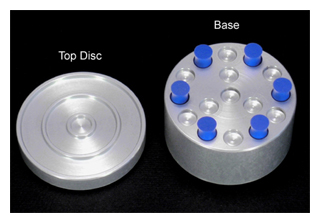 What I wasn't ready for was the effect these little wonders had on the music that now flowed in such an exceptional way through my room. Addicting, enticing, and instantly obvious, it was a pleasure.
Fast forward. Now, after two months of living with the Multi-Mount Footers, this is what I heard when I removed them:
First and foremost, the music lost all those low-level details that made it come alive. Had I really been listening to this same system before and enjoying it? Hard to imagine this was the same setup—beware, the Multi-Mount Footers will spoil you.
The treble, especially lower, seemed to become disconnected from the rest of the presentation, and took on an unpleasant hardness. Mid range was now devoid of that glorious silky texture. Bass definition blurred, and became less discernible.
Dynamics seemed compressed; focus was vague. The music was tough to connect with, a sense of fatigue quickly developed. I did not feel like listening, the joy was gone.
Mind you, I did not have to concentrate to come to these conclusions. They leapt out at me with a palpable offensiveness. Removing the Multi-Mount Footers proved to be quite a callous revelation. Although I've never evaluated a component this way before, in this case I felt it was valid. As you've probably surmised, I wasted no time at all getting the Multi-Mounts back in my system. Ahh, much better, the spirit of the music returned.
I can't help but wonder about the effect Multi-Mount Footers would have on a tube power amp or loudspeakers. I hope to have a tube amp in house shortly to find out. Browsing the EquaRack web site, I noticed Joe Ciulla just introduced a new product—Loudspeaker Isolation Mounts. Maybe I'll get a review sample soon. If they work the same magic as the Multi-Mounts …can't wait.
EquaRack's Multi-Mount Footers help your system produce pure musical delight. You can change their configuration for use with virtually any component, and once acquired you have a life-long asset. They are as good, or better, than much, much higher priced damping products I've tried. Spoil yourself for a mere eighty dollars a footer. Well done Joe! Very highly recommended. John Zurek
Mutli-Mount Footers
retail: $80 each
EquaRack
web address: www.equarack.com
Manufacturer's Response
Many months have passed since I sent the Footers for review. The latest Footers have a second Viscoelastic Coupler in their bases and they use an improved viscoelastic for the Pellets. The latest version of the Footers now cost $100 each.
My products evolve somewhat quickly because I am always seeking to make them even more effective. I am in the process of testing yet another viscoelastic formula for the entire Multi-Mount family of products.
Very Best Regards,
Joe Ciulla
EquaRack