This year marks conrad-johnson design's 30th anniversary. Founded in 1977 by Bill Conrad and Lew Johnson, conrad-johnson has since garnered numerous industry accolades and earned the devotion of thousands of satisfied music lovers with its pantheon of tube and solid-state electronics offerings. The venerable high-end audio manufacturer's current product lineup includes such cutting-edge products as the $25,000 limited-edition ART III tube line-stage preamplifier and $25,000 LP275M tube monoblock amplifiers. It was somewhat surprising to me, then, to learn that when Lew Johnson listens to music at home in his living room, he utilizes the one-box solid-state CA200 control amplifier.
According to conrad-johnson, the CA200 is not a typical integrated amplifier. First, conrad-johnson denotes the CA200 as a "control" amplifier, as it does not include an active line-stage section. Secondly, whereas most integrated amplifiers are designed as low cost entries into a manufacturer's lineup, the CA200 was envisioned from the ground up to be a cost-no-object, state-of-the-art product, one that exemplifies conrad-johnson's corporate design philosophy, whereby the highest-quality parts are combined with a simple circuit design to yield sonically superior results.
The conrad-johnson CA200 control amplifier combines a scaled-down version of the company's Premier 350 solid-state power amplifier with the input/output user interface and volume attenuator of the Premier 18LS solid-state line stage preamplifier. The CA200's power amplifier employs the exact same circuit found in the larger Premier 350, the only differences being in the increased input sensitivity and lower output power. The CA200 utilizes a single voltage gain stage followed by a high-current buffer / output stage. The voltage gain stage makes use of MOSFETs as amplification devices, taking advantage of their tube-like transfer signature, whereas the output stage employs bi-polar output devices, chosen for their intrinsically high damping factor. The CA200 eschews global feedback.
The "control" portion of the CA200 control amplifier leverages the discrete input selector and resistor-based volume attenuator found in the Premier 18LS line stage. Volume is adjustable in 100 steps of approximate .7dB resolution. The CA200 provides for a multitude of inputs and outputs. There are five line-level inputs and two tape/external processor loops, one of which can be configured as a unity-gain pass-through for home theater use. While the CA200's line stage is passive in nature, one pair of unbuffered preamplifier outputs is included. All connections are single-ended, as the single voltage gain stage precludes balanced operation. The CA200 inverts absolute phase, so care must be taken to reverse the speaker connections to compensate.
Like all conrad-johnson products, the CA200 is assembled entirely by hand, and is thoroughly bench tested prior to leaving the factory. Parts quality is exceptional, with precision Vishay low-inductance laser-trimmed metal foil resistors utilized in the power supply and volume attenuator, and special proprietary conrad-johnson CJ-D polystyrene and polypropylene capacitors employed throughout. The only apparent concession to price is the absence of the very expensive CJ-D Teflon capacitors reserved for the most ambitious of the company's products.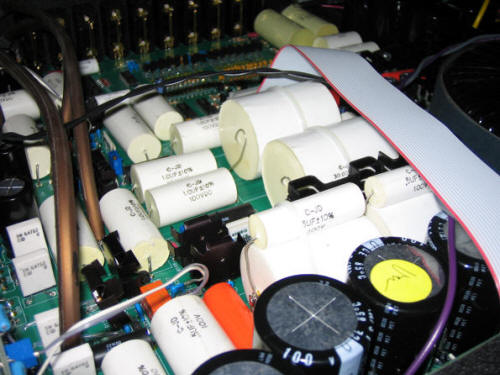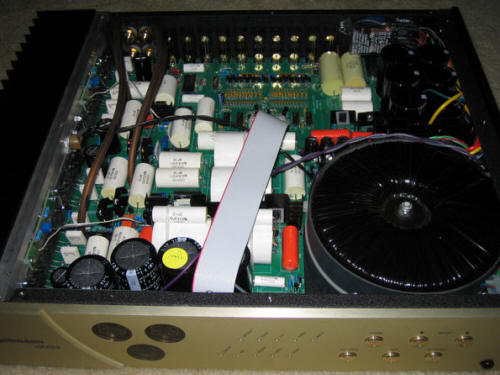 Externally, the CA200 resembles the Premier 18LS, and in fact, utilizes the same case and fascia, albeit with the addition of a substantial heat sink along the left side. The front fascia is very substantial and tastefully finished in gold to match other conrad-johnson products. Three small darkened circular windows are present on the left side; two to indicate the relative left channel and right channel volume levels via numerical LEDs, and one to house the remote control IR receiver. The middle of the CA200's faceplate houses a bank of LED indicators to display information related to source selection and muting status. On the right side are six buttons for control over volume, source selection, muting, home theater pass-through, and the activation of an external processor loop. Around back, there is an IEC power cord inlet and a pair of high-quality five-way speaker binding posts, along with 10 pairs of high-quality RCA jacks for the various line-level inputs and outputs. The CA200 measures 19" wide by 3.315" high by 15.5" and weighs 38 pounds. By integrated amplifier standards, the CA200 is a veritable powerhouse, outputting 185-watts per channel into 8 ohms and 300-watts per channel into 4 ohms.
The CA200's remote is all metal and finished in the same gold finish as the amplifier. The remote control duplicates all the functions present on the front of the CA200 and adds the ability to adjust channel balance. Overall, I was very impressed with the overall fit, finish and construction of both the CA200 control amplifier and accompanying remote.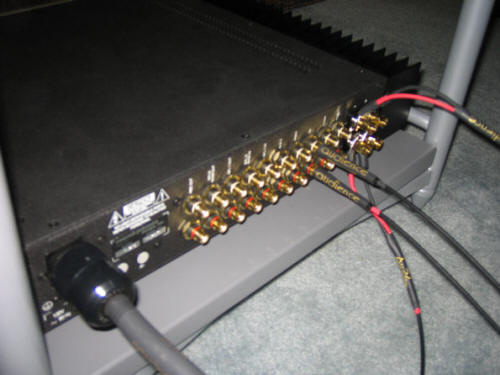 The CA200's user manual is concise, easy-to-read, and informative; clearly explaining the functioning and operation of the amplifier. In an effort perhaps to coerce owners into actually reading the manual, activating the CA200 is not exactly intuitive. There is no explicit button or switch for turning the CA200 on. Unusually, the CA200 powers up into a standby mode immediately upon plugging in the power cord. Turning the CA200 fully on requires the user to press the mute button for two seconds. Another two-second push of the mute button will place the amplifier back into standby mode. My demo sample was already broken in, but I did find that the CA200 benefited from warm up, and I typically left the amplifier fully powered-up continuously, during which time the heat sinks ran moderately warm.
Throughout the course of this review, the conrad-johnson CA200 control amplifier drove EgglestonWorks Fontaine II and Focal Electra 1027 Be loudspeakers. The Simaudio MOON Evolution SuperNova CD player functioned as source, and both it and the CA200 were supported on a Solidsteel 6.2 audio table. Cabling was by Audience and Ecosse, with power cords by Audience, Custom Power Cord Co, and Ecosse. The listening room was heavily treated with ASC Tube Trap and Studio Trap products.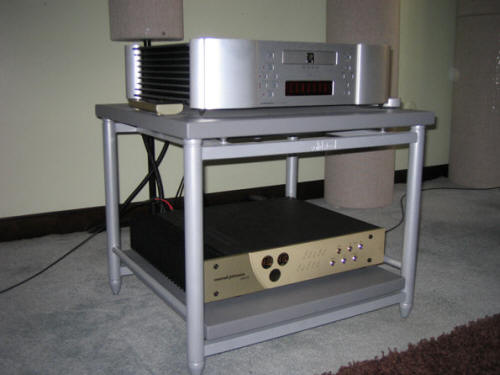 Operationally, the CA200 was a no-fuss performer and a pleasure to use. The controls, both on the amplifier and remote control, were ergonomically laid out and provided direct access to the amplifier's functions. I only noted two quibbles during my time with the CA200. First, upon fully powering up the amplifier from standby, a mild pop was heard from the speakers. It was never dangerously loud through my medium sensitivity speakers, but it was a bit surprising. Second, the CA200 produced some output at its lowest '00' volume setting, albeit at a very low level. In order to fully silence the amp, I had to utilize the mute button. Even so, the CA200 was a very quiet amplifier, especially for its high input sensitivity—with my ear very close to the tweeter, I could barely detect any hiss, even with the volume control set to high levels.
Sonically, I wasn't quite sure what to expect from the conrad-johnson CA200. I typically gravitate towards lower powered amplification, and the CA200's 185-watts per channel output capability seemed overkill for my musical tastes and listening levels. While there are undoubtedly beefier amplifiers out there, the CA200 is still powerful, no matter how you slice it. Any stereotypical preconceptions I had about the CA200 being a he-man brute, all brawn and no finesse, proved to be completely unfounded. Instead, the conrad-johnson control amplifier possessed a liquid grace and elegance that was completely at odds with its prodigious power ratings.
The aspect of the CA200's performance that captivated me above all others was its natural and lifelike midrange. Vocals and other midrange instruments possessed a truth-of-timbre and presence, coupled with just a hint of sweetness, which, taken in combination, served to draw me completely into the performance. Leslie Feist is an extraordinary singer-songwriter, one who deftly melds such diverse styles as electronica, jazz, pop and folk into an intoxicating amalgam that is a pure delight to experience. Listening to her debut release Let It Die (Cherrytree/Interscope B0004442-02), I was frankly stunned at the breadth of subtle emotive and inflective vocal cues brought out by the CA200. Her vocals on the title track and "When I Was a Young Girl" were reproduced with all the subtle tonal and micro-dynamic nuances that are so critical to imbuing a performance with life. I sat in my chair literally entranced for the duration of the entire album. I experienced the same transcendent experience while listening to Steely Dan's Gaucho (MCA 088 112 055-2), where Donald Fagen's vocal was more realistically reproduced on "My Rival" than I've ever experienced. And it wasn't just voices that received this exemplary treatment—John Coltrane's soprano sax playing on the title track from his seminal release My Favorite Things (Rhino R2 75204) was startling in its realism, texture and grace.
The innate subtlety and sweetness of the CA200's midrange extended up into the treble registers. King Crimson's sophomore release In the Wake of Poseidon (Discipline Global Mobile DGM0502) is a perfect example. While not an audiophile recording, the cymbals and percussion instruments are nevertheless very well recorded. With the CA200 control amplifier in my system, the attack and shimmer of Michael Giles' cymbal work on songs such as "Pictures of a City" and the title track were stunning in their verisimilitude, with dynamic contrasts and timbre superbly rendered. In spite of, or perhaps as a result of, its innate sweetness, the CA200's treble was just the slightest bit reticent in absolute terms. While this lack of energy did not subjectively affect detail retrieval or top-end air and extension, it was discernable in direct comparison to other amplifiers.
The conrad-johnson CA200 control amplifier was remarkably tube-like in its imaging and soundstaging qualities. Thoroughly capable in its rendering of soundstage height and width, it was the CA200's superlative portrayal of depth that set it apart from other solid-state amplifiers. The soundstage was set back behind the speakers, and images within the soundstage were impressively layered and dimensional. Soprano Montserrat Caballe's vocals on Vangelis' El Greco CD (Atlantic 83161-2) were front and center, positioned a few feet behind the speakers, with Vangelis' symphonic keyboards layered well behind her. Listening to this album, I felt the boundaries of my listening room push back beyond their physical locations, with the speakers disappearing utterly into the soundstage.
It's difficult for us audiophiles to divorce ourselves from our preconceptions, and I have to admit that, considering its lack of global feedback, I was expecting the CA200 to sound slightly warm and flabby in the bass. I couldn't have been more mistaken. The CA200's bass was deep and controlled, and if anything, just a shade lean sounding. This supple control in the bass registers really allowed me to focus on the texture and fluidity of Stanley Clark's bass playing on songs like "Lopsy Lu" and "Power" from his eponymous solo release (EPIC EK36973). The CA200's bass extension and control also played a key part in my enjoyment of the synthesizer bass effects on John Carpenter's Escape from New York soundtrack (Silva SIL-CD-3016). With the CA200 coupled to the Focal Electra 1027 Be loudspeakers, the bass effects on songs like "Over the Wall/Airforce One" and "Descent into New York" shook my room at high volumes, yet never failed to remain taut and focused.
So what about all that power? Being accustomed as I am to amplifiers of much lower output capabilities, how did having prodigious amounts of power on tap translate to actual music listening for me? Well, even though I'm certain I never even came close to exhausting the CA200's power reserve limitations, having all that extra horsepower waiting in the wings imbued the amplifier with a certain relaxed ease and authority, as if I had illimitable headroom at my service. This was especially apparent when listening to complex and dynamically challenging music such as the song "Red" from King Crimson's CD of the same name (Virgin CDVKCX7 7243 8 49937 2 6). This six-minute all-out assault on the senses was deftly handled by the CA200, which never lost track of the players' individual threads underneath the general cacophonic barrage of full-volume playing. This relaxed authority and ease was also apparent while I was listening to Muddy Waters' Folk Singer CD (MCA/Chess CHD-12027). While ostensibly not a complex performance, the dynamic range inherent in this recording can really take a toll on a system's capabilities at realistic playback levels. With the CA200 in the system, Waters' voice scaled to its startling dynamic heights with frightening ease. There was not a hint of compression, and I truly felt like Muddy was right there in the front of the room, bellowing out his frustration in "You Gonna Need My Help."
By now, it must be apparent that I really liked the conrad-johnson CA200 control amplifier. As integrated amps go, it definitely deserves to be considered in the top-most tier of products. It was actually very difficult for me to identify any true negatives to its performance. Nevertheless, the CA200 does have a personality, and its sweet understated grace may not be as upfront and immediate as some listeners prefer. Despite its dynamic reserves and unflappable elegance, the CA200 was not as in-your-face as some bolder designs. Again, this is not so much a performance downside as it is a matter of taste and preference. The only thing I missed was a balanced XLR input to accommodate true dual-differential balanced sources. However, I also acknowledge that the extra gain stage and associated circuitry might very well compromise the sweet purity of the CA200, and that's not a price worth paying.
Comparing the conrad-johnson CA200 control amplifier to the Ayre AX-7e proved very interesting. Like the conrad-johnson CA200, the Ayre AX-7e couples a passive line-stage to a high-sensitivity power amplifier. And like the CA200, the AX-7e is a non-global-feedback design and utilizes a high-quality resistor-based volume attenuator and input selector. Unlike the CA200, however, the Ayre AX-7e is fully-balanced and, at 60-watts per channel, rated at considerably less power output. At $3000, the Ayre retails for less than half that of the conrad-johnson. The AX-7e was slightly more upfront sounding with a more forward and bombastic tonal signature and soundstage. In contrast, the CA200 was more laid-back sounding with a deeper, slightly recessed soundstage. In spite of its lower power rating, the Ayre had a slightly bigger and bolder presentation, whereas the CA200 was more fluid and graceful. Neither was subjectively better than the other, and it will largely come down to personal taste as to which amplifier is preferred. The CA200 did beat out the AX-7e in the midrange. As good as the AX-7e is, it couldn't quite match the CA200's natural timbre and innate sweetness. Likewise, in the treble, the very refined CA200 exposed a hint of grain in the AX-7e's highest registers that had gone previously unnoticed. The Ayre countered with the slightest bit more sparkle and openness to its top end.
As solid-state integrated amps go, conrad-johnson has a hands-down winner with its CA200 control amplifier. Elegant and graceful, with one of the best midrange presentations I've experienced, the conrad-johnson CA200 succeeds on so many levels at drawing the listener in to the heart of the musical performance. With enough inputs and outputs to fully support any reasonable music lover's source needs, and with enough power to drive most speakers in most rooms, the CA200 represents a true high-performance one-box solution for those not interested in compromising performance for convenience. Highly recommended. John Acton
CA200 control amplifier
Retail: $6500
conrad-johnson design
web address: www.conradjohnson.com